TV Shows
Published May 7, 2019
'Marvel's Agents of S.H.I.E.L.D.': Season 4 Refresher
We never leave an agent behind—gear up for the series' Season 6 return with these primer recaps!
With "Marvel's Agents of S.H.I.E.L.D." Season 6 premiere quickly approaching on Friday, May 10 at 8|7c on ABC, let's take a quick trip to the very beginning with a refresher because these S.H.I.E.L.D. agents have come so far in such a short time.
Don't miss the following refreshers:
The agents of S.H.I.E.L.D. are about to face their greatest challenge yet when they become agents of Hydra. How did they get here, and what happens now? Season 4 has three major parts: Ghost Rider, the Life Model Decoys (LMDs), and the Framework. Let's dive into all of them.
Agent Phil Coulson, who has been demoted from Director, is looking for Daisy Johnson but can't manage to apprehend her, and Melinda May is sent out to try and stop him. While trying to do so, May is accidentally exposed to ghosts, and now can see them in other people. There's also a new S.H.I.E.L.D. Director, Jeffrey Mace, who's an Inhuman. Mace has promoted Jemma Simmons and brought her into his inner circle, which means that Leo Fitz feels like he can't really tell his girlfriend a lot of things—like that Holden Radcliffe has created the Life Model Decoy (LMD) android Aida.
Daisy, still reeling from the loss of Lincoln Campbell who sacrificed himself to stop Hive, is working on her own as a mercenary and tracking down as many Watchdogs as she can. During one of these attacks, Daisy is surprised to learn that there is someone else fighting the Watchdogs, a fiery "Ghost Rider." Daisy soon learns that Ghost Rider is mechanic Roberto "Robbie" Reyes, who is looking after his disabled brother, Gabe. At first, Daisy believes him to be an Inhuman, too, but later learns that his powers come from his connection with another dimension.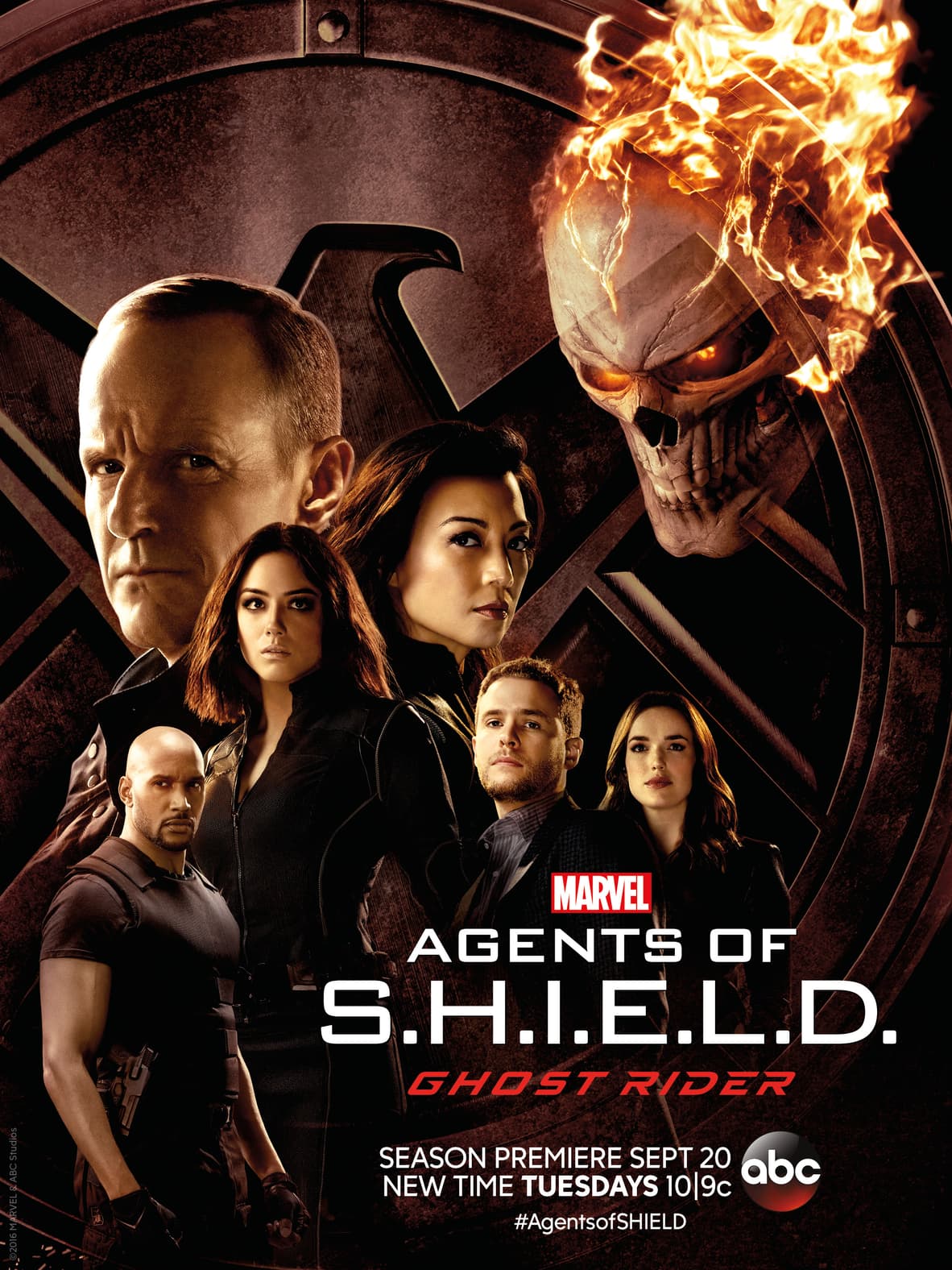 Reyes explains to Daisy that he and Gabe went out racing one night in their uncle Eli's car. A hit was placed on Eli and when the car was struck, Gabe was paralyzed and Robbie actually died. Robbie is saved by another Ghost Rider, who gifted him the Spirit of Vengeance. And speaking of Eli, for starters, he's in prison. But that isn't going to stop him from trying to get his hands on a book called the Darkhold, which allows the reader to create what they want the most.
For Eli, that's creating matter out of nothing. However, he's pulling it from other dimensions and the only person who can feasibly stop him is Reyes. While Reyes manages to stop his uncle, he is apparently killed in the process after disappearing into a portal.
During this, Radcliffe's Aida is also given the Darkhold to try and decipher it and assist in stopping Eli. While she does help, Aida has also been plotting her own scheme, and it's revealed May herself has been replaced with an LMD. May's also not the only "fake" person at S.H.I.E.L.D. right now: Radcliffe himself is an LMD. On top of that, Coulson learns that Director Mace is not an Inhuman like they all thought, but has actually been taking doses of the super soldier serum to appear to be an Inhuman. Coulson agrees to keep Mace's secret, as long as he continues to be the "face" of S.H.I.E.L.D. so Coulson can return to running things day-to-day.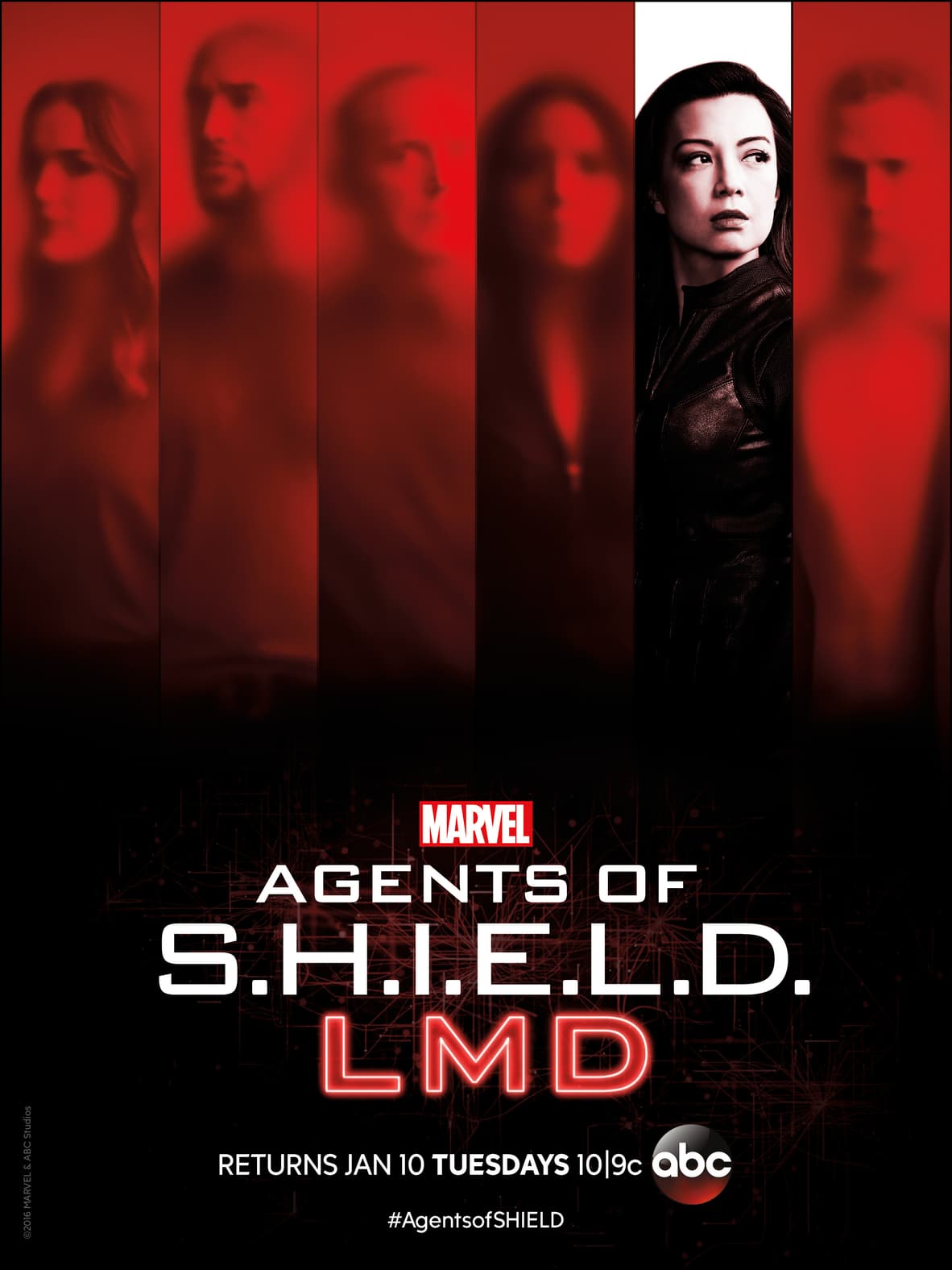 In order to keep the Darkhold safe, Coulson sends it off to Billy Koenig, which, obviously, does not go according to plan, but the Koenig family is able to fight off many of the Watchdogs who are trying to track it down. Now enter industrialist Anton Ivanov who also wants to get his hands on the Darkhold and not only destroy the Inhumans, but also Coulson. Ivanov kidnaps Mace, who hates Mace for trying to be like an Inhuman himself with the super soldier serum.
If that's not enough chaos for you, Simmons realizes that Mace, Mack, Fitz, and Coulson have also been replaced by LMDs and that their consciousness has been updated to Radcliffe's "Framework." The Framework is a virtual reality simulation which was actually created by Fitz as a training program, but then hijacked by Aida for her own purposes.
In order to save the others who have been replaced by LMDs, Daisy and Simmons realize that they've got to into the Framework to save them. May's LMD allows Daisy and Simmons to leave before destroying the S.H.I.E.L.D. base with the rest of the LMDs inside.
Daisy and Simmons head into the Framework and find a reality they were not expecting. For starters, Simmons is actually dead and Fitz is rich and kinda evil. Coulson no longer works for S.H.I.E.L.D. and is instead leading lectures about Inhumans. Mack's daughter, who died as an infant, is now alive. May now works for HYDRA, and maybe the most disturbing part of all: Daisy is in a relationship with Ward and they both work for HYDRA.
It's also pretty concerning that Simmons is dead, and since she doesn't have an "alive" counterpart in the Framework she wakes up in a S.H.I.E.L.D grave. Simmons finds Coulson, but he doesn't believe that they are in any sort of simulation, and Daisy and Simmons try to escape out a backend of the program. However, Aida—who is now Madame Hydra and goes by the name Ophelia and is in a relationship with Fitz, it's a doozy—blocks them.
Just like in the real world they left behind, a group opposing HYDRA inside the Framework is growing, calling themselves the Resistance. In a surprising role-reversal, Ward is now a Resistance mole inside HYDRA. The agents who are aware of what is going on—Daisy, Simmons, Coulson, Mace, and later Mack—rescue agent Antoine Triplett, who has been dead for years, from a HYDRA camp.
The group is later ambushed by HYDRA at this camp and Mace is killed trying to help students there escape (he dies in the real world as well). While there, May is sent to double check that Mace is dead and discoveries that the camp was full of children and are just collateral damage for HYDRA. She now aligns with the Resistance and gives Daisy a Terrigen crystal so she can tap into her Quake powers in the Framework. Meanwhile, Fitz has been hard at work on another Framework project, Looking Glass, which will allow Ophelia to go from the Framework into the real world in a new, human body.
The agents eventually find an exit to the Framework and return back to the real world just in time, because Elena "Yo-Yo" Rodriguez has accidentally revealed the location of their S.H.I.E.L.D. ship after shutting off the cloaking technology (powering Daisy and Simmons in the Framework needed so much power). After coming to his senses about what's real and what's not real, Fitz rejects Ophelia, explaining that he still loves Simmons. This sends Ophelia back to Ivanov, still determined to use what he knows about the Darkhold. Ivanov wants to use the book to stop the Inhumans, and to further prove his point, has an LDM of Daisy shoot General Talbot in the head (he survives, but falls into a coma).
S.H.I.E.L.D. manages to take control of the Darkhold again, but Ophelia still wants it. She's defeated by the surprising return of Reyes' Ghost Rider, and also Coulson as Ghost Rider, who made a deal with the Spirit of Vengeance. After defeating Ophelia, Reyes takes the Darkhold to another dimension in order to keep it safe and out of the wrong hands. The agents then decide to wait it out to be arrested (since they believe they're going to be arrested), but are instead taken by a mysterious group who announces "the window closes in less than two minutes." Some time later, Coulson wakes up on a space station.
Watch the "Marvel's Agents of S.H.I.E.L.D." Season 6 premiere on Friday, May 10 at 8|7c on ABC, with new episodes every Friday! Stream new episodes the next day on Hulu, On Demand or ABC.com.
The Hype Box
Can't-miss news and updates from across the Marvel Universe!