TV Shows
Published December 4, 2019
'Marvel's Runaways' Showrunners On What's To Come in Third Season
Morgan Le Fay, Deanoru, body-snatching aliens, Cloak and Dagger, and more!
Our Runaways Alex, Nico, Karolina, Chase, Gert, and Molly are back for the third and final season of Marvel's Runaways, premiering exclusively on Hulu on December 13!
In an interview with Earth's Mightiest Show, above, Josh Schwartz and Stephanie Savage, executive producers and co-showrunners of the series, give us the inside scoop on what's to come in Season 3 of the hit Hulu series.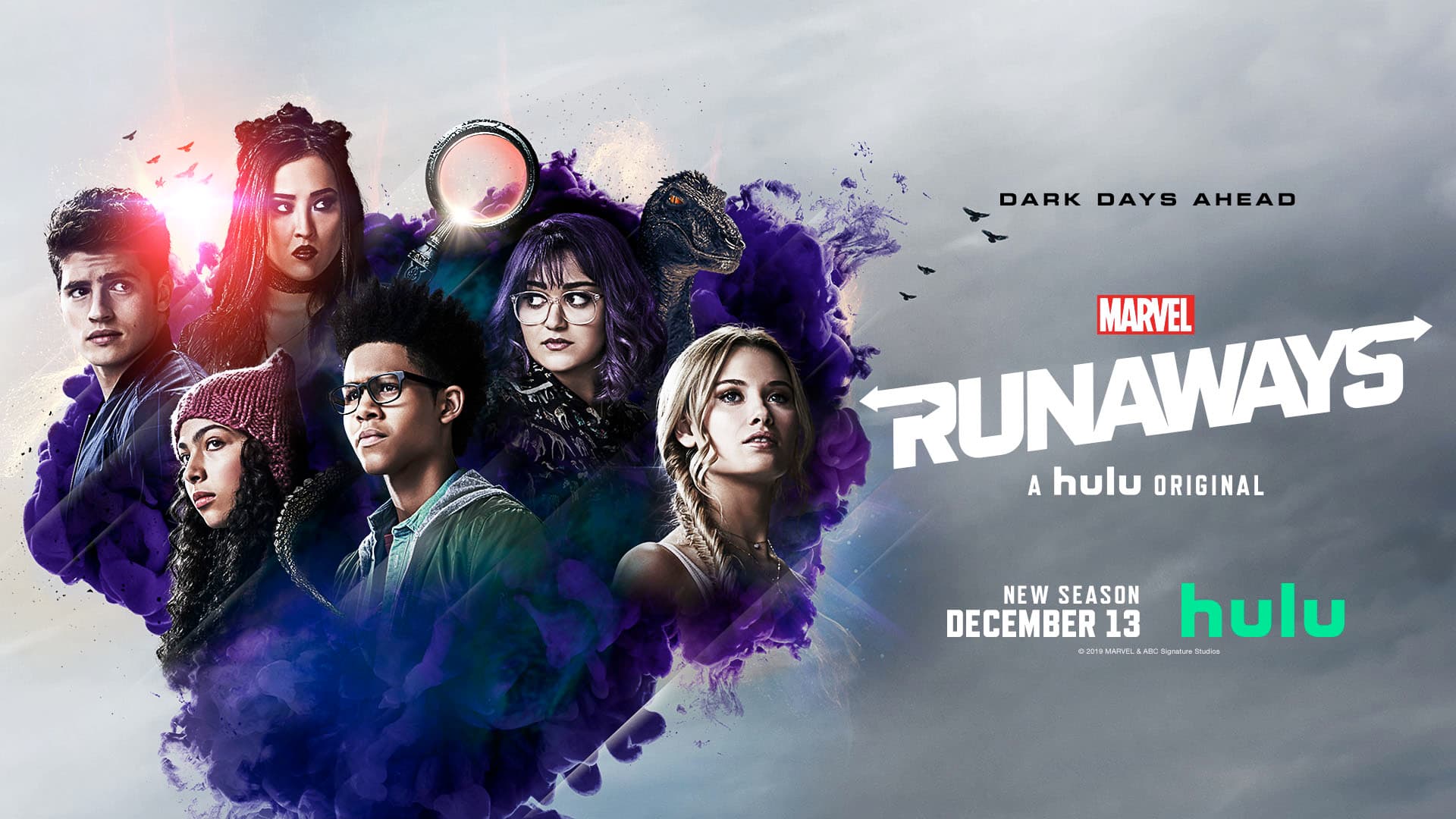 Schwartz revealed that Season 3 is "the biggest season we've done yet," with the creative team "fully embrac[ing] the fact that it's a comic book show and our characters are Super Heroes."
Alien body snatchers
We left off the second season finale with the Royal Magistrate taking over the bodies of Pride. Savage explained, "The kids come in wanting to find their missing Runaways and get them home safely. At the same time, they're discovering there's an additional alien. A fourth alien — who may have jumped into one of their bodies."
Morgan le fay
The Runaways have not faced an adversary like Morgan Le Fay. The sorceress is trapped in the Dark Dimension and communicating with Nico in ways our young hero can't quite explain. A woman of incredible power and charisma, she tries to lure Nico over to the dark side.
When it came to casting Elizabeth Hurley, Schwartz and Savage explained how perfectly the actress fit the bill. Regal: check. Powerful: check. Commanding: check. Kickass: check. Funny: check. Oh, and let's not forget British: check!
We're going to see a whole new source of magic we've never seen before.
Relationship drama
Nico and Karolina's relationship, or "Deanoru" as the fans call it, have always been at the core of the series. And now they'll be tested in ways they hadn't been before. It's a battle of dark vs. light. Karolina embodies the light, is the light. Nico is going darker than ever before. Who will win that battle?
Meanwhile, one Runaway in the dog house is Chase. He not only betrayed Gert, but the entire gang, when he went back home and joined with Pride, and then sold the Runaways out inadvertently, leading them to be captured. As Schwartz put it, "if Chase thinks Gert's ever going to accept him with open arms, he's got another thing coming."
Cloak & dagger crossover
What more can we say? Well tons! The series explores young Super Heroes in the Marvel Universe who don't know that there are others like them with super powers. Things get kicked up a notch when they realize they can partner up.
amped up action
You heard it here first folks. Marvel's Runaways will have the first Phish / Marvel-action scene with "Bouncing Around the Room" set in the background of a fight at the Yorkes cabin.
All 10 episodes of Marvel's Runaways Season 3 will premiere exclusively on Hulu on December 13. 
Be sure to follow @MarvelsRunaways on Twitter and like the official Marvel's Runaways Facebook page!
The Hype Box
Can't-miss news and updates from across the Marvel Universe!