TV Shows
Published March 22, 2018
Meet the Secret Warriors in 'Marvel Rising'
The program's digital shorts and feature-length animated film are set to premiere later this year.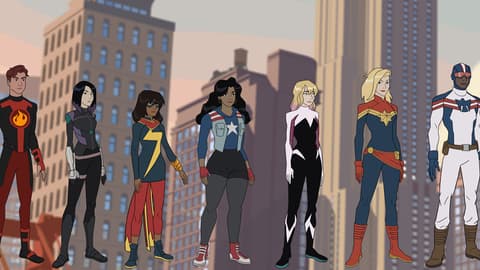 True Believers, are you ready for the next generation of Marvel heroes! Last winter, we teased "Marvel Rising," which will include six, four-minute digital shorts that spotlight Ghost-Spider and a feature-length animated film, "Marvel Rising: Secret Warriors," which will all premiere later this year.
"Marvel Rising" will feature powered teens like Ms. Marvel, Squirrel Girl, Quake, Patriot, America Chavez, and Inferno, joining together, rising up, and taking on an unimaginable force that threaten their young lives and the universe, alike. This misfit team aims to inspire younger audiences with their relatable and inclusive heroes that reflects the world we live in.
Get a look at all the "Marvel Rising" character models below!
Gwen Stacy aka Ghost-Spider (formerly Spider Gwen) voiced by Dove Cameron ("Descendants," "Hairspray Live") – a free spirited teen who found her calling to be a super hero after being bitten by a radioactive spider and gaining spider-like powers. As Ghost-Spider, she aids those in need, but has to keep her alter-ego a secret from her father, Captain George Stacy, who sees Ghost-Spider as more of a menace than a hero.
Daisy Johnson aka Quake voiced by Chloe Bennet ("Marvel's Agents of S.H.I.E.L.D.," "Nashville") – a leading agent of S.H.I.E.L.D. whose tendency for rule-breaking gets her into trouble now and then. Daisy befriends the young group of heroes and through them discovers how to become a better leader. She can generate powerful vibrational waves, which produce effects similar to earthquakes.
Dante Pertuz aka Inferno voiced by Tyler Posey ("Teen Wolf," "Lincoln Heights") – a brooding, dark loner on the run. Dante has the power of pyrokinesis, which makes him capable of generating flames – however, he is not fully in control of his fiery abilities. It's a thin line between good guy and villain for the unpredictable Inferno.
Kamala Khan aka Ms. Marvel voiced by Kathreen Khavari ("Marvel's Avengers Assemble," "Big Little Lies")  – a devoted fan of Super Heroes, especially of her mentor Captain Marvel; she is determined that she too can be a great hero! If only she'd be taken seriously. Kamala is equipped with metamorphic powers that allow her to stretch, enlarge, or shrink her overall size, parts of her body, or alter her physical appearance. She is especially fond of "embiggening" her fists.
Doreen Green aka Squirrel Girl voiced by Milana Vayntrub ("Marvel's New Warriors," "This Is Us") – the uber-positive, hilarious best friend and teammate of Ms. Marvel. With advanced computer skills, enhanced strength, agility, durability, and senses of a squirrel, Doreen (along with her squirrel partner, Tippy Toe!),  is primed and ready to become a successful hero.
America Chavez voiced by Cierra Ramirez ("The Fosters," "The Secret Life of an America Teenager") – a strong, independent young hero whose painful past drives her to reject leadership and remain a loner. America's powers include superhuman strength, speed, and durability, plus the ability to fly.
Rayshaun Lucas aka Patriot voiced by Kamil McFadden ("K.C. Undercover," "Grown Ups 2") – a natural born leader who is quick to leap into action to impress his colleagues at S.H.I.E.L.D. Rayshaun strives to live up to Captain America's legacy with integrity, honesty, and order above all. His skills include heightened strength, speed, stamina, and durability.
Carol Danvers aka Captain Marvel voiced by Kim Raver ("Grey's Anatomy," "24") – a bold leader who doesn't sugar-coat and is guided by a strong sense of duty and honor. She's the ultimate inspiration for our band of misfit heroes. She is equipped with superhuman strength, can fly at high speeds, and can project intense energy blasts.
Lockjaw and Tippy Toe are voiced by Dee Bradley Baker ("Star Wars Rebels," "Gravity Falls"). Two lovable and heroic sidekicks: Lockjaw is Kamala's trusty, teleporting mutt and Tippy Toe is Doreen's partner in crime and best squirrel friend.
Follow Marvel.com and "Marvel Rising" on Facebook, Twitter, and Instagram for all things "Marvel Rising." And don't forget to subscribe to Marvel HQ on YouTube for full episodes and more: www.youtube.com/MarvelHQ
The Hype Box
Can't-miss news and updates from across the Marvel Universe!