TV Shows
Published April 20, 2022
'Moon Knight': Michael Benjamin Hernandez on Playing Oscar Isaac's Double
Calling the experience of working alongside his brother a "master class in acting," Hernandez found himself immersed in Steven and Marc's world, too.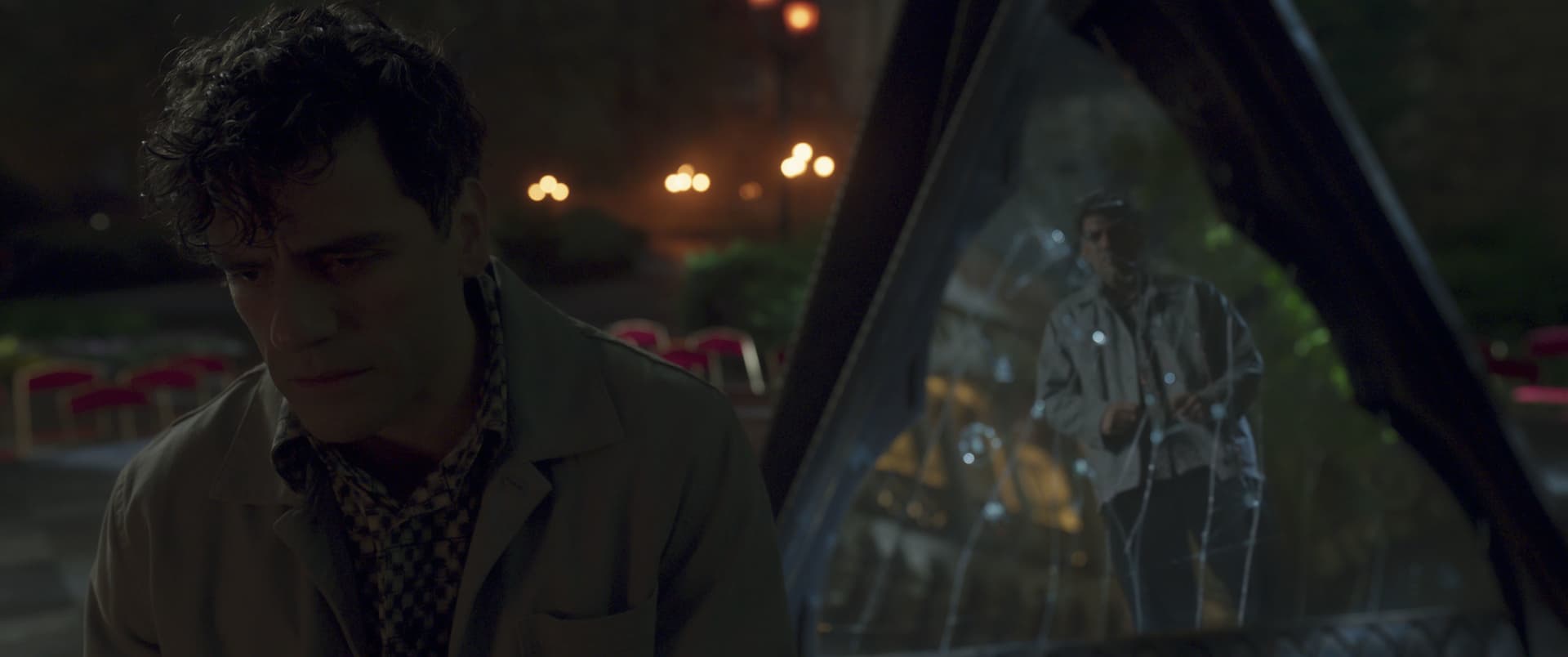 Marvel Studios' Moon Knight features not one, but two different Oscar Isaac characters, both mild-mannered Steven Grant and mercenary Marc Spector. However, in real life, there's only one Oscar Isaac, making it a bit of a challenge for the actor to play two completely different characters often at the same time. Knowing Isaac can't be in two different places at once, the series uses the decades-old Hollywood tradition of stand-in and doubles for this reason, putting someone else opposite Isaac so he can perform one character's role before moving seamlessly into the next.
But who's the perfect person to play a second Oscar Isaac? When tasked with finding someone to perform opposite him, Isaac turned to his younger brother, Michael Benjamin Hernandez.
"I knew that he was in talks about Moon Knight for a few months and once that finally happened, it was very exciting news. I had no idea I would be brought along in any sort of capacity!" Hernandez tells Marvel.com. "About two months out from actually shooting, [Oscar] texted me. He was like, 'Hey, so I'm going to do this show. They are asking for a double or if I know someone I want to act along with for these scenes. I thought about you.' I was like, holy crap. Once he sent me that text, that was so exciting. I was just so stoked to join."
Hernandez wasted no time agreeing to take on the role of Isaac's double, and then realized he, too, would have to go through Super Hero training alongside his brother to physically prepare for the role.
"He was training and I would go train with him. I prepared mentally for this whole two-month period of just intense training and dieting to get to a certain physical level," Hernandez continues. "I was so determined and focused to get it done. I was really proud of myself that I made it happen."
As viewers have seen in the series, Steven and Marc often talk (and bicker) back and forth with one another via reflections — whether it be a mirror, a puddle of water, or a wall. But come Episode 4, the two actually meet in-person, creating a situation where the two physically need to interact with one another. Hernandez was game and ready for all of that, learning everything for both Steven and Marc's roles, depending on where he was needed that day.
"If Oscar was playing Marc at the time, I would play Steven opposite of him. Then we would switch around, and he would play the Steven role and I would do the Marc role," Hernandez explains. "It would involve me being on set with him doing the scenes, or an earpiece, where I would give him the lines. So depending on how they were shooting it, I would either be actually there in the scene or off camera."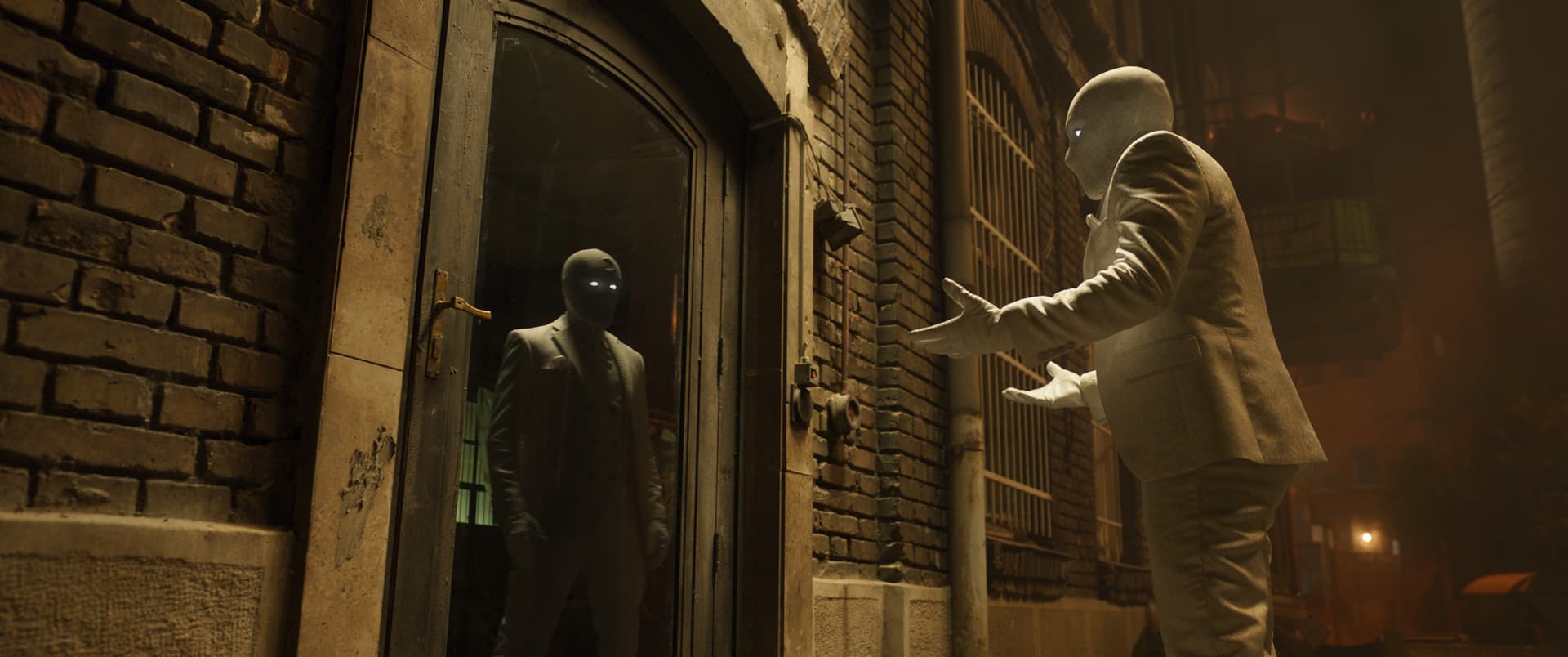 Calling the experience of working alongside his brother a "master class in acting," Hernandez found himself immersed in Steven and Marc's world, too. In an effort to make everything as smooth and seamless as possible when the cameras were rolling, Hernandez even worked with Marvel Studios' Moon Knight's dialect coach, Barbara Berkery, to nail down Steven's accent. "On my days off, [I'd] work on the Steven accent, to make it feel more real, make it more authentic. So it was really important to make it as detailed as possible."
"Before a scene, I'd be in [Oscar's] trailer and we'd talk about what's happening here and what's the intention, what's going on," he recalled. "That would help me perform in a way that makes sense to him, and we were both on the same page. For me, it was all about making it as real and authentic as possible for Oscar to play off against, as opposed to him recording lines and just going off the line."
Speaking of real and authentic, Hernandez also went through hair, makeup, and costuming to play both Marc and Steve, not only wearing the same costumes as Isaac, but also prosthetics to better match his brother's features. Turning into his brother, literally, Hernandez got a name for this character: Mork Sphincter.
"It was just this weird, mutated abomination of Marc with a fake prosthetic nose," he says with a laugh. "I had never done the whole casting thing where they pour the green goo over your face…and I was totally game for all of that. I was totally game for like, yeah, you want to give me a wig or fake nose? We even thought of fake chin parts and cheeks. But then we established that if we were going to film from behind my shoulder, the nose was the prominent piece to get. And so that made it feel like it was actually Oscar there, because he has a beautiful schnoz, and we wanted to recreate that."
Hernandez admits that he was a little self-conscious about wearing the prosthetics at first, but, "eventually, I just forgot about it. You could see that it worked well. Mork Sphincter will always be a part of me."
In addition to contributing to Isaac's authentic performance, Hernandez also found himself collaborating with the whole creative team to add more to the show. For instance, in Episode 2, the joke Marc quips after seeing Steven in the Mr. Knight suit? That was Hernandez's suggestion, along with calling Arthur Harrow's storage room an "evil magician's man cave."
"That was a cool thing about the show, was we could improvise something. It's just like, throw them out and see what happens, what sticks…I just wanted to throw [the joke] to Oscar. He's like, 'Yeah, let's try that one.' That was really fun to be part of the collaborative process. To give my input, and just the fact [the directors] were so open and welcoming to all of that made me feel so a part of the team. It's a testament to how they carry themselves and how they represented themselves working on this show — the work and the love that they had for it and for everyone involved."
Moon Knight is now streaming exclusively on Disney+.
Embrace the chaos and follow Moon Knight on Twitter, Facebook, and Instagram. 
The Hype Box
Can't-miss news and updates from across the Marvel Universe!