TV Shows
Published November 10, 2017
This Weekend 'Marvel's Guardians of the Galaxy' Season 2 Comes To An Epic Conclusion!
Watch the action-packed finale this weekend on Disney XD!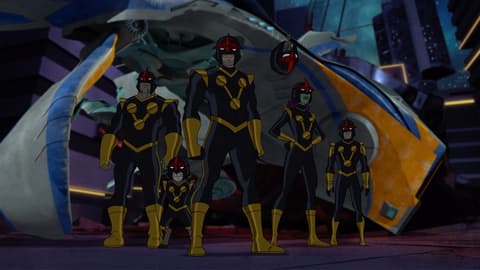 After a season full of surprises, the second season of "Marvel's Guardians of the Galaxy" concludes this weekend with a huge adventure where the Guardians must use the combined power of Nova, the Avengers, and the warriors of Asgard to stop Magus, rescue Warlock's consciousness, and save the galaxy from destruction.
We talked with SVP, Animation & Family Entertainment, Cort Lane who told us how pleased he was with the stunning animation and different worlds that made up this season's epic storyline.
Marvel.com: This season has been so much fun, from introducing Nova to working with the Avengers, did you go into the series knowing you'd be using so many characters from the Marvel universe?
Cort Lane: We knew we were going to kick off with a fight with the Avengers. We knew that we were going to tell this extended Adam Warlock story that would reveal itself over time—and that it would involve other characters—so yeah, we knew the scope would be huge. I mean, part of the fun of working with the Guardians of the Galaxy is we can explore the Marvel cosmic universe in a way that allows so much creative freedom. There's so many places, so many stories to tell, and so many weird bizarre characters for the Guardians to play against.
Marvel.com: This season Peter dealt with his dad and sister Captain Victoria, would you say familial relations seems to have been the tie that binds the whole season together?
Cort Lane: The Guardians talk about being a family and what family means, and being part of something bigger than yourself is so important, what you can do for the world and what you can do for people closest to you. So yeah, family is what the Guardians is about, they had formed their own family—none of them have a family of their own, truly—so they formed this bizarre family and somehow it makes them all better people because, let's face it, most of them have done some not so great things before they joined this family.
Marvel.com: It's fun how all of the "Marvel's Guardians of the Galaxy" episodes are always named after songs. What was the process for choosing the songs in season 2?
Cort Lane: When we have story summits and break the stories, we know thematically what the story is about and then Marty Eisenberg and Harrison Wilcox—who run those story summits—they really have to wrack their brains to try and come up with titles based on those classic songs. Obviously, music being a part of the Guardians brand—from time to time we have little bits of classic 70s and 80s pop and rock music to use—being able to make that connection to the song titles is just a nice vehicle for us to connect to the greater franchise feel.
Marvel.com: Cosmo is a fan favorite and was a big part of this season. What was the decision to have him play a key role, and will we see him return for season 3?
Cort Lane: We are big Cosmo fans and we almost feel like he's an extra member of the team. We utilized him a lot because we think that there's something really unique that we can do in animation different than the films, in leveraging that character. We really like his personality and his attitude.
Marvel.com: This season goes deep into Marvel cosmic lore with the introduction of Adam Warlock and Magus. It's been a great extension for fans of the "Guardians of the Galaxy" movies and those who are anticipating "Infinity War." Was that always the goal from the beginning of the season?
Cort Lane: It's more organic. When we start writing these episodes, it's far more than a year before they air. So we were just going in our own direction when we decided we wanted to tell an Adam Warlock story. For us, it's just about exploring all the parts of the Marvel universe that we think are interesting from a storytelling perspective for the show, but it's still capturing some of the feel of the franchise that people know from the film.
Marvel.com: This season with the introduction of Tana Nile, it made me wonder if we could see a version of Gamora's Graces come into action in the future?
Cort Lane: We've never talked about that, that's something we should bring up! That's fun, I'll bring that up to the series executives.
Marvel.com: After a fun-filled season, what can we look forward to in season 3?
Cort Lane: Season 3…is even weirder. In the most wonderful way. We begin the season mirroring the Mission: Breakout! storyline from the ride at California Adventure and just as in the ride, they get away from the Collector, but now we get to see what happens when the Collector seeks out revenge, and that's a fun story in and of itself.
It's also a story about wish fulfillment, the Guardians sort of get everything that they want and we get to see how that goes; well or not so well, for them individually. After getting away from the Collector and sort of being very successful and happy, things start to unravel very quickly as the Collector seeks revenge.
Be sure to catch the season finale episodes of "Marvel's Guardians of the Galaxy," "You're No Good" (Airing at 8:00 – 8:30 AM EST) and "Behind Gold Eyes" (Airing at 8:30 – 9:00 AM EST), on Sunday, November 12 on Disney XD!
Subscribe to Marvel HQ on YouTube for full episodes and more!
The Hype Box
Can't-miss news and updates from across the Marvel Universe!