TV Shows
Published March 1, 2021
'WandaVision': Exploring Our Favorite Moments from Episode 8
It's time to look at some real reruns.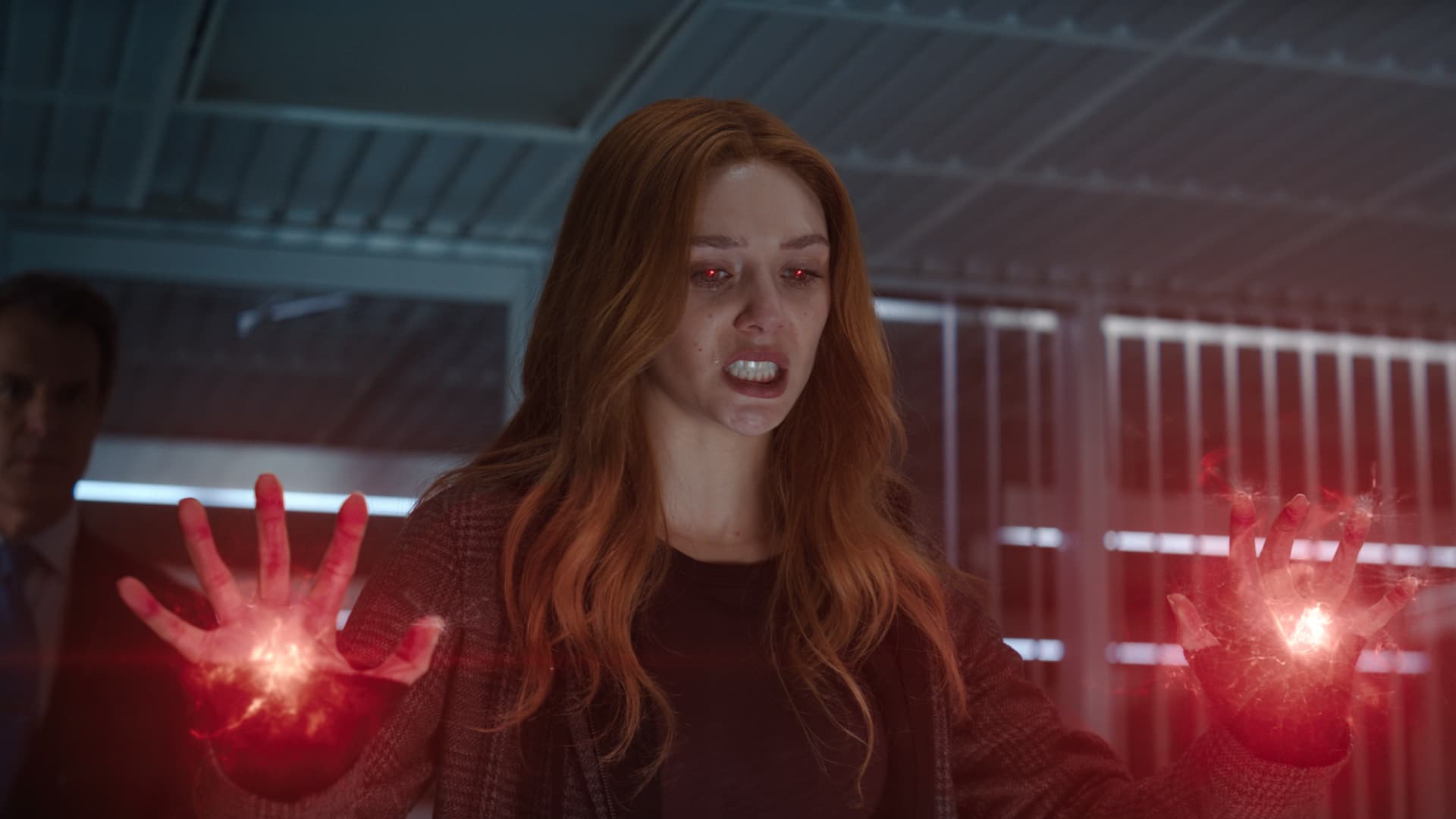 Wanda Maximoff, this is your life. But we're not going to revisit it in any sort of fun, clip episode type way. In the latest episode of Marvel Studios' WandaVision, "Previously On," Wanda has been captured by the newly revealed Agatha Harkness, a "magical" girl herself. Trying to get to the bottom of Wanda's powers — and just how she created Westview and is controlling everyone inside — Agatha plucks a strand of hair from Wanda's head, and the two are off on a trip down memory lane.
First stop, Sokovia.
Forced to go along with Agatha's plan, Wanda finds herself reliving past memories — some of them are good, some are bad, and some are painful and heartbreaking.
Stream Episode 8 of WandaVision now on Disney+, and read on to find out some of our favorite moments!
Salem, Massachusetts, 1693
Before we dive into Wanda's life, a flashback reveals how Agatha came to power herself. 300 years ago, her own coven accused her of abusing and practicing the darkest magic, with Agatha explaining that she didn't break any rules — the magic simply bent to her power. Unfortunately, that's the wrong answer and though the coven tries to contain Agatha and her powers, it's no use. She quickly breaks free and kills everyone around her, absorbing their power as she does so.
Sokovia
Wanda has long since talked about how her parents were killed by a Stark manufactured bomb, and she and her brother Pietro were trapped for days under the rubble. Now, we're seeing that moment for the first time. During TV night at the Maximoff house, things are tragically cut short midway through an episode of The Dick Van Dyke Show. With young Wanda and Pietro trapped, the two children fear the worst, but the nearby bomb doesn't go off.
Hydra
Following the death of her parents, Wanda joined with Hydra thinking that she'd be helping "save the world." Using Loki's scepter (which Hydra was in possession of at the time) Wanda subjected herself to unknown experiments. Though all other test subjects could not withstand the power of the scepter, Wanda managed to resist crumbling under its power. It seemingly exploded in a burst of blue and yellow light in front of her before she collapsed to the ground — the first to survive the procedure.
Avengers Compound
Following the events in Sokovia at the hands of Ultron, Wanda moved into the Avengers Compound, the first "home" she ever shared with Vision. And you know Vision, he never seems to use the doors in that place, and joins Wanda one night to watch television. However, the conversation quickly turns to Wanda's sadness over losing Pietro. Vision tries to make her feel better by explaining that everything "can't all be sorrow... what is grief, if not love persevering?" It almost works – till what's on the television distracts both of them.
S.W.O.R.D.
Returning after the Blip, Wanda heads to S.W.O.R.D to try and recover Vision's body. All she wants to do is say goodbye and give him a proper funeral, but Acting Director Hayward isn't keen to let that happen. He's already got a team dismantling Vision's body (since it's rich with vibranium) and coldly tells Wanda, "not everyone has the kind of power to bring their soulmate back online...forgive me, back to life."
None of this sits well with her, and eventually Wanda is able to get close enough to Vision's body, only to realize she can't feel him anymore. Though she might have entered into the facility ready to fight, she leaves heartbroken knowing that Vision is really gone.
Westview, New Jersey
So how did Wanda end up in the Garden State anyway? Turns out it's because Vision actually purchased a plot of land for them "to grow old in." Leaving S.W.O.R.D., Wanda drives right to New Jersey and checks out Westview for the first time. Arriving at the plot of land Vision bought, Wanda visibly breaks down for the first time, crumpling under the weight of her sadness.
It's then that her powers come into play and before she even knows what's happening, she's transformed the entire town of Westview into a sitcom from yesteryear and we're back at the very beginning with Wanda and Vision. What should they watch on TV tonight?
Chaos Magic
Though Agatha has been present for this entire journey to the past, it's still hard for her to digest what she knows Wanda really is. According to Agatha, Wanda's "supposed to be a myth, a being capable of spontaneous creation," so yeah, she's less than thrilled that the Westview mom is using her power to make breakfast for dinner. What Wanda's got is chaos magic, and you know what that makes her? The Scarlet Witch.
Wondering what happens next? Catch a brand-new episode of Marvel Studios' WandaVision this Friday, streaming exclusively on Disney+!
Want more exciting information about Phase 4? Find the latest Marvel Cinematic Universe news right here — and stay tuned for more!
This is just the beginning of the Phase 4 news. Stay tuned to Marvel.com for more details! And be sure to follow Marvel on Facebook, Twitter, and Instagram.
Looking for more Marvel movies and shows to stream? Check out everything on Disney+, Hulu, and ESPN+ right here, and where to find all your favorite Super Heroes right here. Sign up for Disney+ and start streaming now!
The Hype Box
Can't-miss news and updates from across the Marvel Universe!