TV Shows
Published April 3, 2020
Here's What's Coming From Marvel Animation in April
Get ready for the premiere of 'Marvel's Spider-Man: Maximum Venom' on Disney XD, and more!

A new month means tons of new Marvel Animation content coming your way on Marvel HQ!
Highlights include:
Marvel HQ on YouTube reaches 1 million subscribers!
Get ready for the premiere of Marvel's Spider-Man: Maximum Venom on Disney XD
First five episodes of the new season of Marvel Super Hero Adventures
Exclusive debut of an all-new Marvel Hasbro Bend & Flex animated short
Now with over 1 million subscribers, Marvel HQ fans can check out these popular Marvel HQ hits:
To ramp up for the upcoming season of Marvel's Spider Man: Maximum Venom premiering April 19 on Disney XD and DisneyNOW, viewers can tune-in to an all-new Venom-inspired slate on Marvel HQ.
On April 9, Marvel HQ will air the first five episodes of the new season of Marvel Super Hero Adventures where our favorite web-slinging, wall-crawling Super Hero is never short on adventure! Whether it's visiting Wakanda, capturing cosmic criminals, or finding fantastic new friends, Spidey is swinging into the action webs-first! Fans can also check it out starting April 6 on Disney Channel and DisneyNOW, with a new short rolling out each day that week through April 10.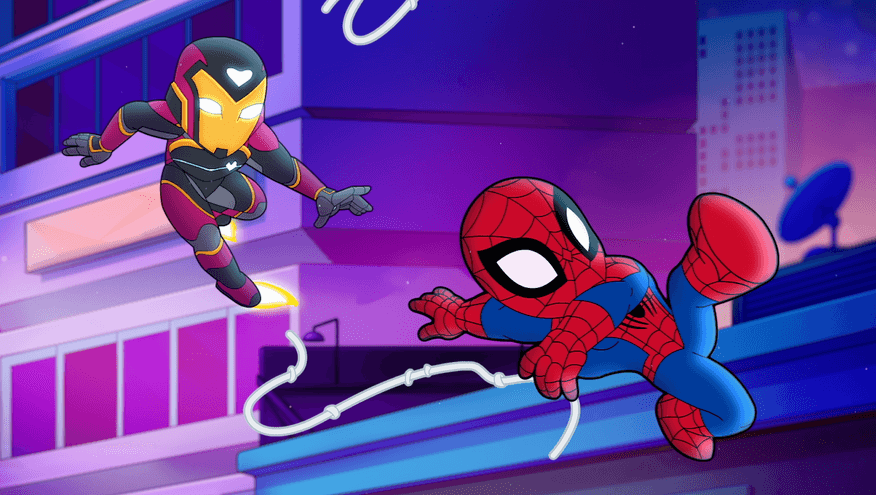 Also coming to Marvel HQ in April is the fourth installment of Bend & Flex, a collaborative Marvel and Hasbro animated short series featuring bendable, flexible Marvel-inspired action figures! In this latest episode, Black Panther and Captain America try to one-up each other while working out in the park. However, their exercise routine is rudely uprooted by the Mad Titan himself -- Thanos!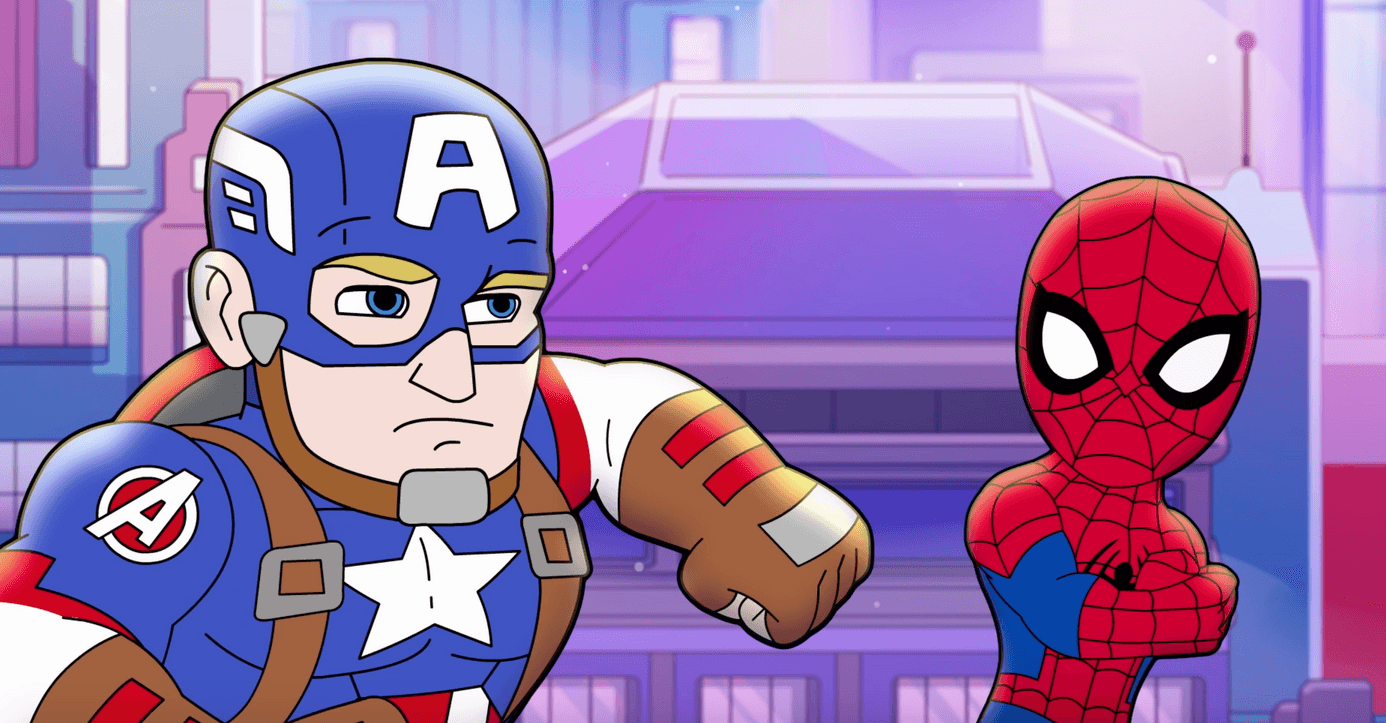 Check out the full schedule below:
April 4
Marvel HQ will feature a new Best of Venom installment, "Top 10 Terrifying Venom Moments"
April 9
Marvel HQ will air the first five episodes of the new season of Marvel Super Hero Adventures
"Charge Ahead"
Spidey swings into his arc-powered pal, Ironheart, as the entire city loses electricity! With Ironheart's suit shorting out too, these amazing friends will need to find a creative solution together.
"Aww… Do I Have To?"
When Hulk has his super-strength stolen by the maniacally magical Morgan Le Fay, he and Spidey are forced to think outside-the-box and remember that an open mind is a great tool for saving the day!
"It's On Me"
Spidey and Captain America learn a thing or two about responsibility when Cap decides to leave his new Victory Bike unlocked, only for it to get hijacked by the belligerent cyborg-space-bunny Blackjack!
"Promises Promises"
Mr. Fantastic and Spidey are building a brand-new Web-Jet when they're visited by Mittens the cat. Spidey promises Mr. Fantastic that he'll put Mittens outside but doesn't keep his promise, leading to catastrophic kitten chaos!
"Outside the Box"
Diamonds are being stolen one-by-one from the jewelry store, so Spidey partners up with The Invisible Woman, aka Sue Storm, to solve the mystery! Who could it BEE?

April 13 – April 20
Marvel HQ will air five full-length Venom-centric episodes from Seasons 1-2 of Marvel's Spider-Man
"Symbiotic Relationship"
When Spider-Man wears Venom into battle, he discovers that there is great danger in this new strength he's been given so he must find a way to defeat the symbiote that wants to destroy him.
"Stark Expo"
Spider-Man partners with Iron Man to stop Ghost from taking over and destroying the Stark Expo.
"Dead Man's Party"
Things get personal when Spider-Man finds himself up against a foe that knows his secret identity – Eddie Brock, who, having merged with the vengeance-filled Venom Symbiote, has set his sights on destroying everything that is Peter Parker and Spider-Man.
"Venom Returns"
Spider-Man is two steps behind as Venom kidnaps people important in Peter Parker's life. Demanding a face-off with Parker, Venom holds his victims at Horizon's Lab.
"Superior"
Superior Spider-Man (currently Doc Ock) must face his most challenging opponent yet when Venom escapes from stasis and attacks Midtown High seeking revenge on Peter Parker. But when the villain senses that Superior is not Peter Parker, he threatens to hurt Anna Maria - a new companion Ock has grown close to - making Superior choose whether to give Peter his body back or lose his only friend.

April 18
Check out another Best of Venom installment, "Top 10 Venomous Quips"
April 20
"How To Talk Like Venom" featuring an in-depth look on how to sound like the villainous Venom actor Ben Pronsky!
Also on April 20, Marvel HQ will premiere the first three episodes of Venom Files featuring some of the biggest heroes in Marvel's Spider-Man: Maximum Venom. Venom Files spotlights the powers and abilities of Avengers and Spider heroes alike. But it's these powers and abilities that have attracted the ooze of one very powerful alien symbiote.
Venom Files "Captain Marvel"
She's a pilot, a hero, and one of the most powerful beings in the universe. She's Carol Danvers – Captain Marvel! Take this powerhouse, add a little symbiote, and what do you get? One dangerous threat.
Venom Files "Groot"
Groot is a unique and powerful alien lifeform…and a perfect target for the terrifying Venom! No one will expect this groovy little sapling's bark to be just as bad as his bite!
Venom Files "Iron Man"
Tony Stark (aka Iron Man) is known throughout the world for his ingenuity, heroism, and leadership. But unfortunately, it is precisely those qualities that make him the perfect target for an angry alien symbiote!
Subscribe to Marvel HQ on YouTube for more!
The Hype Box
Can't-miss news and updates from across the Marvel Universe!