Culture & Lifestyle
Published July 14, 2022
Worlds of Marvel: Discover the Food Onboard the Disney Wish
Find dishes from Wakanda, Sokovia, some shawarma, and more!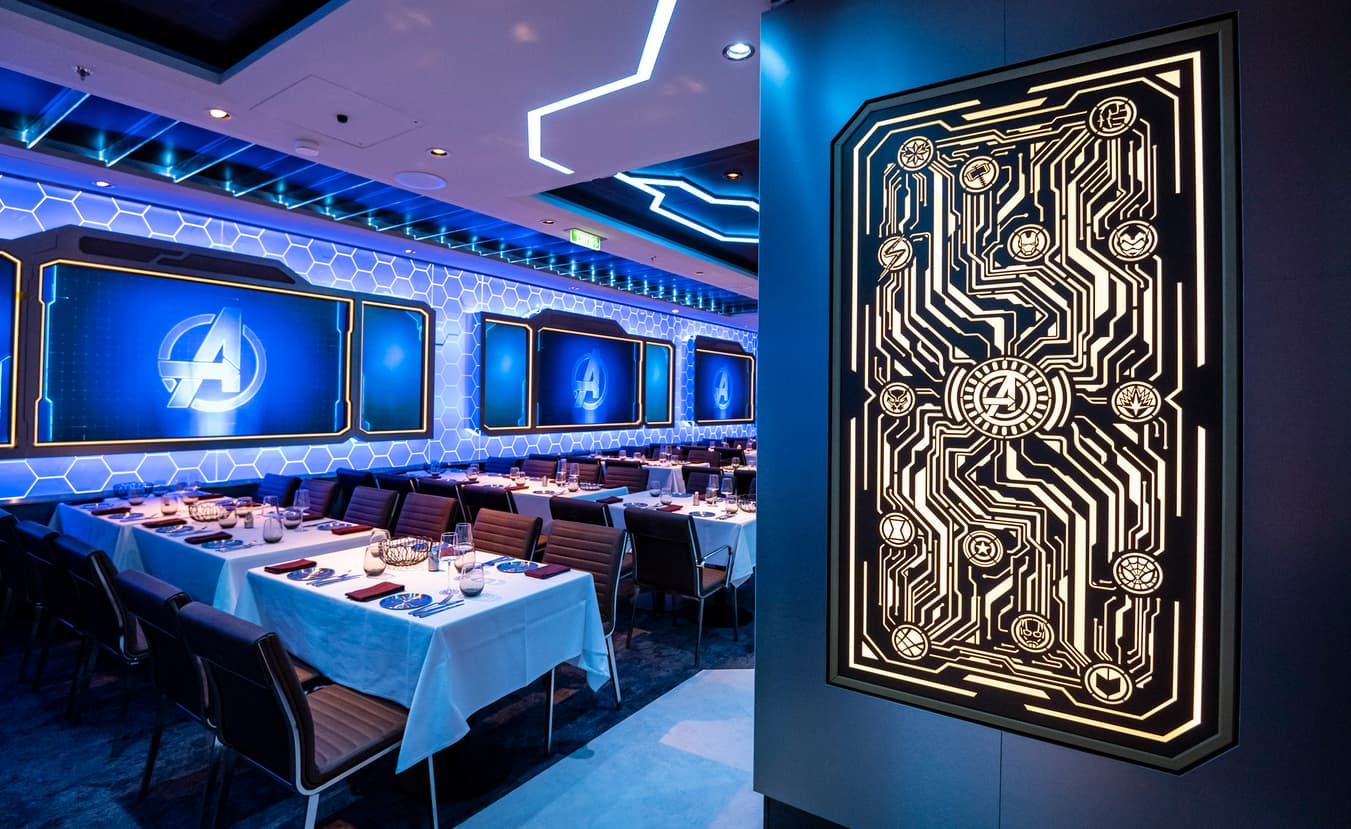 Ready to eat like an Avenger? You can onboard the newest ship in the Disney Cruise Line fleet, the Disney Wish! Onboard, passengers will find the only Marvel restaurant at sea — Worlds of Marvel which houses Avengers: Quantum Encounter, hosted by none other than Ant-Man and The Wasp.

Not to spoil too much of the story or the surprises, but while dining, guests will watch a presentation of amazing hero technology, including the Quantum Core (which happens to be located on every table inside the restaurant), led by Scott Lang and Hope Van Dyne. But considering the antics these two tend to get into, not everything goes according to plan, and soon backup arrives, including Captain America, Captain Marvel, and Ms. Marvel!

But, that's still just scratching the surface of all that happens at Worlds of Marvel — we haven't even touched on the food! Talking to Joseph DePhillipo, the Service Excellence Manager with Disney Cruise Line, he explains that first the Walt Disney Imagineers come up with the overall story and characters that will be included in the restaurant, and then his team works with creating the menus and training the cast members for the experience, which includes debriefing everyone on how many of the items go hand-in-hand with the Avengers.

As he explains, the shrimp and grits "is extremely large and that is because this has been enhanced with some Pym Particles" while the berbere-spiced pork chop "has a spice that comes from Africa so this dish is actually themed after Wakanda" and "the chicken schnitzel, which comes from Sokovia." As for dessert, Pym Particles came in handy again to "shrink a normal-sized donut, make it a little bit smaller so we can put it on top of the sundae."

However, for DePhillipo, the food isn't even the most exciting part of Worlds of Marvel!

"The most exciting, I think, for our crew is that this is a completely new story, a new experience. So we taught them a lot about the different characters. We had them watch all the movies, exactly just as part of training, because we've said, OK, the most important thing is to watch Ant-Man and The Wasp. Watch all these different movies that you might not have seen before. That just made it so fun. It made it so exciting. The crew really enjoy being a part of it because they want to immerse the guests in the story as well."

All of this, combined with the added jokes from Ant-Man himself, make for a truly memorable experience for guests — whether they've seen every single installment in the Marvel Cinematic Universe or not.

"When you're in this restaurant, whether you're a kid and you see your favorite character up there, or you're just an adult, or grandparents and they have no idea who these characters are, everyone enjoys it. Everyone has fun. Marvel just really is a very family-friendly franchise. And so when they come in and they see their favorite characters, it just makes everyone happy. And we really appreciate the fun."
Wondering about the full Worlds of Marvel menu? Dive into the delicious selection below!
Showcase Apps
Smoked Salmon Minneola, English Cucumber, Crème Frâiche, Dill, Chive, Salmon Caviar
Steamed Bao Buns Seared Ginger Orange Pork Belly, Toasted Sesame Seeds, Pickled Daikon, Spring Onions, Mirin Soy Honey Glaze
Hearts of Palm Ceviche Tamarillo, Sweet Potato, Purple Onion, Lime, Cilantro, Bell Pepper, Infinity Stone Popcorn
Crispy Breaded Fried Shrimp White Cheddar and Corn Grits, Bell Peppers, Collard Greens, Smokehouse Barbecue Sauce
 
Wakandan Salads
Heirloom Tomato Salad Escarole, Arugula, Purple Onion, Black Beans, Blue and Red Corn Chips, Parsley, Bearss Lime
Iceberg Wedge Candied Pecans, Smoked Bacon Lardons, Black and Globe Radish, Maytag Blue Cheese
 
From the Sokovian Kettle
"Kartoffelsuppe" Creamed Potato Soup, Carrots, Celery, Knockwurst, Thyme
Cream of Porcini Mushroom Soup Sour Cream, Red Beet, Lemon
 
Bread Service
Marble Loaf With Red Bell Pepper Dipping Sauce
 
Entrées Assemble
Berbere Spiced Pork Chop Wakandan Vegetable Pilau, Pomegranate, Red Pepper Sauce, Rainbow Chard, Roasted Scallion
Chicken Schnitzel Panko-crusted Chicken Breast, Butter Sautéed Potatoes, Caramelized Onions, Long Green Beans, Lemon, Anchovy, Capers
Seared Turbot Filet Sweet Pea Purée, Roasted Heirloom Carrots, Romanesco, Pancetta, Tarragon Sandefjord Sauce
Golden Mystic Pasta Caramelized Scallops, Angel Hair, Chardonnay Lemon Saffron Cream, Roasted Vine Tomatoes, Savoy Spinach
Delmonico Rib-Eye Steak with Black Truffle Butter Whipped Yukon Gold Potatoes, Green Asparagus, Cabernet Reduction
 
Vegetarian
Ricotta Gnocchi Fontina Cheese, Caramelized Grape Tomato Confit, Broccoli Rabe, Arugula Pesto
Shiitake and Tofu Udon Noodles, Baby Bok Choy, Tofu, Red Onions, Kombu, Enoki Mushrooms, Miso Shiitake Broth
 
Lighter Notes
Lamb Shawarma Salad Slow-roasted Cumin spiced pulled Lamb Leg in mini Pitas, with Iceberg, Endive, Romaine Lettuce, Sumac Onions, Vine Tomatoes, Pickled Red Cabbage, Roasted Chickpeas, Cucumber and Lemon Yogurt Dressing
Grilled Grain-fed Sirloin Steak
Slow-roasted Breast of Chicken
Oven-baked Fillet of Salmon
The above three entrées are served with Garden Vegetables and your choice of Steamed White Rice or Baked Potato
Top Secret Dessert
Subatomic Sticky Date Pudding Salted Coconut Macaroon, Balsamic Caramel Glaze, Vanilla Ice Cream
Quantum Key Lime Pie Key Lime Curd, Raspberry Gel, Whipped Lime Ganache
Nano Dobos Torta Layered Cake, Rich Chocolate Truffle Cream, Caramel
Pym Doughnut Sundae Dulce de Leche Ice Cream. Pecan Brownie. Caramel Fudge Sauce, Chocolate Glazed Mini-Doughnut, Whipped Cream
Cheesecake Byte Fresh Berries, Strawberry Jelly, Whipped Cream
Wakanda Flourless Chocolate Beetroot Cake Chocolate Beetroot Cake, Pepper Crème, Milk Chocolate Soil

 
Fans can experience Avengers: Quantum Encounter aboard the Disney Wish, which sets sail on its maiden voyage on July 14. Choose from three and four night adventures to the Bahamas along with Castaway Cay, Disney's own private island. Voyages begin in Port Canaveral, Florida.