Comics
Published January 17, 2019
12 Big (and Small!) Moments in the History of Ant-Man
Take a look back at the history of Scott Lang, and see how he's grown!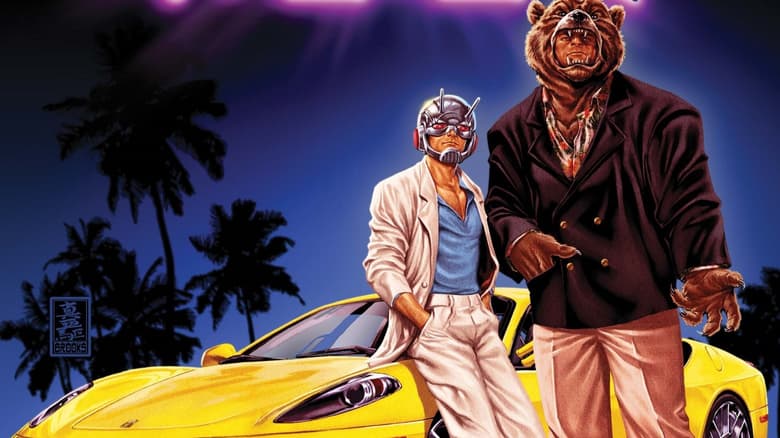 The spotlight hasn't always shone bright on the criminal-turned-Avenger. Scott has faced his trials, tiny and titanic, from saving his daughter's life to conquering death itself.
Take a look back at the history of Scott Lang, and see how he's grown!
Earth's Mightiest Security Consultant
Lang's first taste of rubbing elbows with super heroes came in AVENGERS #181 when he arrived at Avengers Mansion as an employee of Stark International, there to help install a new security system. Mistaken by Wonder Man as an intruder, Lang's initial brush with Earth's Mightiest Heroes might've ended in tragedy if not for the timely intervention of his boss, Tony Stark.
Enter the Astonishing Ant-Man
In MARVEL PREMIERE #47, Scott Lang's history as an ex-con came back to haunt him when his young daughter Cassie fell ill due to a rare heart condition. Unable to pay for a specialist to operate on the girl, Lang broke into Hank Pym's house and discovered the costume and equipment of Ant-Man.
A Father First
As Ant-Man, Lang arrived to rescue the doctor to save Cassie, but Darren Cross stood in his way. Battling Cross, Lang witnessed the brutish man die from a burst heart, the result of Sondheim's duplicity with her scalpel. After Cassie's life-saving operation, Hank Pym took Lang aside and bequeathed the Ant-Man legacy to him and wished him well in his new career as a super hero.
Trial by Taskmaster
Lang's first real encounter against a bona fide super villain arrived in AVENGERS #195. Called in by Hank Pym, who operated then as Yellowjacket, Ant-Man aided the search for a kidnapped Wasp, coming face-to-face with Taskmaster. Lang found himself trussed up with his comrades and awaiting execution in AVENGERS #196, before a timely rescue by Earth's Mightiest Heroes.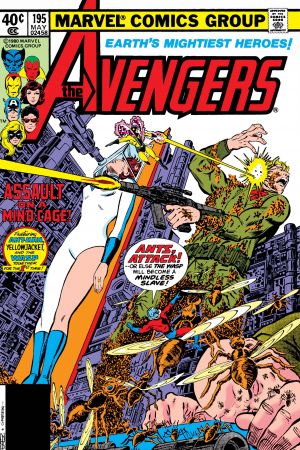 Rematch
After discovering the Avengers' archer Hawkeye trapped in a carnival cage with a hungry lion in AVENGERS #223, Lang once again helped foil the Taskmaster's schemes and save an innocent audience from a deadly cannon.
Under Siege
When the Masters of Evil invaded Avengers Mansion and beat Hercules to a pulp, Ant-Man rushed in to help the Wasp in AVENGERS #275 and defend the comatose demi-god in his hospital bed from the Absorbing Man and Titania. Scott stuck around to help the Avengers in their great time of need by infiltrating the Mansion in AVENGERS #276 and taking out the wily Fixer.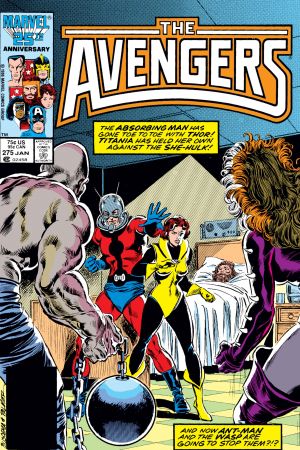 Avengers (1963) #275
published

added to marvel unlimited

editor

letterer

inker

writer

penciller

penciller (cover)

colorist
What is Marvel Unlimited?
Mr. Sorta Fantastic
Sue Richards, the Invisible Woman, brought Lang to Four Freedoms Plaza in FANTASTIC FOUR #384 as an electronics expert, someone who could work on sensitive equipment left behind by her presumed-deceased husband Reed, aka Mr. Fantastic. Scott stuck with it all the way up through the return of Reed Richards in FANTASTIC FOUR #407.
Among Earth's Mightiest Heroes
Having picked up an emergency signal on one of Hank Pym's old helmets, Ant-Man stood side-by-side with Earth's Mightiest Heroes in AVENGERS #57 through one of their greatest challenges. The surly Jack of Hearts took an immediate dislike to Scott, but Lang saw it as only a short stint to help the team.
Sacrifice
Ant-Man accepted the Avengers' invitation of true membership in AVENGERS #62. He gained a new costume and helmet and later witnessed the death of Jack of Hearts when the hero sacrificed his life to save Scott's daughter. In AVENGERS #500, Jack seemingly returned, only to kill Scott in a devastating explosion that kicked off Avengers Disassembled.
A Second Chance
In AVENGERS: THE CHILDREN'S CRUSADE #5, Cassie Lang, who'd become a super hero in her own right as Stature, grabbed hold of her still-living father while tripping through time and brought him to the present. As fate would have it, Scott then lost Cassie in a multi-faceted battle between the Avengers, the X-Men, and Doctor Doom in AVENGERS: THE CHILDREN'S CRUSADE #8.
The Future Foundation
When Reed Richards asked Lang to lead a temporary "replacement" Fantastic Four, he reluctantly agreed. In FF #1, he learned that his new assignment would entail riding herd on the kid-saturated Future Foundation. Teaming with She-Hulk, Medusa, and Ms. Thing, Scott not only bonded with the next generation of heroes, but gained a measure of revenge against Doctor Doom.
The Latest Chapter
In AVENGERS WORLD #16, Scott Lang received an unexpected gift from the events of AXIS and a temporarily-heroic Doctor Doom: the return of his daughter, Cassie. Newly-determined to be the best he can be for his family, Ant-Man looked to make it big!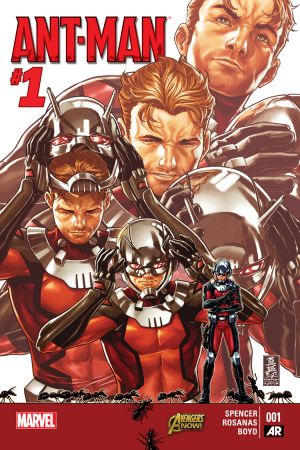 The Hype Box
Can't-miss news and updates from across the Marvel Universe!