Comics
Published August 23, 2023
The Fantastic Four: Explorers of the Multiverse
In the second part of our Official Marvel Guide, we dive deeper into the Fantastic Four's interdimensional storylines, key allies, and more.
In the first part of our Official Marvel Guide on the Fantastic Four, we delved into the team's earliest origins and their first series from 1961. We also covered how creators like Stan Lee and Jack Kirby established the building blocks of the Marvel Universe with their landmark hit, as well as the powers and personalities of the primary team of four: Mister Fantastic, the Invisible Woman, Human Torch, and the Thing.
Well, the FF have been adventuring for 60-plus years now, and as you can imagine, these quintessential explorers of space, spacetime, and the entire Multiverse have racked up a lot of experience. Plus a few enemies. Read on for the Fantastic Four's key storylines, as well as their important allies and greatest challenges to date.
EXPLORERS OF THE UNKNOWN
In addition to being a family of super heroes, the Fantastic Four remain first and foremost explorers, and their scientific curiosity puts them up to the task. Heck, that desire to experience new realms is exactly what got them exposed to cosmic rays way back in FANTASTIC FOUR (1961) #1! And, just a few issues later, the Thing, Human Torch and Mister Fantastic traveled back to pirate times by way of Doctor Doom's Time Platform and they took a trip to Planet X in issue #7!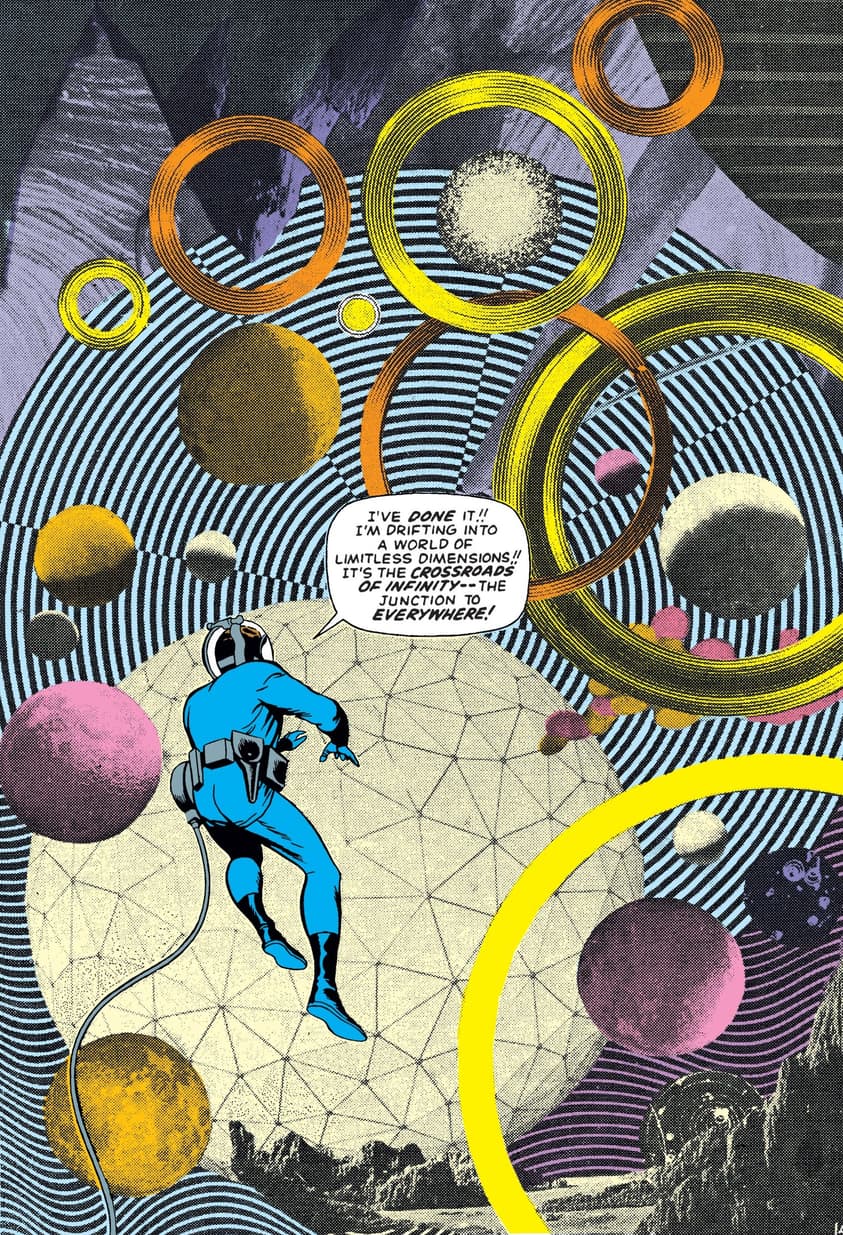 Throughout their tenure on the series—which lasted approximately 108 issues—Jack Kirby and Stan Lee developed Marvel's cosmic universe, introducing countless new dimensions and space empires. You've got the Blue Area of the Moon in FANTASTIC FOUR #13, Sub-Atomica—part of the Microverse—in issue #16, Attilan home of the Inhumans in issue #47, the Negative Zone in issue #51, and even the Planet Kral IV in issues #90-94 which is populated by Skrulls imitating New York City in the 1930s! And that was just the beginning. Since then, an army of creators have added their own unexplored, fascinating destinations to Fantastic Four canon.
INTERDIMENSIONAL, MEDDLING KIDS!
The Fantastic Four have long been considered the First Family of the Marvel Universe, but that title became all the more applicable in 1968's FANTASTIC FOUR ANNUAL #6 when Stan Lee and Jack Kirby introduced the world to Sue Storm and Reed Richard's first child: Franklin Richards! But who would have expected that this wee bundle of joy would grow up to be one of the most powerful beings on the planet with the power to rewrite reality?
Franklin accidentally used those abilities to age himself into an adult in FANTASTIC FOUR #245, but managed to put psychic dampeners on his own mind before reverting back to being a child. And, thanks to a bit of time travel with his grandpa Nathaniel Richards, Franklin spent some time as a teen hero and became the founder of Fantastic Force starting in FANTASTIC FOUR #376. Since then he's: shunted the heroes who fell fighting Onslaught into a pocket universe, joined the Future Foundation, and helped rewrite the Multiverse after SECRET WARS (2015). Of late, he's been going by the name Powerhouse while splitting time between Krakoa and his parents after rewriting his own DNA to make him a mutant!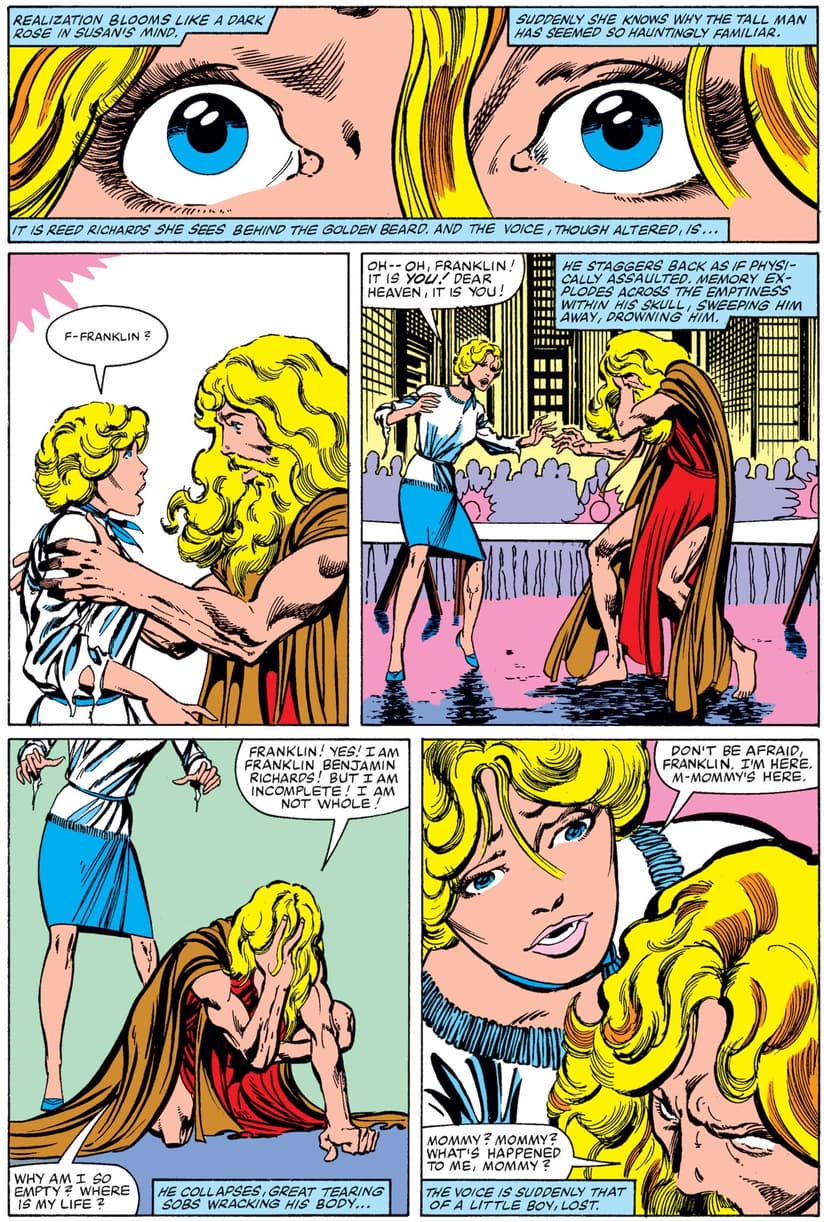 If that sounds complicated, you ain't seen nothing yet. In the 80s, Sue became pregnant in the Negative Zone which added a variety of complications. Ultimately, she survived a miscarriage in issue #267. But it was later revealed that Franklin used his powers to save his unborn sister and send her to an alternate reality where she would grow up and eventually interact with the team as Marvel Girl in FANTASTIC FOUR (1998) #15. That version disappeared after Franklin lost his powers, leading the baby to return to her mother's womb as seen in FANTASTIC FOUR (1998) #49.
Unexpectedly pregnant again, Sue found herself dealing with many of the original complications. With Reed captured, Sue's brother Johnny sought help from Doctor Doom who used his unique brand of magic and science to deliver the baby girl in issue #54. Doom did this in exchange for being able to name the infant "Valeria." Von Doom tried to use the girl to achieve his means, but ultimately failed. Still, the two have developed a respect for one another as Val has grown into one of the smartest humans on the planet. Like her brother, she has also become a regular member of the FF team, going by Brainstorm in the field.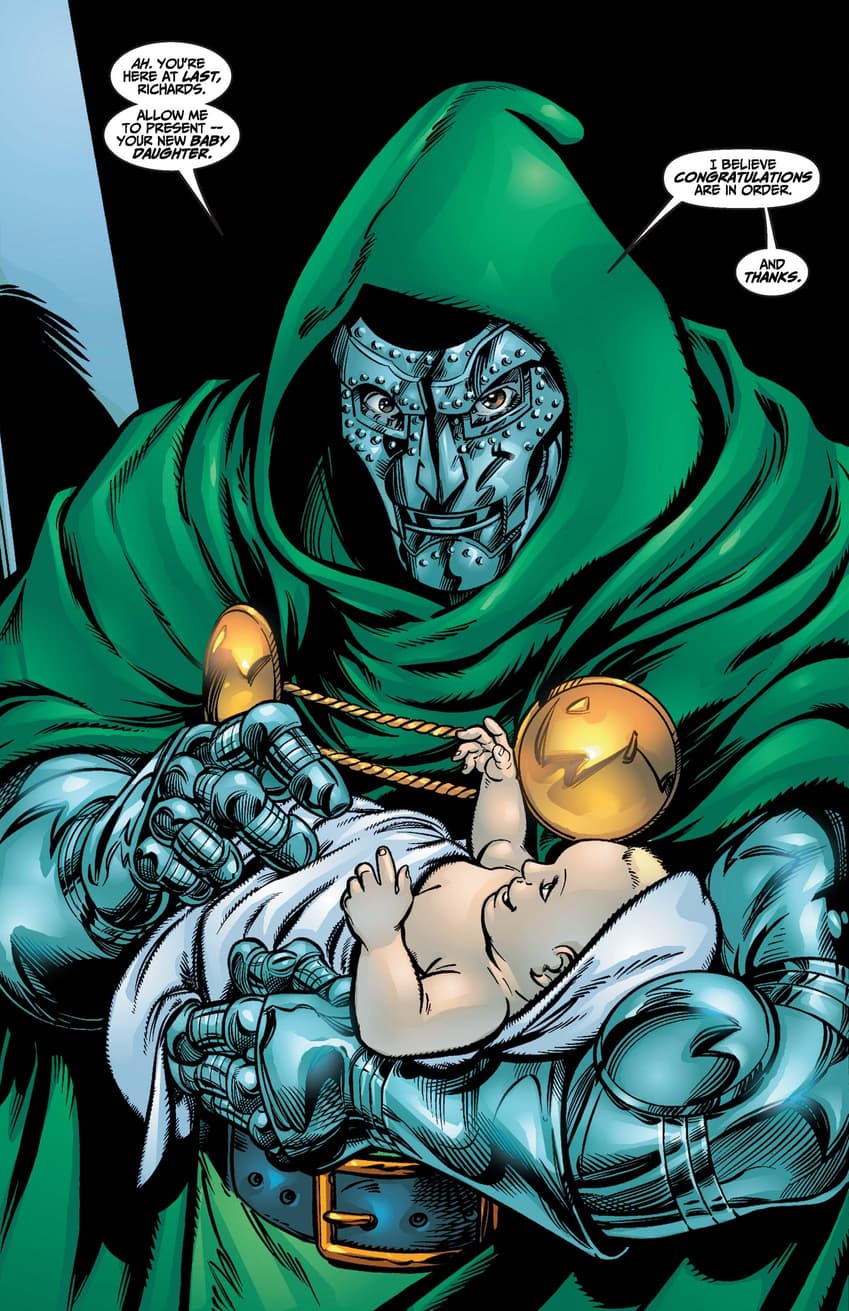 MORE THAN FOUR
In addition to the Richards' kids joining the team, many others have donned the famous blue duds of the FF, most often to fill in for missing or incapacitated members. Spider-Man: Peter Parker was the first to try and join up in THE AMAZING SPIDER-MAN (1963) #1, but he wouldn't make the cut until many years later. The first real replacement came in FANTASTIC FOUR (1961) #81 when Sue needed to take a pregnancy leave, so Johnny's girlfriend, the Inhuman Princess Crystal, took her place. The Inhuman Queen Medusa also filled Sue's spot when she and Reed were going through some marital problems starting in FANTASTIC FOUR #132.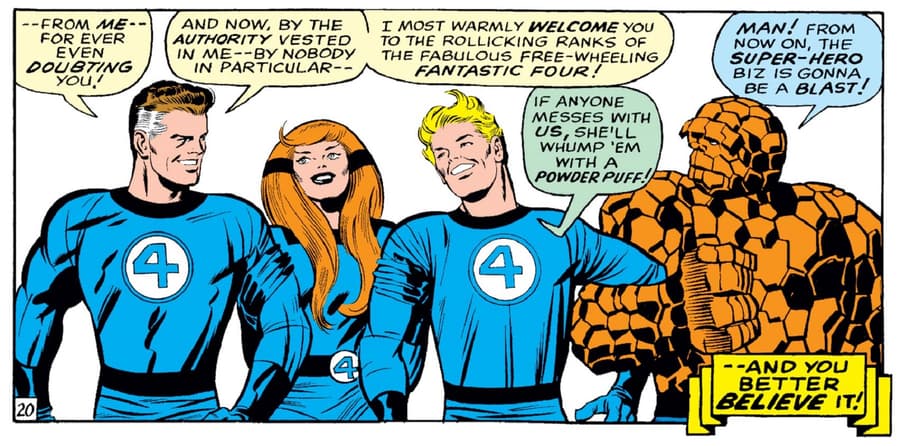 Hero for Hire Luke Cage briefly subbed in for the Thing, but that only lasted from FANTASTIC FOUR #168-170. Frankie Raye also leant her fiery powers as Nova to help the gang, but soon went off to become Galactus' new Herald in issue #244. In a longer stint starting in FANTASTIC FOUR #265, She-Hulk offered her services when Ben Grimm decided to go solo in the mid-80s. There was even that time in FANTASTIC FOUR #347-349 when Wolverine, Spider-Man, Ghost Rider: Danny Ketch, and Gray Hulk "Mr. Fixit" became the all-new FF!
[RELATED: A Guide to 'New Fantastic Four' #1]
Sharon Ventura also kicked around with the team both as Ms. Marvel and She-Thing, Ant-Man and his daughter Cassie Lang lived with the FF for a while, and after the first Superhuman CIVIL WAR, then-royal couple Black Panther and Storm took over for Mister Fantastic and the Invisible Woman when the Richards' needed to reconnect. It seems like whenever the Fantastic Four need someone to cover their team, they've got enthusiastic candidates!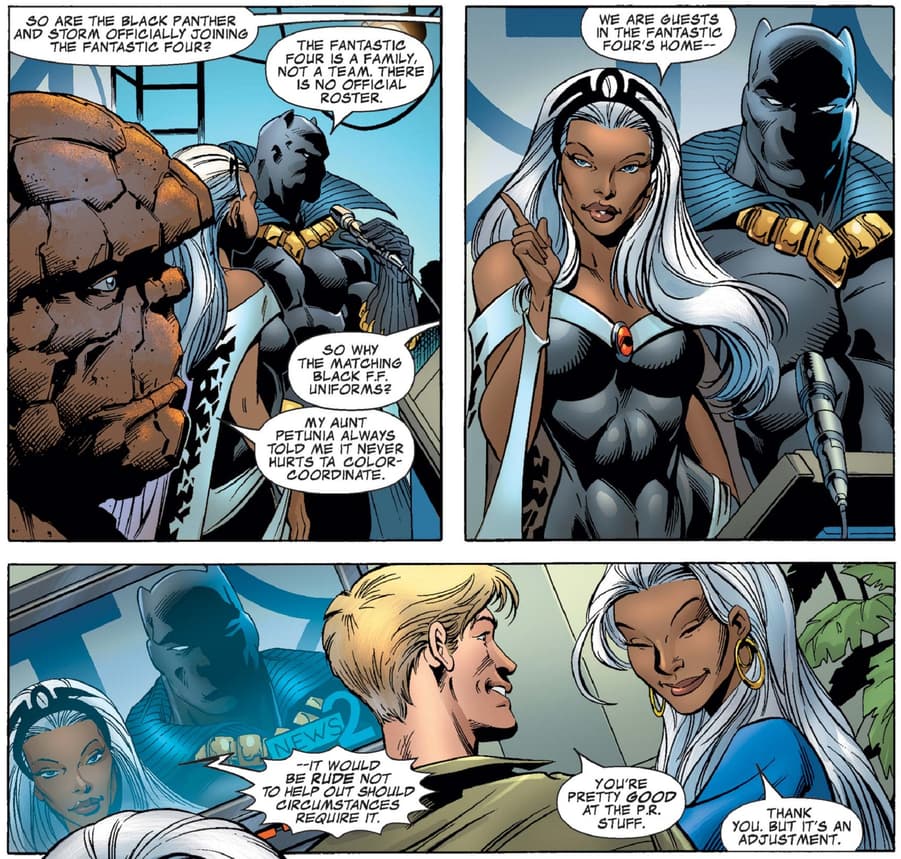 IT'S COMPLICATED
The Fantastic Four have faced their share of enemies over the years, but their romantic relationships might be even messier! Atlantis' Prince Namor—who Johnny Storm found in a bearded and amnesiac state way back in FANTASTIC FOUR (1961) #4—immediately became romantically obsessed with the Invisible Woman. She was, of course, with Reed already, but this deep-sea monarch kept swimming through her thoughts. She even kept a secret glossy photo of ol' ankle wings until Johnny torched it in issue #6. There are even some realities in which Sue and Namor got married, including one in WHAT IF? (1977) #21!
Last time, we mentioned that the Skrull Lyja posed as Alicia Masters, who is not only the stepdaughter of the villain Puppet Master, but also Ben Grimm's longtime girlfriend and now-wife. However, with the Thing off planet at the time, "Skrullicia" made moves on Ben's longtime pal Johnny and the two got married in FANTASTIC FOUR #300. Lyja was discovered as her true self in FANTASTIC FOUR #357-358, but she has assisted the team since, and has even sparked a new flame with the Human Torch!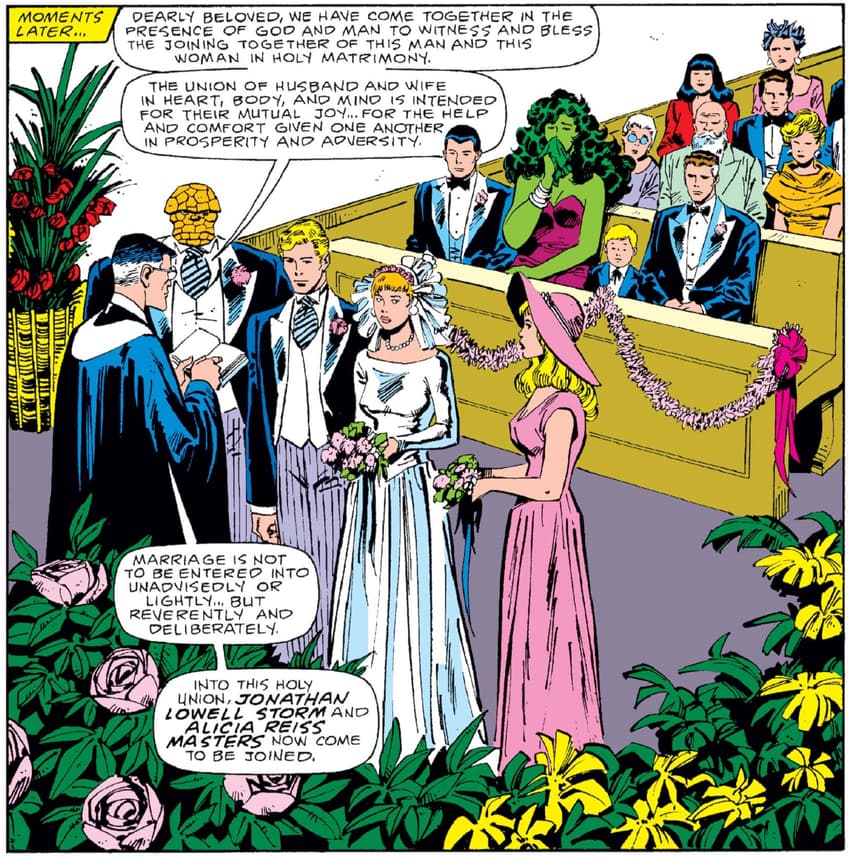 THE FUTURE FOUNDATION
In FANTASTIC FOUR (1998) #579, Reed got fed up with the lack of innovation amongst the established scientific community, so he began looking to younger and superpowered sources to fix reality's biggest problems. To that end, he gathered Valeria and Franklin as well as Alex Powers, Artie Maddicks, the mutant Leech, a young clone of the Wizard going by Bentley, Vil and Wu of Ancient Atlantis, a quartet of evolved Moloids, and the android Dragon Man.
After the Fantastic Four seemingly lost Johnny Storm in a Negative Zone attack, they decided to simply go by the Future Foundation, changed to black and white costumes, and brought in the likes of Spider-Man, Nathaniel Richards and even a (reformed?!) Doctor Doom. Their adventures were covered starting in FANTASTIC FOUR (1998) 570, as well as the first volume of FF (2011) which saw the Future Foundation assist in the saving of Earth and reality. Though a different group came together in the second FF volume from 2012—Ant-Man: Scott Lang, She-Hulk, Medusa, and Darla Deering—the original crew reunited after 2015's SECRET WARS to travel around and rebuild the Multiverse with help from the Molecule Man.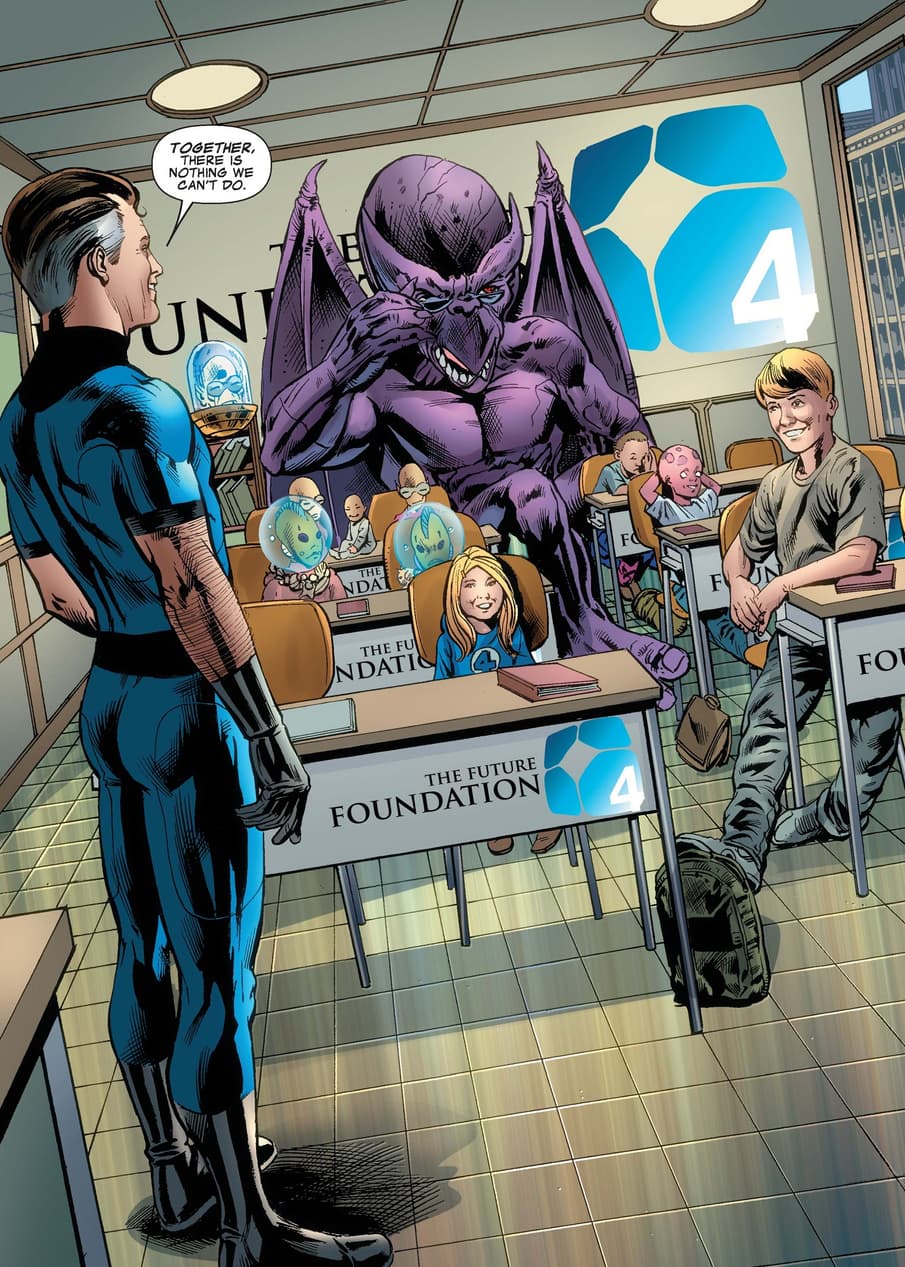 To read your Marvel comics digitally, download the Marvel Unlimited app for iOS and Android devices. Gain an expansive catalog of 30,000+ comics spanning Marvel Comics history, plus access your entire digital library including comics redeemed from print.
The Hype Box
Can't-miss news and updates from across the Marvel Universe!