Comics
Published April 3, 2020
5 Best 'Avengers vs. X-Men' Battles and the 5 We Want to See
Read the whole event for FREE in Marvel Unlimited.
Looking for more classic arcs, complete events, and Marvel must-reads you can read for FREE? Read online here, or download or update the Marvel Unlimited app for iOS or Android at the Apple or Google Play app stores today.
To find these stories and more of Marvel's greatest comic books in print, please reach out to your local comic book shop to ask about services they may offer, including holding or creating pull lists, curbside pick-ups, special deliveries and other options to accommodate. Find and support your local comic book shop at http://comicshoplocator.com.
READ AVENGERS VS. X-MEN HERE!
In 2012, arguably the two most dominant teams in the Marvel Universe, (no offense Power Pack), went head-to-head in the AVENGERS VS. X-MEN event, with a story by a plethora of the best creators Marvel has to offer.
With the Phoenix Force once again headed towards Earth, both teams deduced that Hope Summers was its chosen host. Their reactions could not have been more different. Cyclops, then-leader of the X-Men, wanted the Phoenix to merge with Hope, as he saw this as a way to "rebirth" the mutant population. Captain America and the Avengers wanted to put an end to the Phoenix once and for all.
This "conflict of interest," to put it mildly, forced each team to come to blows. Throughout the 13-issue series, fans saw their favorite mutants go up against their favorite "non-mutants." Of those battles, here are the five coolest ones within this excellent event. We understand that if every possible fight took place, we'd be on issue #500 right now, but we also thought of five matches we WISH had taken place.
FIRST BATTLE ON UTOPIA (AVENGERS VS. X-MEN #2)
When the Avengers arrived to take Hope in their efforts to stop the Phoenix, Cyclops saw this as an insult to all of mutantkind, as he considered the Phoenix's arrival to be a catalyst for their survival. What follows is a dream battle between Earth's Mightiest Heroes and the World's Strangest Heroes. The highlight of this first battle is Magneto and Colossus utilizing the "Fastball Special," a move generally reserved for Colossus and his former teammate and frequent-Avenger, Wolverine.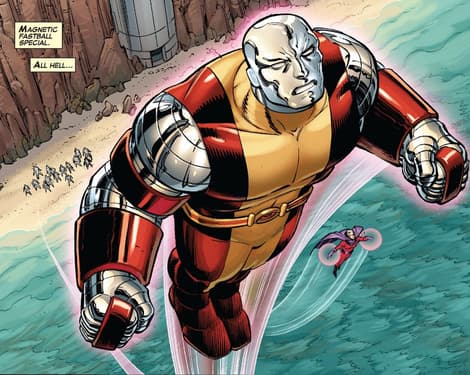 CAPTAIN AMERICA VS. WOLVERINE (AVENGERS VS. X-MEN #3)
Wolverine has often sided with the Avengers, which makes sense since his history with Cyclops isn't exactly on the best friend level. After Hope escaped both teams on Utopia, Captain America led a team to track her down, which included the quick-healing Canuck. Cap wanted to save Hope, and Logan reluctantly intended to kill her, thinking it was the only way to avert the crisis. Of course, the two come to blows, and with a little help from his fellow Avengers, Cap leaves Wolverine "out in the cold."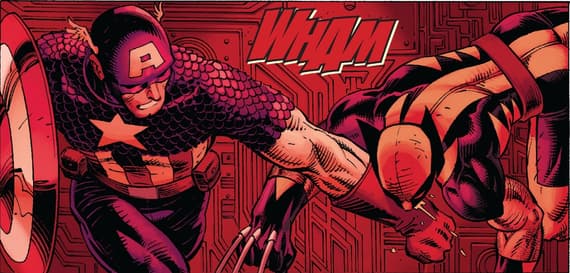 THOR VS. PHOENIX (AVENGERS VS. X-MEN #4)
While this battle doesn't last more than a few pages, watching the God of Thunder alone against one of, if not the, most powerful force in the Marvel Universe is still a fantastic image. Watching Thor throw Mjolnir into the heart of the Phoenix is not only surprising, but it gives us readers a real sense of its power, and how both the Avengers and the X-Men may not fully understand what's in store.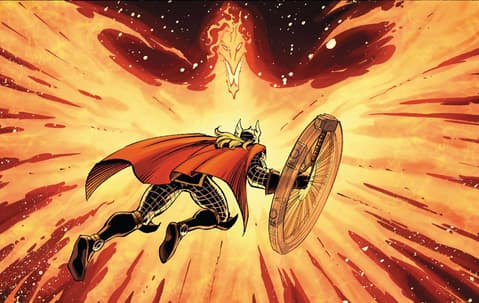 NAMOR VS. THE AVENGERS (AVENGERS VS. X-MEN #6)
Powered by the Phoenix, Namor attacked Wakanda in an attempt to end the Avengers once and for all. It took everything the Avengers had, but they were able to defeat the King of Atlantis, however not without cost. All of the Avengers suffered some sort of injury. Wakanda was in ruins, with many of its citizens killed by Namor. In the aftermath, the Phoenix Force within Namor flowed into the remaining four, (Cyclops, Emma Frost, Magik, and Colossus). The relationship between the Black Panther (Avenger) and his wife Storm (X-Man) also came to an electrifying end.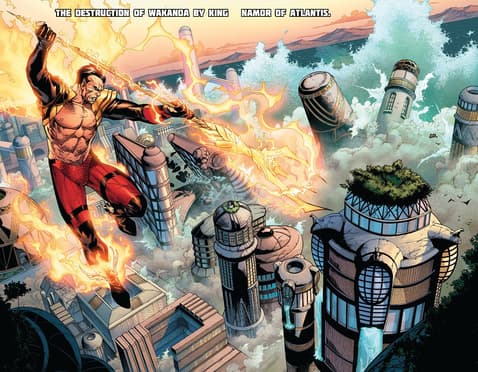 SPIDER-MAN VS. MAGIK AND COLOSSUS (AVENGERS VS. X-MEN #9)
To save Hope and the other Avengers while they formed a final battle plan in the ancient city of K'un-Lun, Spider-Man sacrificed himself to hold off an attack from the Rasputin siblings, Colossus and Magik. As per usual, the heavily outmatched Wall-Crawler relied on his wits to not only live through the battle, but cause Magik and Colossus to turn on each other, costing them their Phoenix abilities. Spider-Man isn't the strongest hero in the Marvel Universe, (don't get us wrong, he's no slouch). However, this once again proved how he is arguably one of its greatest heroes.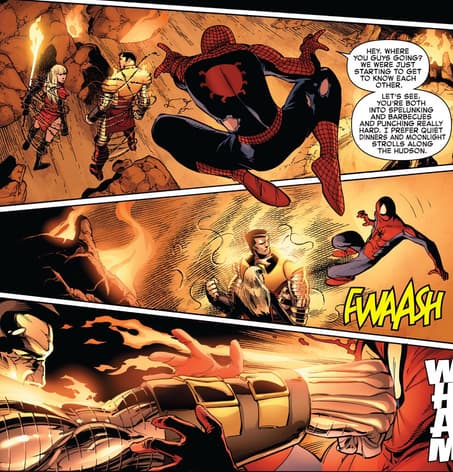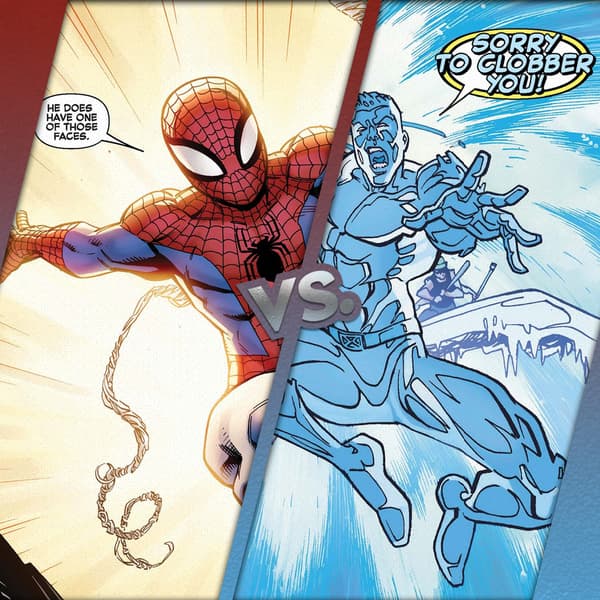 For those of us Marvelites who grew up in the '80s, Spider-Man and Iceman were not only friends, they were amazing friends. Starring together in the Saturday morning cartoon series Spider-Man and His Amazing Friends, these two, along with Firestar, fought villains from all across the Marvel Universe. They also gave each other a hard time while doing it. A scuffle between them during AVENGERS VS. X-MEN could have brought some humor into such a serious standoff.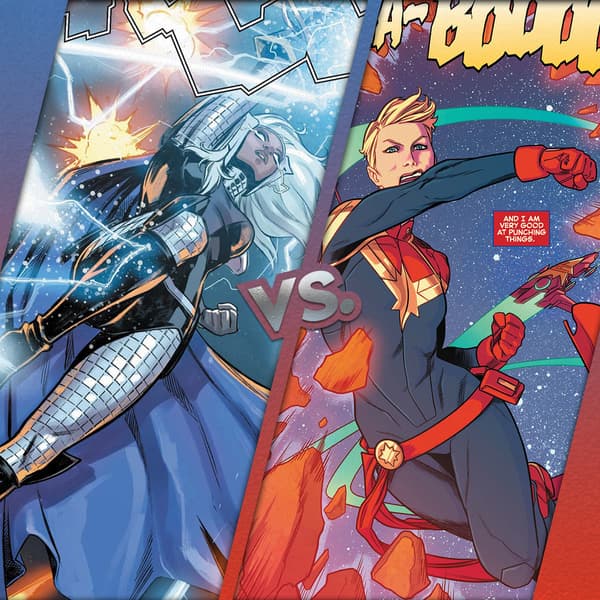 Storm is a goddess come to life. Carol Danvers was in the midst of her transition into Earth's Mightiest Hero, Captain Marvel. You have an X-Woman torn between sides, as she has loyalties to her people and her husband, Black Panther. You also have an Avenger who is still working on the confidence to step up to be the top tier hero on Earth. These conflicts would have added a great dynamic to what would have been an epic fight.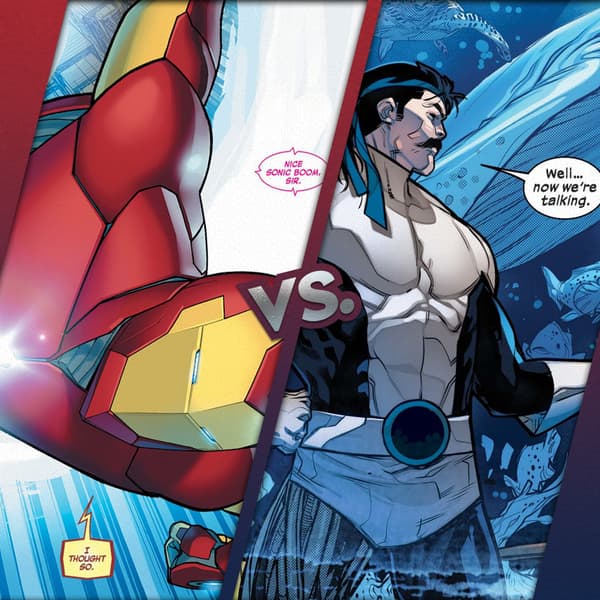 Seeing the tech guru from each side going head-to-head trying to make the coolest robot would have had a balance of humor and urgency the story epitomized. Plus, they're mustache bros, so even though they would be fighting against each other, a kinship would undoubtedly have been formed.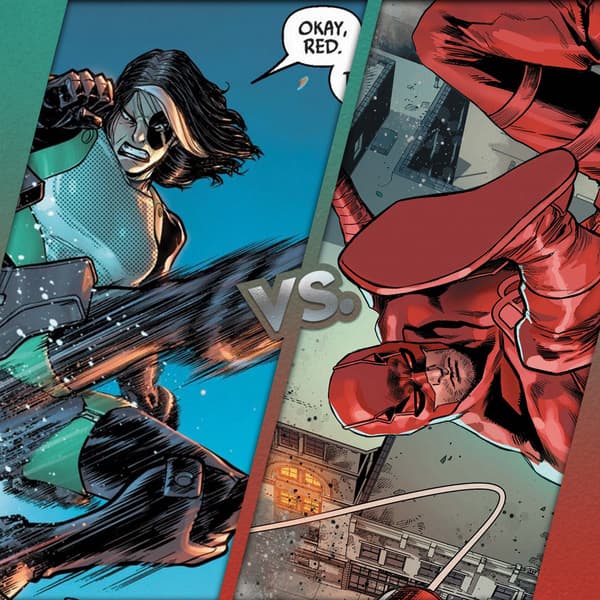 This one seems a little out of left field. When you think about it, it's a perfect combination of styles. Both are amazing fighters. Domino's mutant power is perpetual good luck too, meaning anything can go her way. However, she'd be going up against a hero who can hear, touch, and smell things from miles away. He'd be able to "see" lousy luck before it hit him. This one wouldn't have been "who's better." It would have been a "who slipped up first."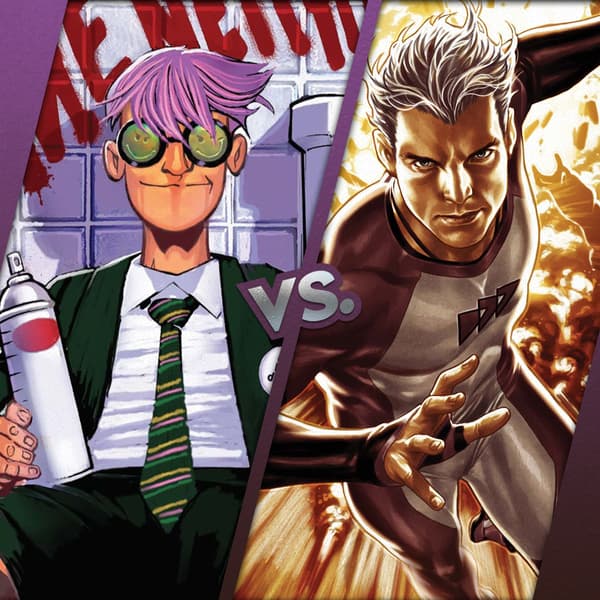 One is an arrogant jerk who comes through in a pinch despite his character flaws. The other is…an arrogant jerk who comes through in a pinch despite his character flaws. Watching the two most unlikable characters from either side try to take the other down would be great. Not just for the action, but for the temper tantrum. We're almost certain that the loser would most certainly let loose some choice words upon defeat.
Need more blockbuster action? Escape into the Marvel Universe and revisit favorite stories from a curated selection of complete story arcs – completely FREE – on Marvel Unlimited, Marvel's digital comics subscription service.
The Hype Box
Can't-miss news and updates from across the Marvel Universe!