Comics
Published May 29, 2020
5 Times Doctor Strange Taught Us the 'Way of the Weird'
Read the first volume from 'Doctor Strange' by Jason Aaron and Chris Bachalo, FREE on Marvel Unlimited.
TRY THE FIRST ARC HERE!
Magic is dying, and the Multiverse is unprepared.
In excellent entry series DOCTOR STRANGE (2015), Earth's Sorcerer Supreme is tasked with restoring and replenishing all magical forces across a range of dimensions. But every spell cast comes at a cost, and what happens when Stephen Strange falls behind on his tab?
Right now, the entire first volume of Doctor Strange's definitive series is free on Marvel Unlimited, along with a handful of other events, arcs, and storylines, available to read through June 2. See what else is offered here.
Marvel's magic users have no idea what's around the corner, but Doctor Strange is no stranger to the unknown. For him, the sublime is just a way of life. And from the first five issues, we gleaned precious knowledge about his "Way of the Weird."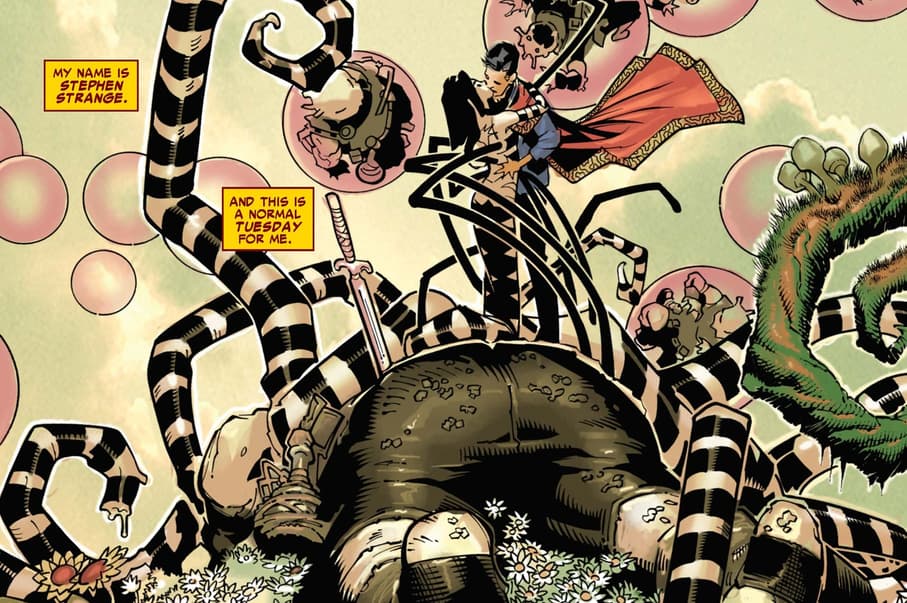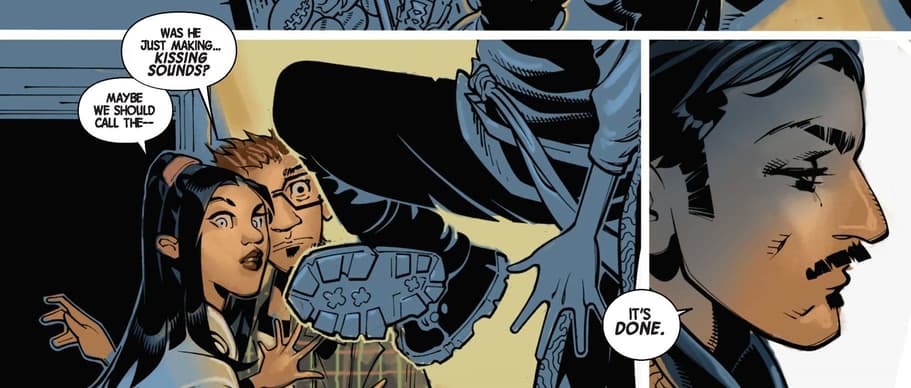 Here's but a few of our most mind-boggling moments from the first arc, all business as usual for the Master of Mystic Arts, but an interdimensional smorgasbord for us readers.
TEDDY BEARS OF THE NETHERSPHERE!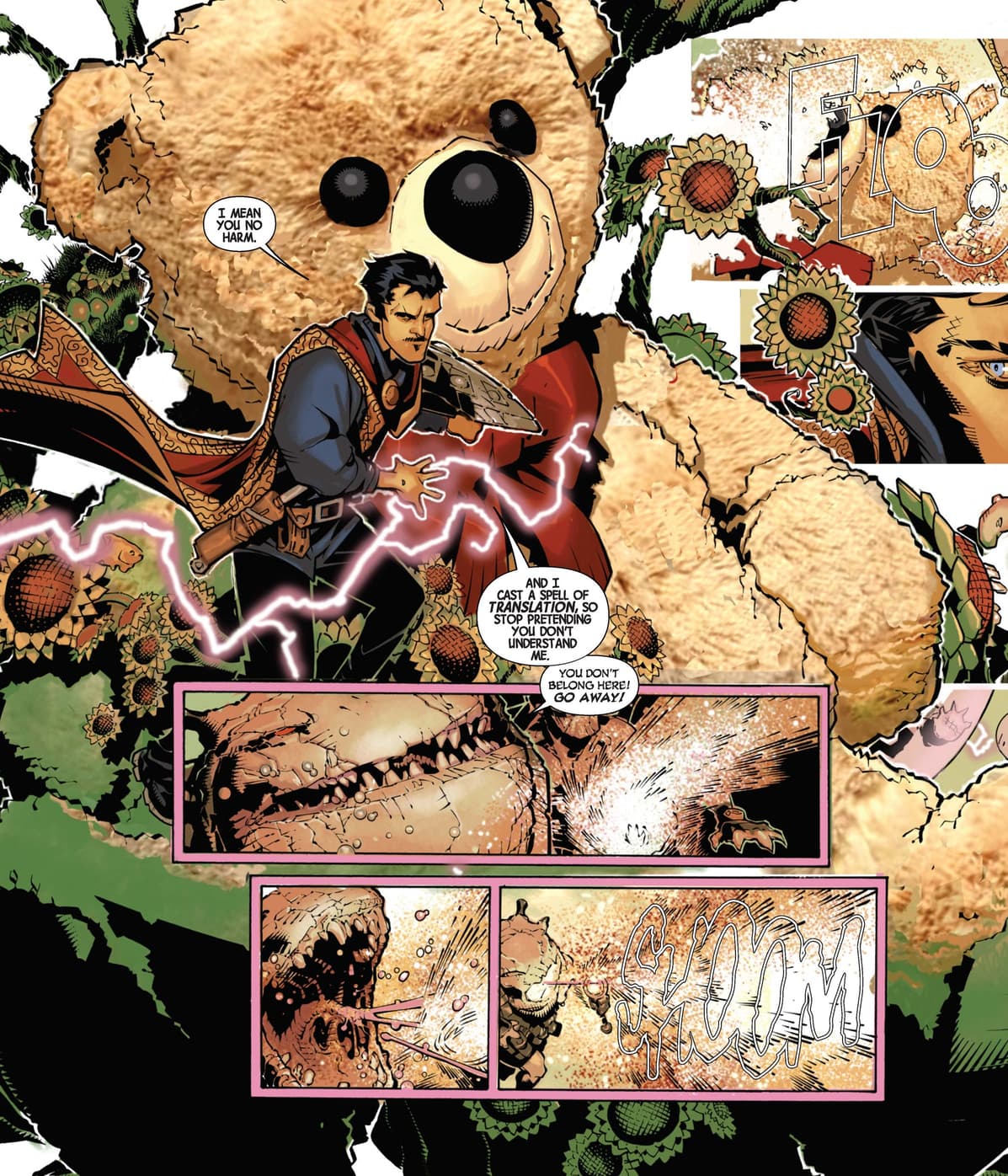 Who knew that cross-dimensional soul-eaters could be so cute and cuddly? While working through a young boy's dreamscape, Strange encountered the "free rovers" of this Nethersphere, a tentacled snake-sorceress and her champion, Spurrgog the Hell-Breather. Plus teddy bears. Giant ones.
These demonic parasites had been plaguing the child's waking life, burrowing deep in their host's mind.
But Strange knew just where to send these clinger-ons. A questionable move, if not effective.

Whoa. That's… OK.
"BY THE HAPPY HOUR OF HOGGOTH!"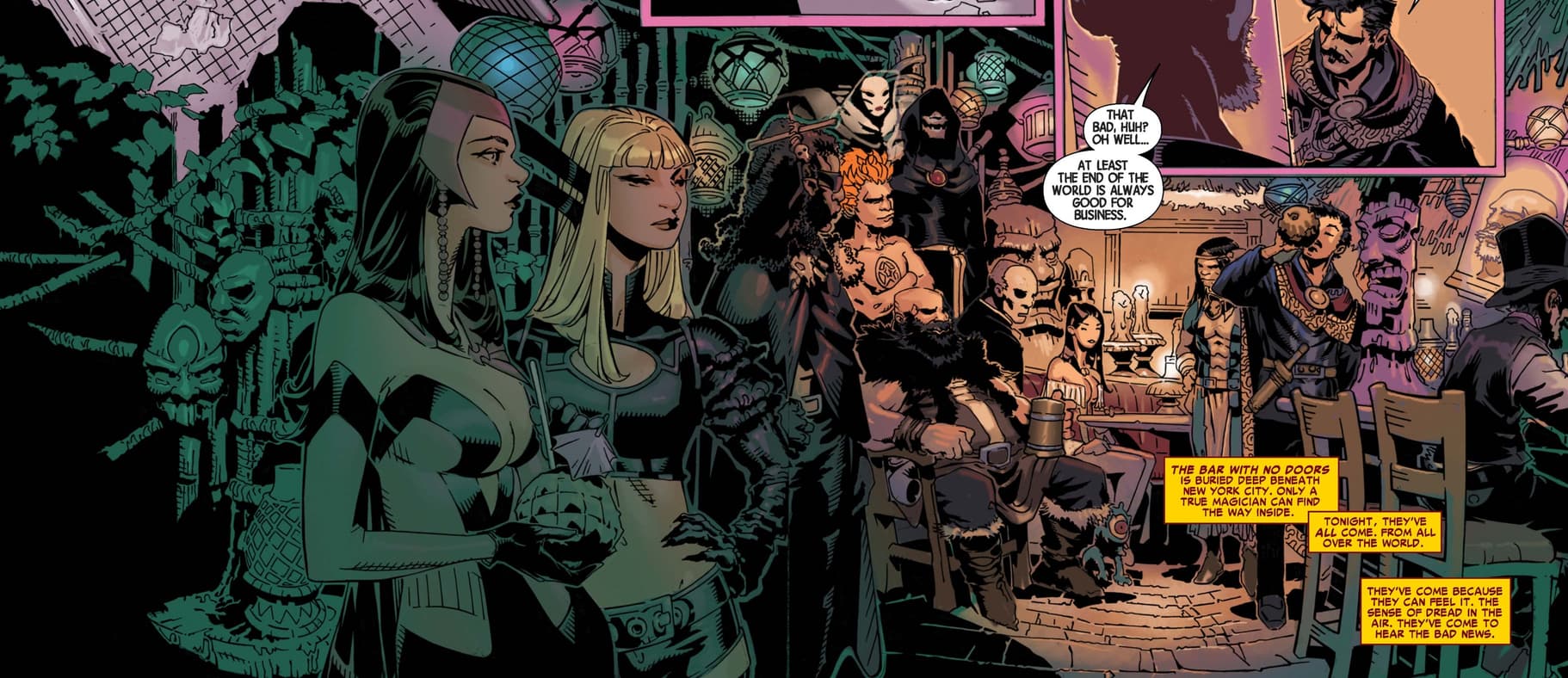 After a nerve-wracking/successful day at the office, many of us wet our whistle by grabbing an adult beverage with friends!
And the mages, wizards, and witches of the Marvel Universe are no exception. In this arc, we were introduced to the "Bar With No Doors," a magicians-only lounge for those who want to invoke zombie gods or show off a new portal relic away from non-mage eyes. And, instead of getting in with a stylish password like a Lower East Side speakeasy, you must be able to evaporate through its walls.
For Strange, the Bar With No Doors is the perfect place to talk shop with Scarlet Witch, Doctor Voodoo, and Shaman. All three have noticed bizarre goings-on in the world of sorcery, an imbalance that is encroaching ever closer. But first, the tab.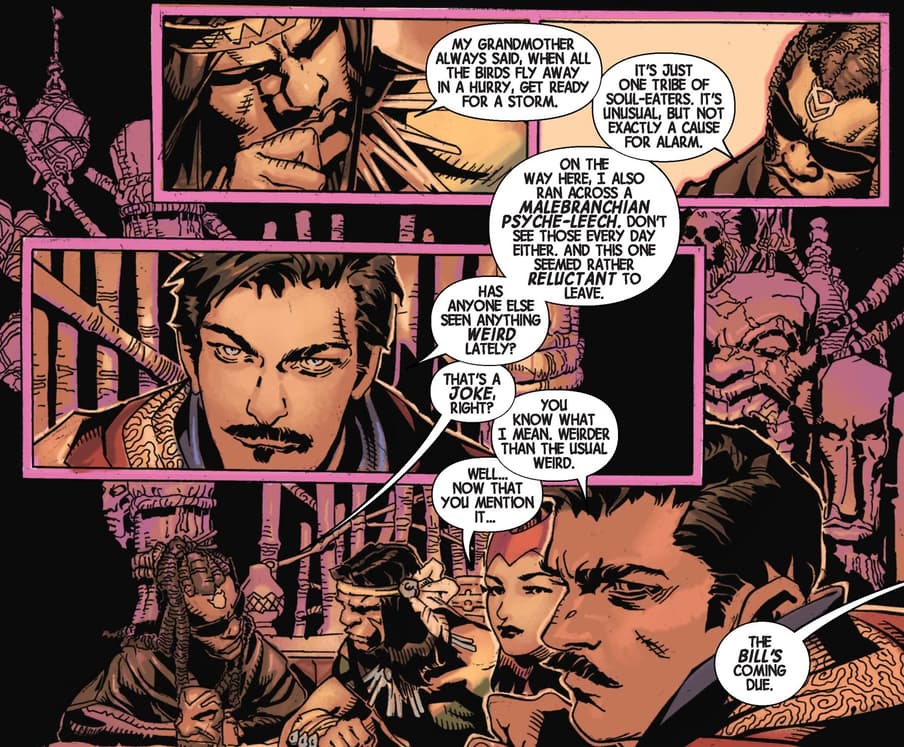 THOSE SANCTUM SANCTORUM SNAKES!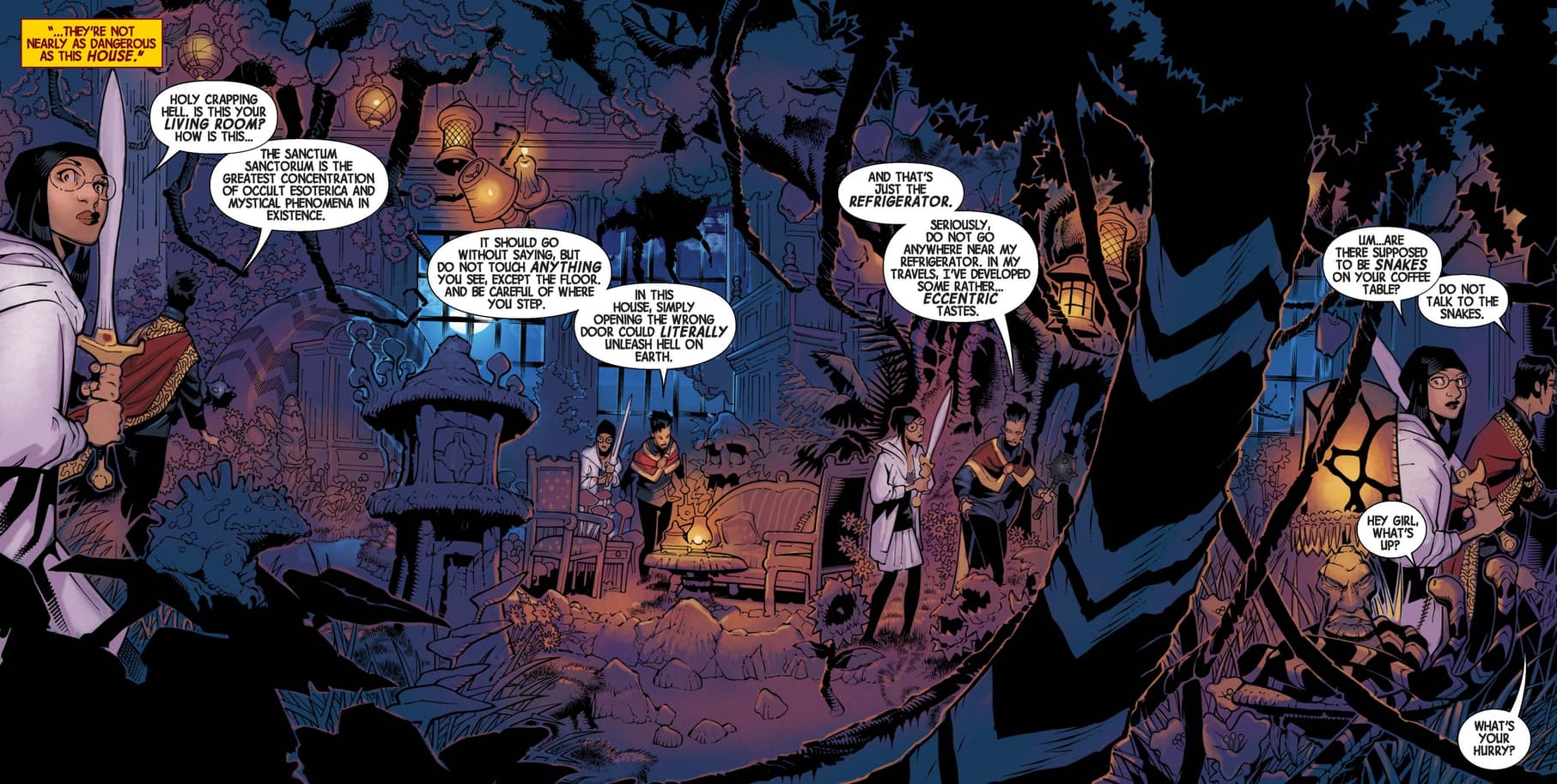 When librarian Zelma Stanton sought out Strange's help for a case  of "mind maggots" in issue #2, she had no idea she'd be treated to a tour of the inner chambers of the Sanctum Sanctorum, the last "truly weird place in New York." And that includes underground warehouse parties in Bedstuy.
The carefully-shielded Sanctum is the Doctor's mystical home base, one part artifacts-gallery, one part mystical reservoir. The living room also features the "greatest concentration of occult esoterica" in existence. Can't leave that off the listing.
If you ever get a chance to visit, don't talk to the snakes. Plus carry a sword. The staircase is also not to be trifled with, so do watch your peepers. And your hands. Actually, don't touch anything.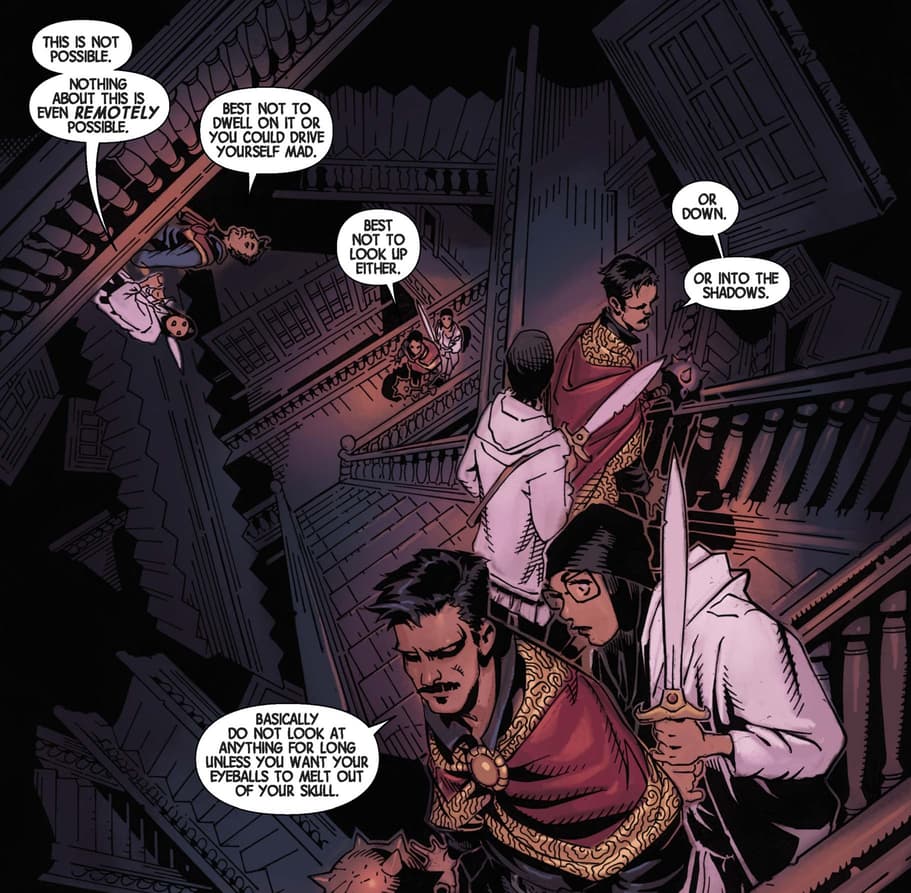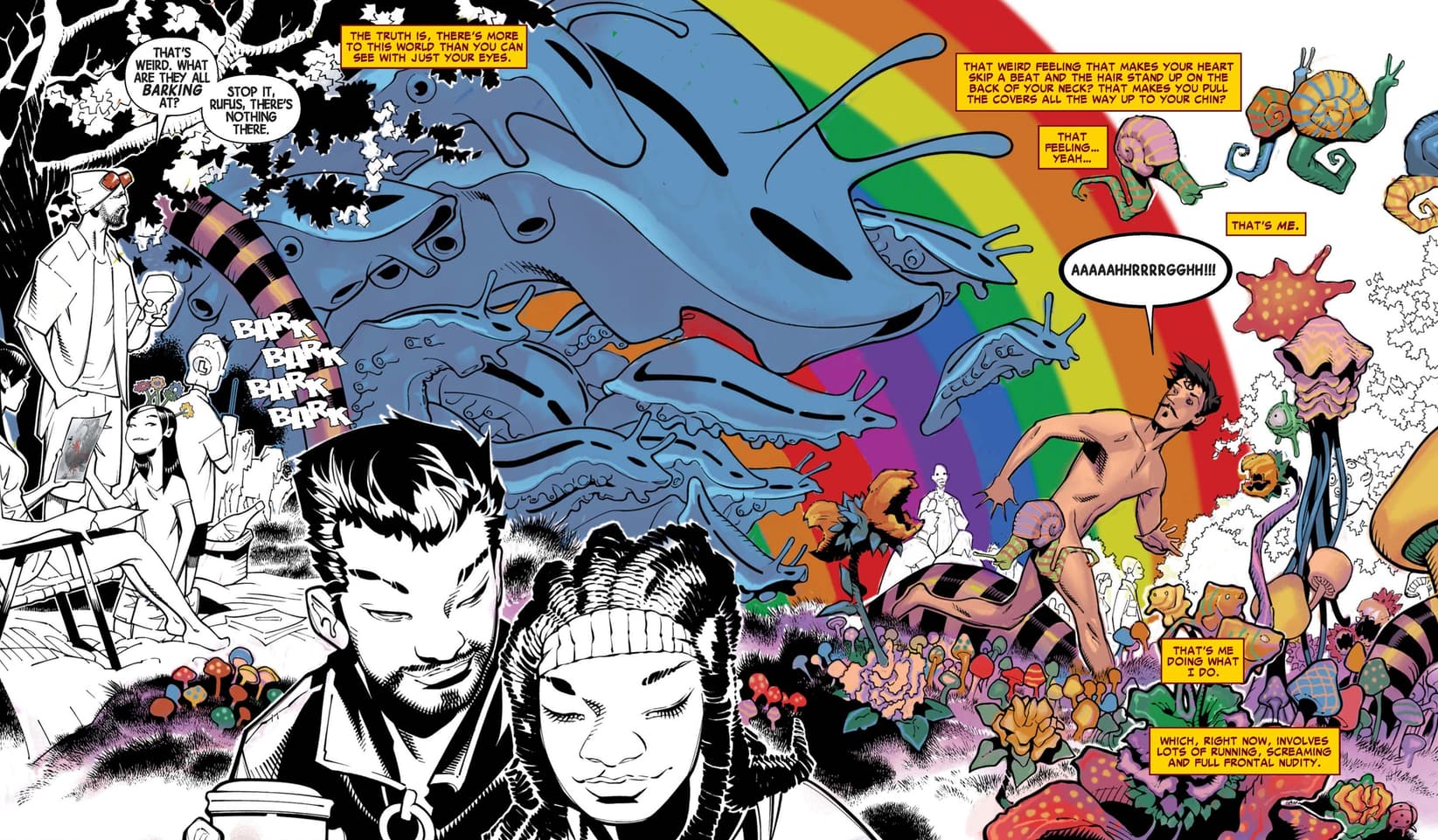 After opening the door to Fandazar Foo, a nexus point where magicians vacation, reflect, and meditate, Strange inadvertently unleashed a slew of spacey slugs, "magic eaters" that scared off the natural population of interdimensional bacteria and ectoplasm that live in our current dimension.
Artist Chris Bachalo took us on a supremely surreal journey in DOCTOR STRANGE #3, an issue long chase where Strange was robbed of his favorite tools… and his clothes.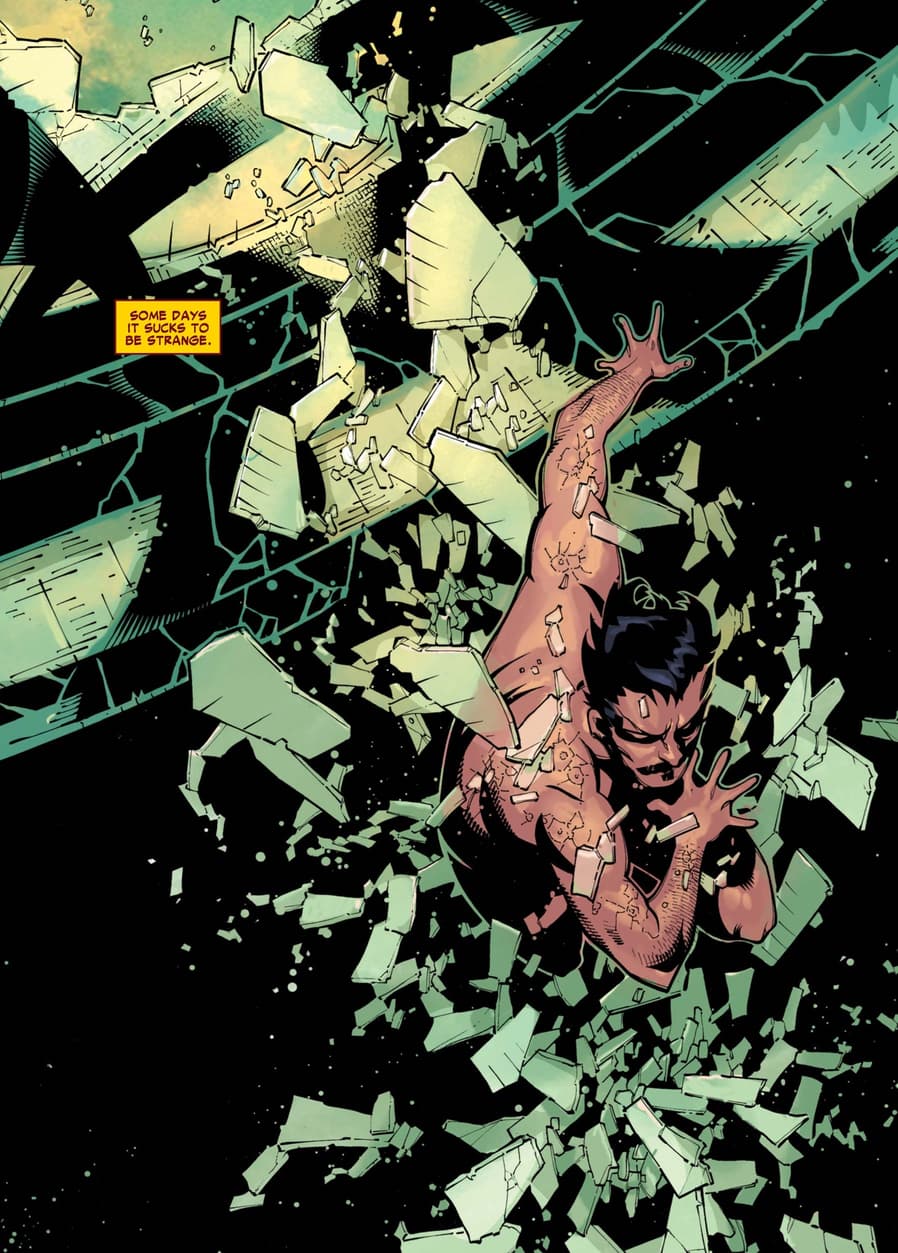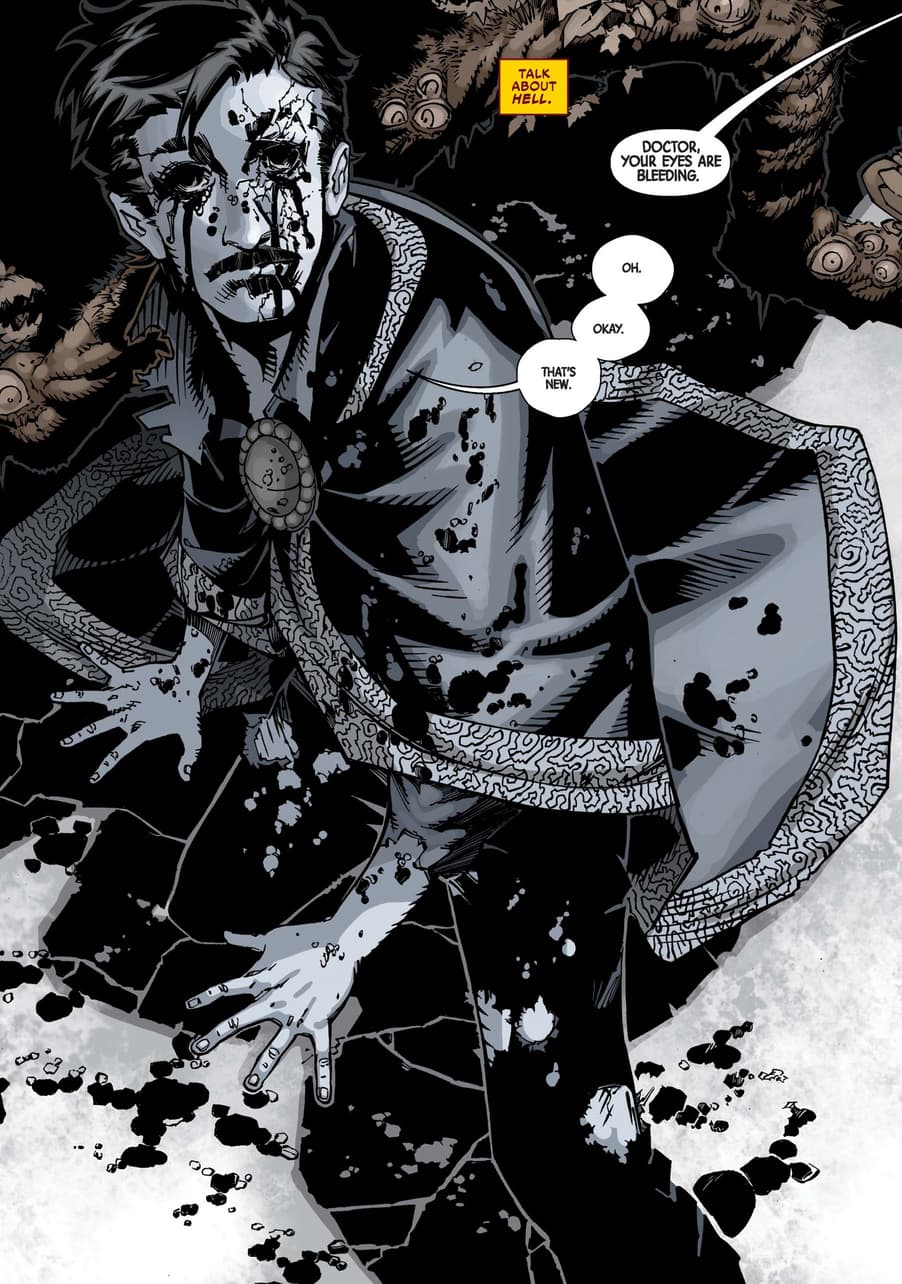 As a protector and keeper of the Multiverse, Strange has come across occupational hazards far beyond OSHA's reach.
Come issue #5, all of Earth's magic wielders were on full alert to an assault by the Empirikul, an army of cyber-beings who opposed anything mystical and sought its destruction.
In a flashback sequence, we learn just how far Strange is willing to go to defend Earth-616. It's a weird beat, but also an unsettling one, a foreshadowing of what's ahead for Marvel's most magical.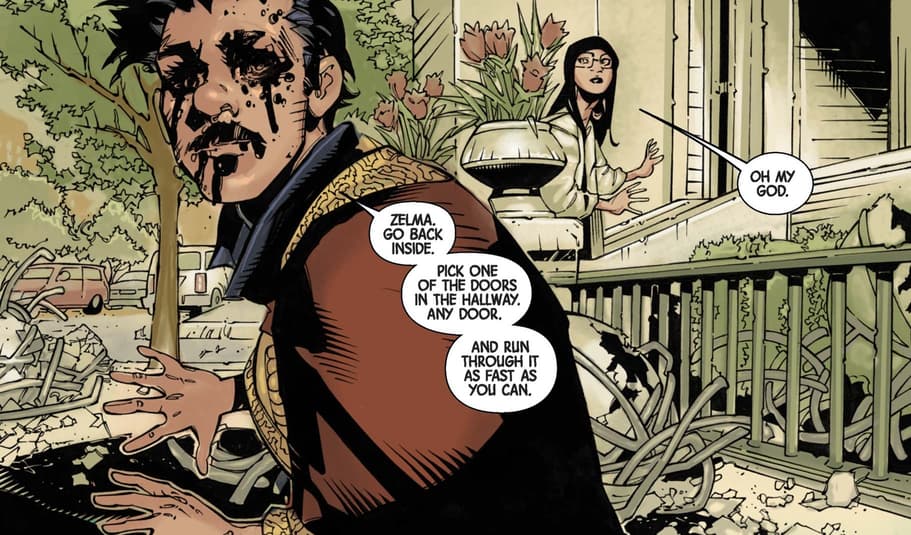 There are more Strange Tales ahead, True Believer, so go on and read the complete arc to fully embrace the weirdest way. Plus, you can continue the Empirikul storyline with issue #6, kicking off the second volume to the Sorcerer Supreme's uphill battle in the wake of magic's last days.
Looking for more iconic arcs, complete events, and Marvel must-reads you can read for free? Read online here, or download or update the Marvel Unlimited app for iOS or Android at the Apple or Google Play app stores today.
For more of Marvel's greatest comic books in print, please reach out to your local comic book shop to ask about services they may offer, including holding or creating pull lists, curbside pick-ups, special deliveries and other options to accommodate. Find and support your local comic book shop at http://comicshoplocator.com.
The Hype Box
Can't-miss news and updates from across the Marvel Universe!