Comics
Published November 6, 2019
6 Key Moments in Kamala and Bruno's Relationship
Get the full backstory as you read today's whirlwind 'Magnificent Ms. Marvel' #9!
The first eight issues of MAGNIFICENT MS. MARVEL have completely upended Kamala Khan's life, taking her to new worlds with her family (sometimes literally)—and now with Bruno Carrelli. A longtime friend and longtime almost-romantic partner, Bruno has found himself at Kamala's side for the last five years.
And as seen on the cover of today's MAGNIFICENT MS. MARVEL #9...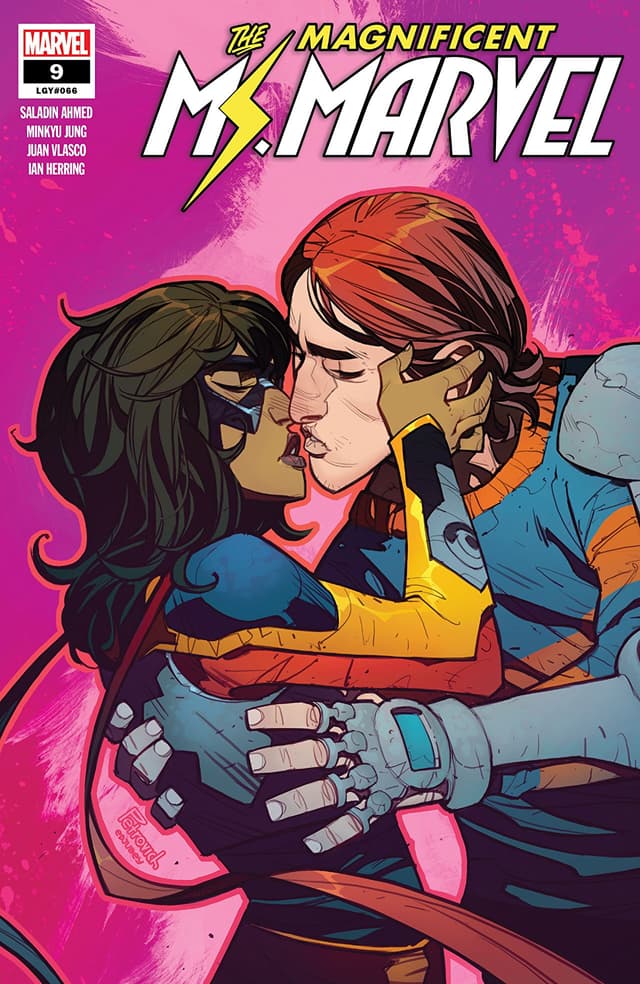 ...things are about to change between Kamala and Bruno forever.
In preparation for the landmark new issue, we're looking back at some of the most consequential and emotional moments between Ms. Marvel and Mr. Carrelli. Let's go!
Kamala shares her secret identity
Kamala and Bruno's history goes way back—all the way to second grade, when the two of them bonded over their shared love of the show Tween Mutant Samurai Turtles. And, crucially, he was the first one who found out that Kamala was Ms. Marvel.
Back in 2014, Kamala—still reeling from her encounter with the Terrigen Mist and the discovery of her newly activated super powers—stopped by the Circle Q convenience store where Bruno worked. While there, Bruno's brother Vick tried to rob the place, and Kamala jumped into action, getting shot in the process. In MS. MARVEL (2014) #4, she revealed her identity to Bruno to prevent him from involving the authorities.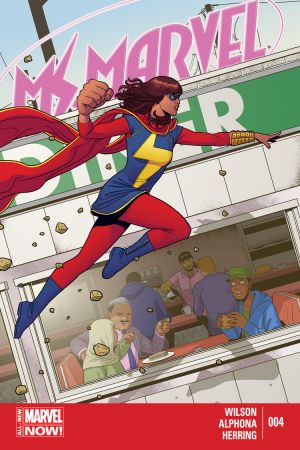 For a period, he was the only one who knew Kamala's secret, making him an especially close confidante and deepening their bond.
They finally admit their feelings
The romantic tension between these two has been present, basically, since day one; it's a will-they-won't-they dynamic that's kept readers guessing for years. But for most of their history, their feelings went unspoken.
But all that changed in MS. MARVEL (2014) #19. With SECRET WARS raging, things were looking pretty dire, and in the face of global-scale catastrophe, they finally admitted how they felt about one another. But Kamala concluded that, due to the demands of being a Super Hero, she couldn't get involved with Bruno...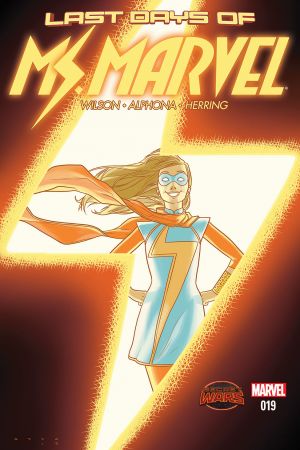 On one hand, it was satisfying to see them finally being open in this way. On the other, knowing for sure that the feelings were mutual made their situation even more heartbreaking.
Bruno gets injured
CIVIL WAR II took a major toll on everyone involved, including Kamala. And as a result of the decisions she made during the conflict, Bruno wound up in the hospital, having lost the use of his left arm and leg.
In MS. MARVEL (2015) #11, he let Kamala know in no uncertain terms just how hurt he was by everything that had gone down, and how much it'd damaged their friendship. For a pair of friends who had been through so much together, this moment was particularly heart-wrenching.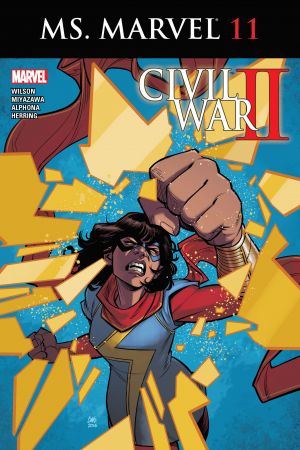 Bruno and Kamala go abroad
Part of what makes Kamala and Bruno's relationship such an emotional roller coaster is their consistent dynamic alternating between growing closer and pulling away.
In the wake of CIVIL WAR II, things between these two were in a pretty rough place, and they were both feeling like they needed a new start. In MS. MARVEL (2015) #12, Kamala traveled to Karachi, Pakistan for an extended stay with family. While there, she did a lot of soul-searching, trying to figure out who she was both as a hero and as a person. And in issue #18, Bruno decided to go to school in Wakanda. Readers saw him building a new life there, one that had little to do with Kamala (for the time being).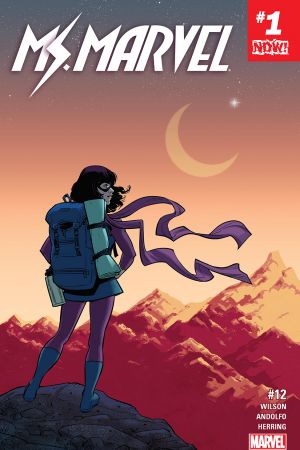 Romantic Rivals
As Kamala and Bruno's relationship has evolved, there have been moments where they've explored possibilities with other people. Most recently, in the storyline beginning with MAGNIFICENT MS. MARVEL (2019) #4, Kamala found herself on an unexpected space adventure...with her parents!
On the planet Saffa, she tried to save a young liberator named Cheb Hura, and her efforts quickly escalated local conflicts. But Cheb Hura was impressed, and there was definitely some romantic tension between the two. Kamala and Cheb Hura fought side-by-side in a pretty epic battle, and it was easy to see how feelings could develop between them.
Cheb Hura, however, wasn't the only one Kamala has been drawn to. A while back, while in Pakistan, Kamala met a vigilante who went by the name Red Dagger. The two of teamed up and discovered they had a great rapport. In issue MS. MARVEL (2015) #29, they kissed—Kamala's first kiss!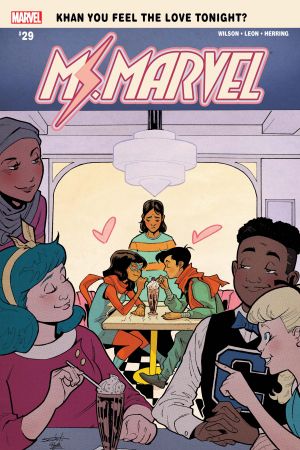 Ms. Marvel (2015) #29
published

added to marvel unlimited

letterer

writer

editor

inker (cover)

penciler (cover)

colorist (cover)

colorist

inker

penciler
What is Marvel Unlimited?
Bruno will probably always carry a torch for Kamala. But he's considered dating other people as well. Back in MS. MARVEL (2015) #1, it looked like Bruno might have been trying to move on, as readers found out he was apparently dating someone Michaela. Michaela's presence really put the relationship between Kamala and Bruno in focus again. And while Kamala was moving on in different ways, it reminded her—as well as readers—that there was still a spark between the two of them.
The time they almost kissed
In the last couple of issues, the tension between the two has been growing again. In MAGNIFICENT MS. MARVEL (2019) #7, it was revealed that they almost kissed at the end of summer vacation, but were interrupted when Kamala spotted her dad with a woman she thought was his mistress. Unfortunately, the woman turned out to be a nurse who was helping her dad with the rare illness he recently discovered he had. In issue #7, Bruno brought up the almost-kiss while the two of them were jogging at school. Kamala replied that, given her dad's condition, it wasn't a good time to get involved. But the moment let us all know that the feelings were still there, setting us up for some possible romantic drama in ish #9!
Clearly, these two have endured a lot together. There has certainly been some serious strain put on their relationship over the years, but somehow, they always seem to remember how much they truly care about one another. But are they finally ready to take the next step forward?
To find out, check out MAGNIFICENT MS. MARVEL #9 at your local comic shop today!
The Hype Box
Can't-miss news and updates from across the Marvel Universe!