Comics
Published October 12, 2020
A List of Every Character Known as Ms. Marvel
See the story behind Carol Danvers, Sharon Ventura, Karla Sofen, and Kamala Khan!
Whew! Teen-age titan Kamala Khan's got her humongous hands full with her audacious adventures as Ms. Marvel—she's not only on the run from the law and the lawless in MAGNIFICENT MS. MARVEL #15, she's champin' at the bit to celebrate the return of one of ol' Marvel's coolest clubhouses in CHAMPIONS #1!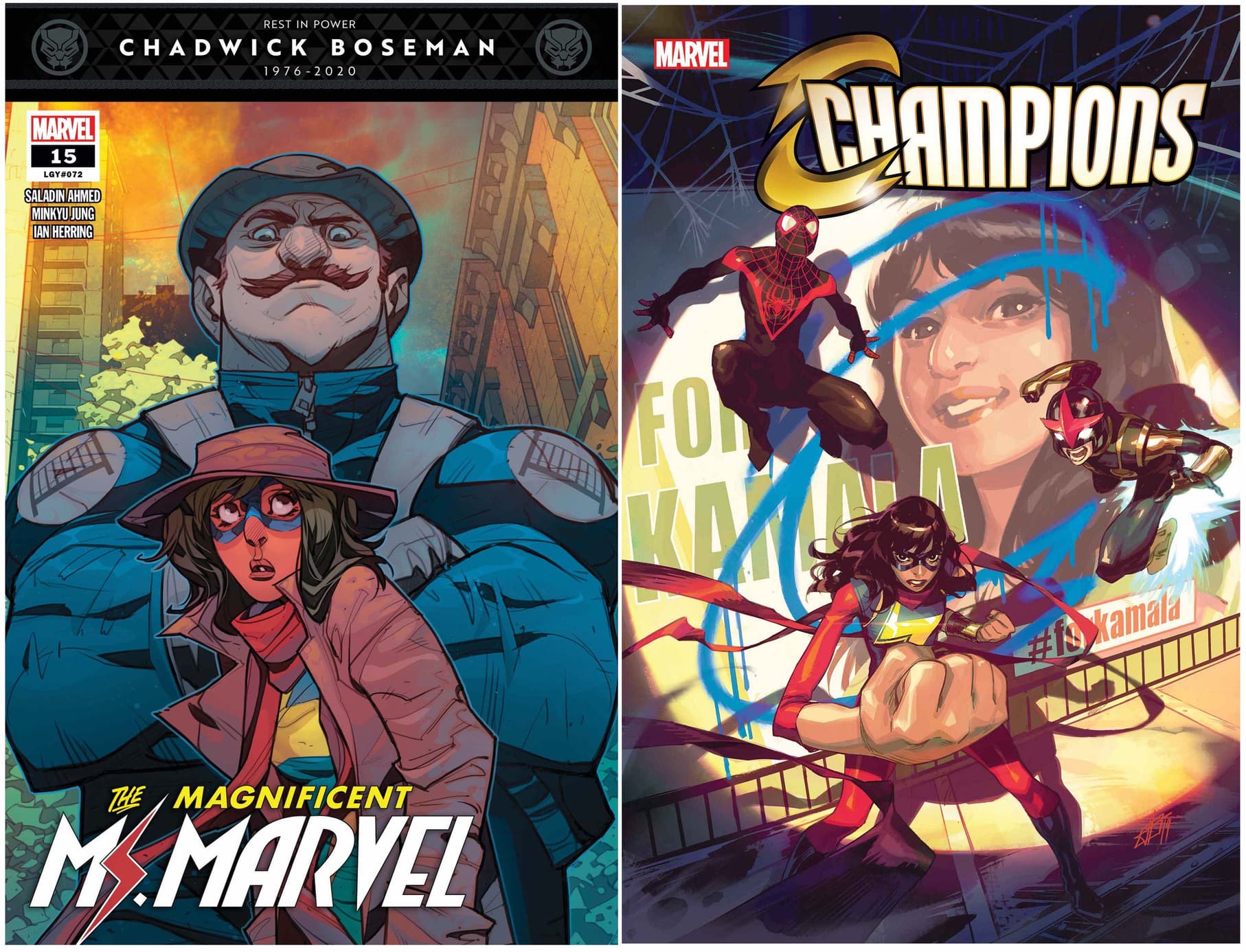 She almost needs to be in three of four different places at once, wouldn't ya say, True Believers? Hey, that reminds us of all the other Ms. Marvels that came before Kamala…
Pull up a settee and sit right down as we enlighten and educate you about the history of the Ms. Marvel moniker, Effendi!
The first Ms. Marvel has had four different codenames!
That's right, four! Look, if you had the crazy career of Carol Danvers, you'd have to scramble a few jets to stay one step ahead of the chaos, too… And it makes for one heckuva story!
Danvers made her dazzling debut in MARVEL SUPER-HEROES (1967) #13 as her spectacular self, but after being bombarded by a blast in CAPTAIN MARVEL (1968) #18 she climbed into a costume and marched to MS. MARVEL (1977) #1. Before long, the Avengers came a'callin'—and sadly things turned down as swiftly as they went up for the dynamic hero.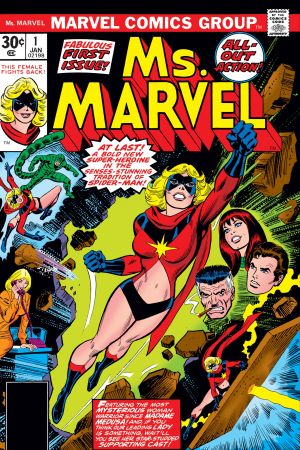 So, Ms. Marvel then became Binary as her abilities were augmented and space sang its siren call in UNCANNY X-MEN (1963) #164. Following that, Carol came back to Terra Firma as Warbird in AVENGERS (1998) #4, and, ta-da, finally qualified for her new wings as Captain Marvel in AVENGING SPIDER-MAN (2011) #9 then, what else, CAPTAIN MARVEL (2012) #1! And somewhere in-between all that, she hung out her shingle as Ms. Marvel again, also! Phew!
The second Ms. Marvel was a stuntperson, wrestler, Super Hero—and Super Villain!
The sad story of Sharon Ventura is one for the hallowed history books, heroes. There've been many macabre missives about tragic figures in the Marvel Universe, but we think Sharon's saga may rank right up there at the towering top. Read on to see what we mean...
Ms. Ventura ventured out to find her fortune first in THING (1983) #27 as a stuntperson and then in THING (1983) #35 when she pulsated with ill-gotten powers to become a sort-of super-wrestler named, yep, Ms. Marvel. For a short while, she and the ever-lovin' blue-eyed Thing, Ben Grimm, were happy hopping around the ring, but when Ben bounced back to the Fantastic Four and Sharon sallied forth with him, her days grew darker.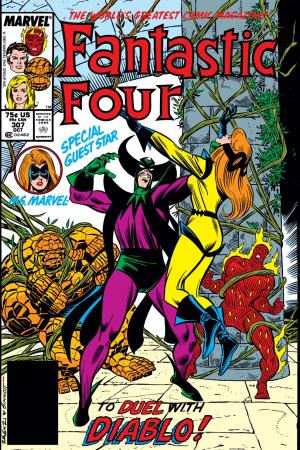 In FANTASTIC FOUR (1961) #307, those crazy cosmic rays that bombastically bombarded Reed and Sue and Johnny and Ben all those years ago did a number on Sharon and changed her into a She-Thing! She weathered the storm in rocky fashion as a Super Hero until she fell into the orbit of the dastardly Doctor Doom and eventually turned to villainy with the Frightful Four in FANTASTIC FOUR UNLIMITED (1993) #5. Alas, not to worry! Sharon's human again at latest look and once more enjoying the loony life of a wrestler!
The third Ms. Marvel was an errant psychologist!
Aha! Some among you might not be frankly familiar with this one, but have no fear, Frank, for we shall fill you in as we go along into the malevolent maelstrom swirling around...Moonstone!
Yep, we said Moonstone! Psychologist Karla Sofen was introduced in CAPTAIN AMERICA (1968) #193 eons ago, and took up the mantle of Moonstone from the crook who previously possessed the power in INCREDIBLE HULK (1962) #228. Ol' sinister Sofen made her mark as a vile villain throughout the Marvel Universe, a jaunty job that caught a certain crafty cretin's attention…guy by the odious name of Osborn. Norman Osborn.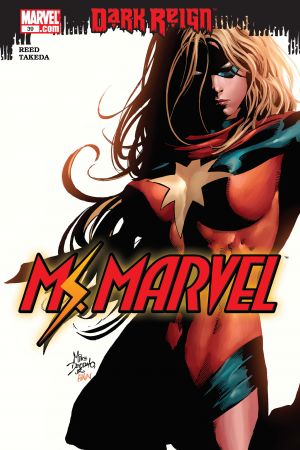 Ms. Marvel (2006) #39
published

added to marvel unlimited

rating

inker

penciller

writer

colorist

other

letterer
What is Marvel Unlimited?
The Hype Box
Can't-miss news and updates from across the Marvel Universe!