Comics
Published November 9, 2021
A 'Marvel's Voices: Comunidades' Conversation with Writer Karla Pacheco
Prepare for December 8's 'Marvel's Voices: Comunidades' #1 with the issue's Robbie Reyes scribe!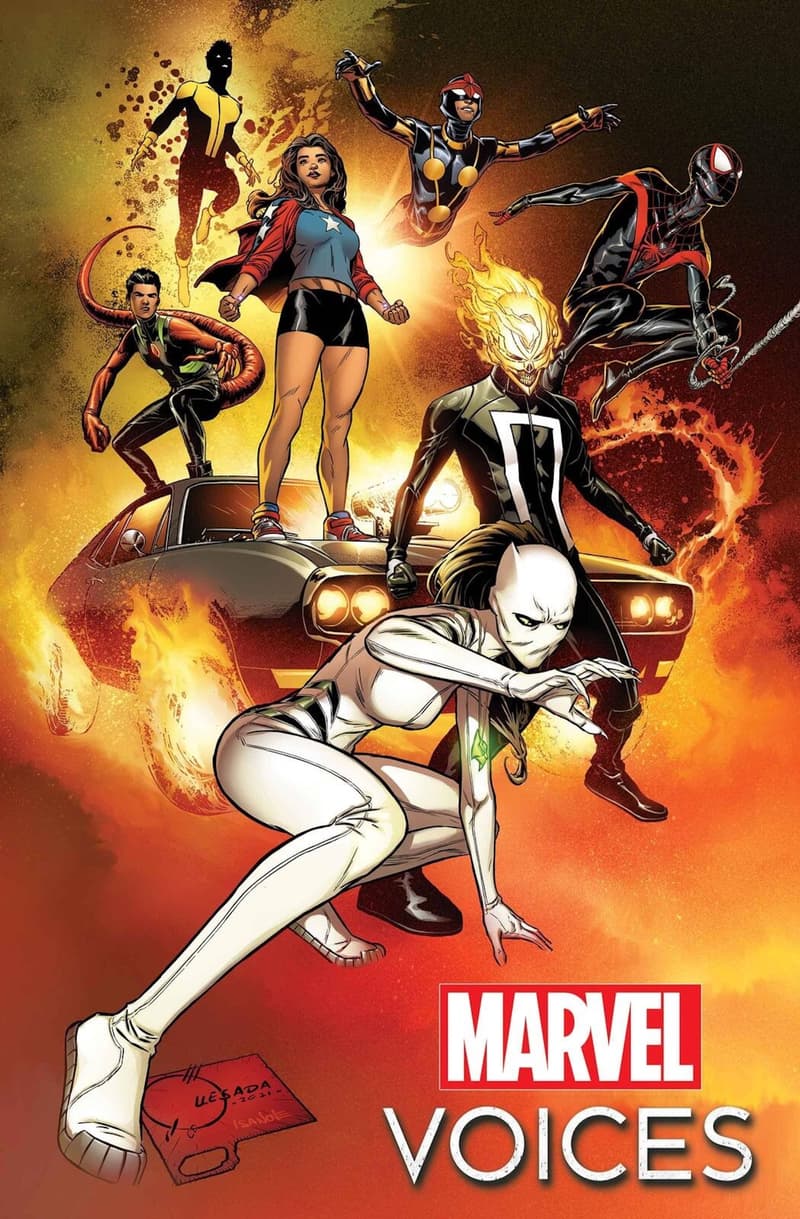 This issue features Miles Morales, America Chavez, Ghost Rider, White Tiger, Reptil, and many more. In spirit of the themed issue, Eisner Award winning comics scholar and director of the Latinx Pop Lab at UT Austin, Dr. Frederick Luis Aldama, states how "these and other of Marvel's resplendent stable of Super Hero protagonists and their storyworlds have become the foundation, walls, doors, and windows that we Latinxs have used to make home and community."
Be on the lookout for COMUNIDADES along with its covers, including the one above by Joe Quesada. In the flurry of Marvel's announcement and in conjunction with Latinx Spaces, we were able to catch up with some of the contributors, comics creators, and scholars on the recent news of MARVEL'S VOICES: COMUNIDADES. Next up...
Why take on this project?
Initially I DIDN'T think I would be able to be a part of the project, which was heartbreaking, because I love working with [editors] Sarah [Brunstad] and Lauren [Amaro], and the work they're doing on the MARVEL'S VOICES books. Especially this one! But when they mentioned a segment revolving around food and the culture, I knew I had to MAKE time, and I'm so glad we were able to work it out. 
Spider-Woman (2020) #1
published

added to marvel unlimited

penciler

inker

colorist

editor

painter (cover)

penciler (cover)

letterer

writer
What is Marvel Unlimited?
What excites you about your contribution to COMUNIDADES?
While my story is very short and sweet, it's based on my father teaching me to make tortillas as a child, so it's obviously extremely personal, but I loved being able to give it a "Ghost Rider twist" through Robbie Reyes. 
Your thoughts on this and the other MARVEL'S VOICES books?
The best part of the VOICES series has been how it highlights under-represented creators and characters, but not only as "feel good one-offs." I feel like Marvel is sincerely bringing in new talent with unique points of view, and expanding our shared universe in a fantastic way. Seeing both familiar and forgotten characters through new lenses adds so much richness to their stories. I'm so glad I get to be a part of it!
Read MARVEL'S VOICES: COMUNIDADES #1 at your local comic shop on December 8!
The Hype Box
Can't-miss news and updates from across the Marvel Universe!