Comics
Published September 27, 2021
Your First Look Inside 'Marvel's Voices: Comunidades' #1
Get a sneak peek at all the stories coming your way on November 10—and pre-order the issue today!
This November, Marvel Comics is proud to present MARVEL'S VOICES: COMUNIDADES! This latest one-shot in the groundbreaking Marvel's Voices series will continue the tradition of highlighting the cultural richness of Marvel Comics and uplifting new voices in the comic book industry. Following the success of MARVEL'S VOICES: LEGACY and MARVEL'S VOICES: PRIDE, MARVEL'S VOICES: COMUNIDADES will turn the spotlight to Latino and Latinx heroes and creators from the Marvel Universe.
These all-new stories will feature thrilling adventures of some of Marvel's most popular heroes while celebrating the range of their cultural heritage as told by fan-favorite writers and artists and those making their Marvel Comics debut.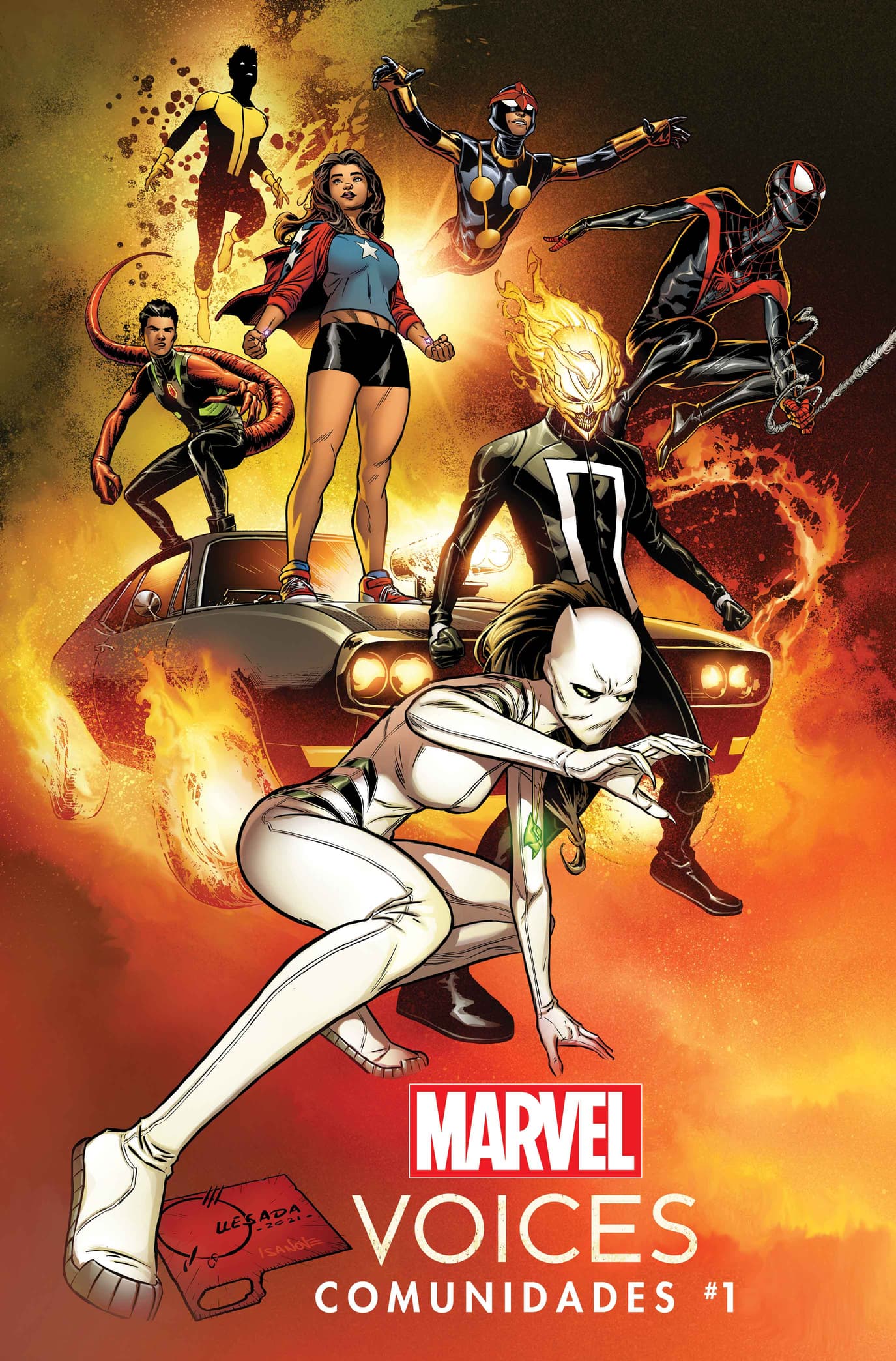 Preview each and every story in the ish below, then pre-order with your local comic shop before reading next month! First up...
"Just as Strange as You" Starring Germán Aguilar & Eva Quintero of the Strange Academy
Writer: Terry Blas
Artist: Julius Ohta
Colorist: Erick Arciniega 

"It's important for me that Latinas see themselves reflected back as smart and resourceful and brave and adventurous. Eva's character is very much informed by that and sending her to Strange Academy and off on an adventure with fellow Mexican student, German Aguilar was such a fun way to showcase both of their powers and the possibilities they hold," says Blas. "She made a promise to Humberto/Reptil that she wouldn't stop learning magic until she knew how to find his parents and Comunidades kicks off the beginning of her journey to do that."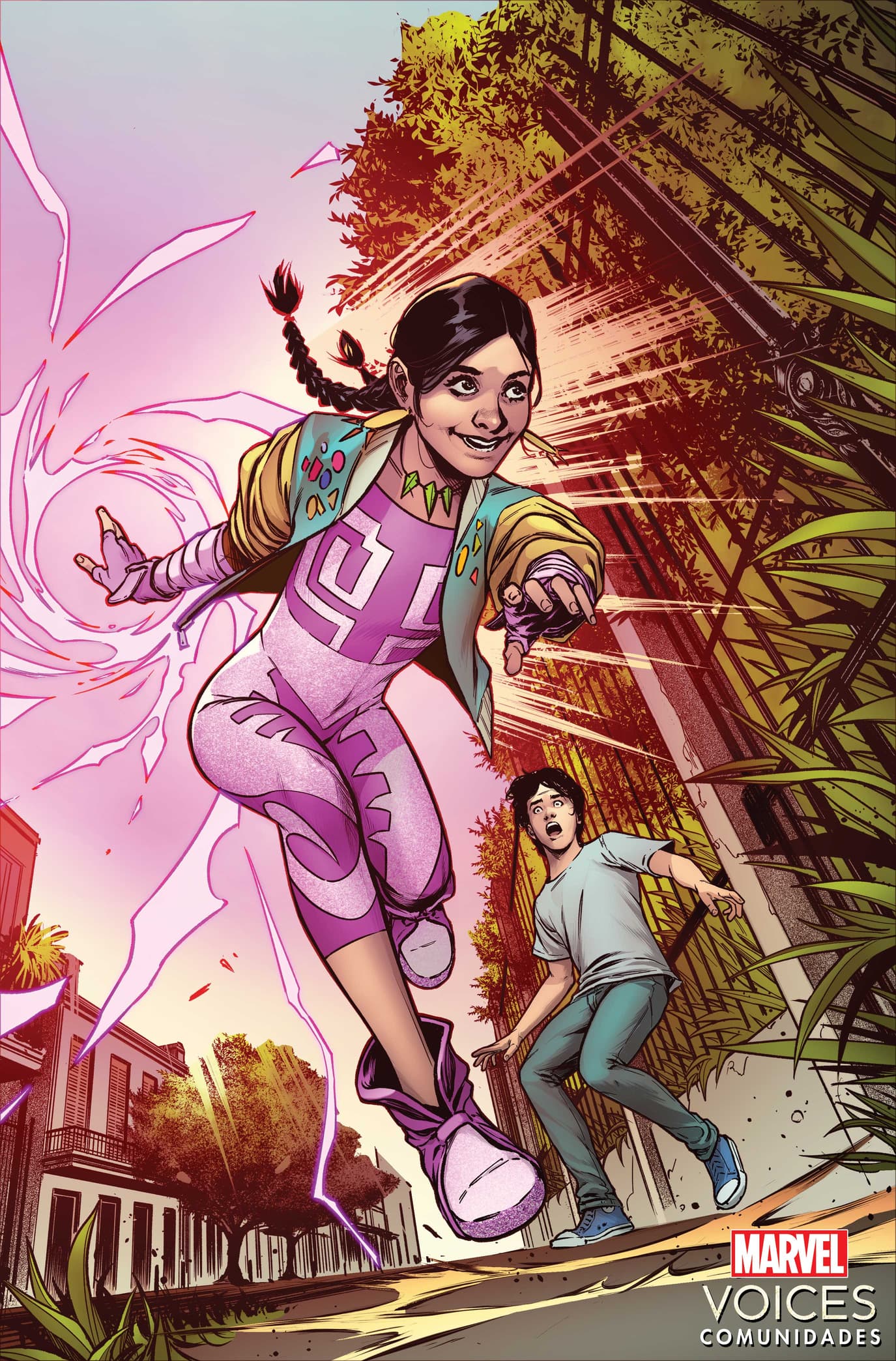 "Pa'lante Juntos" Starring White Tiger
Writer: Daniel José Older
Artist: Germán Peralta
Colorist: Jesus Aburtov

"As Marvel's first Latinx Super Hero, White Tiger holds such an integral and iconic status in comic book history, and it was an incredible honor and privilege to be able to write a story about him and the legendary Young Lords, revolutionary activists from the same era," says Older. "I'm thrilled to be part of this amazing project along with so many incredible creators."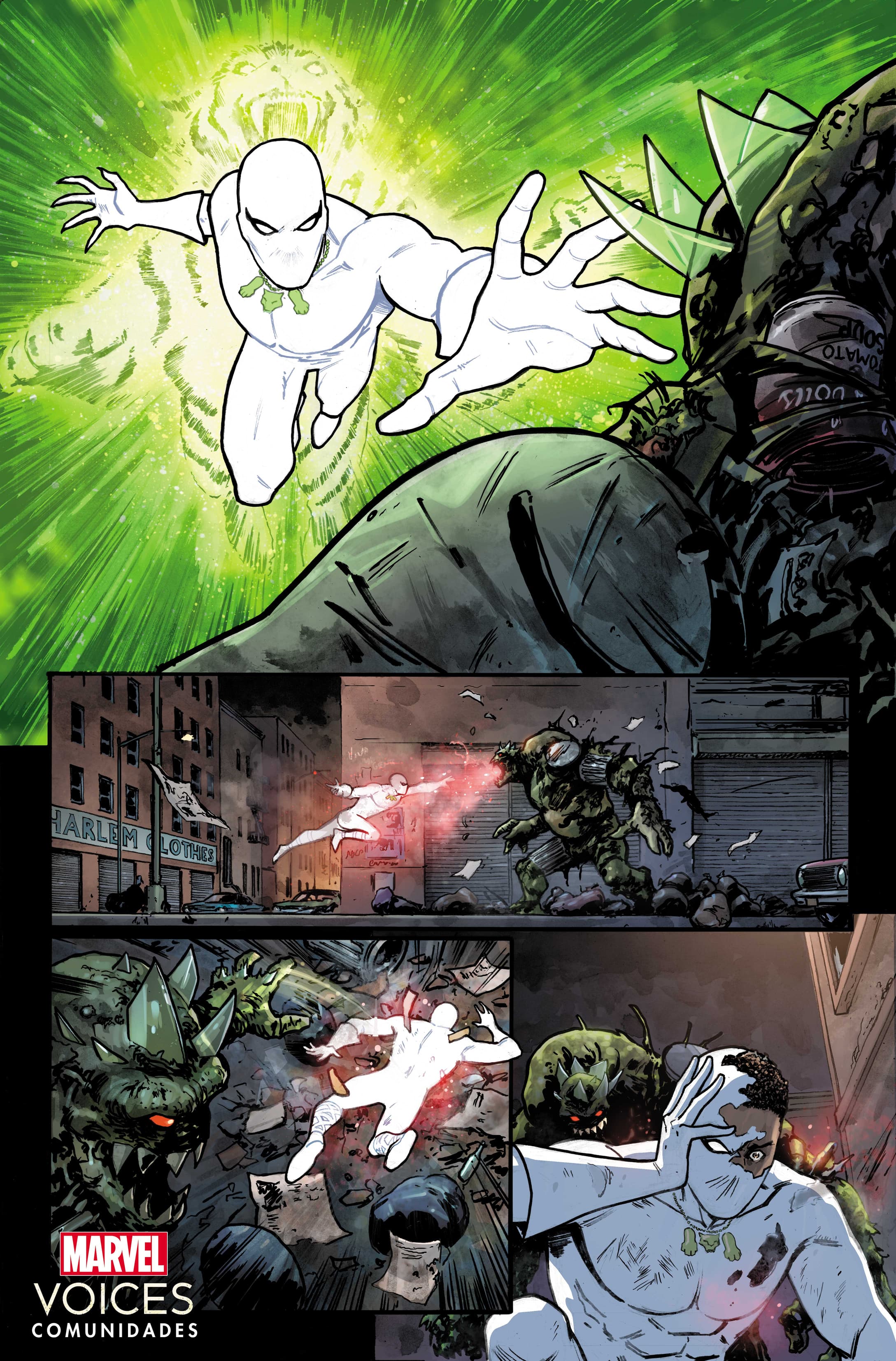 "Legados" Starring White Tiger (Ava Ayala) 
Writer: Amparo Ortiz
Artist: Caio Majado
Colorist: Dono Sánchez-Almara

"Writing a story for Marvel was already a dream come true, but to slip into Ava Ayala's shoes in Puerto Rico is an honor I'll cherish forever," says Ortiz. "I wanted to redefine what she considers strength and reinforce her commitment to the island her family calls home."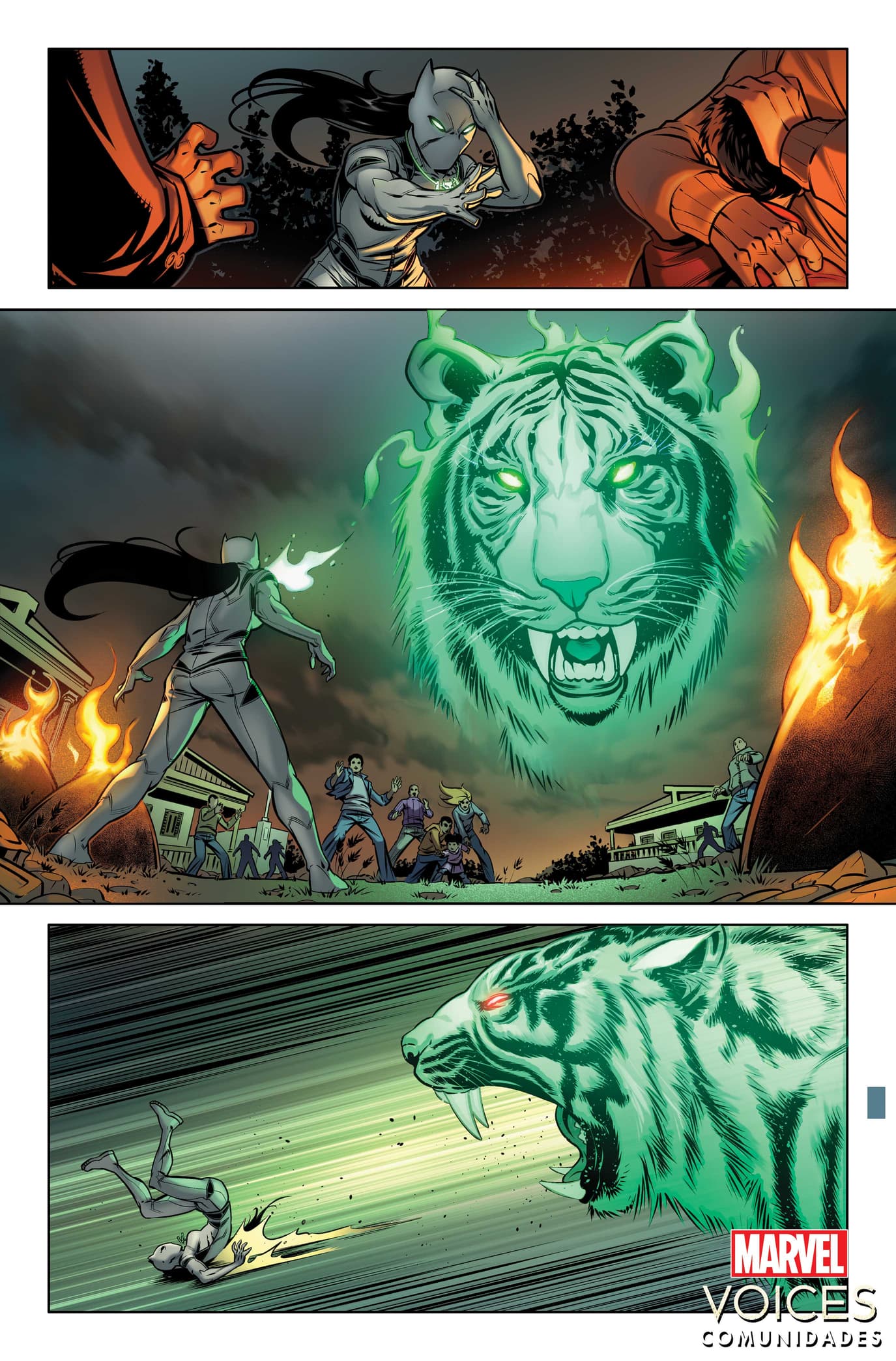 "Latinx and Proud" Starring Spider-Man (Miles Morales) and Spider-Girl (Anya Corazon)
Writer: Julio Anta
Artist: Enid Balám
Inks: Oren Junior
Colorist: Federico Blee

"I'm so proud to participate in this MARVEL VOICES anthology, and honored to have the opportunity to tell this story–a multi-generational conversation between Anya Corazon, Miles Morales, and his mother Rio about the term 'Latinx,'" says Anta. "While this is no doubt a contentious topic within our community, I hope that this comic helps to explain it, and makes a case for inclusive language and respecting each other's personal identities."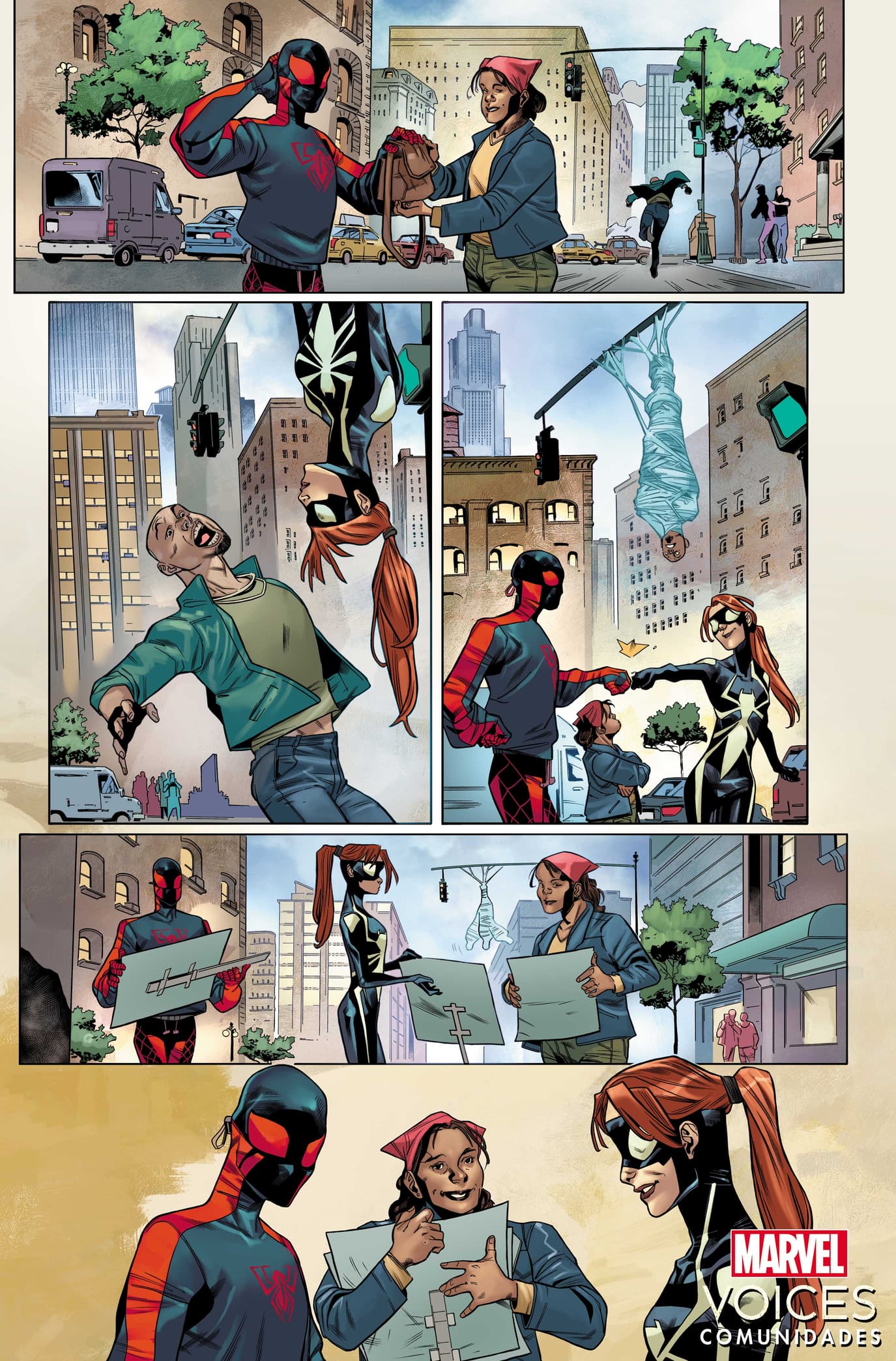 "You're Not Alone" Starring America Chavez
Writer: Claribel A. Ortega
Artist: Adriana Melo
Inks: Victor Nava
Colorist: Dijjo Lima

"I am honored to be featured among so many amazing creators," says Ortega. "America Chavez is an iconic character and getting to continue a small part of her story was a dream come true for me as a Marvel fan."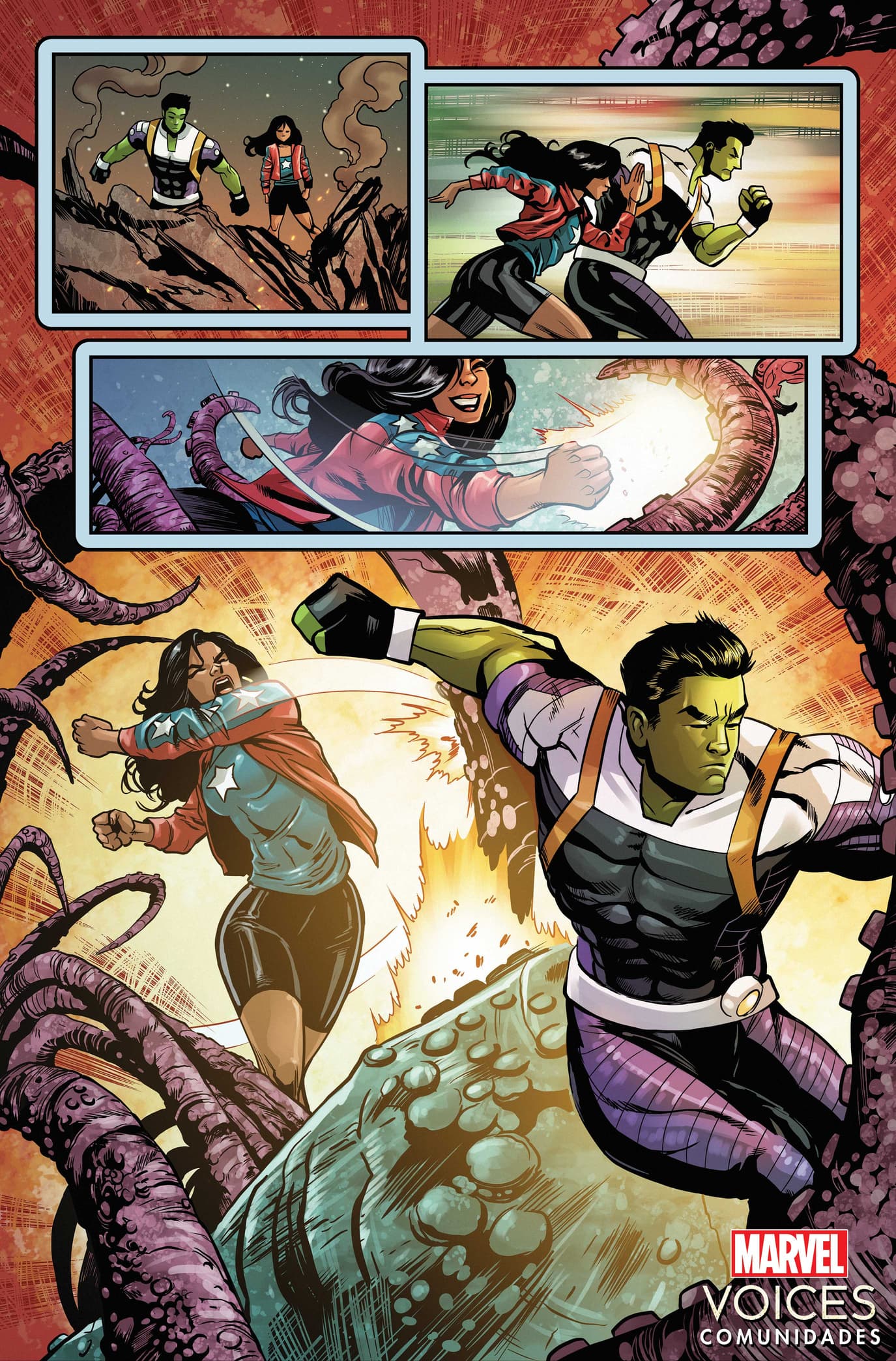 "Fate and the Sorcerer Supreme" Starring Nina the Conjuror
Writer: Juan Ponce
Artist: Wilton Santos
Inks: Sean Parsons 
Colorist: Dijjo Lima

"It's truly an honor to take part in such an important book--in my wildest dreams, I couldn't imagine this," says Ponce. "Nina the Conjuror is the Brazilian Sorcerer Supreme of the 1950's, her world is so unique, I knew early on I just had to tell a Nina story, because she's truly one of a kind."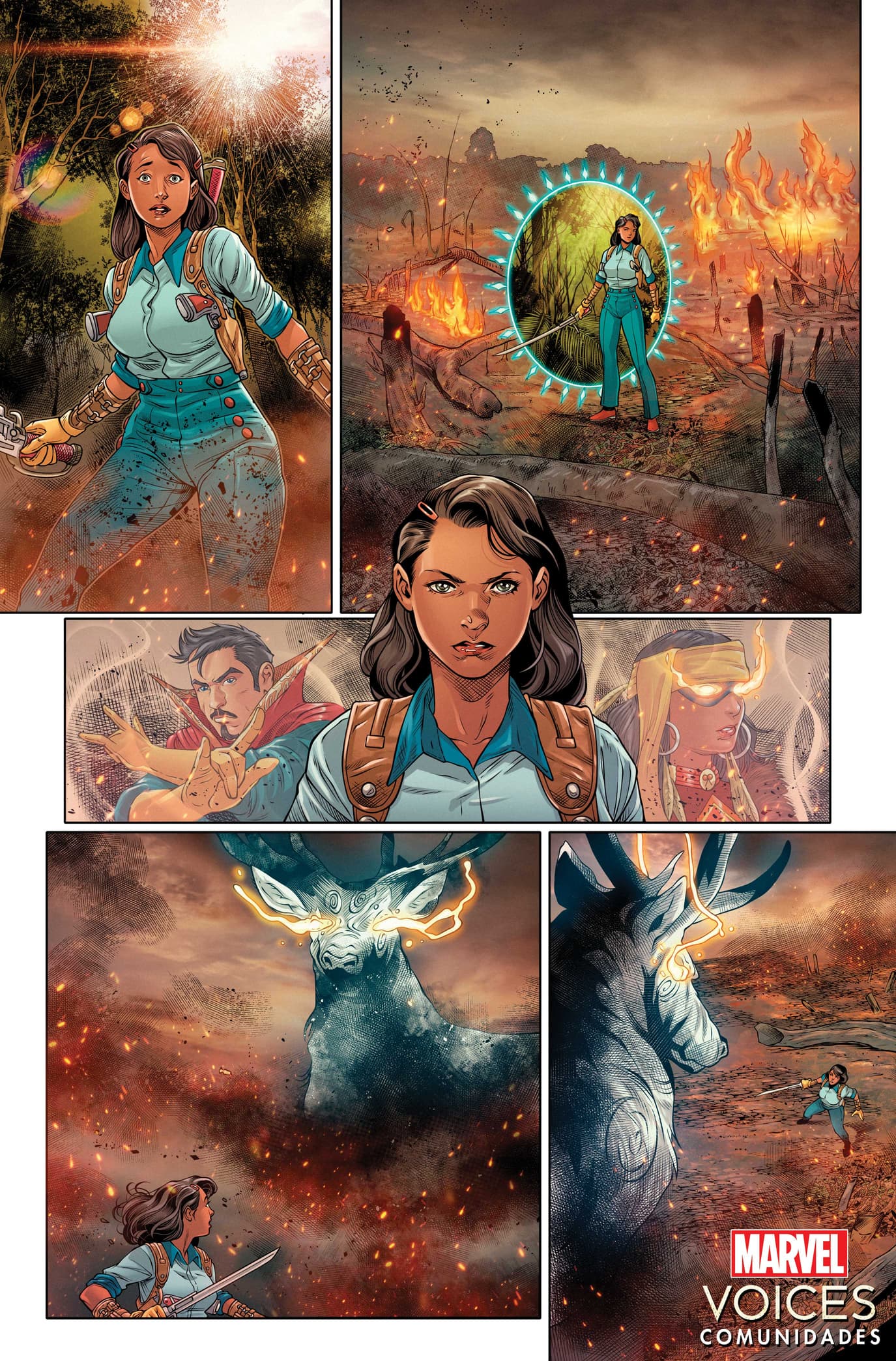 "Loco-Motion" Starring Ghost Rider (Robbie Reyes)
Writer: Yehudi Mercado
Artist: Mauro Fodra 
Colorist: Fernando Sifuentes

"I was absolutely thrilled to be able to play in the world of Ghost Rider, especially with Robbie Reyes," says Mercado. "I'm a huge fan of Felipe Smith and Tradd Moore, the original creators, and I love putting car chases in my books. I think it's more important than ever to highlight strong, heroic Latinx characters. My one-shot is definitely not subtle, but we live in very unsubtle times."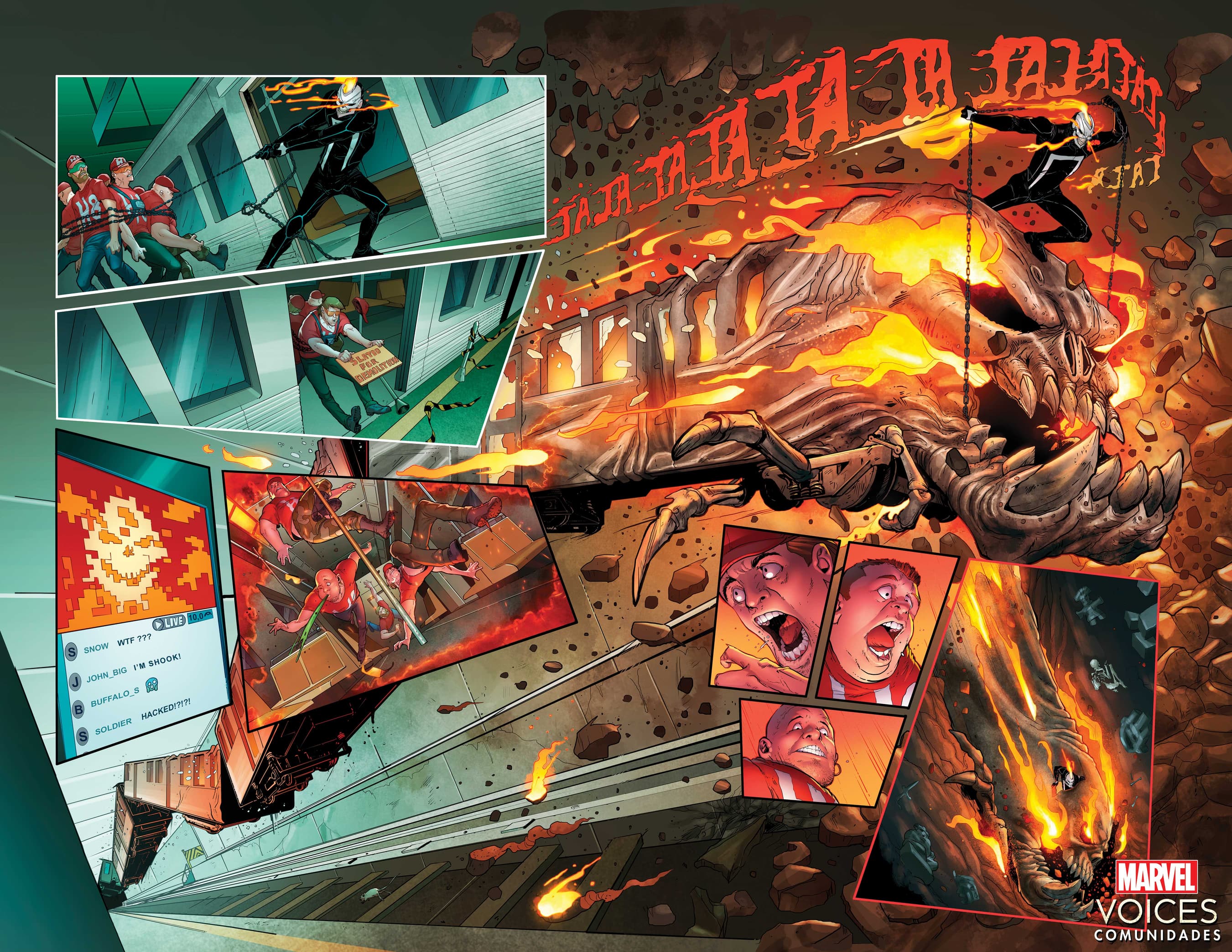 "Operation: New World" Starring Risque
Writers: Desirée Proctor & Erica Harrell 
Artist: Paco Medina
Colorist: Federico Blee

"With the X-Men expanding their territory beyond Krakoa, we thought Risque would have an interesting point of view on this as both sides of her family (Cuban and Seminole) were oppressed by foreign colonizers," says Proctor and Harrell. "We're so excited Marvel let us tell this story, and to work alongside Paco Medina, Frederico Blee, and Ariana Maher."
"Homecoming" Starring Sunspot
Writer: Alex Segura
Artist: Alba Glez
Inks: José Marzan Jr. 
Colorist: Cris Peter

"I grew up reading X-Men and New Mutants and have a love for the Claremont/Sienkiewicz run, so being able to add to that mythos through one of my favorite X-characters, Sunspot, was a huge honor," says Segura. "I hope fans enjoy our story."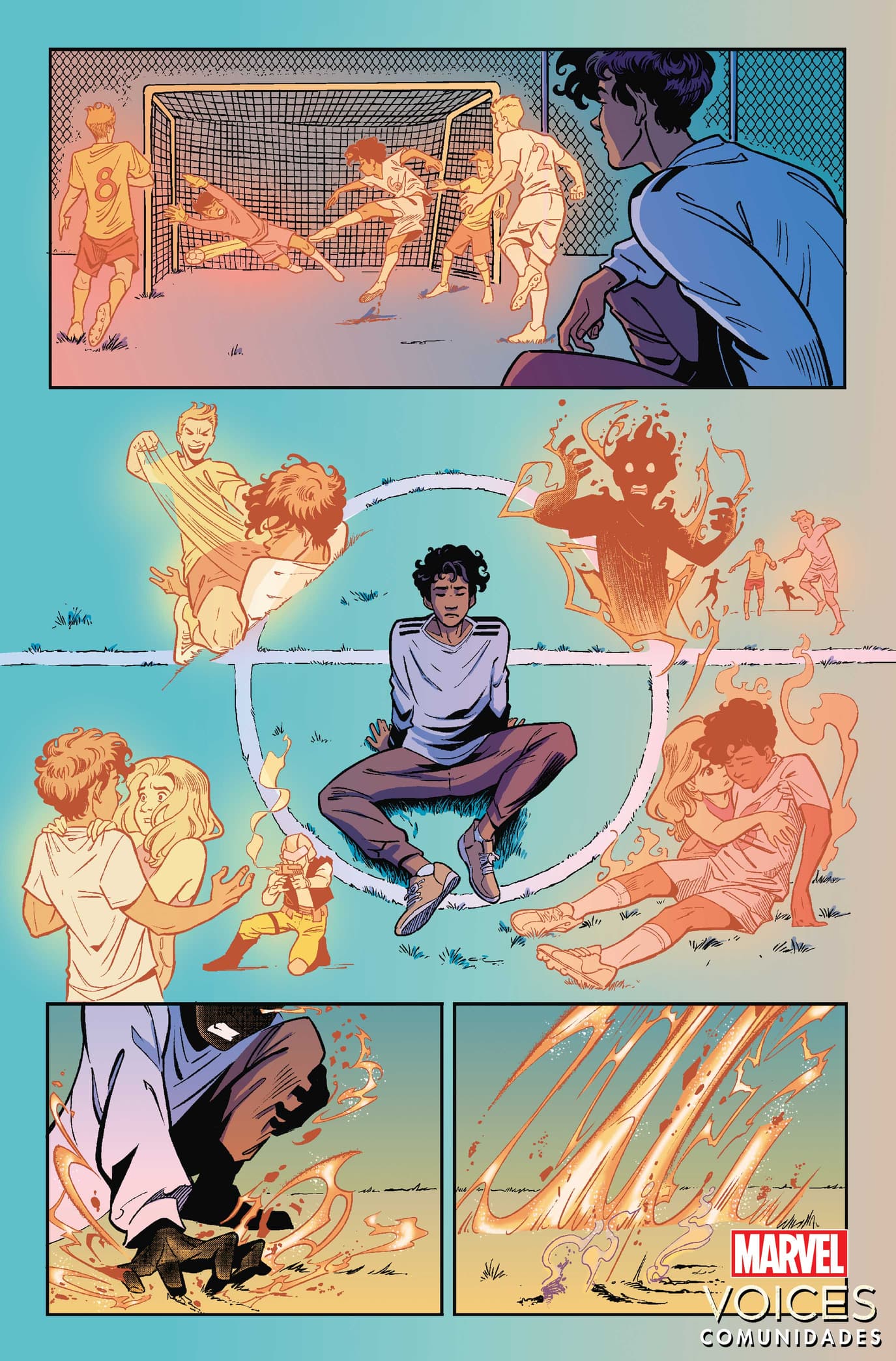 "¿De Donde Eres? " Starring Spider-Man (Miles Morales) and Black Panther
Writer: David Betancourt
Artist: Alitha E. Martinez
Inks: José Marzan Jr. 
Colorist: Bryan Valenza

"The chance to be the first writer that is both Puerto Rican and African American to craft a story for Miles Morales was an opportunity I could not pass up," says Betancourt. "There isn't a Super Hero in all of comics that means more to me and I'm excited to have contributed to this Spider-Man's mythos."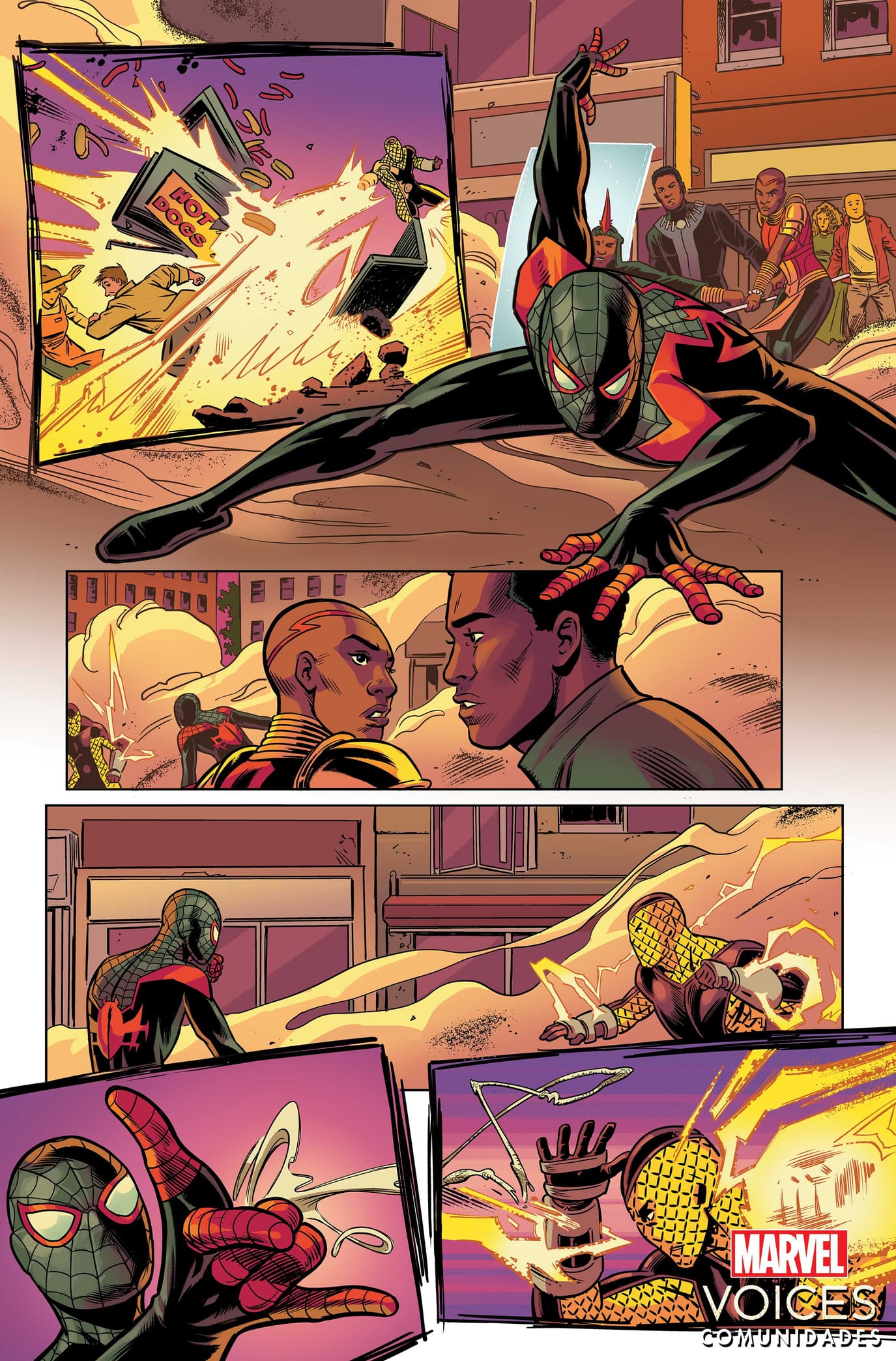 Fans can also enjoy short tales by Karla Pacheco and Vanesa Del Rey, Edgar Delgado and Francisco Herrera, Leonardo Romero, Nico Leon, and Gustavo Duarte that highlight rich culinary traditions starring Robbie Reyes, Germán Aguilar, Shark Girl, and Reptil.
Now get an exclusive look at the variant covers on the way for the issue in the gallery below!

Pre-order MARVEL'S VOICES: COMUNIDADES #1 today, then read on November 10!
The Hype Box
Can't-miss news and updates from across the Marvel Universe!