Comics
Published October 17, 2019
Agents of Atlas New and Old Will Join Forces in 'Atlantis Attacks' by Greg Pak
Pak will be joined by artist Ario Anindito for a war with the Water Kingdom in this new limited series!
The Agents of Atlas have made big waves since joining forces this year and getting their own series. Now that things are heating up, it's time for more adventures! This January, Greg Pak is taking the Agents of Atlas into battle in ATLANTIS ATTACKS, a five-issue limited series that will feature art by Ario Anindito! Here's the cover of ATLANTIS ATTACKS #1 by Rock-He Kim: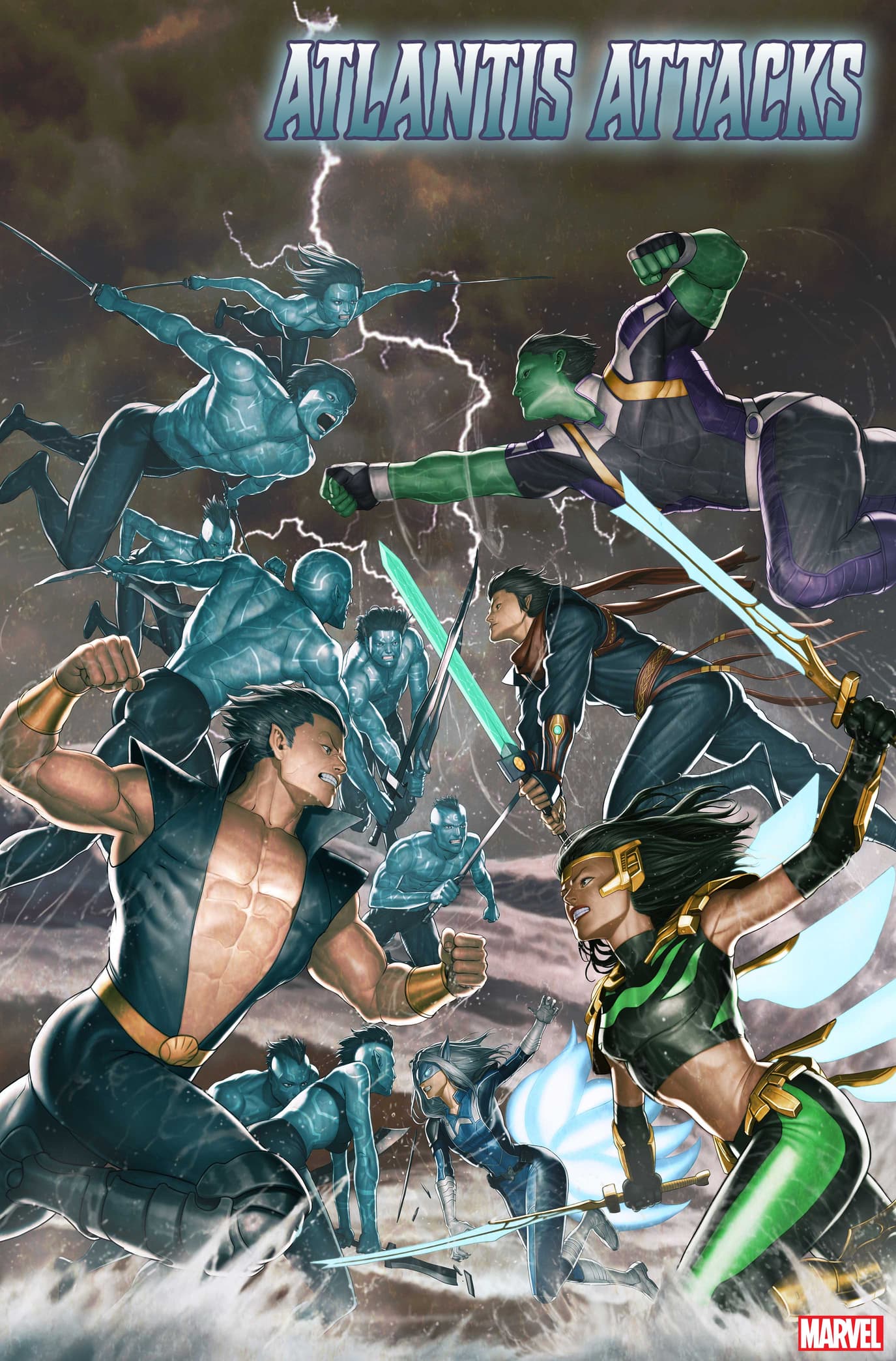 Pak let everyone in on his excitement for a new Agents of Atlas story after their totally awesome debut during WAR OF THE REALMS and ongoing series: "We're all so hugely grateful to the fans who have supported every AGENTS OF ATLAS book we've put out. Because of you, we're able to keep going with the next epic chapter in which our heroes, determined to protect the people of the Portal City of Pan, face off against King Namor and Atlantis in their highest-stakes battle yet! The clash between Amadeus Cho's and Jimmy Woo's worldviews hits the next shocking level, Wave finally meets the other big fish in the sea, and the romance and adventure that are part of every Atlas reaches tsunami levels. And get ready for spectacular art from Ario Anindito of HULKVERINES and SWORD MASTER fame and, yes, the return of the classic, old school Agents of Atlas!
"And seriously, I'd like to reemphasize how all of this is only happening because you've supported these characters and books. It's a dream come true to be able to tell so many stories featuring so many fun, diverse characters, new and old, and I thank you all for reading, reviewing, and talking up these books!"
In ATLANTIS ATTACKS, Amadeus Cho, Silk, Wave, Shang-Chi, and all the heroes of Atlas head for a showdown destined to shake allegiances and break hearts! When a terrible secret incurs the wrath of Prince Namor, questions arise over who is a friend... and who is an enemy? Jimmy Woo also makes his shocking return -- as well as the original Agents of Atlas! This new confrontation occurs 30 years after the original ATLANTIS ATTACKS event -- you can read all those issues on Marvel Unlimited!
Stay tuned to Marvel.com for more news about all the upcoming comics releases!
The Hype Box
Can't-miss news and updates from across the Marvel Universe!