Comics
Published November 21, 2016
Amazing Spider-Man: Journey of The Jackal
Learn the harrowing history behind Miles Warren, one of the Wallcrawler's most implacable foes!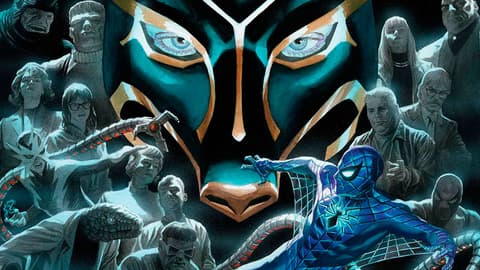 The Jackal's long history with both Peter Parker and Spider-Man originates on far-off mountaintops and in the streets of New York City. And on December 21, the villain makes his latest move in AMAZING SPIDER-MAN #22!
But before Jackal took his super villain title, he went by the unassuming name of Doctor Miles Warren. So, how did the once good Doctor become the Jackal we know today?
After receiving a Doctorate in biochemistry, Miles Warren traveled to Eastern Europe where he assisted Doctor Herbert Wyndham, aka The High Evolutionary, in forbidden human-animal experiments at a secret laboratory retreat on the storied Wundagore Mountain. In his work, Warren successfully transformed three animals to human form, titling them "New Men." Jealous of his assistant's success, Wyndham banished Warren from the mountain after an experimental "Man Jackal" hybrid escaped the lab.
Upon his return to New York, Warren took a job at Empire State University, where he taught biology to students Peter Parker and Gwen Stacy. Despite their age difference, the new professor developed an obsession and fell in love with Gwen.
After The Green Goblin killed Gwen, Warren lost his mind in grief and anger, and blamed Spider-Man for allowing his young love to die. The unhinged man vowed revenge against the Wall Crawler at any cost.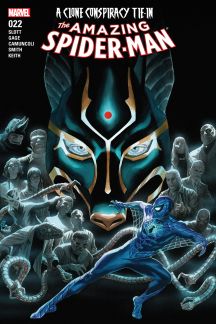 In his misery, Warren returned to his experimental practices. The Doctor utilized his former students' DNA in attempts to re-imagine his human-animal creatures as clones. In a search for his lost love, the increasingly mad scientist worked to create a suitable clone of Gwen Stacy. Warren also worked to clone Peter Parker and, in his research, observed Peter's mutated cells, discovering his former student alter ego as Spider-Man.
In a renewed commitment to killing Spider-Man, Warren genetically altered his own DNA, sprouting claws, fangs, and attaining superhuman strength, speed, senses, and regenerative powers. Inspired by the hybrid beast that he once lost from Wundagore Mountain, Miles Warren became known as The Jackal.
Learn even more about The Jackal in AMAZING SPIDER-MAN #22 by Dan Slott, Christos Gage, and Giuseppe Camuncoli, coming December 21!
The Hype Box
Can't-miss news and updates from across the Marvel Universe!