Comics
Published August 15, 2017
Amazing Spider-Man: Osborn vs. The Goblin
Does Green Goblin or Norman Osborn pose a bigger risk to the Universe?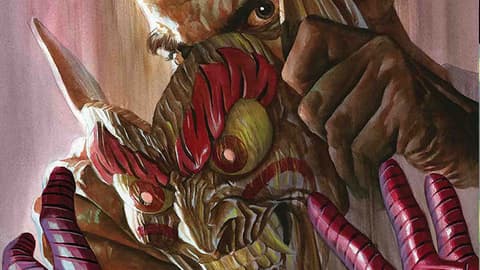 In AMAZING SPIDER-MAN #32—due out on September 13 from writer Dan Slott and artist Greg Smallwood—Norman Osborn has returned. Spider-Man succeeded in taking down his nemesis at the end of issue #28, but without managing to capture him, it's only a matter of time before the two clash again.
What we didn't know then, however, was just how dangerous Osborn had truly become. Has Norman Osborn—the man—replaced his cackling former alter-ego as the most perilous of Spidey's enemies? Or does the Green Goblin still reign supreme?
To find an answer, we put together a list of pros and cons about Osborn losing the Goblin within.
PRO: Norman Osborn's activities are no longer hidden behind a mask
In the past, when Osborn would commit villainous deeds, the general public had no idea who really did the crime. His sins were covered by a horror mask. Even after the murder of Gwen Stacey and returning from his faked death, only the heroic efforts of the Daily Bugle staff finally exposed Osborn for being much more than just a cutthroat business man.
Now, there's no benefit to Osborn's deeds being shadowed. His machinations in Symarkia occurred in broad daylight—and neither intimidation, nor murder, nor a fleet of lawyers can obscure that now.
CON: A revealed Osborn has no need to pretend
Back when Osborn had to juggle his public life and his masked life, he had to scramble to keep them separate—to keep one from derailing the other. But, as noted above, those days are gone. And with that, so too is the need to be anything but 100% himself—an unscrupulous criminal obsessed with destroying the Wallcrawler.
PRO: He's been cured of the mental illness that haunts all Green Goblins
The Goblin gas no longer works on Osborn. He no longer suffers from the illness that made him so erratic, that cost him his corporation, that lost him leadership of the Thunderbolts, and—most devastatingly—that robbed him of his place as the head of H.A.M.M.E.R.
CON: The gas's lack of influence doesn't mean Osborn has morals now
Just because Norman Osborn has gained control of his mental health does not mean he's acquired a sense of goodwill. A healthy Osborn remains hungry for power and disinterested in anything except advancing his own sinister agenda.
PRO: He no longer has super powers
Ever since the gas lost its grasp on Osborn, the former Goblin no longer boasts super strength or an increased healing factor. This means that Spider-Man has a tremendous physical edge over his old enemy—the biggest one he's had since they first tangled.
CON: Norman Osborn is getting craftier
In their latest encounter, he proved this fact—forcing the Webslinger through a series of obstacles that slowly stripped away Spider-Man's physical advantages, and by the time Osborn finally stepped in himself, they stood on nearly-even ground.
Now imagine that kind of cunning put to use not just to evade the Web-Head—but to strike at him. Imagine when Spidey has no idea he's been targeted. Imagine when Norman Osborn seizes control and Spider-Man has to react?
Positively terrifying.
AMAZING SPIDER-MAN #32, by writer Dan Slott and artist Greg Smallwood, is available on September 13!
The Hype Box
Can't-miss news and updates from across the Marvel Universe!