Comics
Published March 13, 2017
The Story of Silver Sable
The Lady in Silver, one of Marvel's most masterful mercenaries!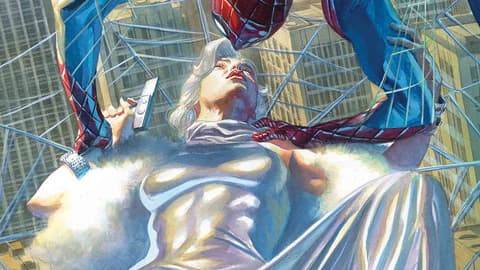 The woman named Silver Sablinova always makes Peter Parker's life interesting, so learn more about Spider-Man's sometimes ally, sometimes nemesis, and even potential love interest!
Punching Nazis
Born in the country of Symkaria, Silver's hair turned white when she watched her mother die at the hands of Nazis. Ernst Sablinova, her father, hunted the World War II villains, and when they struck against his family, they set his daughter on a path to become a Nazi-hunting mercenary herself. Trained by her dad, she eventually took over as leader of the group he founded, the Wild Pack, and also became CEO of her own company, Silver Sable International.
Hunting foxes
Created by Tom DeFalco, Ron Frenz and Josef Rubinstein, Silver Sable debuted in AMAZING SPIDER-MAN #265. Expanding her scope beyond just Nazis, she led her crew in a hunt for the jewel thief known as Black Fox. Spider-Man eventually helped the crook escape, but not before stealing back the gems the Fox had swiped. This kicked off the tumultuous relationship that exists between the web-slinger and the silver-haired mercenary.
Smashing pumpkins
Later, a small South African country hired Silver Sable International to take down Jason Macendale, the super villain known as Jack O'Lantern, whom they suspected of training rebel forces within their country. After Jack's men almost killed the Wild Pack, Sable turned to Spider-Man for help. Silver and Spidey didn't take down Jack O'Lantern, but with an assist from Sandman, they did manage to defeat the Sinister Syndicate.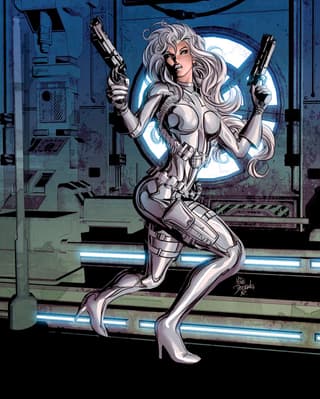 Hiring heroes…and villains
Over the years, Sable would employ several Marvel heroes, mercs, and even reformed villains as part of the Wild Pack, as well as its offshoot organizations, the Outlaws and the Intruders. Sandman enjoyed a solid working relationship with Silver Sable International, while other members of her teams included Prowler, Paladin, Rocket Racer, Puma, Lightbright, and Battlestar.
Dining with Doom
Symkaria and its neighbor, Latveria, enjoy a strong relationship that dates back to World War II, and Sable regularly held diplomatic dinners with Latveria's ruler—Doctor Doom! One dinner in particular, set during the Infinity War, would prove dangerous for Silver Sable, but only because a doppelganger had replaced her dining buddy.
Evading her end?
During the "Ends of the Earth" storyline, Silver Sable joined Spider-Man in his efforts to defeat Doctor Octopus and the Sinister Six. After saving Black Widow and Spidey from the villains, she helped track down Doc Ock, who attempted to speed up global warming in order to destroy the world. Apparently drowned by Rhino, Silver Sable somehow managed to survive, according to Madame Web.
What happened to Silver Sable after her apparent death? Find out in the pages of AMAZING SPIDER-MAN #26!
The Amazing Spider-Man (2015) #26
published

added to marvel unlimited

penciller (cover)

penciller

editor

letterer

writer
What is Marvel Unlimited?
The Hype Box
Can't-miss news and updates from across the Marvel Universe!