Comics
Published December 18, 2020
An Ode to Our Beautiful Son, Jeff the Land Shark
From 'West Coast Avengers' to 'Deadpool,' revisit the history of this handsome young man.
Jeff the Land Shark is not a pet. While he's cute like a pet, and he chews on bones like a pet, and he snuggles his friends like a pet, he is not a pet. He was and is, according to Gwenpool, an official member of the West Coast Avengers—and his next heroic adventure will be seen on January 27 in DEADPOOL #10!
Look! Here he is on the cover!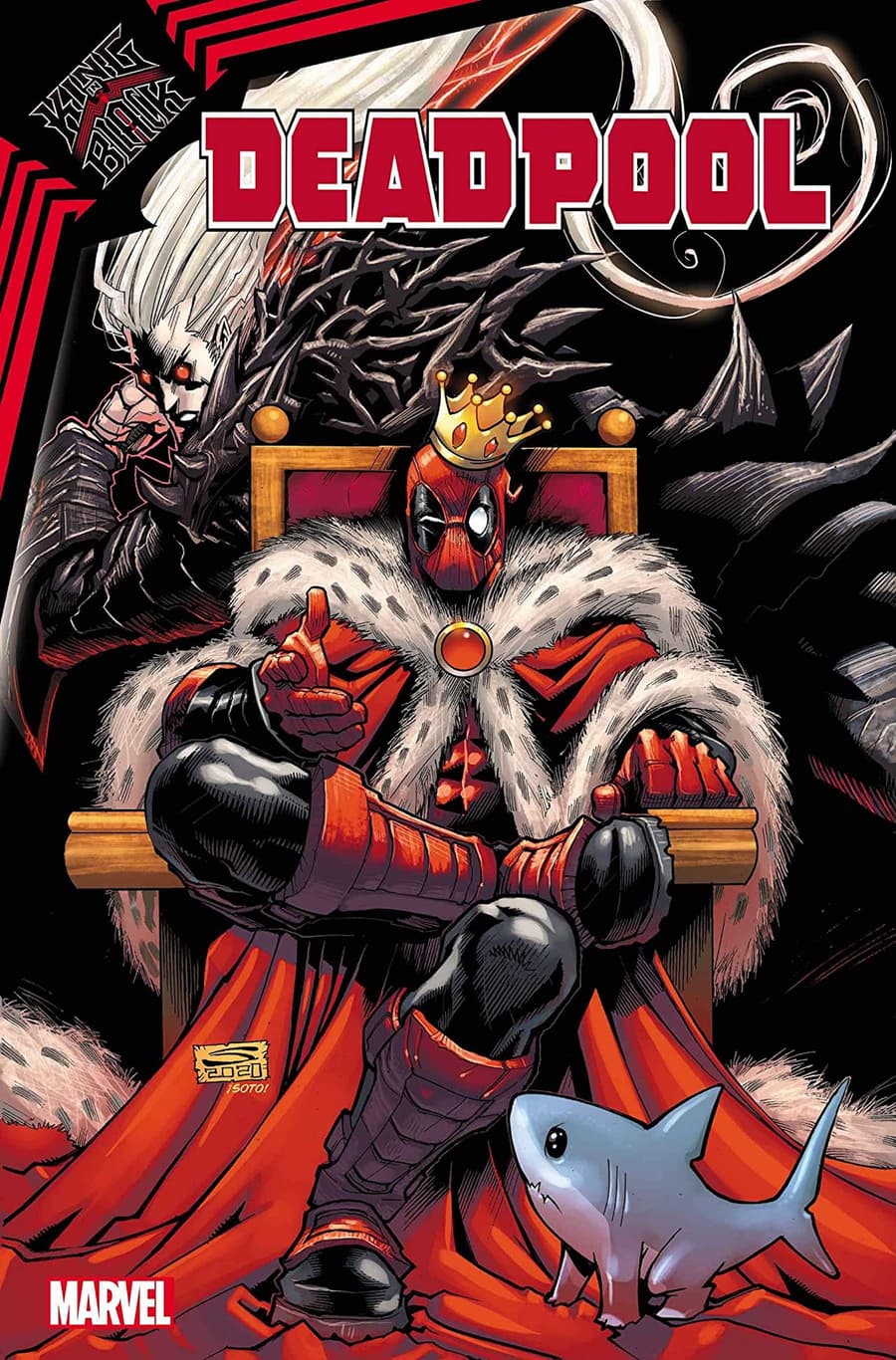 Gorgeous!
To celebrate the occasion, let's look back on a few of Jeff's finest moments while working alongside his fellow Super Heroes!
SWIMMING ALONG NICELY
The day Jeff was saved from M.O.D.O.K.'s murder-trap theme park and adopted by Gwenpool was one of the best days ever! Even though her friends, the other WCA members, thought him dangerous, he smiled through it all. It eased their concerns, though he still has pretty sharp teeth. (Deadpool has learned this the hard way.)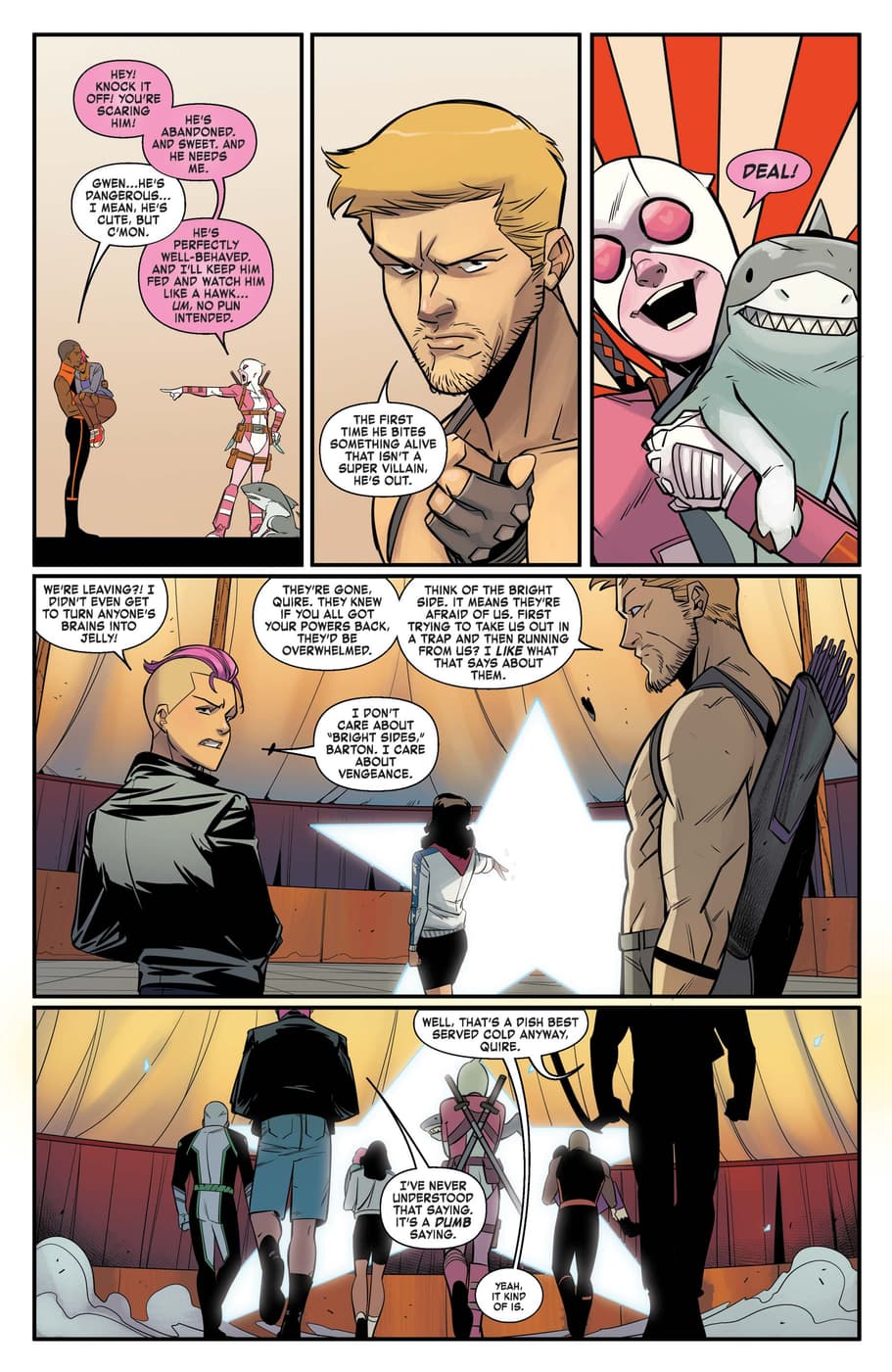 PREDATOR AND PREY
Jeff likes to play tag with his friends. Putting on his predator game face and growling to intimidate his prey, he often wins, catching powerful Super Heroes like Gwenpool.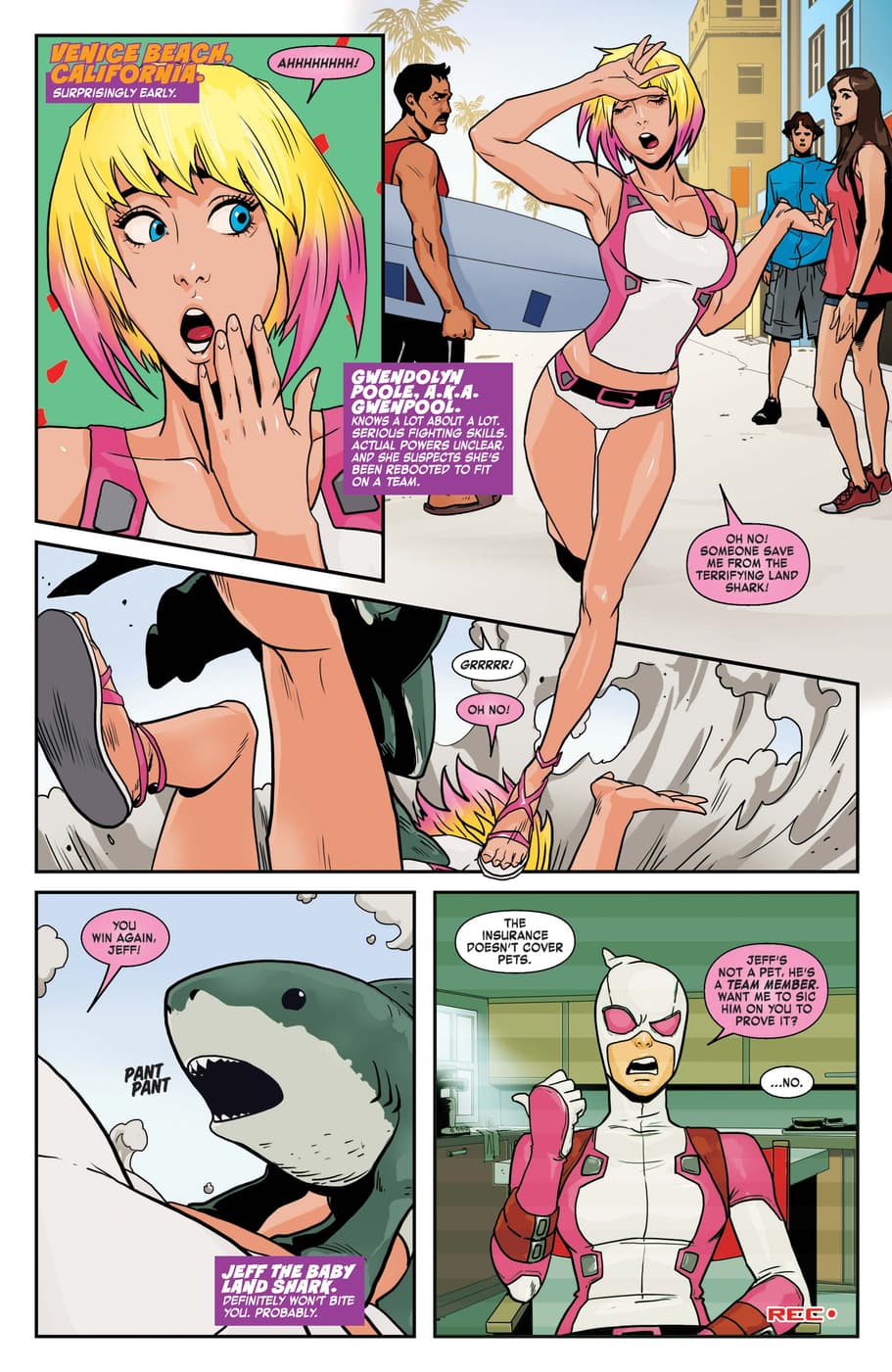 CORPORATE SHARK
When the WCA got together to talk about stressful stuff, Jeff remained calm, sipping some kind of strange liquid they made him from a mug he couldn't fit his fins into. He would listen and try to be helpful at meetings...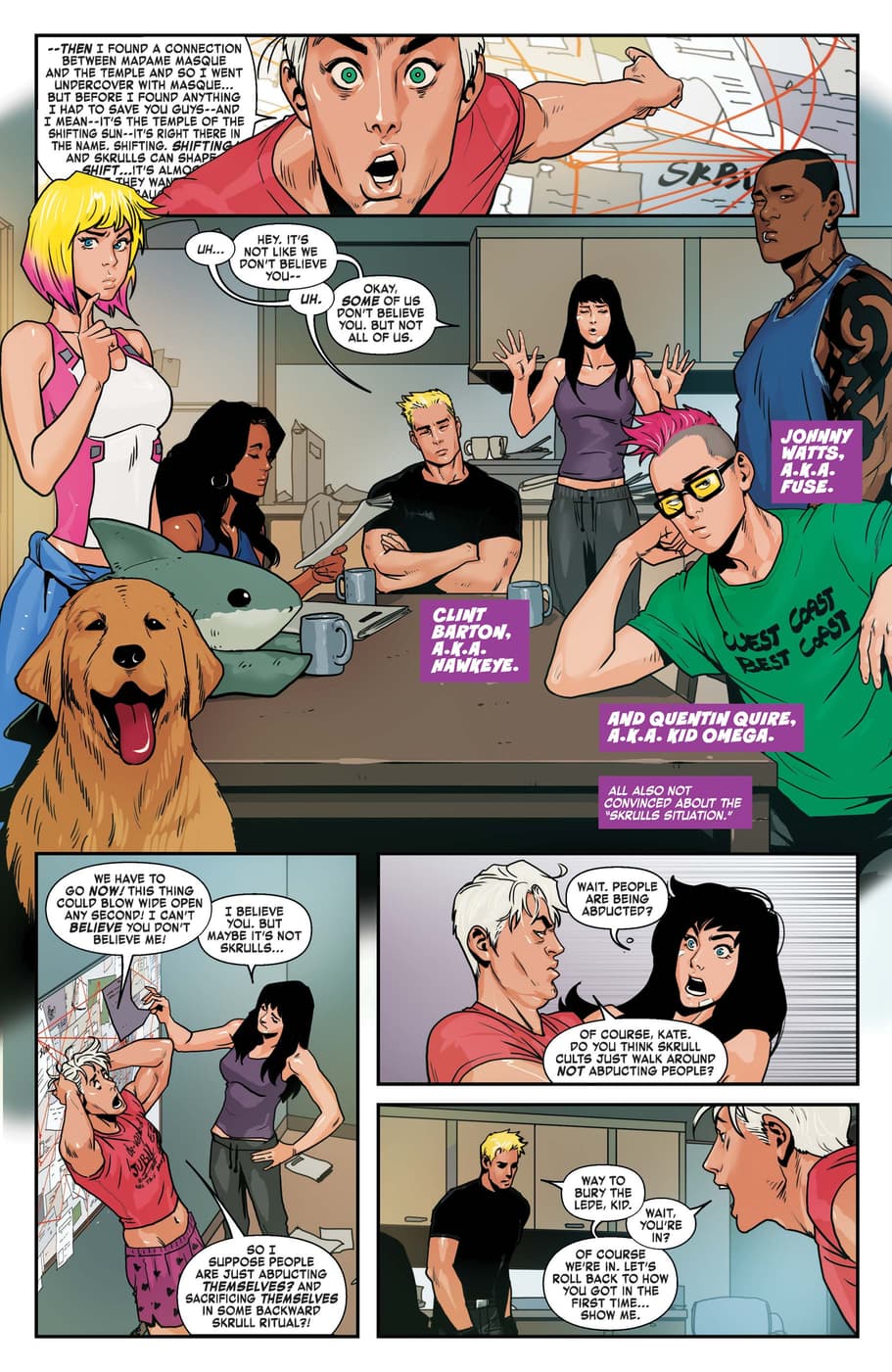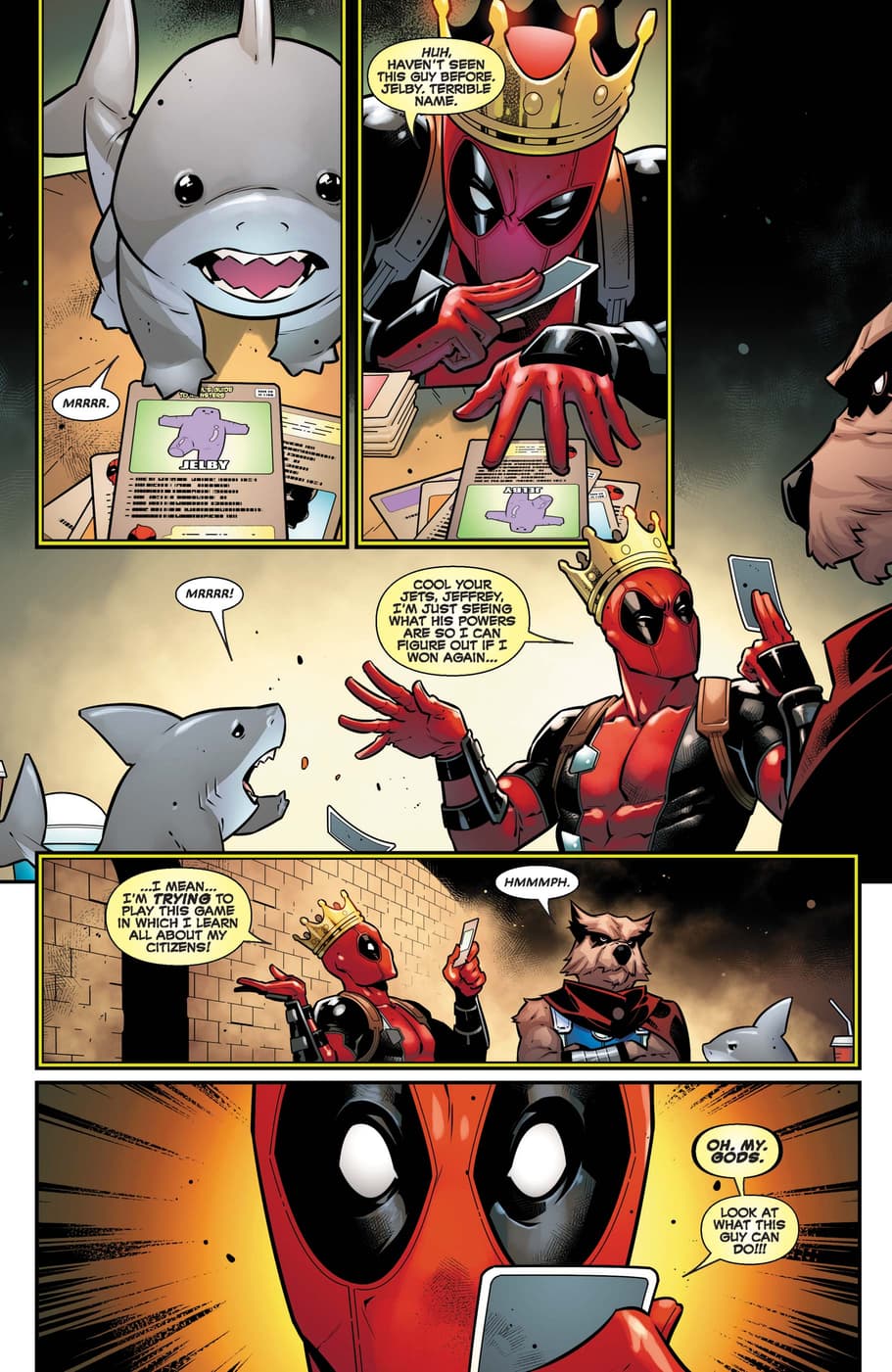 Thanks, Jeff!
FISHING FOR COMPLIMENTS…OR PETS
Jeff loves to be on camera and sit on Kid Omega's lap for a photo op. Even when Kid Omega rejected him, he didn't let that stop his quest for his spot in the limelight…or maybe just lap-time.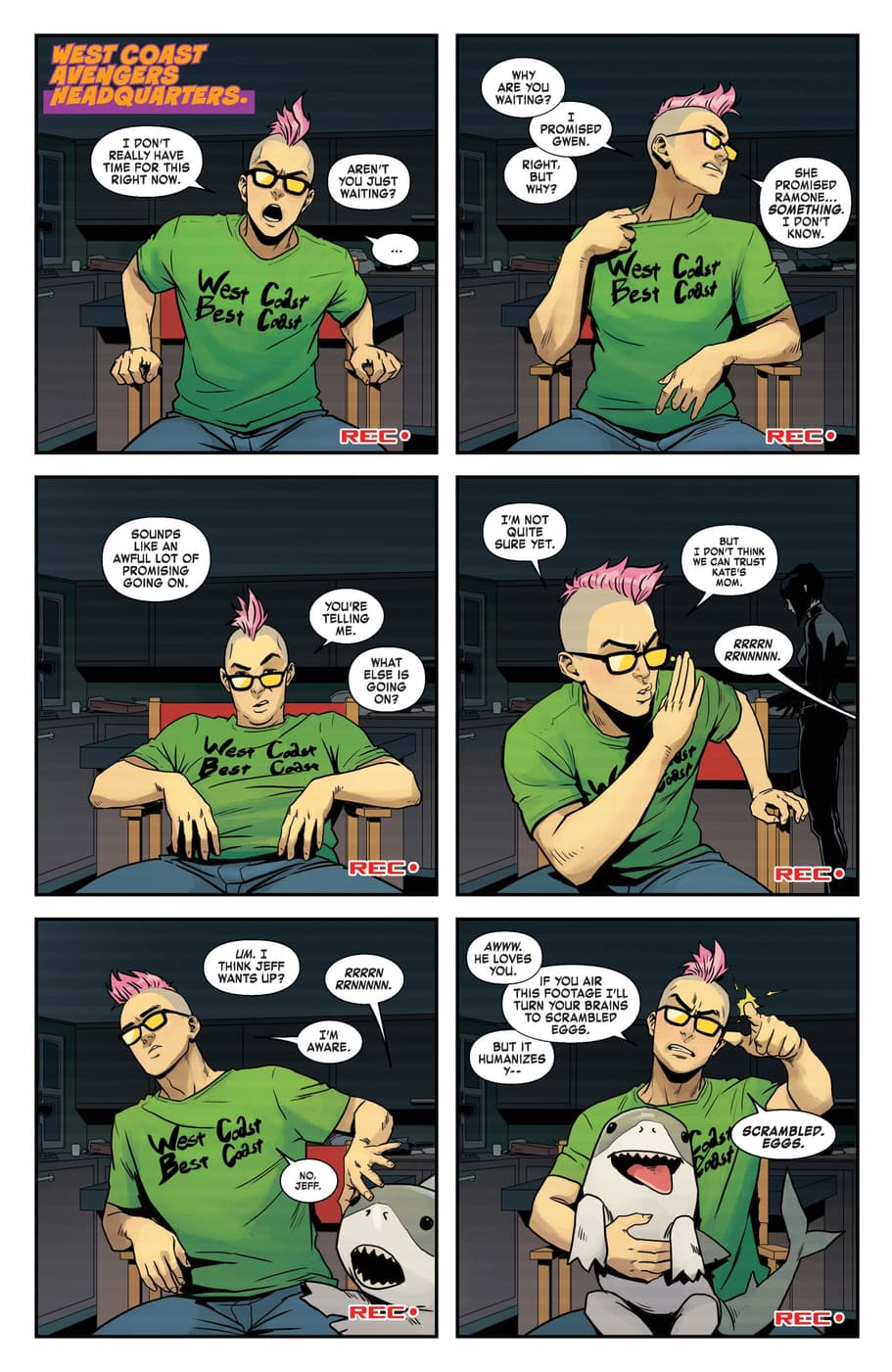 CARD SHARK
Jeff got his own trading card with his name and likeness on it from his buddy Wade Wilson, and though he was a little confused, Wade assured him he looked great. Then he thought it was food, so he bit the card and Deadpool's fingers. It's okay, they grow back.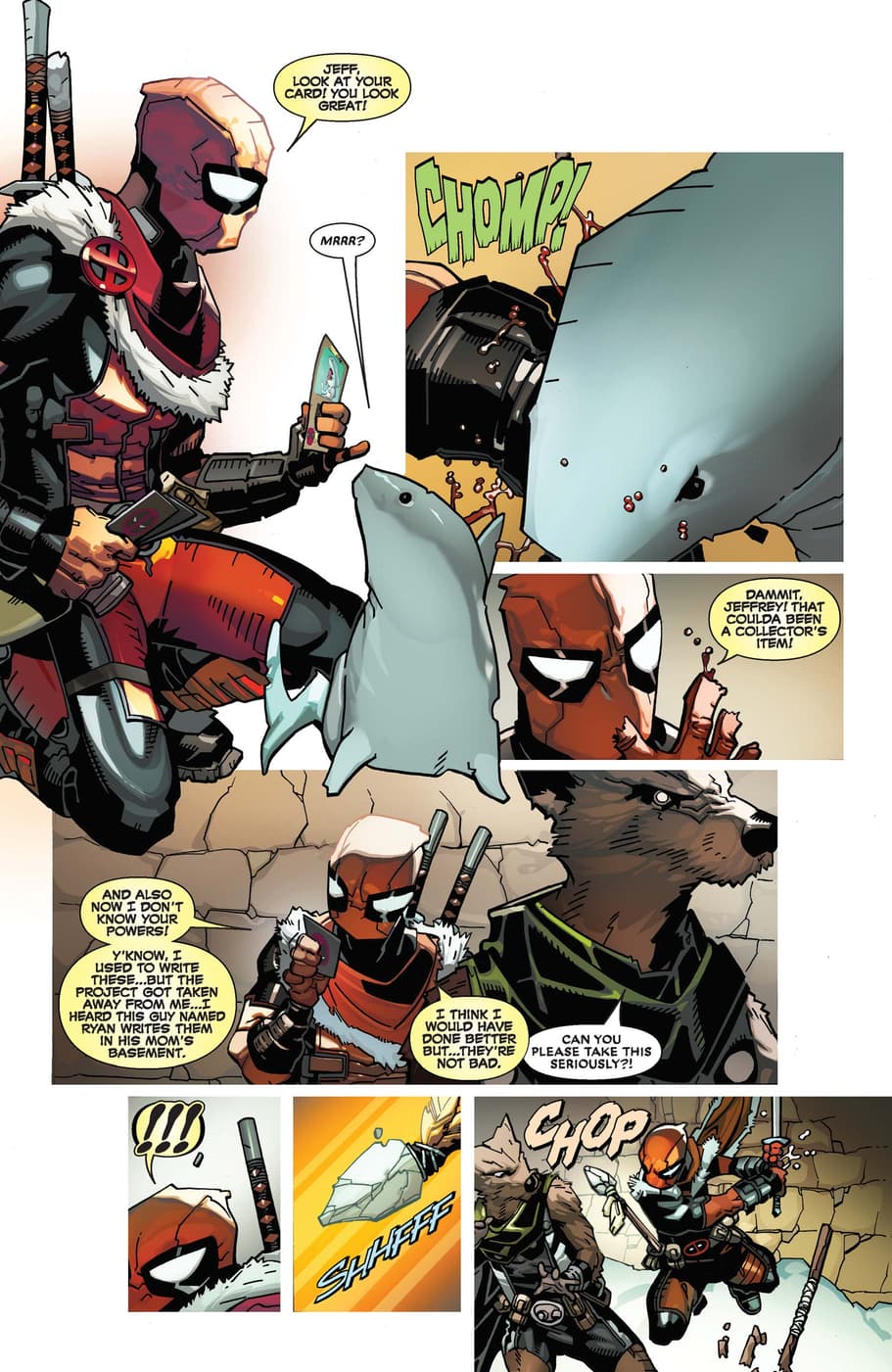 A FISH OUT OF WATER
After Deadpool's friend Lord Chamberlain Bellus died and Deadpool became the King of the Monsters, he seemed like a fish out of water. But Jeff knew exactly how to lighten the mood; he took Wilson on a walk and led him to a costume shop where Wade understood what he needed to do... Dressing up as Gwenpool put a pep in his step and helped the duo escape the jaws of death once more!
ARMED TO THE TEETH
When Jeff met Smash Smash (a name coined by Deadpool), the giant electrically-charged monster from Sweden that also swims, he fell in love... But their relationship ended in tragedy when Jeff became shark food! Despite losing a swimming buddy, he survived the ordeal. Phew!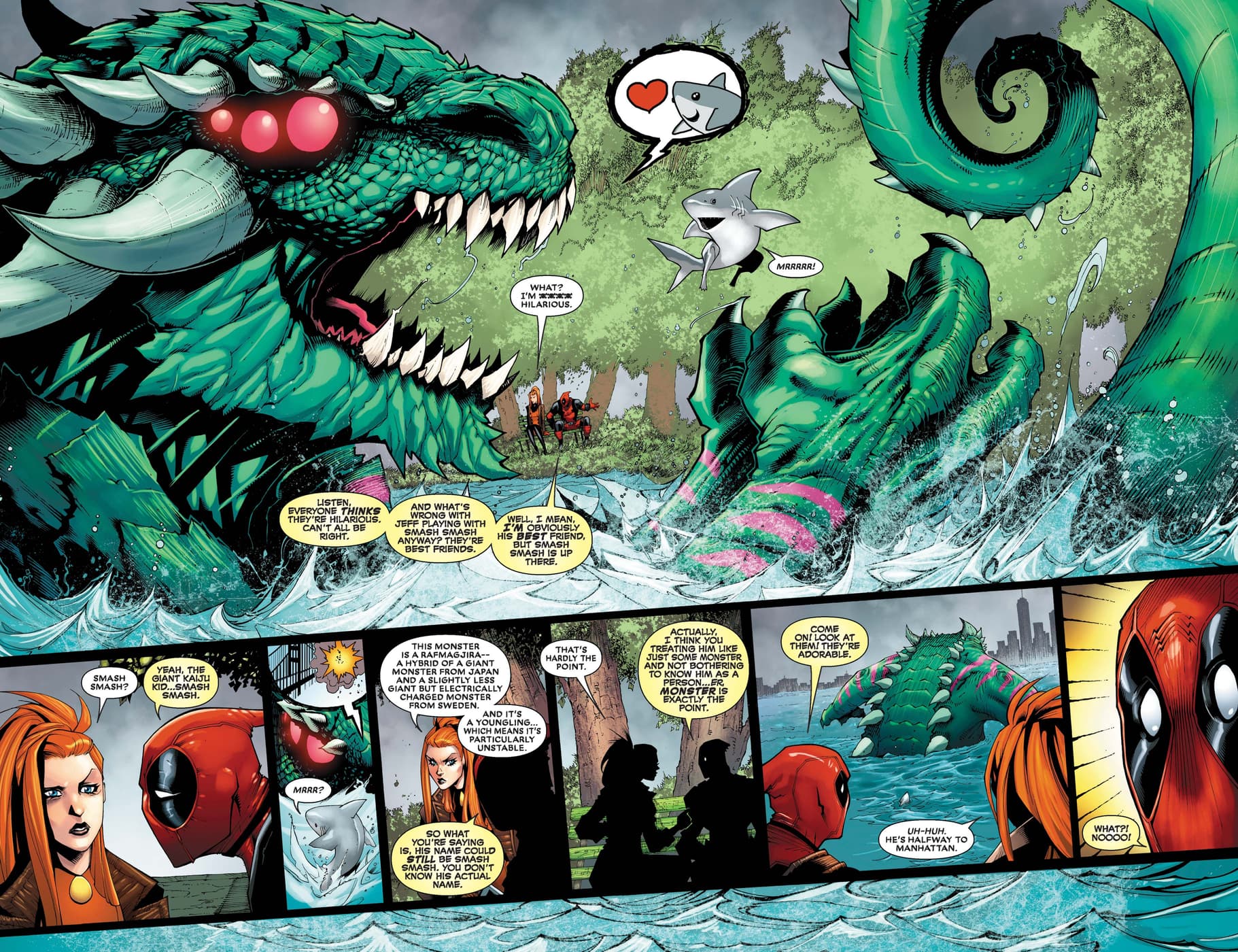 TO FISH IN TROUBLED WATERS
When Deadpool and Jeff visited the X-Men on Krakoa, he found a fine kettle of fish—it was an awkward state of affairs because the X-Men weren't accepting visitors! To make matters worse, when Deadpool threatened to take a Krakoa flower, the not-so-merry mutants fought the pair. Jeff took advantage of the confusion though and smuggled one out for Deadpool...by eating it before realizing it wasn't fish food!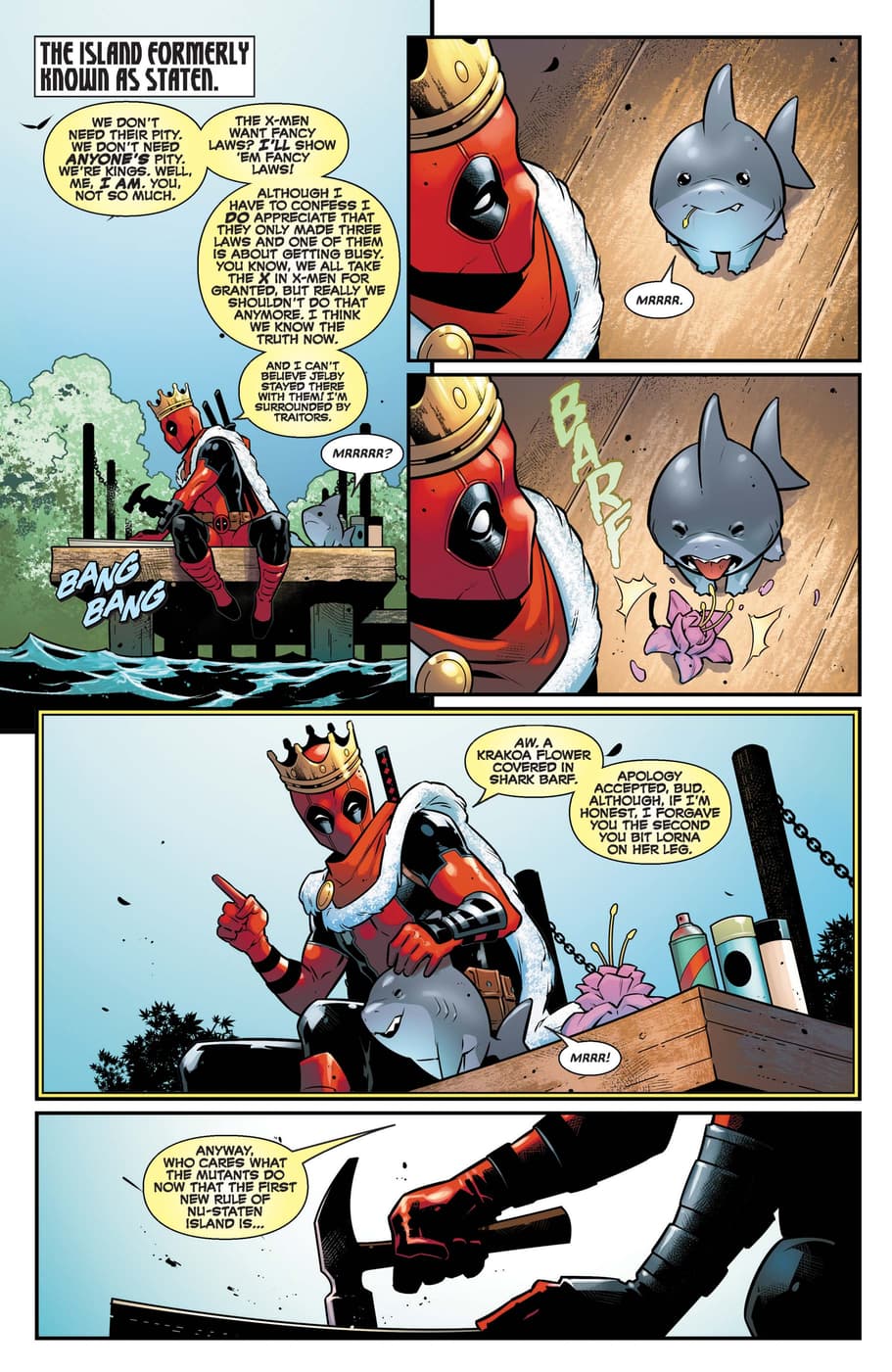 So, what hijinks will Jeff the Land Shark get up to next?
Pre-order today to find out in DEADPOOL #10, available at your local comic shop on January 27, 2021! 
The Hype Box
Can't-miss news and updates from across the Marvel Universe!