Comics
Published March 6, 2017
Artist Jonboy Meyers Crowns Royals
Take a behind-the-scenes look at the next step for the Inhumans!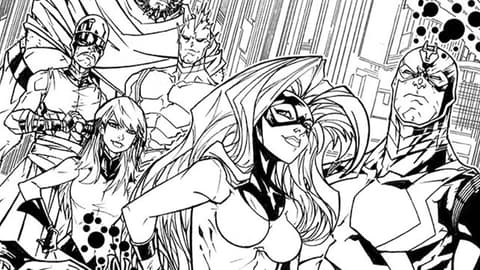 The Inhumans plan on searching the stars to find the true origins of their species in the pages of ROYALS. The series by writer Al Ewing and artist Jonboy Meyers launches out of the franchise tone-setting INHUMANS PRIME and will focus on members of the ruling family including Medusa, Black Bolt, Gorgon, Crystal, Flint, and Swain venturing out for answers beginning April 5.
With the fresh new start in the stars will also come new designs thanks to Meyers including a re-working of the alternate-dimension Marvel Boy who will guide the Inhumans on their journey. We talked with Meyers about his reworking of classic looks, partnering with Ewing and setting the Royal Family on a new track.
Marvel.com: When you set about re-working the overall look of an entire group like the Inhumans, what were some of the most important elements you wanted to include in that process?
Jonboy Meyers: For me it was important to try to "rebrand" them a bit; with the Inhumans Vs. X-Men stuff I think it was important to make ROYALS look like a fresh start. With the family heading into space, for me they really leave that super hero part of their lives there on Earth. It's more "Mad Max in Space"-centered so I really wanted their look to reflect that this is something different, especially to readers when they read the book; this is not a super hero style book—it's totally something else.
Marvel.com: Did any of the designs give you more trouble than others?
Jonboy Meyers: I think Medusa was the toughest. How do you do something that feels regal but different? Initially I must have done something like 12 different versions of her super hero look and then reading Al Ewing's premise, a light clicked on and it read that this is not your spandex-and-capes book. So it freed me up to do something more space-based. But I wanted their look to reflect a "Uniform Inhuman Language," but each character having their own color or style to it—but all of their new looks live in the same design family.
Marvel.com: You've also got Marvel Boy popping up. How was it reworking his look and how does he, as an outsider, carry himself differently than the Inhumans he's surrounded by?
Jonboy Meyers: He was a fun one. Initially I was hoping we would get Quicksilver to join the family. In the 80's he was such a big part of the Royal Family, but Noh-Varr was a great fit. I wanted his look to feel a bit more rebellious and youthful, but a bit arrogant since, at his core, Noh-Varr is a free thinker and moves to the beat of his own drum. But there's a nod to his Kree lineage in his design, especially his space/battle armor with the fin on top.
I think it's nice to remind readers who this character harkens back to: the late great Mar-Vell. Throughout this book I get the feeling Noh-Varr knows a lot more about what's going on than he's letting on and I would not be surprised if he had his own agenda about going into space. After all it was his idea for them to leave…
Marvel.com: An interesting aspect of the Inhumans, especially the ones in ROYALS, is that they're not just a family but also leaders. Does that come into play when you're drawing them?
Jonboy Meyers: I think there is a clear line of hierarchy with Medusa still calling the shots, but this is very much a family to me and not so much a team. So how they interact will reflect that, with Medusa always out in front; I think there's a subtext in the art on how you layout the page and how you position characters that tells the reader indirectly who's the "Leader" or what roles characters play.
Marvel.com: Part of the fun of ROYALS comes from the fact that these great characters are traveling through space searching for their own history. That's some real world-building type stuff. Do you enjoy getting into that kind of nitty gritty when it comes to designs?
Jonboy Meyers: I do, though team books are a ton of work just with the large cast, but world-building and making cool designs that help fill out the world is pure fun. I think for me it's important to try to do something that hasn't been done—like the new ship design they're flying around in, to how the tech looks or how the alien worlds around them look.
Marvel.com: Al's really making a name for himself with books that bring in all kinds of amazing ideas and get wildly weird. How has it been working with him so far?
Jonboy Meyers: Al's script is very well done and he's making me fall in love with these characters. He's super easy going, communicative and very supportive in letting me do my thing art-wise. Al's voice is very unique and I think the story he's writing will redefine who the Inhumans are and what they're about. This is very much about family and the lengths a family will go through to protect and help one another. You're going to see a lot of fun stuff coming up for sure. So buckle up—this rocket ship is taking off!
Hitch a ride with ROYALS #1 by Al Ewing and Jonboy Meyers, available April 5!
The Hype Box
Can't-miss news and updates from across the Marvel Universe!