Culture & Lifestyle
Published March 30, 2023
'Asked & Answered with the Women of Marvel': Gurihiru
Get to know 'It's Jeff!' and 'Thor & Loki: Double Trouble' artist Gurihiru!

To know Gurihiru is to love them. The illustration duo of Sasaki (she/her) on pencils and inks and Kawano (she/her) on colors is the dream team of successful collaboration. Together, they have worked on comics, video games, animation, and other illustrations in both Japan and the US. 
They are gifted visual storytellers whose unique take on Marvel favorites (POWER PACK, THOR & LOKI: DOUBLE TROUBLE) has delighted fans for years. Now, their utterly adorable and hilarious Friday Funnies Infinity Comic about everyone's favorite landshark, IT'S JEFF! (written by Kelly Thompson), has been collected into an oversized comic that's on sale today—and trust us, you don't want to miss it!
We love their superpower of choice. We're still trying to forget their answer to question #15. They are truly talented Women of Marvel. And we had some questions for them. 
We asked. They answered.
(This interview has been translated to English from its original Japanese.)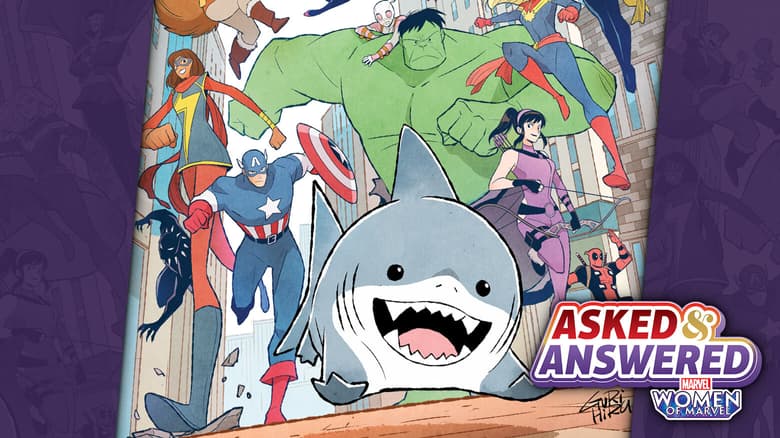 What is the first thing you do when you wake up?
I exercise on a stepper machine while watching a horror movie to wake myself up. 
Coffee or tea?
Coffee. I like drinking a light roasted coffee with plenty of milk. 
Got any superstitions?
There is a superstition (in Japan)*: "When you see a funeral car, hide your thumb." So when I ever see one, I try to hide my thumb. I don't see funeral cars as much as I used to nowadays, but when I do, it reminds me of this. 
*(In Japan, we call the thumb "parent finger." So this came from the superstition of not showing your "parent(s)" a funeral car, or hiding them from it. -Super Translator Aki)
Superpower of choice?
A power to understand all the languages of the world would be nice. Not just Earth, but the whole Universe!
What are you totally into right now?
Since I like cooking, I having been buying varieties of kitchen utilities. The one I like most is a frying pan made of iron. I am into cooking with it and trying not to make the food burnt. 
What were you obsessed with as a kid?
I liked drawing the best. I liked watching animation and reading manga, so I used to imitate the art and watched animation frame by frame to study the art. 
Dog person, cat person, or land shark person?
Land shark person! By the way, we imagine that Jeff is close to a common wombat. 
Favorite Marvel character to draw?
Jeff, of course!
Marvel character you haven't drawn yet, but really, really want to? 
I do not know if she is in the comics yet, but one of the characters I would like to draw is Gorr's daughter Love [from Marvel Studios' Thor: Love and Thunder]. I would like to draw a slice of life story with her and Thor making trouble in daily life.
What is the key to collaboration?
When we work on our own work, we both tell what we think about the other's work (such as Sasaki-san's line art and Kawano-san's coloring), and when we find the best answer to our work, we praise each other. We think that the key is to accept each other, and work in a relaxed environment
Rollercoaster or Merry-Go-Round?
Rollercoaster! 
Salty or sweet?
Salty. Because even eating something sweet, I always want something salty after that.
It took some time to think, but I think Thor & Loki. You cannot beat the charm of Loki. 
Must-have item at work?
Music and coffee. 
Weirdest thing on your desk?
Tools to pick ears. I always clean my ears during work and bleed from ear many times for doing it too much.
If you could go on a road trip with anyone – fictional or real, living or dead – who would it be and why?
Doraemon. With his four-dimension pocket and fun conversations with him, we should have a nice and comfortable trip, even if it is a long one.
Who or what makes you laugh?
Cats. Every move they make are so adorable and makes a smile on my face and makes me smile from my heart. 
Falling leaves or blooming flowers?
Falling leaves. I used to love spring the best, but since I got pollinosis, the allergies in spring is very tough for me. 
Mantra or quote that keeps you going?
My late father's words: "Do not be satisfied with the current state. Look back at what you have done and move to the next step."
Best thing about being Women of Marvel?
Creating works that will be viewed and enjoyed now and in the future, while building more awareness of our work.
Don't miss IT'S JEFF (2023) #1 by Kelly Thompson and Gurihiru, now on shelves!
MacKenzie Cadenhead  (she/her) is a children's book author and an old school (read: former) Marvel editor. She co-authors the Marvel Super-Hero Adventures chapter book series for young readers and is a proud Woman of Marvel. You can see what she's up to on Instagram @mackenziecadenhead.
The Hype Box
Can't-miss news and updates from across the Marvel Universe!