Comics
Published April 21, 2017
Astonishing X-Men: Game Plans
Charles Soule shares some intel on the major mutant milestone coming in July!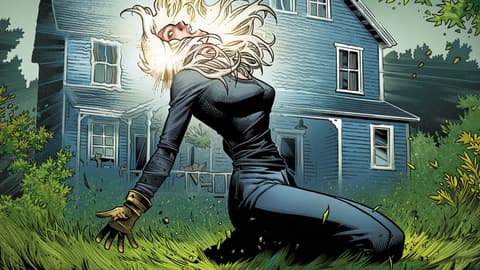 Ready to be astonished?!
This July, Charles Soule joins a series of the industry's best artists as they prepare to unleash ASTONISHING X-MEN! Last month, we spoke with the writer about his upcoming work on the series relaunch after its four-year hiatus, and now we return to try and pry some extra details from him about what he and his collaborators have in store for not only readers but also this brand new configuration of the X-Men.
Marvel.com: Charles, last month the news broke that you'd be spearheading the re-launch of ASTONISHING X-MEN. From those early news releases, we learned you'd be taking readers to "all corners of the X-Men mythology" according to Editor-in-Chief, Axel Alonso. Can you shed a little light on what this means for both new and long-time fans of mutantkind?
Charles Soule: I don't want to give away too much of the story yet, because ASTONISHING X-MEN is designed to work as a series of reveals. Every time you think you know what's happening, the script gets flipped a bit, usually around the last page of each issue. It's like a puzzle box: part of the fun is figuring it all out. That said the book does do a lot with what I think of as X-Men touchstones—significant events in the lore, characters new and old—but rarely the way you think. I call it "weaponized nostalgia." It's all explained and laid out, though. Even if you've never read an X-Men comic before, it'll just work as a fun adventure.
Marvel.com: I understand you're looking to make this book just as much of an "entry-point" title for newer readers as it will be a satisfying experience for long-time fans of these characters. How do you strike that balance between seemingly opposite readerships?
Charles Soule: Not easily! But really, it's about making sure that (a) each character's powers are clearly noted or explained when they first appear, (b) writing them like real people who act towards each other the way they should based on their respective histories, and (c) having "nostalgia" or "homage" bits work in and of themselves. Like, if you see someone look at a photo of another character and get sad, that works for someone who knows exactly why they're sad, but also someone who doesn't, if it's written correctly. I'm spending a lot of time on this specific aspect of the book. I don't think you should need a degree in X-Men-ology to enjoy X-Men comics, but I think having that degree should enhance your enjoyment.
Marvel.com: If we don't talk about the art, then we're not talking comics! And this particular series will be taking a rather unique approach to the visuals. Can you walk us through the genesis behind the choice to introduce a new artist with each issue and why you and Marvel as a whole felt this was the strongest way to tell the story you'll be sharing in ASTONISHING X-MEN?
Charles Soule: Well, again, there's a story conceit I don't really want to spoil yet, but I think it will work really well, in part because Marvel is staffing the series with an incredible batch of artists. We start off with Jim Cheung and just go from there, all amazing—or…astonishing, even. I'm tailoring each script to each artist's strengths, to the extent I can. It's pretty exciting for me, sort of a high-wire act, to make sure each artist gets what they need to draw a great issue but the overarching story gets served as well. Again, not easy, but fun.
Marvel.com: Although this is a series that you're structuring to appeal to both new and old readers, I understand you're dipping deep into the archives of the X-Men's rogues' gallery in raising The Shadow King to the forefront as the initial "Big Bad," and someone who fans could even credit as being the original inspiration for Xavier's creation of the team.
What made him the right choice for you when it came to launching this new series?
Charles Soule: The Shadow King was the first "evil" mutant Charles Xavier ever encountered, and as we saw way back in UNCANNY X-MEN #117 in 1979, he's essentially the reason Xavier decided to train up other mutants to fight emerging threats in the world. The nice thing about The Shadow King is that he resides in a place called the astral plane, which is sort of a dream dimension where anything anyone imagines can become real. So, battles there tend to be about willpower; the person who can impose their reality on their opponents, force them to believe in whatever situation they're projecting onto them, tends to win. In ASTONISHING, we'll see some fantastic set pieces built around that idea, some of which will tie into signature past events from X-Men history. It's not all backwards-looking, though. This is a story that moves the X-Men forward in a huge way.
Marvel.com: Although you've certainly worked with your fair share of mutants in your time at Marvel, Charles, I believe your time with this particular group is more limited, no? What aspects of these characters made them the right ones to engage in this journey?
Charles Soule: That's correct. Except for Mystique, I've never really written any of this group to any real degree, unless you count Old Man Logan and Wolverine as the same character; they're not, although of course there are similarities. I like this cast because it gives me an immense amount to work with as far as their interpersonal relationships. Rogue and Gambit have a long history together, romantic and otherwise. Mystique raised Rogue for a while. Fantomex and Angel have both been linked with Psylocke. Old Man Logan probably killed all of these folks back in his own universe. And on and on it goes. The power set is varied, they're all super cool in different ways—it's a rich stew, and I feel like I can do a ton with it. I should also say that the eight characters on the cover of ASTONISHING X-MEN #1 are not the only X-Men that will appear in the series, but they're definitely the leads.
Marvel.com: Before we wrap up, I want to lob one "fastball special" your way. There's always a concern among comic book fans about consequences. With a new series launch, we expect a certain amount of bombast, but what sort of consequences have you baked into the story you're preparing to launch? In what ways does this story not only matter, but why is it one that's going to be a "must read" for X-Men fans of all kinds and varieties?
Charles Soule: I think that will all be made clear on the last page of ASTONISHING X-MEN #1. I think I'm known for writing a certain kind of X-book, after DEATH OF WOLVERINE, DEATH OF X and IVX. ASTONISHING X-MEN is no exception. If people want consequences, they'll get 'em.
Charles Soule and the top artistic talent in the comics industry bring you ASTONISHING X-MEN, beginning in July!
The Hype Box
Can't-miss news and updates from across the Marvel Universe!