Comics
Published November 6, 2017
Avengers: Two of a Kind
Mark Waid sets two teams—and two Earths—up for annihilation!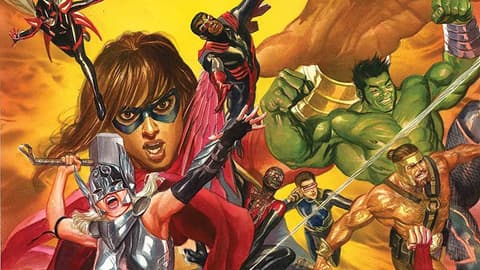 Earth and Counter-Earth have been set on a crash course by The High Evolutionary. In response, the Avengers and the Champions must put aside their differences and work together to save the world(s)!
On December 6, find out what happens when worlds collide in writer Mark Waid and artist Jesus Saiz's AVENGERS #674!
We dropped a line on Waid to hear a little more about the fate of the teams.
Marvel.com: Give us a brief recap of where the teams find themselves in this crossover!
Mark Waid: Things are not looking good for either team, especially now that we've taken a major player off the board—and turned Viv from synthezoid to full human!
Marvel.com: Which two team members have you enjoyed pairing up the most?
Mark Waid: I very much enjoyed putting Amadeus and Hercules back together as old friends. They play well off of one another.
Marvel.com: What does each team teach the other in this storyline?
Mark Waid: The Champions remind the Avengers that experience isn't everything. The Avengers remind the Champions that sometimes the stakes are so high that there's no time to be amazed—just to act.
Marvel.com: How have the group dynamics changed after so much has gone down?
Mark Waid: There's still tension. It's not "punch each other in the face" tension—these are adults and smart teenagers, people—but the Avengers do tend to do too much Avengersplaining.
Marvel.com: If you could be on one of the two teams, which would you pick?
Mark Waid: Easy. The Champions. Cyclops is one of my favorite Marvel heroes. We could hang.
Grab AVENGERS #674, by Mark Waid and artist Jesus Saiz, on December 6!
The Hype Box
Can't-miss news and updates from across the Marvel Universe!