Comics
Published March 19, 2021
Read the Best Stories Starring the Falcon and the Winter Soldier
Save up to 67% off on digital trades and issues in the Marvel Comics App!
Now on sale in the Marvel Comics app for iOS and Android!
One is a high-flying hero, the other a former sidekick-turned-super-weapon-for the enemy.  Today, the Falcon and the Winter Solider are Avengers and (former) Captain Americas—together they are a sensational team-up that has taken on Hydra, Zemo, and many more Marvel foes. Now, read their entire comic histories, and pivotal storylines, for up to 67% off in the Marvel Comics App!
You can enjoy your new digital comics and trades in the cutting-edge reader of the Marvel Comics App, available on iPhone®, iPad® and select Android™ devices. Once purchased, all of your stories are accessible through your personal library, and can be read anytime, anywhere.
Sale ends March 28, so act now!
Read up on a few of our must-haves here:
Sam Wilson—winged warrior, avian Avenger and one-time Sentinel of Liberty—takes to the skies once more! Reborn and recommitted, Falcon takes on a personal mission to reconnect with the American people and train his new partner, Patriot. But when a gang war overtakes the streets of Chicago, Falcon finds himself up against an enemy way out of his weight class: the demonic Blackheart! Falcon and Patriot must fight to restore order as a full-scale riot threatens to destroy the city. But with the son of Mephisto fanning the flames, the heroes will be put through hell! And if that isn't horrific enough, Sam's romantic (or rocky) reunion with Misty Knight is wrecked by… vampires? As Chicago's future hangs in the balance, can Sam's indomitable spirit triumph in the face of unspeakable evil?
Collects FALCON (2017) #1-8.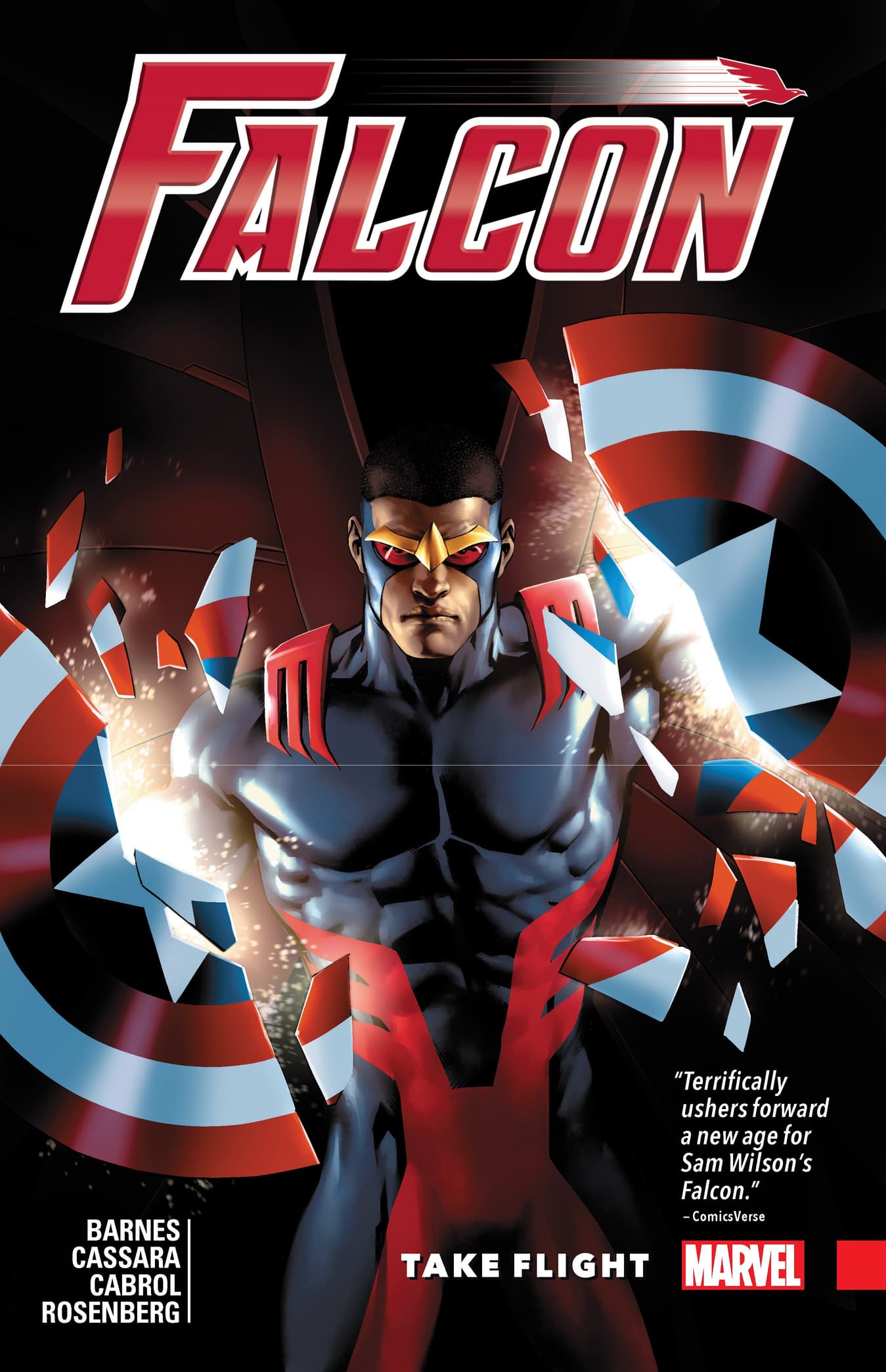 Bucky Barnes believes in second chances. Having survived death, manipulation, loss of identity, and a lifetime of murder, the man known as the Winter Soldier has worked hard to atone for his many sins. But now… he's going to go one step further. What do you do after you've found redemption? You help others do the same! Bucky is working to help others leave behind their lives of crime. It's his way of channeling his own pain in a productive, personal way—by helping others find the same salvation he's found. But not all paths are the same—and not everyone can be saved. Is there any hope for RJ, Hydra's teenage assassin extraordinaire, who's been sent to kill the man he's been modeled after: the Winter Soldier himself?
Collects WINTER SOLDIER (2018) #1-5.
They're best friends, teammates, brothers-in-arms—but that bond is tested to the limit when Falcon targets the Rivas drug cartel, and the Super-Sailor known as the "Anti-Cap" sets his sights on Sam Wilson! Can Captain America: Steve Rogers thwart his dark doppelgänger before Sam Wilson's wings are clipped? Fingers crossed, because there's a Mental Organism Designed Only for Killing waiting in the wings, and nobody's better at stopping him than Cap and Falcon! But M.O.D.O.K.'s not the only big headache on the horizon, with the Avengers about to be Disassembled and all. Is this really the best time for Steve to be kissing the Scarlet Witch? Plus: With the Rivas out for revenge, Falcon may cross a line that could finish one of comics' greatest partnerships once and for all!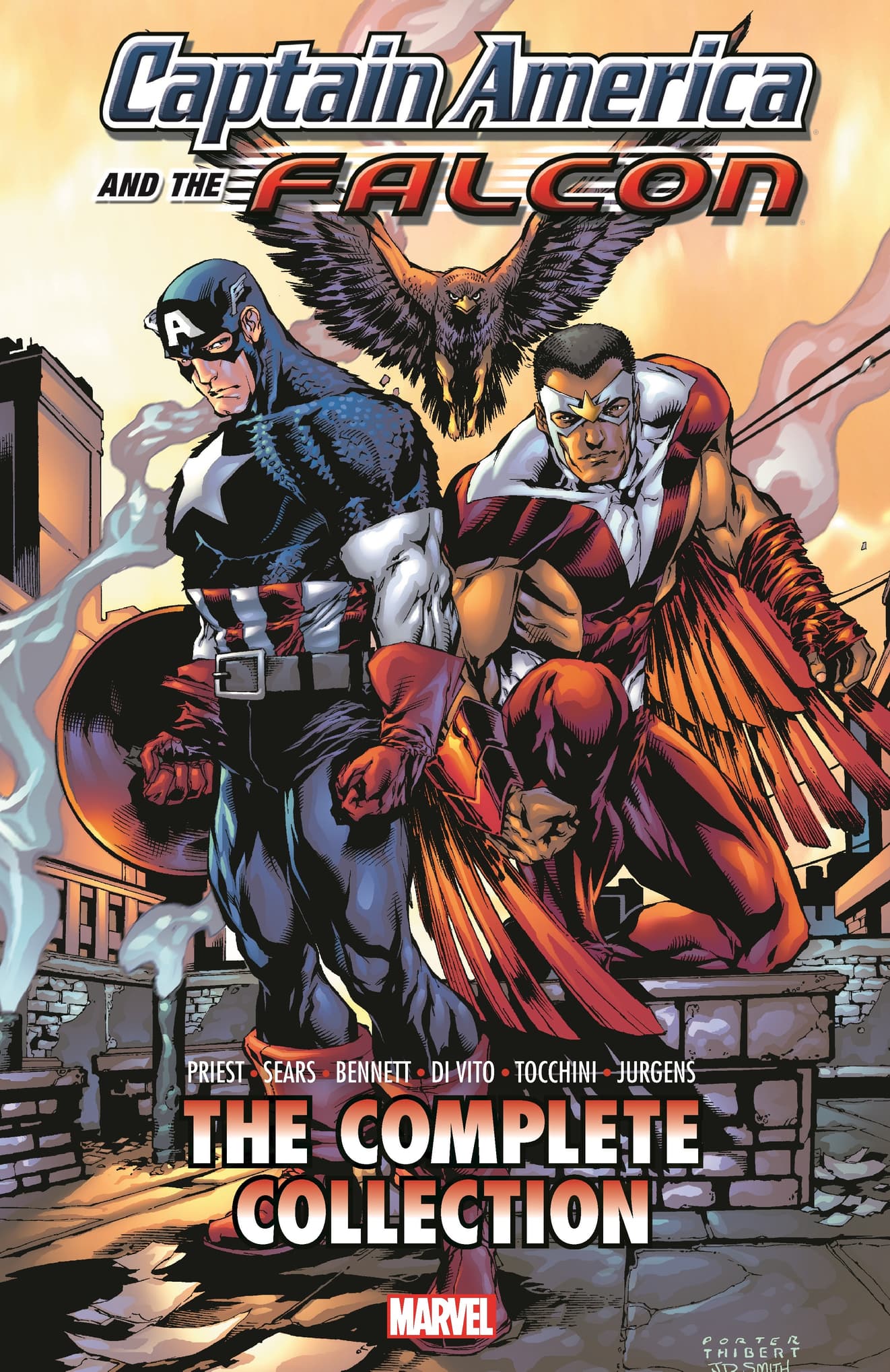 A glorious title from classic Marvel history returns, for a suitably suspenseful tale springing from the pages of SECRET EMPIRE! The Black Widow is dead… but someone out there is killing her old enemies one by one. With a broken heart and a bloody trail to follow, Clint Barton—the Avenger known as Hawkeye—is looking for answers. And the only person alive who may have them is another of Natasha Romanoff's ex-boyfriends: Bucky Barnes, the Winter Soldier! Can Clint and Bucky trust each other long enough to honor the Black Widow's legacy and unravel the web of mysteries Natasha left behind? Or as they close in on the new Red Room, will they discover far more than they bargained for?
Collects TALES OF SUSPENSE (2017) #100-104.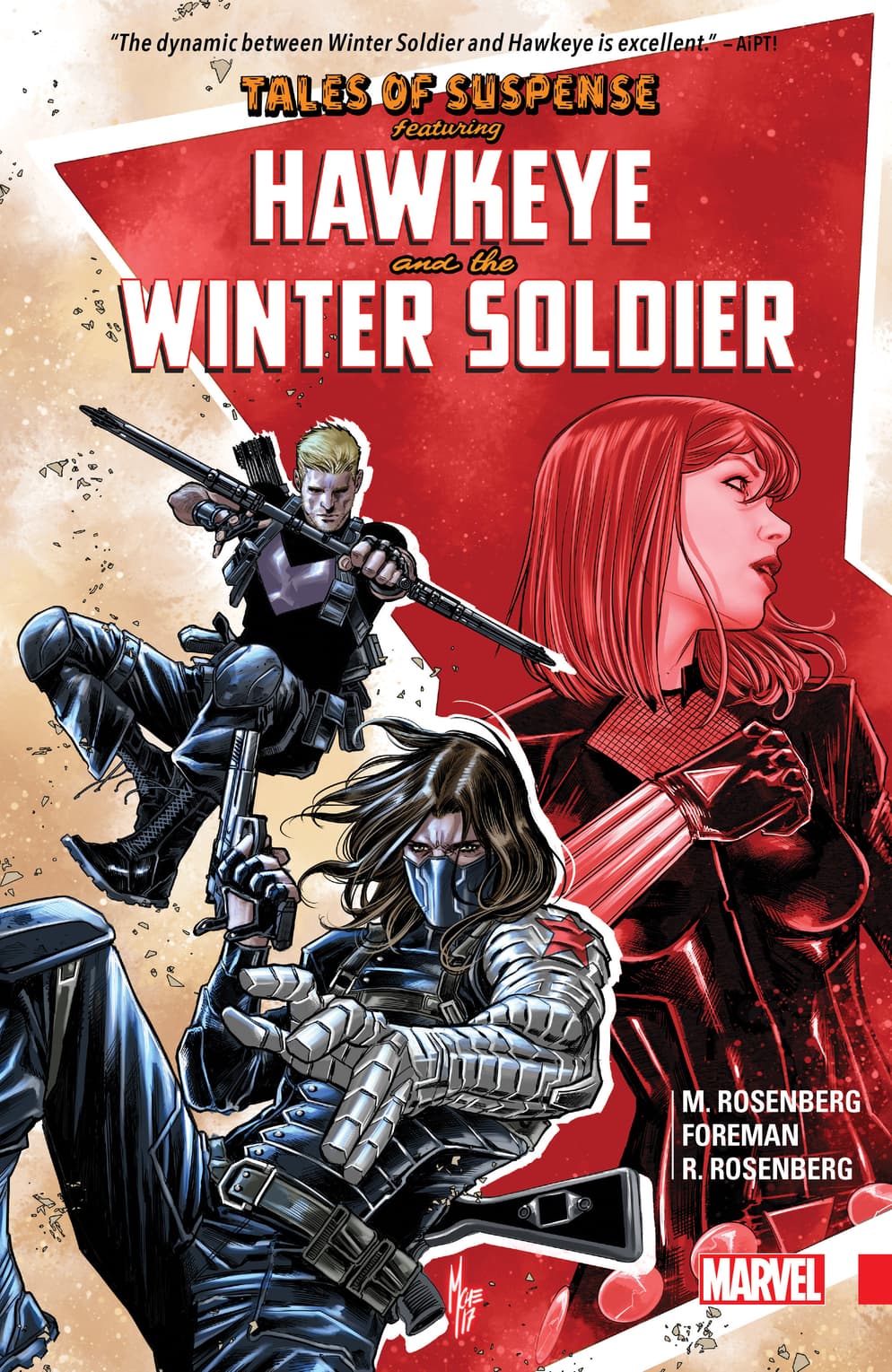 See the full list of sale titles here!
CAPTAIN AMERICA & THE FALCON BY CHRISTOPHER PRIEST: THE COMPLETE COLLECTION
CAPTAIN AMERICA AND THE FALCON: MADBOMB
CAPTAIN AMERICA AND THE FALCON: NOMAD
CAPTAIN AMERICA AND THE FALCON: SECRET EMPIRE
CAPTAIN AMERICA AND THE FALCON: THE SWINE
CAPTAIN AMERICA EPIC COLLECTION: THE COMING OF…THE FALCON
FALCON: TAKE FLIGHT
CAPTAIN AMERICA: SAM WILSON VOL. 1
CAPTAIN AMERICA: SAM WILSON VOL. 2: STANDOFF
CAPTAIN AMERICA: SAM WILSON VOL. 3: CIVIL WAR II
CAPTAIN AMERICA: SAM WILSON VOL. 4: #TAKEBACKTHESHIELD
CAPTAIN AMERICA: SAM WILSON VOL. 5: END OF THE LINE
BUCKY BARNES: THE WINTER SOLDIER VOL. 1: THE MAN ON THE WALL
BUCKY BARNES: THE WINTER SOLDIER VOL. 2
CAPTAIN AMERICA: WINTER SOLDIER MARVEL SELECT
TALES OF SUSPENSE: HAWKEYE & THE WINTER SOLDIER
WINTER SOLDIER VOL. 1: THE LONGEST WINTER
WINTER SOLDIER VOL. 2: BROKEN ARROW
WINTER SOLDIER VOL. 3: BLACK WIDOW HUNT
WINTER SOLDIER VOL. 4: ELECTRIC GHOST
WINTER SOLDIER: SECOND CHANCES
WINTER SOLDIER: THE BITTER MARCH
X-MEN: SUMMERS AND WINTER
CAPTAIN AMERICA: THE DEATH OF CAPTAIN AMERICA - THE COMPLETE COLLECTION
CAPTAIN AMERICA: THE MAN WITH NO FACE
CAPTAIN AMERICA: REBORN
CAPTAIN AMERICA: ROAD TO REBORN
Read these stories now by heading to the Marvel Comics App and enjoy the amazing adventure that is the Marvel Universe.
All purchases in the Marvel Comics App are added to your personal library, and can be read on iPhone®, iPad® and select Android™ devices! Our smart-paneling feature provides an intuitive reader experience, ideal for all types of mobile device and tablet users!
The Hype Box
Can't-miss news and updates from across the Marvel Universe!