Comics
Published April 5, 2017
Black Bolt: Suffering in Silence
Saladin Ahmed forecasts the fate of the former Inhuman King!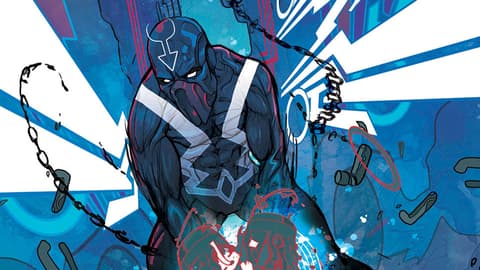 The king is jailed, long live the king!
Blackagar Boltagon, King of the Inhumans, receives his own solo series, BLACK BOLT, beginning May 3, but he won't spend it sitting on a throne in Attilan. No, the famously reticent ruler finds himself alone and behind bars, forced to ally himself with characters like Crusher Creel to escape and get some answers as to who put him in this situation.
Before the ongoing series drops, we spoke with its writer, the Hugo Award-nominated, Locust Award-winning Saladin Ahmed, author of "Throne of the Crescent Moon," about bringing Black Bolt to a wider audience in his debut comics gig, Marvel's influence on his writing career, the upcoming "Marvel's Inhumans" TV show, and what it was like to take iconic royalty down a peg.
Marvel.com: So what's it like taking on your first Marvel project, particularly one focusing on such an iconic character like Black Bolt?
Saladin Ahmed: It's incredible. Marvel Comics are really where I learned to read [Laughs] and I've had a reasonably long and pretty decent career as a writer in the past decade or so, but this is my first comics project and it's sort of coming back to where I started as a reader and even as a writer. As a kid, before I ever wrote prose stories, I drew little comics and those were directly inspired by Marvel so it really feels like coming full circle, sort of coming home in a way, which is just wonderful. And for Black Bolt to be the character, to be kind of coming into the field with, is really kind of wild. I mean I'm sure we'll talk some about his specifics, but for me, he's this iconic hero, but not in the way that, say, a Hulk or a Spider-Man is, right? He's this iconic, sort of mirrored niche favorite and for that, taking on this cult hero who's been around for decades and is direct Jack Kirby-Stan Lee's DNA is amazing and it's exciting to come to him at a time when he's sort of starting to come out of the shadows as it were, or starting to come to a broader audience, certainly with the TV show and things like that.
Marvel.com: You're pretty much at home when it comes to writing science fiction and fantasy. What tenets of these genres will we be seeing in this series?
Saladin Ahmed: Yeah, I like to think that I was a good fit and I think that part of the reason Marvel was interested in me for BLACK BOLT in particular was that the Inhumans are this sort of alien race on Earth in a way and so, all the way back to the Stan Lee days, writing about them, they had this sort of science fictional and almost fantasy edge to their kind of style, a little more so than the traditional super hero and I think that Black Bolt is—you know, this is Marvel, it's a super hero world—but Black Bolt is this king or former king of a hidden empire that has these very antiquated institutions, it's trying to change and that has this history of space faring as well and its roots as an alien experiment. And so, they're all these sort of themes from science fiction and fantasy about being a stranger in your own land and about power and difference and then also these elements of world building, thinking about what a different culture is like and thinking about Attilan as a fantasy world in a way, that coexists with Earth and this is the kind of history that Black Bolt comes from. So, definitely, there's some sort of close fit for me in terms of genre, in terms of stuff that I drew on, stuff that people have said nice things about in my prose work, I've tried to bring some of those strengths to the comic.
Marvel.com: In this story, Black Bolt, the king of the Inhumans, finds himself mysteriously imprisoned. Can you talk a little bit about what it was like getting in the head of a character who is essentially stripped of his title and commanding power?
Saladin Ahmed: That's one of the central themes of the book. I'm a political guy, I'm very interested in power, I'm interested specifically in political power and incarceration and things like that and what they mean in the real world. So, for me, one of the stories I'm interested in telling and talking about these incredibly powerful characters. Black Bolt [is] not only a deposed king, but he is one of the more powerful characters, certainly on Earth and maybe in the Marvel Universe period. And what does it mean to have grown up and lived your whole life with this incredible power? And with Black Bolt, there's this added complication of him having to keep it in constant check. And then what does it mean to be stripped of that? I've said elsewhere, it's not a book that humiliates Black Bolt, but I think he does get humbled by what happens and starts to look at his place in the world and starts to maybe have some doubts that are healthy for him to have [Laughs]. He's a kind of arrogant imperious, silent figure and so getting into his head and starting to pick apart some questions he's asking himself, especially when he gets put into this humbled position, has been really fun.
Marvel.com: Your novel "Throne of the Crescent Moon" is about someone—Doctor Adoulla Makhslood—who, despite wanting a quiet life away from adventure, is thrown into an epic struggle against a sinister force along with a ragtag team of magical individuals. That being said, did the story of that doctor character play an influence on your take on Black Bolt who is teaming up with other inmates like the Absorbing Man, Crusher Creel?
Saladin Ahmed: Yeah. I think there's a continuity between the characters. I think Adoulla has much more of a sense of humor and kind of class-wise, he's much more of Crusher's ilk from where he comes from, but I think the story of the reluctant hero, it's a hard one to resist and I think there's a universal sort of appeal to a character who's not sort of striding into battle with their chin up and superman-like, but is sort of doing the job that no one else is gonna get done and so, gosh, he's gotta do it. And there's definitely an element of that to Black Bolt's story in this book.
Marvel.com: As a prolific writer of poetry, did you incorporate any poetic moments into this comic?
Saladin Ahmed: [Laughs] There's no outright poetry, but comics are what taught me about beautiful writing. That Stan Lee writing or Jim Starlin's writing [of Adam Warlock and Dreadstar] and stuff—that kind of cosmic prose, it's gorgeous and it's been an influence on me in my novels and my short stories and so coming to comics, definitely, I like to pay attention to the words. I hope that people will find some engaging language, not just story in this book, but one thing I've really had to learn as a writer in comics is to just back off because it's such a visual medium and my inclination as prose writer is to go on and on and when you're writing comics and you're working with an artist, especially one as amazing as Christian [Ward], you just start to teach yourself when to shut up [Laughs]. So there's a poetic edge to the language, but I hope it doesn't get excessive.
Marvel.com: Will fans be seeing this character in a new light by the end of the series? If so, what aspects of Black Bolt are you hoping to draw our attention to?
Saladin Ahmed: Well, for now, it's an ongoing so my intention is to stick with this guy for a while and yeah, follow him through some pretty significant changes. Certainly in this first arc, yeah, he'll be pretty radically changed in a certain sense by the end of the arc, although maybe half of that is just that we'll have gotten to know him in a way that we haven't before. He's a character who people are sort of always reacting against and beholding, but we've never really spent much time in his head and I'm aiming to change that. And so, between getting to know him in the first place and then seeing him transform, not only in response to the events that happen in this book, but readers will see some sort of reflection on what's happened the past few years. It's gonna be a new reader friendly, clean start book, but there will be some harkening back to some of the big controversies he's been involved in in the past couple of years and he's gonna have to wrangle with some of that, some consequences to some of that personally so he'll have gone through quite a lot by, say, the end of the first six issues. I think [readers] will see some interesting transformations and then that'll only continue as the series goes on.
Marvel.com: How does it feel to be helming this solo series with all the hype around the "Marvel's Inhumans" TV show coming out this fall?
Saladin Ahmed: It's wild because I actually didn't know about the TV show until it was announced. To a certain degree, TV and comics are pretty separate things at Marvel so it's not gonna have a lot of influence on what I do, but it's really exciting to kind of be helming this character at a time when people will know who he is, more and more people will know who he is. I've talked a little bit with Anson Mount who is gonna be playing Black Bolt in the fall and I think he seems to really get the character so I'm rooting for the show, but it won't have a lot to do with what I do.
Marvel.com: You said you spoke with the actor who will be playing him. Was that when you were writing the comic?
Saladin Ahmed: No no no no. Not in any kind of consultation, just a Twitter chatting—good luck, good luck kind of thing.
Marvel.com: What was your favorite part about writing this series and are there any other Marvel characters you'd like to pursue in the future?
Saladin Ahmed: My favorite part…wow, that's hard. I think collaboration has been my favorite part. This is my first comics gig and working with a great editor, Will Moss, and just an astonishing artist, Christian Ward. We go back and forth constantly at all hours with little DM's and stuff like that. It's been this wonderful, invigorating thing to work with such a talented artist so I'd have to say that's probably the kind of biggest meta thing. In terms of the story itself, I think, just again, bringing this character who I think deserves a wider audience, maybe a bit more into the spotlight felt like a real honor. And where I wanna go from here, well, again, the book is an ongoing and while Crusher is sort of a featured guest star in this first arc, he certainly won't be the only one so hopefully, we'll get to see the characters that I wanna write in the pages of BLACK BOLT, if not beyond. Certainly I have other projects that are possibilities and we'll just see where those go.
Hear the cry of BLACK BOLT when Saladin Ahmed and Christian Ward make their voices heard on May 3!
The Hype Box
Can't-miss news and updates from across the Marvel Universe!