Comics
Published June 8, 2017
Black Panther & The Crew: Ring of Fire
Yona Harvey puts Luke Cage to the test as he enters a new fight!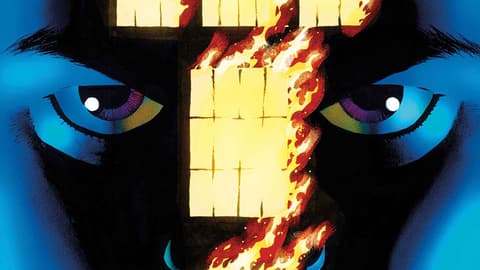 While Harlem burns, Luke Cage enters the ring to fight for what's right—even if that means discovering the horrible truth about his late mentor Ezra Miller in BLACK PANTHER & THE CREW #4 on July 12.
If Luke survives, it may fall to a little help from his friends on the Crew to pull him through. Oh, and writer Yona Harvey, who along with co-scribe Ta-Nehisi Coates and artist Butch Guice, knows a little bit about teamwork and the best way to play to an ally's strengths…
Marvel.com: Yona, for someone who might jump into the story here, where's Luke's head at going into BLACK PANTHER & THE CREW #4. What's going to be his prime "mission"—or is he even focusing at all?
Yona Harvey: Anyone coming into the story at this point should know Luke's a little disoriented at this point. He's been attacked, his wife and daughter were put at risk. His prime "mission" going into [issue] #4 is to punish whoever's responsible. But he'll soon discover he's got to get past his anger in order to solve Ezra [Miller's] murder and, perhaps, a larger mystery.
Marvel.com: What kind of friction is going on between Luke and the Crew? Who among them is going to present his biggest challenge?
Yona Harvey: There's definitely friction between Luke and Misty Knight. In terms of personality and general tactics, Misty might present the biggest challenge.
Marvel.com: Likewise, who of all the regular Harlemites can he count on? Where are the police at this time?
Yona Harvey: One of Luke's most helpful Harlemites was someone he'd actually been avoiding for many years. The fact that this person is able to help surprises even Luke in #4. It was kind of exciting to see the story take this turn. The police are slightly in the background at this time. The Crew has more leads.
Marvel.com: You've talked before on what Ezra means to you as a character; how do you make a reader feel the presence of a firebrand character like this when he's not actually physically present?
Yona Harvey: I have to trust and give readers credit. If they can understand Spider-Man's drive or credo based on losing his uncle, for instance, they can understand how Ezra's loss helps keep the Crew members' egos in check.   
Marvel.com: What kind of a lasting impact will this story have on the Crew, both individually and as a group?
Yona Harvey: The Crew will come to understand that Ezra had far more power than they ever imagined. This story will hopefully shed more light on the internal struggles of each individual and create a framework for the Crew to take on future mysteries.
Marvel.com: Overall, what's it been like working with Ta-Nahesi on this particular storyline?
Yona Harvey: Working with Ta-Nehisi on this particular storyline has been like running an intense relay race, or writing a renga poem. You have that individual drive, but you also have to have something to pass to the next person—something they can work with. We both understand the essential storyline and goals, but there's always this moment when we read the script and there's this funny line, revelation, or wrinkle in the story. Then we have to run with it.
It's the very best kind of collaboration. The joys as a writer are falling asleep at night and waking up thinking about these characters. Then I "what if, what if, what if" all day long. It's addictive.
Marvel.com: Likewise with Butch Guice—what in particular of his work on BLACK PANTHER AND THE CREW #4 made you sit back and say "wow"?
Yona Harvey: I haven't seen the images for issue #4 yet! I'm on the edge of my seat. So far, though, Butch's images of Luke out of the flames in issue #3 definitely made me sit back and say, "wow." And the ways he's drawn Misty? Just breathtaking.
Luke Cage takes center stage in BLACK PANTHER & THE CREW #4, written by Ta-Nehisi Coates and Yona Harvey with art by Butch Guice, available July 12!
The Hype Box
Can't-miss news and updates from across the Marvel Universe!