Comics
Published July 2, 2021
The Best Black Widow Stories
Start your reading with these digital trades and issues in the Marvel Comics App.
Now on sale in the Marvel Comics app for iOS and Android!
Save up to 67% off on digital collections and issues starring the super-spy Avenger Black Widow!
Underground agent. Trained assassin. Legendary Super Hero. No character has had a wilder comic history than Natasha Romanoff, AKA the Black Widow, from her shadowy beginnings in the Red Room to her present-day standing as one of Earth's Mightiest Heroes. Grab Black Widow's best comic starter series below, and save up to 67% off on these complete comic runs and digital collections that will get you ready for Marvel Studios' Black Widow!
Enjoy your new digital comics and trades in the cutting-edge reader of the Marvel Comics App, available on iPhone®, iPad® and select Android™ devices. Once purchased, all of your stories are accessible through your personal library, and can be read anytime, anywhere.
Sale ends July 18, so act now!
The spy tale of the century! When a mysterious figure starts exploiting Black Widow's murky past, Natasha must go underground and off the grid! Who can she trust in this web of deceit? And more important, can her friends trust her anymore? Natasha must run down all the names from her past—starting with Tony Stark and Bucky Barnes! The Widow and the Winter Soldier have quite a history—but when they reunite, they may wind up without a future. Fellow Black Widow Yelena Belova comes calling, but can she help Natasha rise above her past? And when the Widow targets Hawkeye: Clint Barton, she might find herself shot through the heart!
Collects THE WEB OF BLACK WIDOW (2019) #1-5.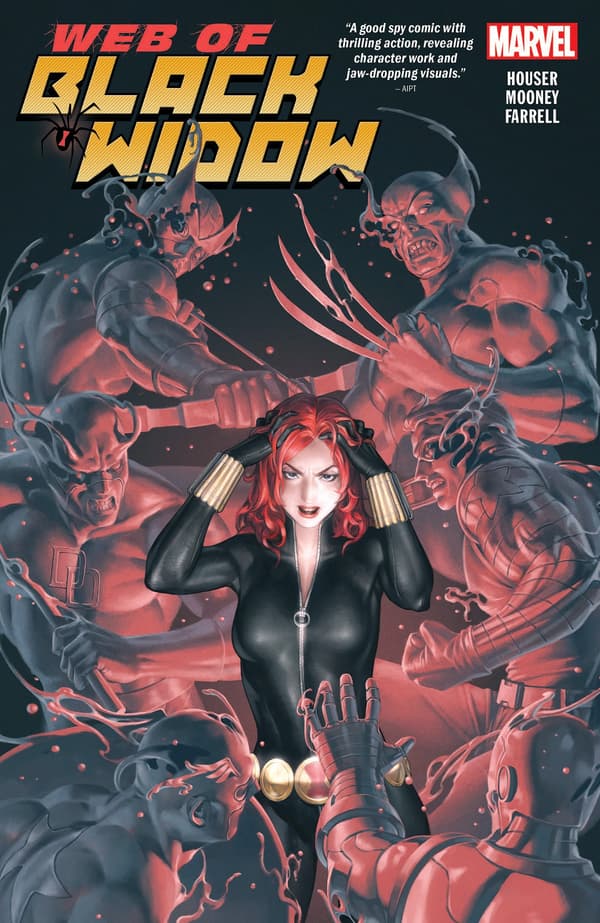 They wowed you with DAREDEVIL, now the Eisner Award-winning team of Mark Waid and Chris Samnee take Black Widow to new heights—by forcing her to go on the lam! Natasha has a lifetime of secrets, and when some of the darkest ones are made public, nobody is safe. As S.H.I.E.L.D. turns on its once-greatest asset, she seeks out her own answers in a knock-down, drag-out tale of action and espionage! But the Widow's hunt for the Weeping Lion sends her back to the one place she never wanted to go! With a little help from old friends—and old enemies lying in wait—she'll face the new incarnation of the Red Room: the Dark Room! But as S.H.I.E.L.D. closes in, Natasha finds herself on a collision course with the Invincible Iron Man!
Collects BLACK WIDOW (2016) #1-6.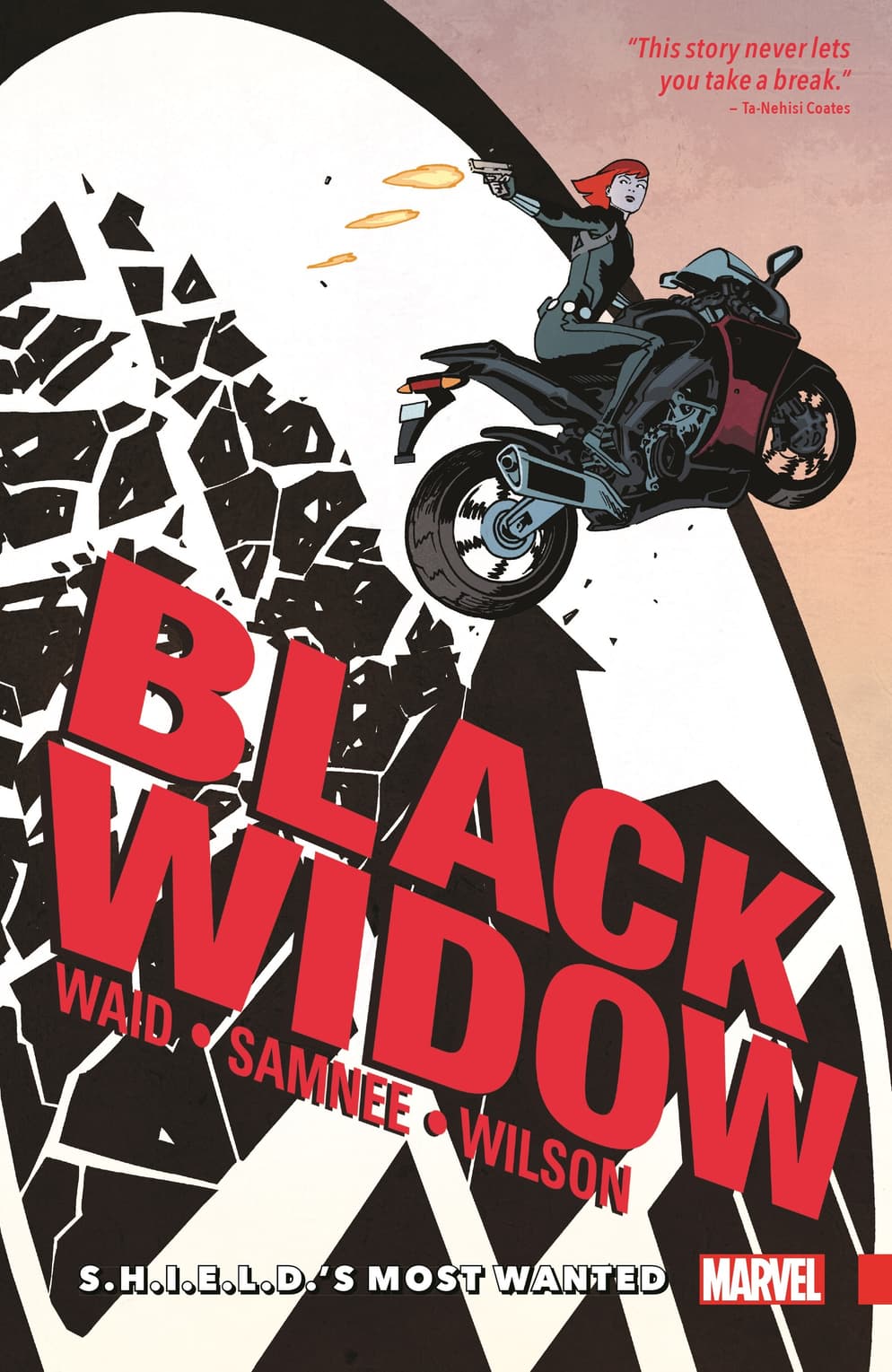 Natasha Romanoff has always led a life of adventure. First, she was a spy, fighting on the Cold War front line. She then defected to the West, eventually becoming a Super Hero and an Avenger. Natasha has earned a reputation as a consummate professional, coldly efficient and as deadly as her namesake. But now, her time as Black Widow may be running out. Yelena Belova, the new Black Widow, seeks to claim the mantle she feels was stolen from her Motherland. Anxious to prove herself by eliminating her counterpart, Belova will stop at nothing to achieve her goal. The battle of the two Widows rages from the deserts of the Middle East to New York's Upper West Side. And when the smoke clears, will either be left standing?
Collects BLACK WIDOW (1999) #1-3 and BLACK WIDOW (2001) #1-3.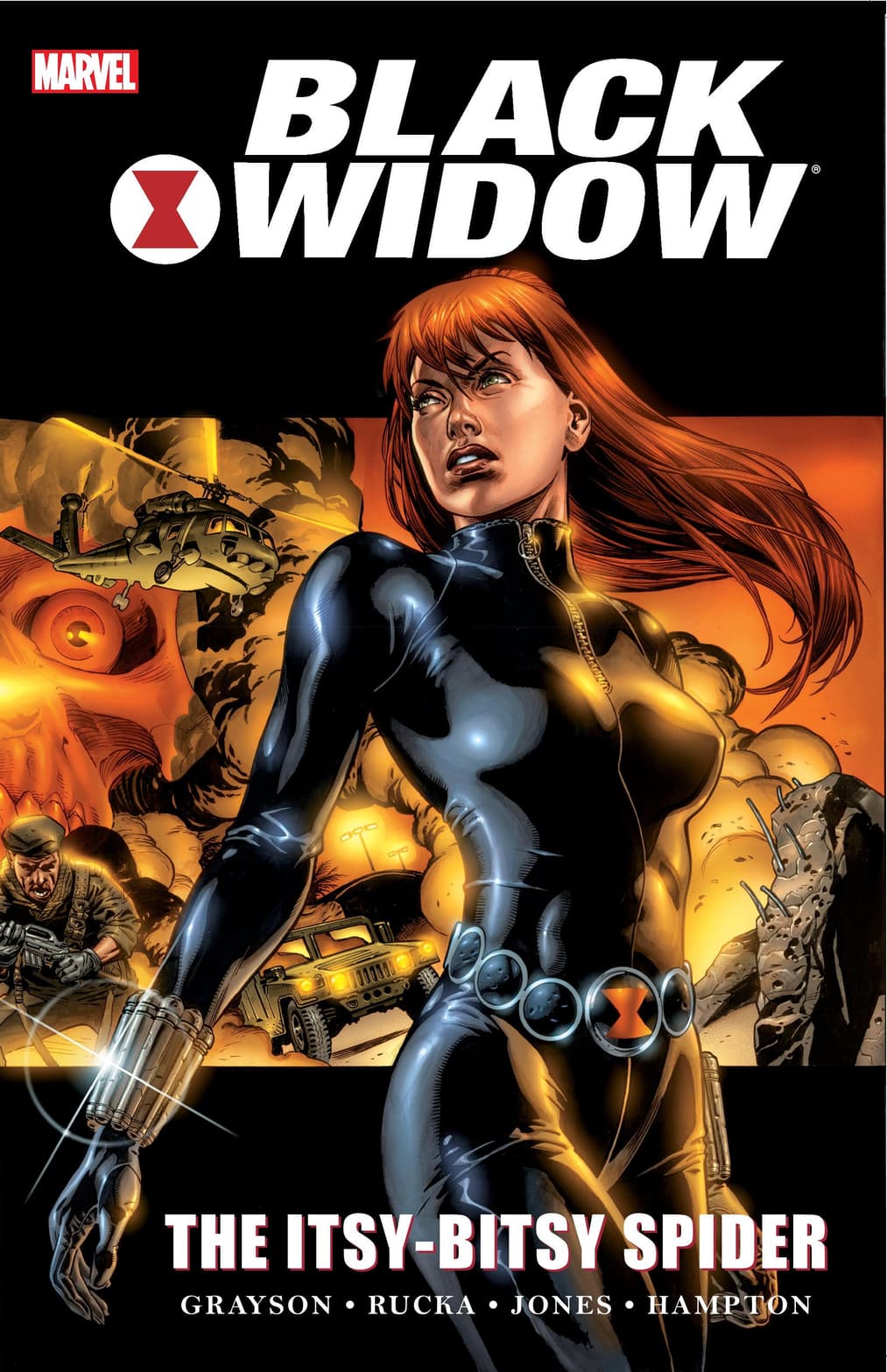 No job is too tough for Taskmaster! First up: corporate sabotage against Stark Industries under the employ of Iron Man's on-again, off-again foe Sunset Bain! But that soon brings the Taskmaster into direct contact with Tony Stark himself — and a SWAT team loaded for bear! But nothing will keep the multiskilled merc from his million-dollar payout—Viva Las Vegas! Then, are you prepared for the Taskmaster's secret origin? He has trained henchmen for every terrorist organization and criminal cartel in the Marvel Universe. So when word spreads that the Taskmaster has turned traitor, a billion-dollar bounty is put on his head. To keep himself safe, the Taskmaster must attempt his hardest task of all: figuring out who he really is!
Collects TASKMASTER (2002) #1-4, TASKMASTER (2010) #1-4, material from MARVEL COMICS PRESENTS (2007) #2, AGE OF HEROES (2010) #3.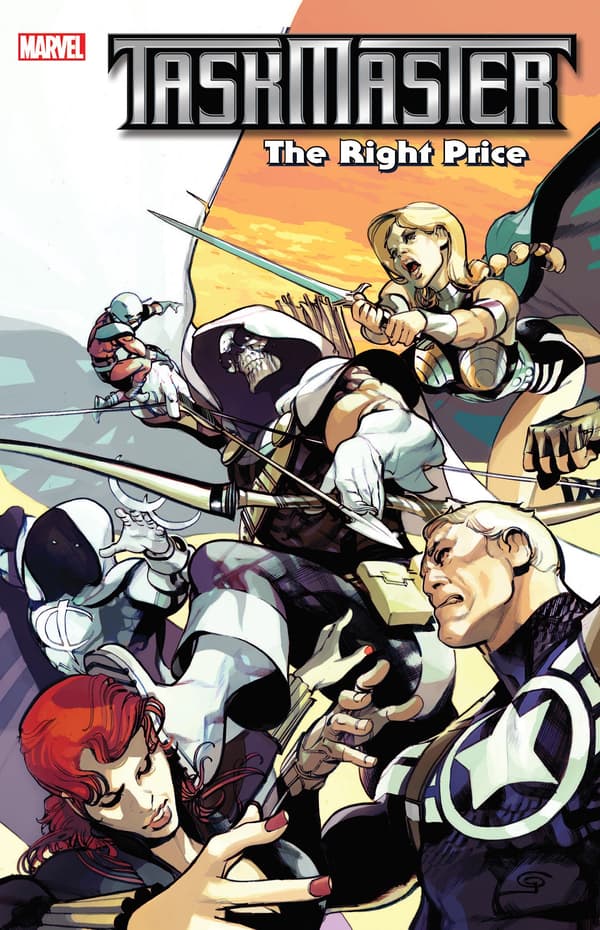 Collecting the origins of the Black Widow for the very first time! From her debut as a Russian spy in TALES OF SUSPENSE, Natasha Romanoff was instantly one of Marvel's most iconic characters. This amazing collection takes you through her early days with Hawkeye, into her first adventures with the Avengers—and on to her first solo series! Thrill to a captivating and complex saga as the Black Widow evolves from villain to hero—and defines herself as one of comics' greatest characters. Boasting stories and art by a who's who of Silver Age greats, this Epic Collection is ground zero for every Black Widow fan!
Collects TALES OF SUSPENSE (1959) #52-53, 57, 60, 64; AVENGERS (1963) #29-30, 36-37, 43-44; AMAZING SPIDER-MAN (1963) #86; AMAZING ADVENTURES (1970) #1-8; DAREDEVIL (1964) #81 and material from AVENGERS (1963) #16, 32-33, 38-39, 41-42, 45-47, 57, 63-64, 76.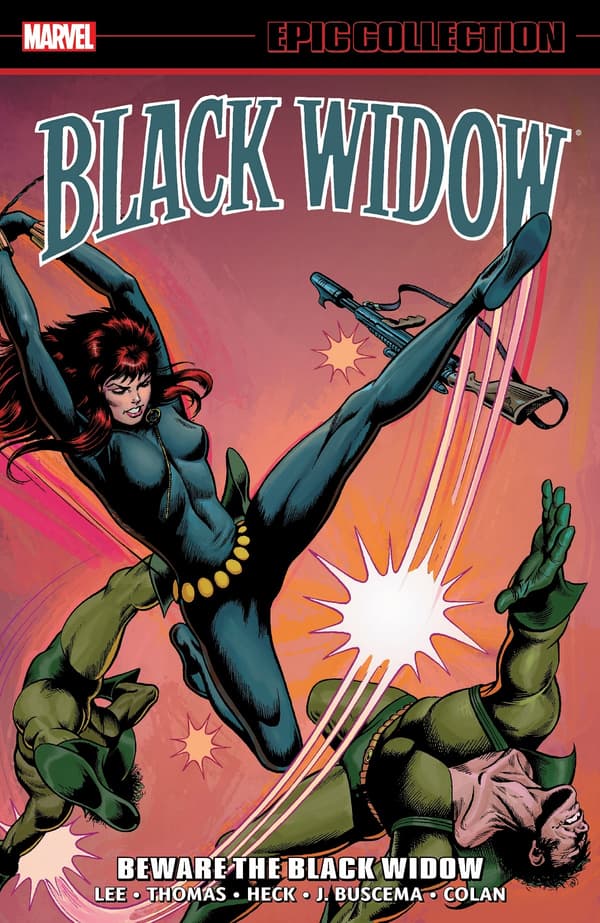 Grab the full list of sale titles here:
BLACK WIDOW AND THE MARVEL GIRLS
BLACK WIDOW BY WAID & SAMNEE: THE COMPLETE COLLECTION
BLACK WIDOW EPIC COLLECTION: BEWARE THE BLACK WIDOW
BLACK WIDOW EPIC COLLECTION: THE COLDEST WAR
BLACK WIDOW VOL. 1: S.H.I.E.L.D.'S MOST WANTED
BLACK WIDOW VOL. 1: THE FINELY WOVEN THREAD
BLACK WIDOW VOL. 2: NO MORE SECRETS
BLACK WIDOW VOL. 2: THE TIGHTLY TANGLED WEB
BLACK WIDOW VOL. 3: LAST DAYS
BLACK WIDOW: DEADLY ORIGIN
BLACK WIDOW: HOMECOMING
BLACK WIDOW: ITSY-BITSY SPIDER
BLACK WIDOW: KISS OR KILL
BLACK WIDOW: MARVEL TEAM-UP
BLACK WIDOW: NO RESTRAINTS PLAY
BLACK WIDOW: THE NAME OF THE ROSE
BLACK WIDOW: THE STING OF THE WIDOW
BLACK WIDOW: THE THINGS THEY SAY ABOUT HER
BLACK WIDOW: WEB OF INTRIGUE
BLACK WIDOW: WELCOME TO THE GAME
BLACK WIDOW: WIDOWMAKER
CAPTAIN AMERICA & BLACK WIDOW
HAWKEYE AND MOCKINGBIRD/BLACK WIDOW: WIDOWMAKER
MARVEL KNIGHTS BLACK WIDOW BY GRAYSON & RUCKA: THE COMPLETE COLLECTION
MARVEL'S BLACK WIDOW PRELUDE
MARVEL'S THE AVENGERS: BLACK WIDOW STRIKES
MARVEL-VERSE: BLACK WIDOW
THE WEB OF BLACK WIDOW
TASKMASTER: ANYTHING YOU CAN DO...
TASKMASTER: THE RIGHT PRICE
TASKMASTER: UNTHINKABLE
Sale ends July 18, so head over to the Marvel Comics App and read these stories now! 
All purchases in the Marvel Comics App are added to your personal library, and can be read on iPhone®, iPad® and select Android™ devices! Our smart-paneling feature provides an intuitive reader experience, ideal for all types of mobile device and tablet users!
The Hype Box
Can't-miss news and updates from across the Marvel Universe!