Comics
Published July 11, 2023
'Brute Force' Has a New Solo Series and You Can Read It Now on Marvel Unlimited
We spoke to writer and comedian Paul Scheer about the grand return of this cybernetic animal super-team!
Given powers and intelligence far beyond those possessed by other members of their species, five animals—a lion, an eagle, a kangaroo, a bear, a dolphin—were forged into a super-team by a brilliant scientist. No longer like other animals, but also not human, they struggle to find their place in the world of humanity. This is… Brute Force!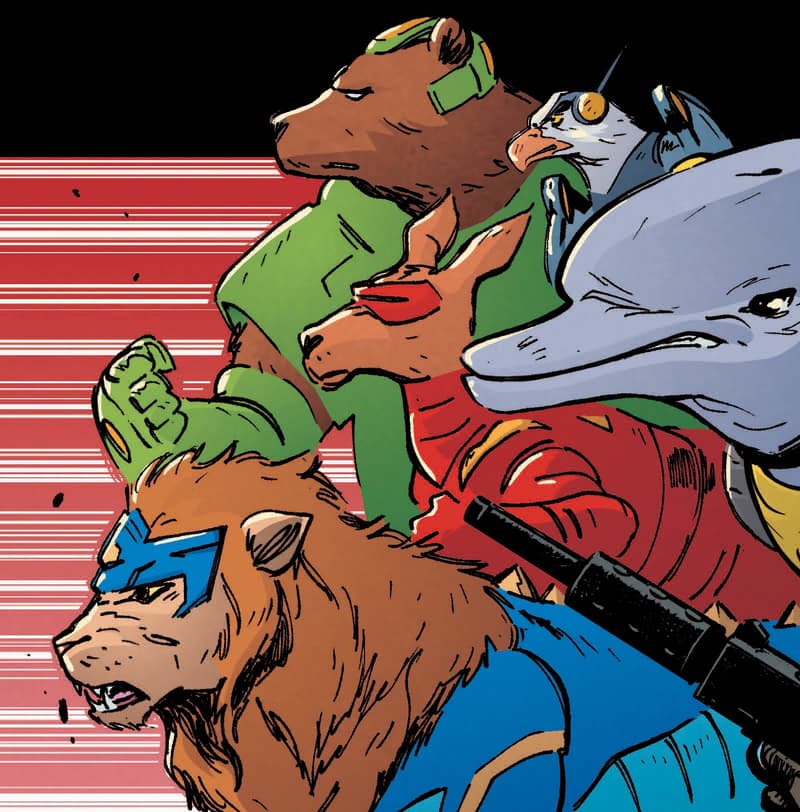 New from the Infinity Comics lineup: For the first time in thirty-three years, Brute Force, the enhanced animal super-team and Earth's most unusual defenders, return in a new six-part solo series exclusive to the Marvel Unlimited app! The times may have changed since 1990 but the Brute Force mission remains the same: to be the champions of the animal kingdom and protectors of the natural world.
In BRUTE FORCE INFINITY COMIC, now available to read in full, series writers Paul Scheer and Nick Giovannetti return to the characters they've come to appreciate as fans: "We've always wanted to revisit these characters [since DEADPOOL BI-ANNUAL #1]. We had some plans for a limited series and even a TV show," says Paul Scheer. "And after the success of the documentary I did on Brute Force [for an episode of Marvel's 616 on Disney+], Marvel approached us about going a different route and instead of doing a traditional comic, to embrace this new type of digital comic."

With art by Geoffo and colorist Dee Cunniffe, BRUTE FORCE revisits the tragic roots of the team, and delves into the early history of the science that made heroes like Lionheart, Boomer, Soar, Bear, and Dr. Echo even possible. "Brute Force has always been about animals getting a voice (literally) and also weapons," teases Scheer. "We love the idea that these characters fight for the voiceless. But are Brute Force the only ones? Which made us start thinking about the animals used by NASA to test space flight. So, 'Project Jojo' tells the story about one animal that was sent to space and presumed to be dead, but spoiler alert, she wasn't."
Readers can also expect cameo appearances from the larger Marvel Universe including members of the Fantastic Four and Doctor Otto Octavius, AKA Doc Ock. But despite high-profile guest stars, the series is about building on the storytelling (and toyetic tech!) first laid out by Brute Force designer/creator Charles Viola. "Charles is a genius," says Scheer. "He is an inventor and toy maker, so I think he has a handle on things that kids and adults alike would want to play with. It was up to us to take his future tech ideas which I think were very solid, and tell a story to make sure it wasn't just about the tech."

"In regard to this book, Nick [Giovannetti] had a very crystal idea of the story he wanted to tell, and I was happy to follow his lead and I love where we landed," says Scheer of the collaboration. "We have worked together a lot throughout our career. Besides Nick's encyclopedic knowledge of the Marvel Universe, we love to make each other laugh and surprise each other with twists in the story as we each take turns leading and following in the writing."
Read BRUTE FORCE INFINITY COMIC #1-6 by Paul Scheer, Nick Giovannetti, Geoffo, and Dee Cunniffe only on the Marvel Unlimited app!
Download the Marvel Unlimited app today for iOS or Android devices to read 800+ vertical comics exclusive to the Infinity Comics lineup. You'll also gain instant access to 30,000+ digital issues spanning 80 years of Marvel Comics.
The Hype Box
Can't-miss news and updates from across the Marvel Universe!