Comics
Published December 6, 2017
Captain America: Hunted
Mark Waid sends Steve Rogers a Kraven foe!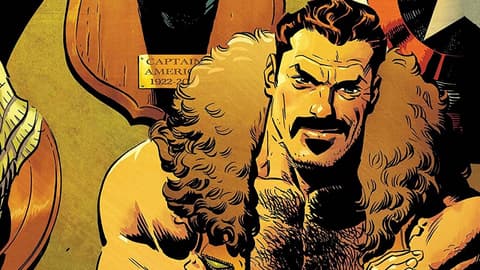 It's been difficult for Steve Rogers to make himself at home in America in the aftermath of Secret Empire; even though he dealt with his evil Hydra counterpart and saved the day in heroic fashion, he still has some convincing to do.
And in part three of the "Home of the Brave" storyline, Steve's journey across the United States continues—though his road trip hits another hurdle as Kraven the Hunter puts the red, white, and blue between his cross-hairs. On January 3, writer Mark Waid and artist Chris Samnee look to ensnare the Sentinel of Liberty in CAPTAIN AMERICA #697!
We spoke with Waid about Rogers' trials in the heart of America.
Marvel.com: What's been going on in the "Home of the Brave" arc so far?
Mark Waid: Cap's been roaming the country looking to reconnect with people. Unfortunately, Kraven's taking him on a wild detour!
Marvel.com: How has Cap been managing to reclaim his good reputation?
Mark Waid: It's not the easiest road for him, but given that our story takes place many months after Secret Empire, most people are glad to see Steve Rogers…most people. Not everyone.
Marvel.com: Describe the dynamic you see between Cap and Kraven.
Mark Waid: As you can imagine, Cap has nothing but disdain for someone like Kraven who pretends to have a sense of honor and yet demonstrates anything but. Kraven wants to make Cap his prey, but, as Cap points out, to be prey you have to be afraid of the hunter.
Marvel.com: What ended up being the most challenging element of writing this issue?
Mark Waid: Doing heavy research into genuine jungle traps that real commandos use!
Marvel.com: What proved to be your favorite part to write?
Mark Waid: The opening scene with Steve Rogers at a pool table—it's a bit I've been wanting to use for 20 years.
The hunt begins in CAPTAIN AMERICA #697, by Mark Waid and artist Chris Samnee, on January 3!
The Hype Box
Can't-miss news and updates from across the Marvel Universe!