Comics
Published September 21, 2022
Cassian Andor's Most Important Moments
Read key chapters from the life of one of the Rebel Alliance's top operatives!
Have you tried Marvel Unlimited yet? It's your all-access pass to over 30,000 Marvel comics at your fingertips. Start your 7-day free trial, or sign up with plans as low as $9.99 a month.
In the Star Wars universe, Cassian Andor's name was not widely known outside of the Rebel Alliance. This was by design, as he was one of the Rebellion's top operatives and spies. He also wasn't afraid to get his hands dirty in the name of the greater good. Regardless, Cassian came to question his actions shortly before joining the doomed team of Rebels who stole the Death Star plans in the film Rogue One: A Star Wars Story.
Rogue One may have marked the end of Cassian's life, but it wasn't his whole story. Through the events of that tale and Cassian's comic book appearances, here are more of Cassian Andor's pivotal moments against the Empire, all of which you can revisit on Marvel Unlimited!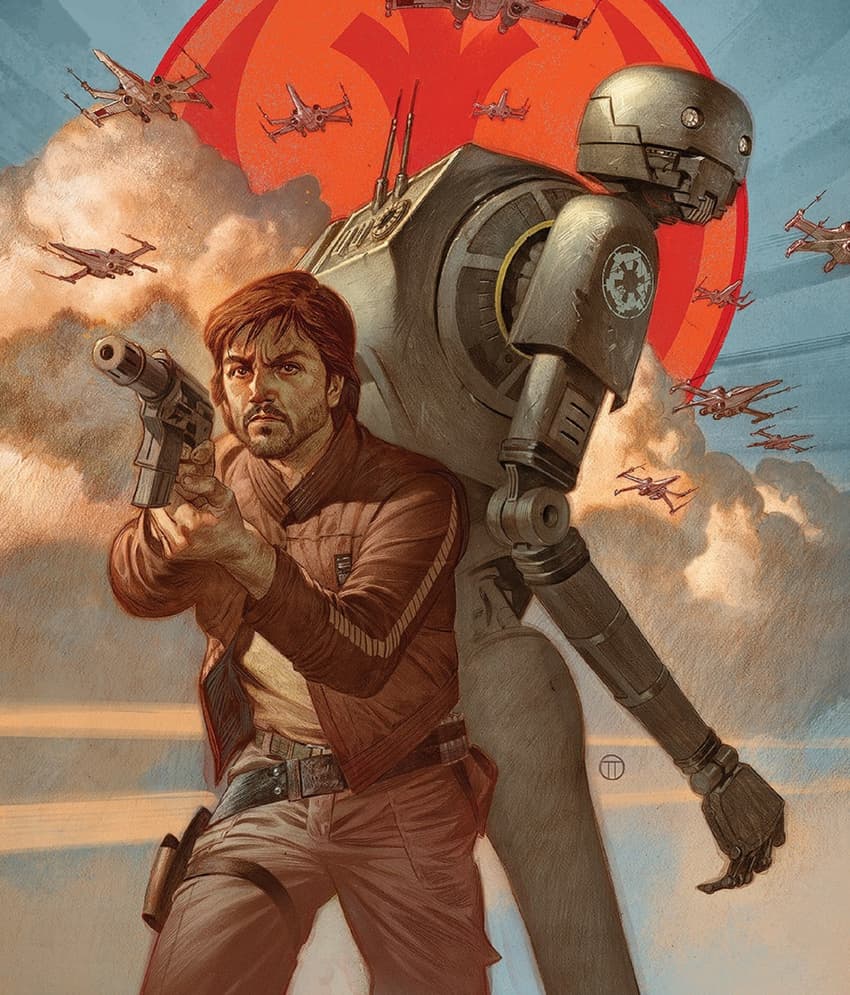 Given the importance of K-2SO in Cassian's life, it was intriguing to learn that Cassian reprogrammed the Imperial droid more out of desperation than anything else. K-2SO also proved to be very resistant to Cassian's first attempt to erase his memory and reconfigure his programming. Yet it was a life-changing event for both of them. For Cassian, it gave him a partner and a friend who would follow him to the end. And for K-2SO, it sparked the genesis of his personality, giving him a purpose far beyond his original parameters.
[RELATED: Star Wars Spotlight: Cassian & K-2SO]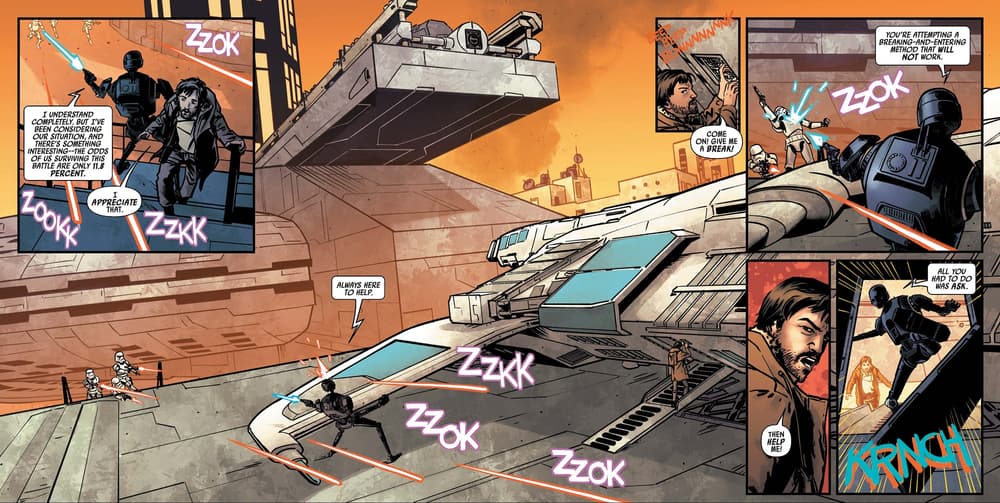 Without the informant Tivik, the Rebels may not have received word about the Death Star's construction until it was too late. Unfortunately for Tivik, his injured arm meant that he could not escape from the approaching Stormtroopers with Cassian. So, in a split-second decision, Cassian murdered Tivik to prevent the Imperials from learning what the Rebels knew about the Death Star.
Morally, it was wrong, and Cassian wore the guilt for his actions on his face. Regardless, Tivik's death allowed Cassian to escape and move one step closer toward his destiny.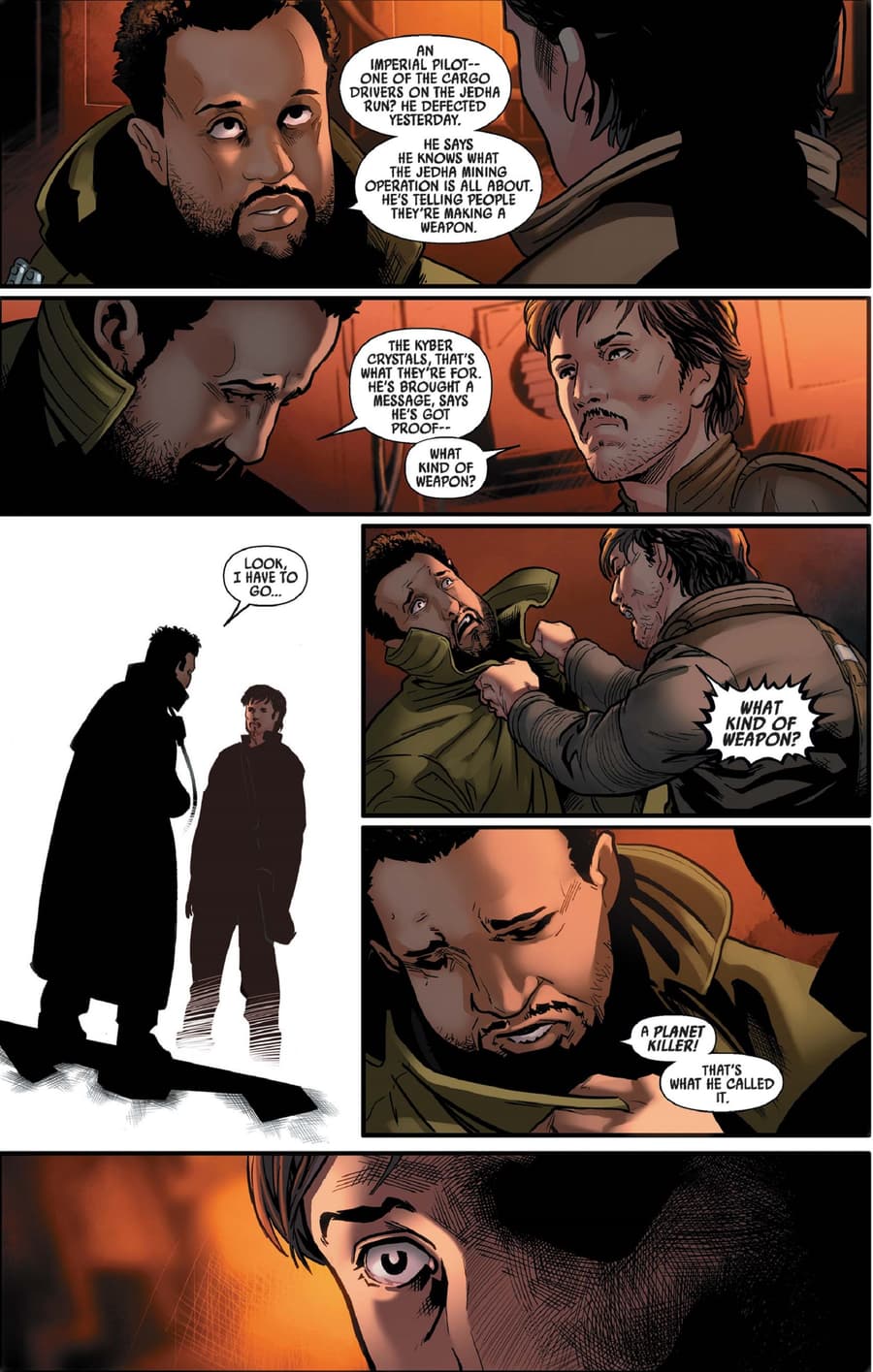 Although Cassian was officially supposed to retrieve Jyn Erso's father, Galen Erso, he also had unofficial orders to murder Galen because of his importance to the Death Star project. Cassian attempted to hide his intent from Jyn, but she suspected the truth.
Despite himself, and perhaps because of his association with Jyn, Cassian actually refused to kill Galen when he had the chance. It didn't absolve Cassian of his previous actions, but it gave Jyn one last chance to make peace with her father. It may have also been Cassian's moral awakening.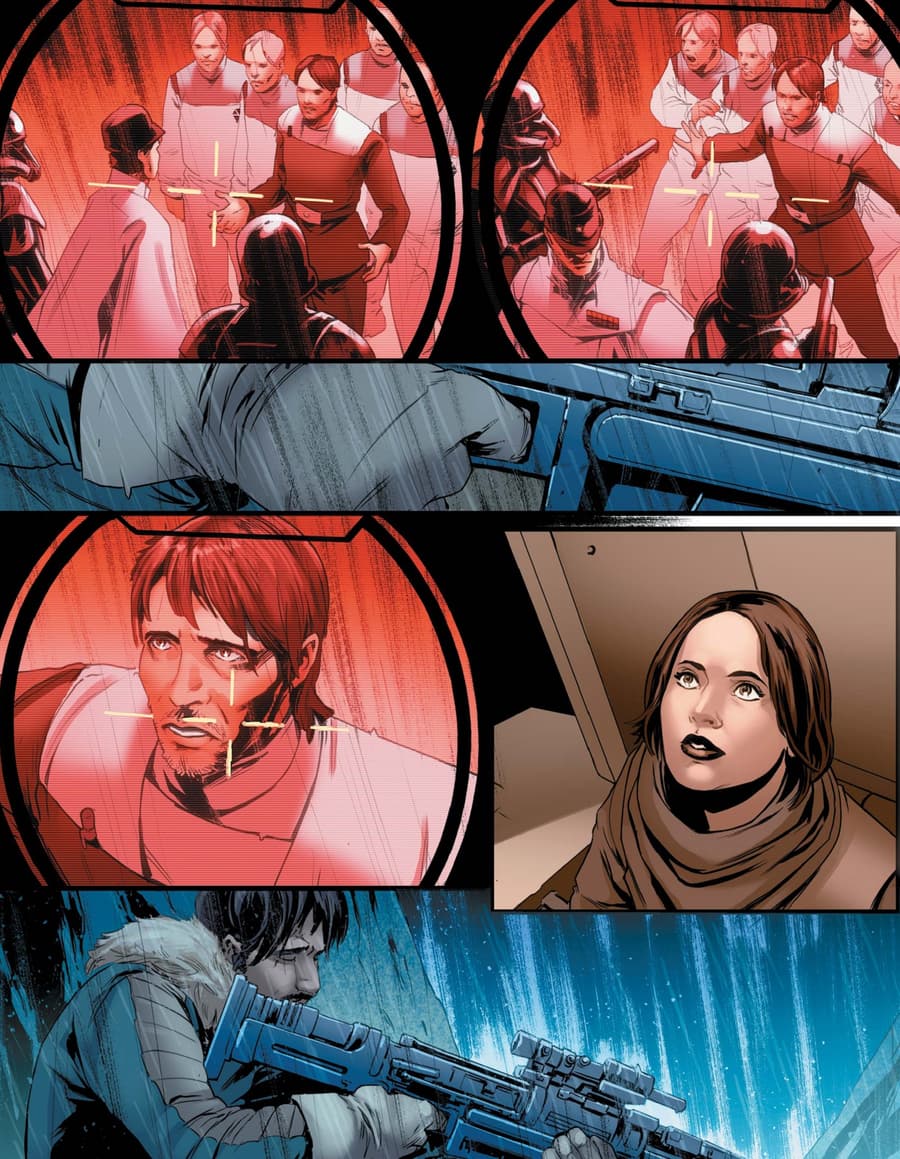 Cassian's mercy didn't spare him from Jyn's anger when she accused him of plotting to murder her father. Cassian's denials were halfhearted, but his justifications of his actions were not. In perhaps his most unguarded moments, Cassian revealed just how personal the war with the Empire was for him. He even stated that he had been in the fight against the Imperials since he was six years old.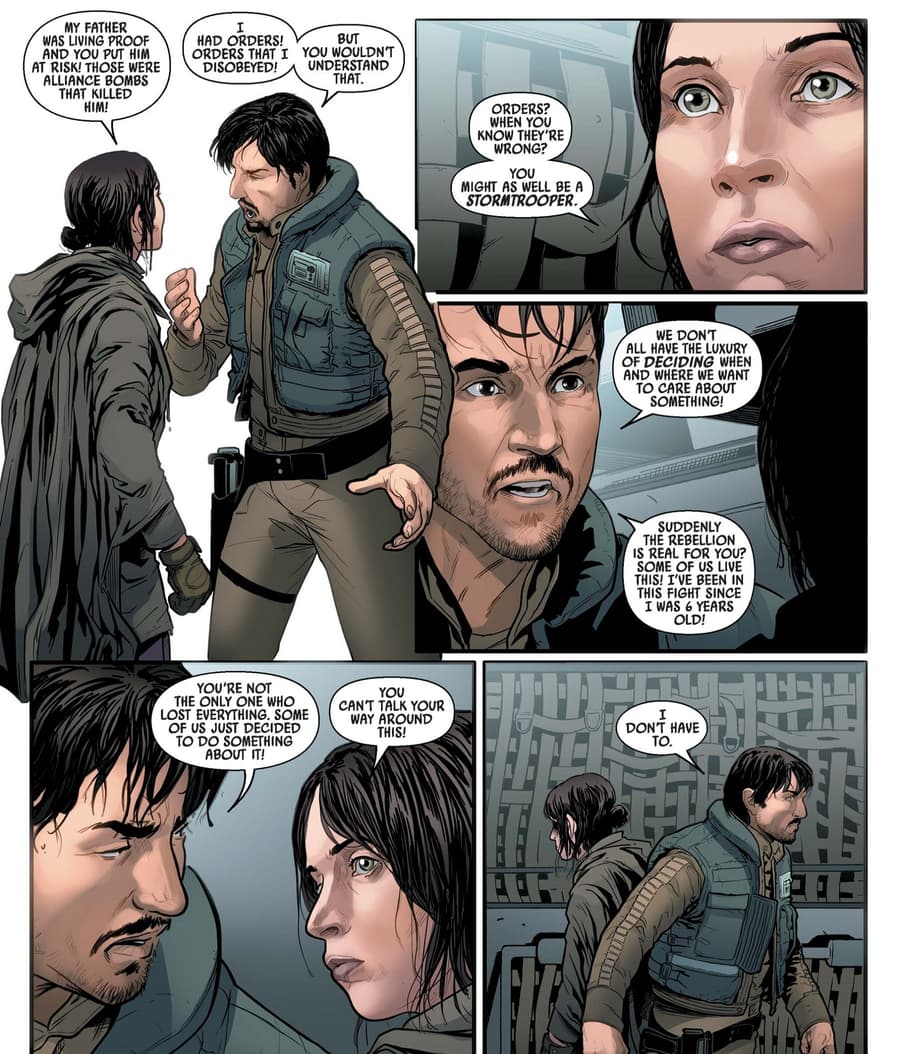 TAKING A STAND WITH JYN: STAR WARS: ROGUE ONE ADAPTATION #4
Although Jyn's plea to the Rebel Alliance fell on deaf ears, Cassian not only recognized the need to journey to Scarif, he also recruited a few additional fighters of his own to join them on the mission to steal the Death Star plans. Cassian saw it as a chance to atone for the worst things he did in the name of the Rebellion. But he couldn't have known that his choice on that day helped save the Rebels in their darkest hour.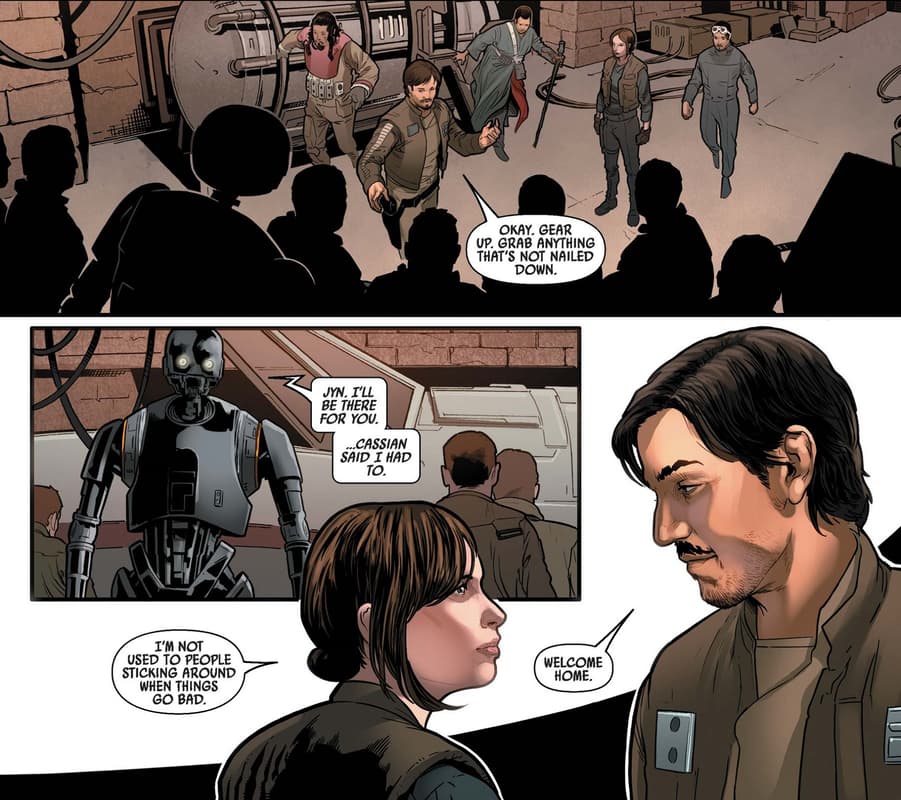 Everyone on the unauthorized mission to Scarif knew that it could be a one-way trip. But they went anyway. It was an enormous battle that cost the lives of their remaining friends, but Cassian and Jyn lived long enough to successfully beam the Death Star plans to a Rebel ship. Minutes later, they were killed when the Death Star fired on Scarif and devastated the planet.
Cassian and Jyn knew they were going to die together, and they offered each other some comfort in their final moments. In death, they paved the way for the Empire's downfall. And they faced their end with bravery and dignity.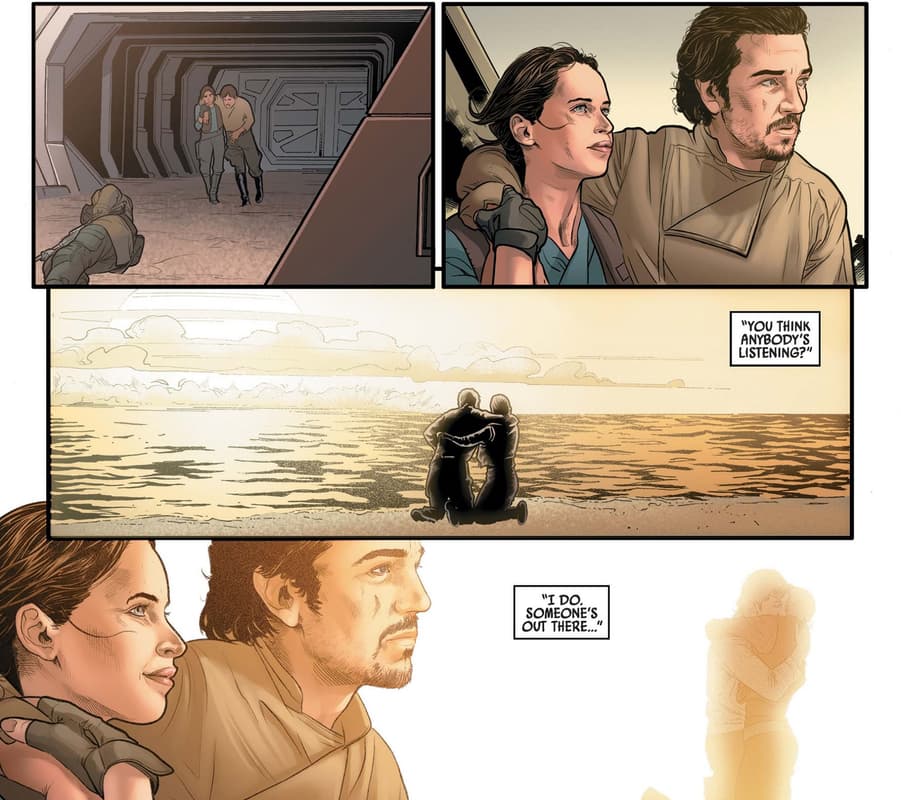 The Hype Box
Can't-miss news and updates from across the Marvel Universe!