Comics
Published January 27, 2021
Cast Your Vote for the X-Men's Final Member
Look through this voter's guide to the 10 candidates for the X-Men's latest team!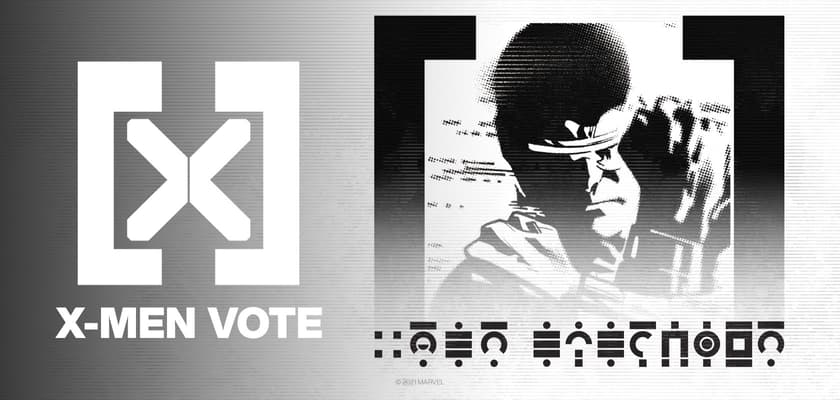 Vote at Marvel.com/xmenvote starting January 27 until February 2. Marvel Insiders eligible to enter the MARVEL INSIDER DRAWN INTO X-MEN HELLFIRE GALA SWEEPSTAKES this February.
Informed citizens of Krakoa! As announced in this week's X-MEN #17, the candidates are clocked, the voting is open, and the ballots are already pouring in for the X-Men's final member!
In X-MEN #16, Cyclops and Jean Grey shared the need for a new X-Men team to protect the mutant nation of Krakoa and to fight on mutantkind's behalf. A number of nominations have been accepted…but deciding on the last member of the X-Men is now in YOUR hands!
From now until February 2, cast your vote at Marvel.com/xmenvote to determine the final member of the first X-Men team of the Krakoan age—so share your vote and campaign for your favorite using #XMenVote!* Election results, along with the full X-Men lineup, will be unveiled during the Hellfire Gala this June.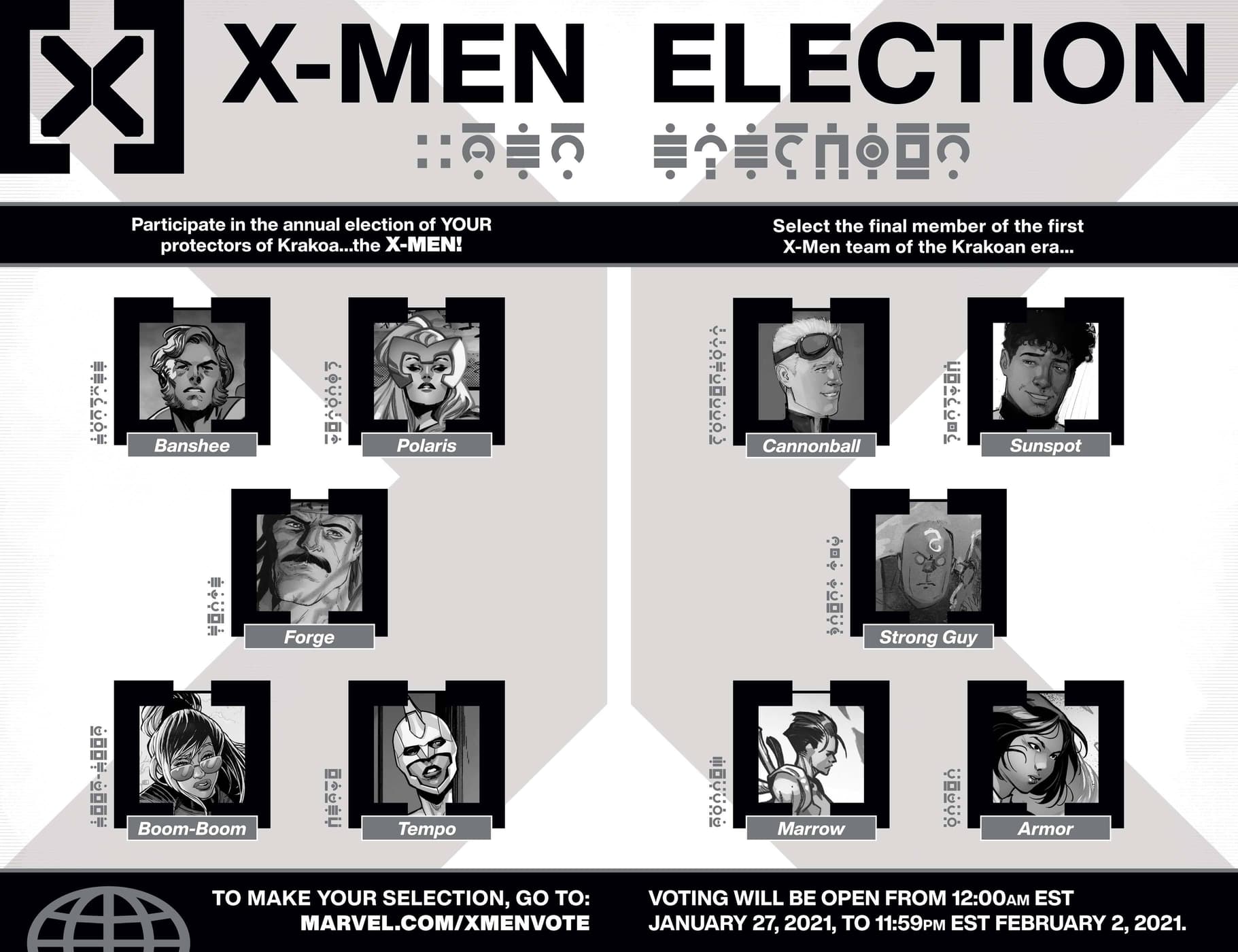 As with any election, you must first do your due diligence to make sure you know about each and every candidate. For the pros, and maybe a few cons, here's a rundown of who's who on the ballot.
NO RACKETEERING, JUST A RACKET.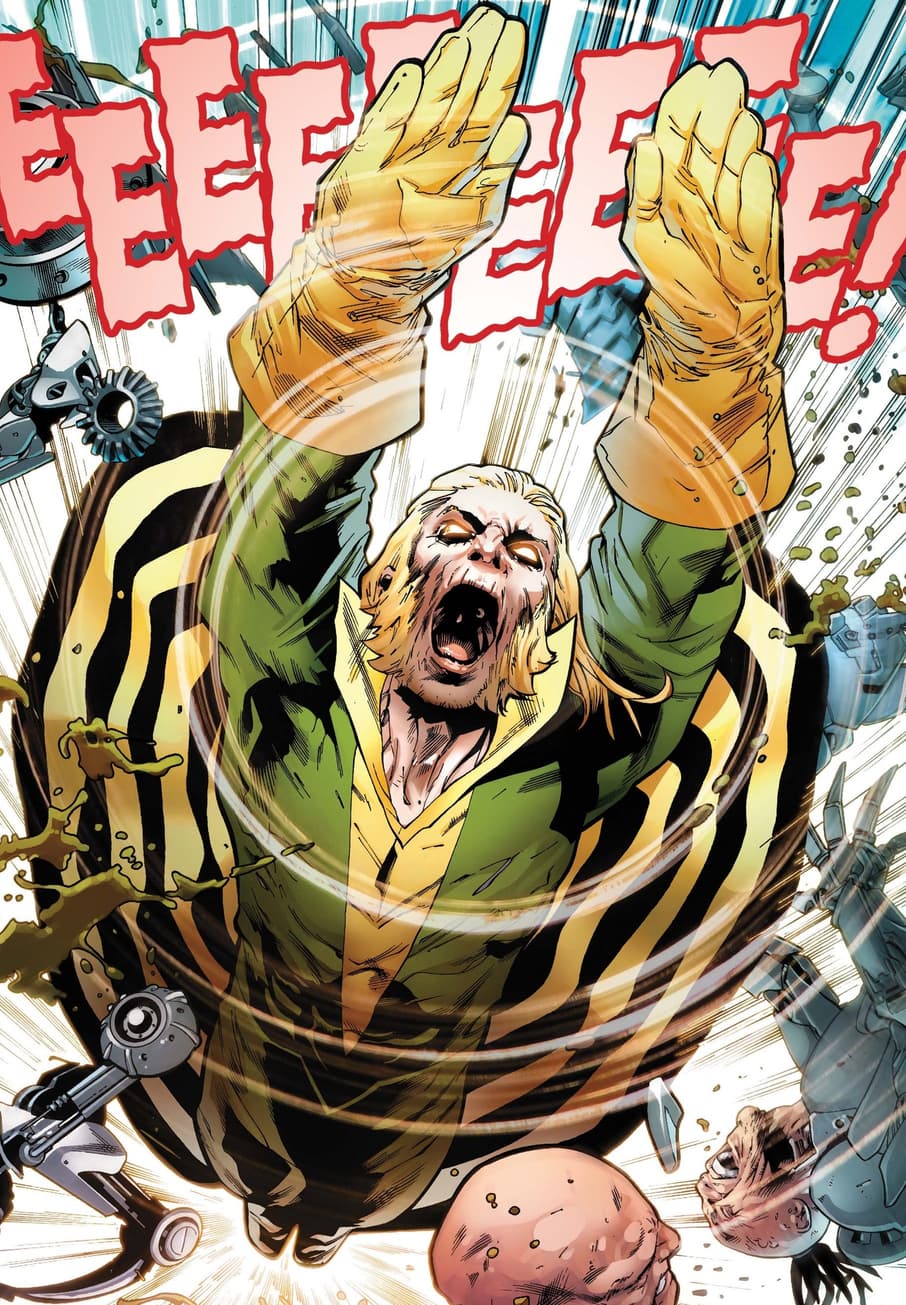 A classic X-Man who makes a lot of noise!
Irishman Sean Cassidy inherited his family's storied legacy and the estate of Cassidy Keep. But despite this privileged upbringing, Sean went into law enforcement and super heroics to use his mutant powers for good.
Like the Banshee of Irish lore, Cassidy can let loose a sonic scream that can disable those within earshot. He is also able to use this projected sound for flight, and for more targeted attacks. A teacher, a detective, and a veteran Child of the Atom, Banshee is an ideal addition to any X-team!
Once upon a time, he was dead. Then, a zombie. Now, he's back. Banshee is ready to let 'er rip for the citizens of Krakoa!
YOUR GO-TO TECH.
As the resident I.T. for mutantkind's new island home, no problem is too big for Forge's engineering.
While his real name is unknown, Forge's connection to technology is undoubted. Professor Xavier requested the "technomancer's" help in creating a new kind of Cerebro to store genetic duplicates of every mutant on Earth (POWERS OF X #5), and Forge has even created a bio-mechanical work force that helps produce the pharmaceuticals that are key to mutants' relationship with humans (MARAUDERS #8).
Forge's abilities are one-half technical, one-half superhuman. He excels at problem-solving and getting inventive—two reasons to have this genius mutant in your squad!
SHE GOES BOOM.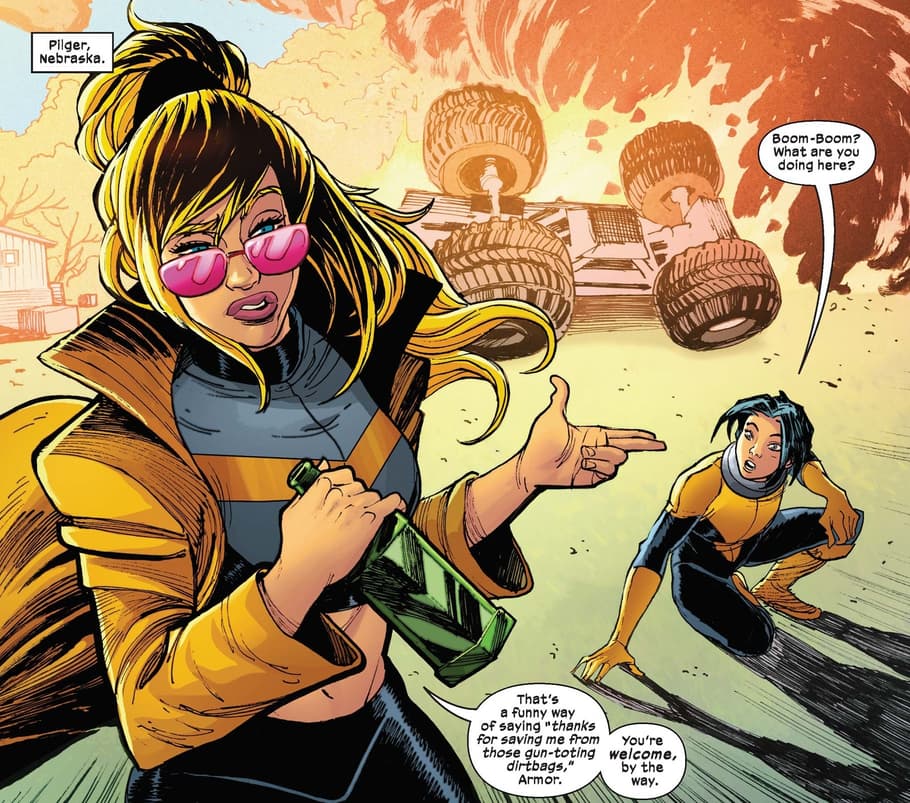 A blast, and we mean that literally. No one knows how to have a good time quite like Boom-Boom—and no one's better at making an entrance. Tabitha Smith first appeared in SECRET WARS II (1985) #5, and would go on to become a fun-loving member of Cable's X-FORCE and even a staple on Monica Rambeau's NEXTWAVE. Like her namesake, Boom-Boom…makes things go boom. She can generate explosive orbs of concussive power, even on a time delay. Handy in a pinch or for a battlefield distraction!
Sure, she may be hitting Krakoa's night scene a little hard, but she's working on that. Probably.
UTTERLY MAGNETIC.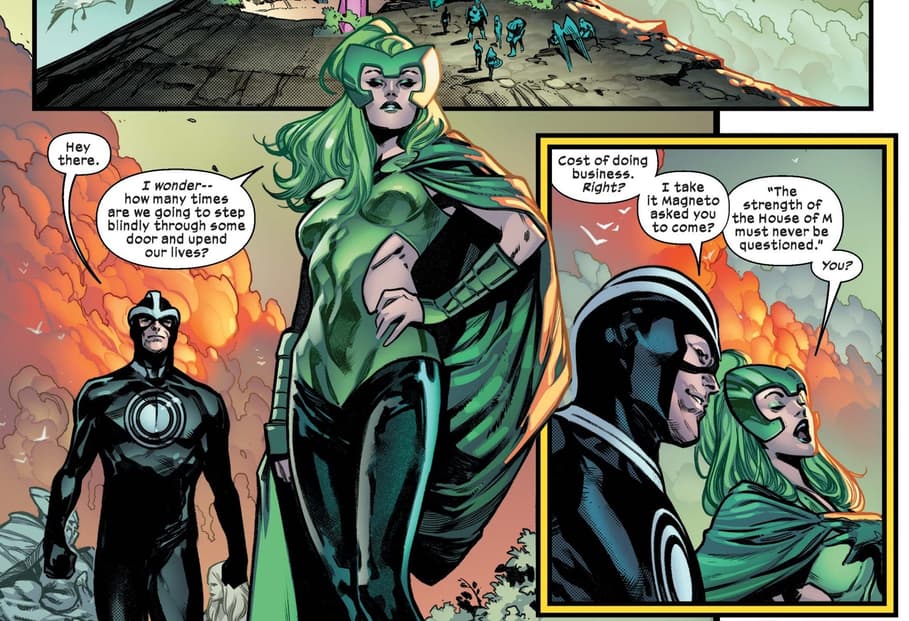 The (very) powerful daughter of Magneto.
Lorna Dane has had a long time to reconcile with her complicated past, but that doesn't make things easy. A longstanding member of the X-Men and X-Factor, Polaris has jostled between Super Hero and civilian life. Just like her father, Dane can control all forms of polarity and magnetism, using both of these powers to devastating effect.
On Krakoa, she has embraced her role as a leading detective with X-FACTOR, and was even recently used as Saturnyne's psychic puppet in X OF SWORDS.
Why cast your vote for this Mistress of Magnetism? While unpredictable, Lorna is a fierce combatant and friend. She is unquestionably loyal to the House of M, and will do anything to protect her birthright.
TIME IS ON HER SIDE.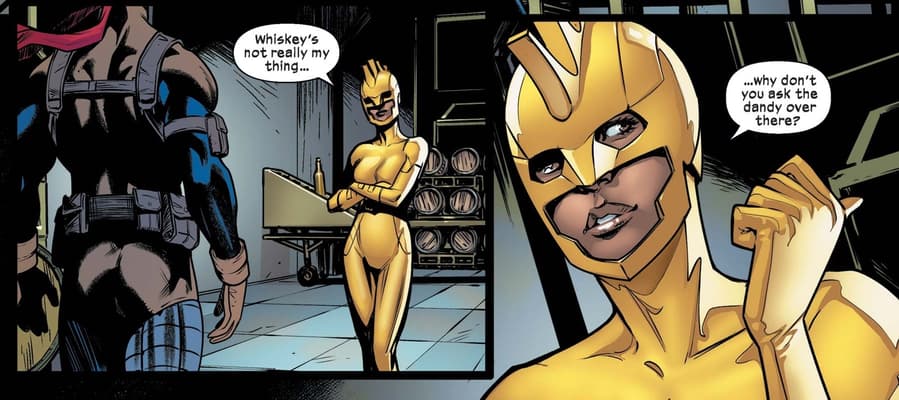 While an original member of the Mutant Liberation Front (NEW MUTANTS #86), Tempo has had a change of heart in the Dawn of X. She's been keeping a relatively low profile on Krakoa, but she has been spotted soaking in the Green Lagoon, and helping out Forge in Port Genosha, the island's first distillery.
Tempo's mutant ability to stop, slow, or accelerate time is a versatile power that takes any opponent unawares. Her signature helmet is more than a gold-chrome fashion statement—it's a powerful protector against psychic and physical threats.
Time-bending and subsonic? Tempo is a natural choice!
NIGH INVULNERABLE WHEN BLASTIN'.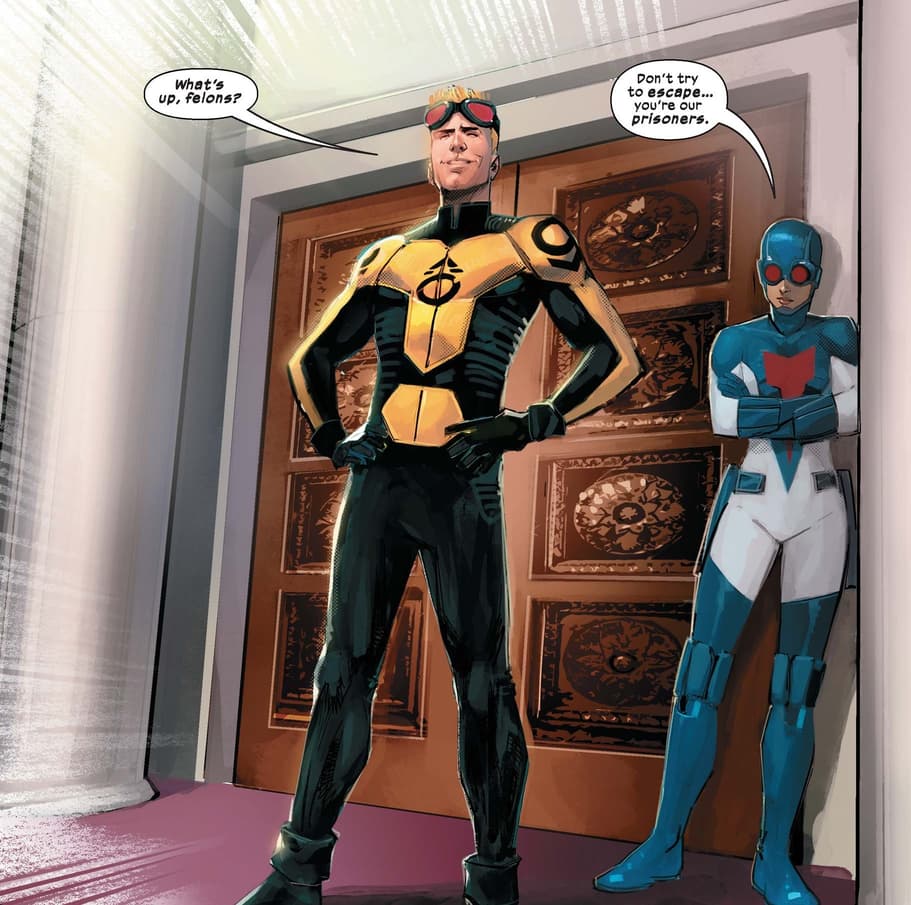 Straightforward. Humble. Honest. This Kentucky native is the eldest of ten siblings, so he certainly knows how to steer the pack. In fact, shortly after his recruitment as an original New Mutant (THE NEW MUTANTS MARVEL GRAPHIC NOVEL), Professor Xavier promoted teenage Sam as co-leader of the crew! Today, he is a proud partner and father, stationed far away in Shi'ar space with his family after serving as an Avenger.
Will his best friend status with fellow New Mutant Sunspot stand in his way at the polls? Unlikely. Gifted with the abilities of supersonic flight and "blastin'," Guthrie can break through any barrier no matter how impenetrable. In other words, a human cannonball.
HOTHEAD WITH A HEATED HEART.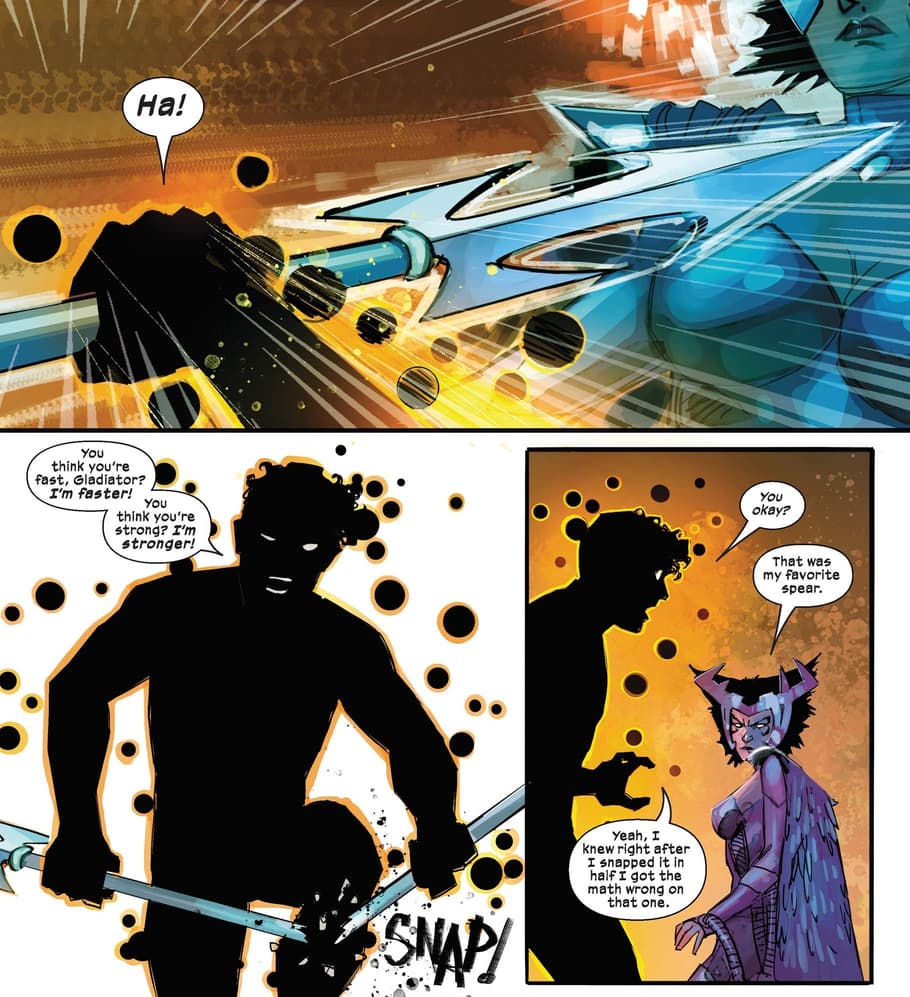 A solar-powered dynamo of unbelievable strength!
Born into a wealthy Brazilian family, a teenage Roberto was more interested in soccer and partying than his responsibilities as a (future) business magnate. But that all changed once his X-gene kicked into gear… Joining Professor Xavier's first class of New Mutants (THE NEW MUTANTS MARVEL GRAPHIC NOVEL), Sunspot learned to check his brash attitude at the Danger Room door, maturing into a pivotal team player.
Steadfast and confident, Sunspot is one hot item. (But don't expect him to give up that legendary 'tude!)
HE'S A STRONG GUY.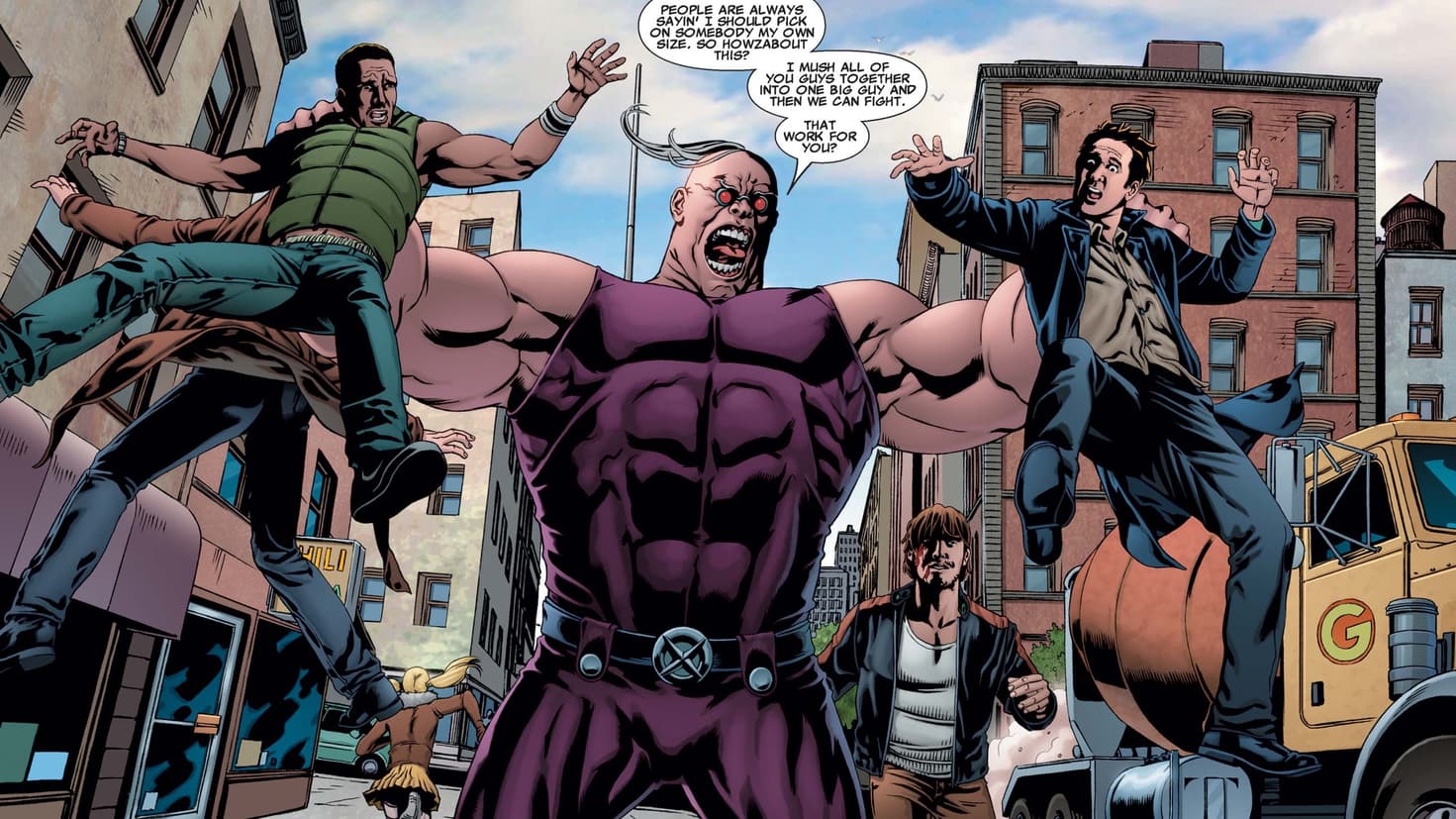 If there was any doubt, Guido Carosella is strong—very strong.
But this wasn't always the case! Born a skinny and timid kid, a head-on collision with a bus activated Guido's latent strength and kinetic absorption. In adulthood, he used these powers to work as a bodyguard for mutant rock star Lila Cheney.
As "Strong Guy," his claim to fame was as the wise-cracking muscle for the government-sponsored X-Factor, a post that he's proud of to this day. He even joined the team's third incarnation in X-FACTOR (2005), where he continued his comical confrontations as a P.I.!
A funny man and a fighter! Count us in for Strong Guy!
NO BONES ABOUT IT—MARROW HAS YOUR BACK.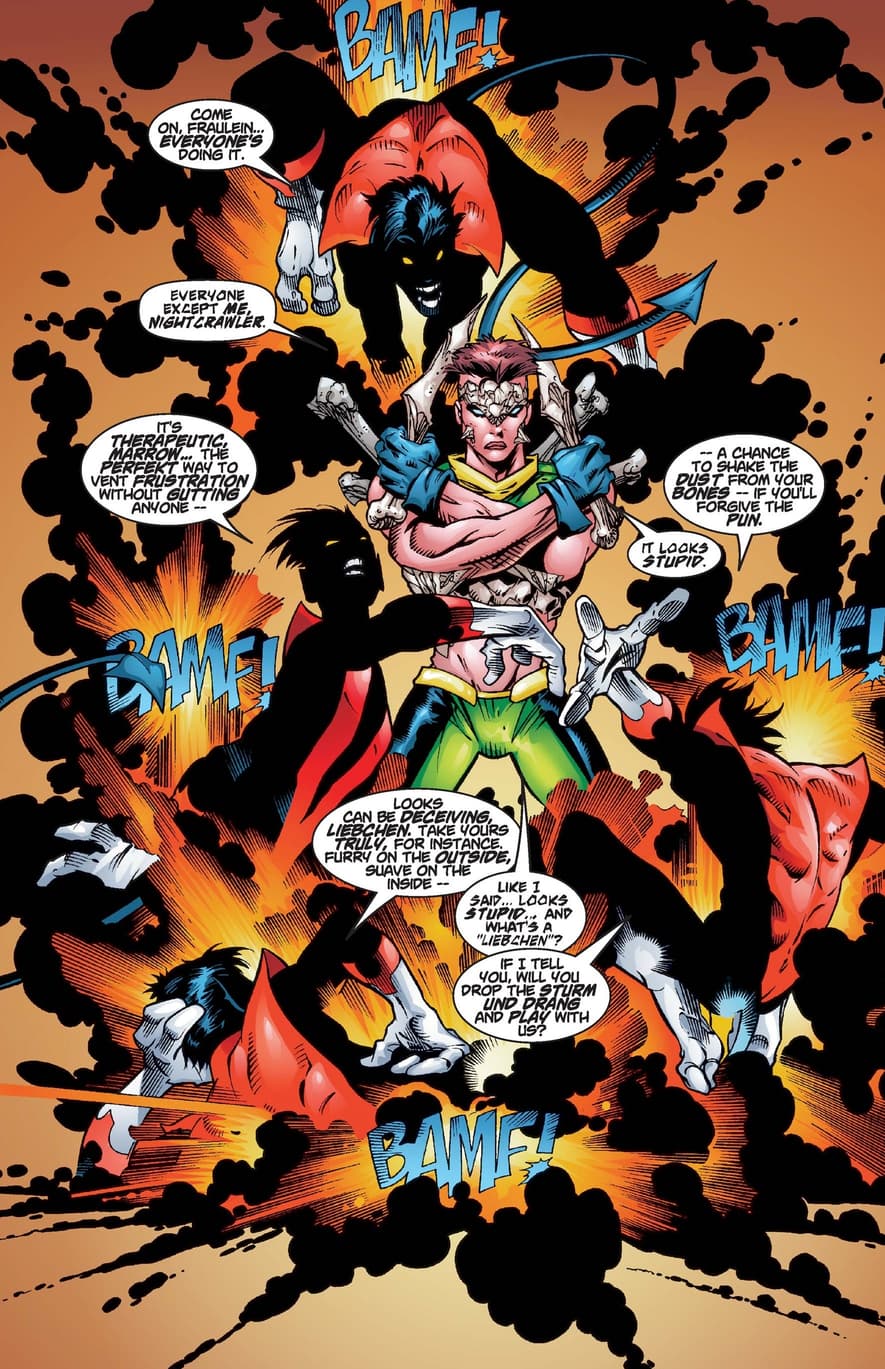 The Morlock-born Marrow was a subterranean mutant who was raised within New York City's sewer system—but now she's getting a chance to grab glory!
Born with bony, projectile protrusions that left her outcast from society, a young "Sarah" was hardened by the cruelty of the surface world. As a troubled teen, she formed the splinter group "Gene Nation," taking out her gripe with humanity and the X-Men at large. Although, she did move past this ignominy to become a ward of the team.
Marrow's struggle has been one of self-acceptance. Courageous, scrappy, and unafraid to speak her mind (even to Wolverine!), this bone-clad wonder is a bona fide champ.
HER GOOD OFFENSE IS THE BEST DEFENSE.
A former student of Xavier's Institute, the ambitious Armor has graduated into a full-fledged X-Woman!
In battle, Ichiki uses her malleable exoskeleton to defend and protect. Her "armor" is a psionic projection, meaning she can control its density and form. A young woman of remarkable resolve, Armor proved she could hold her own against the alien overlord Ord, and has continually surprised teammates with her strength and durability.
One of Krakoa's "new" New Mutants, Hisako has taken up the task of helping wayward students find their way home.
With Armor in your corner, you'll have a heavy hitter who can take a hit!
What are you waiting for? The ballots are open at Marvel.com/xmenvote, so cast your pick now, and campaign for a winner with #XMenVote using the ballot cards from the gallery below! 
Have you tried Marvel Unlimited yet? It's your all-access pass to over 28,000 Marvel comics, available at your fingertips. Sign up now to get 50% off your first month.
* ONE VOTE PER PERSON. VOTING WILL BE OPEN FROM 12:00AM EST, JANUARY 27, 2021, TO 11:59PM EST, FEBRUARY 2, 2021. MARVEL INSIDERS WHO PARTICIPATE IN THE X-MEN ELECTION WILL ALSO EARN POINTS TO REDEEM FOR REWARDS!
** TEN NOMINATIONS BASED ON KRAKOAN REPRESENTATION. MEMBERS OF THE QUIET COUNCIL OF KRAKOA ARE NOT ELIGIBLE.
The Hype Box
Can't-miss news and updates from across the Marvel Universe!