Comics
Published November 21, 2017
Champions: End of the Line
The Champions and the Avengers race against time to save two planets!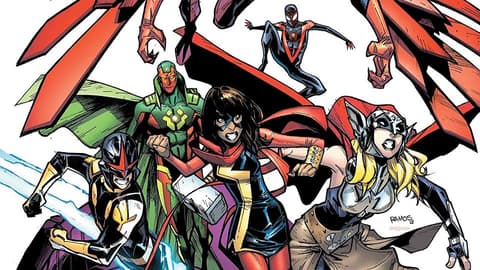 Earth and Counter-Earth have been sent careening towards one another by The High Evolutionary—and only the Champions and their Avengers allies can save the day.
On December 20, writer Mark Waid and artist Humberto Ramos present CHAMPIONS #15! The "Worlds Collide" storyline comes to an Earth-shattering conclusion—and we may or may not mean that literally.
We spoke with series editor Tom Brevoort to get a few hints on the exciting events to come!
Marvel.com: Catch us up with what's been going on in CHAMPIONS!
Tom Brevoort: Well, the Avengers and the Champions came together in response to an extinction-level event: the High Evolutionary has decided to clean the slate of his petri dish planet, Counter-Earth, by ramming it into the real Earth and then making something nice out of whatever might be left.
Our heroes split their forces, with some making the journey to Counter-Earth while others remained to deal with the collateral damage happening across the world. But Falcon and Viv Vision both got captured by the High Evolutionary's men, and the H.E. evolved Viv into an actual human being.
Marvel.com: How has the team-up changed since the first installment of "Worlds Collide"?
Tom Brevoort: It's been an uneasy pairing as these characters have some history—the Champions were formed as a direct outgrowth of the actions the senior heroes took during CIVIL WAR II. But that said, there hasn't been a lot of breathing room for the characters to get into that…events have been transpiring at a thousand miles per hour!
Marvel.com: You've teased a death in this series…any word on what's to come?
Tom Brevoort: Yeah, we kill somebody. It's very sad! We're monsters.
Marvel.com: Who takes the casualty the hardest?
Tom Brevoort: I think maybe artist Humberto Ramos took it the hardest—he's the one that had to draw it! But the person it affects the most isn't on the team; it's one of the Avengers.
Marvel.com: What's emerged as your personal favorite moment in this crossover story?
Tom Brevoort: I don't think that moment has happened yet…so I'm going to have to play things coy, but I did think that Viv's transformation was a pretty compelling and shocking turn of events!
Marvel.com: Last question: how would you try to keep two planets from colliding?
Tom Brevoort: I wouldn't. Let them burn. LET THEM ALL BURNNNN!
*clears throat*
Ahem.
Pick up CHAMPIONS #15, by writer Mark Waid and artist Humberto Ramos, on December 20!
The Hype Box
Can't-miss news and updates from across the Marvel Universe!