Comics
Published April 5, 2023
Revisit the Epic 'Civil War' Event on the Marvel Comics App
Captain America. Iron Man. Whose side are you on?
Now on sale in the Marvel Comics app for digital comic readers! Read the first ever Super Hero CIVIL WAR collected in full across several volumes! After the death of civilians caught in a superhuman crossfire, the government passes into law the Superhuman Registration Act, kicking off a war of principles—and fists—between two factions of heroes led by Iron Man and Captain America! With every hero rallying behind the Registration Act or working to dismantle it, brothers-in-arms become sworn enemies in this amazing (and now iconic) Avengers crossover event.
And, Marvel Insiders who shop the "Civil War" sale through April 10 will earn 1,000 Insider points (limit once per sale) for any purchase. Learn more about becoming a Marvel Insider, and see what rewards are available to redeem just by being a Marvel fan! (Membership US only.)
The landscape of the Marvel Universe is changing, and it's time to choose: Whose side are you on? A conflict has been brewing for more than a year, threatening to pit friend against friend, brother against brother—and all it will take is a single misstep to cost thousands their lives and ignite the fuse! As the war claims its first victims, no one is safe as teams, friendships and families begin to fall apart. The crossover that rewrites the rules, CIVIL WAR stars Spider-Man, the New Avengers, the Fantastic Four, the X-Men and the entirety of the Marvel pantheon!
Collects CIVIL WAR (2006) #1-7.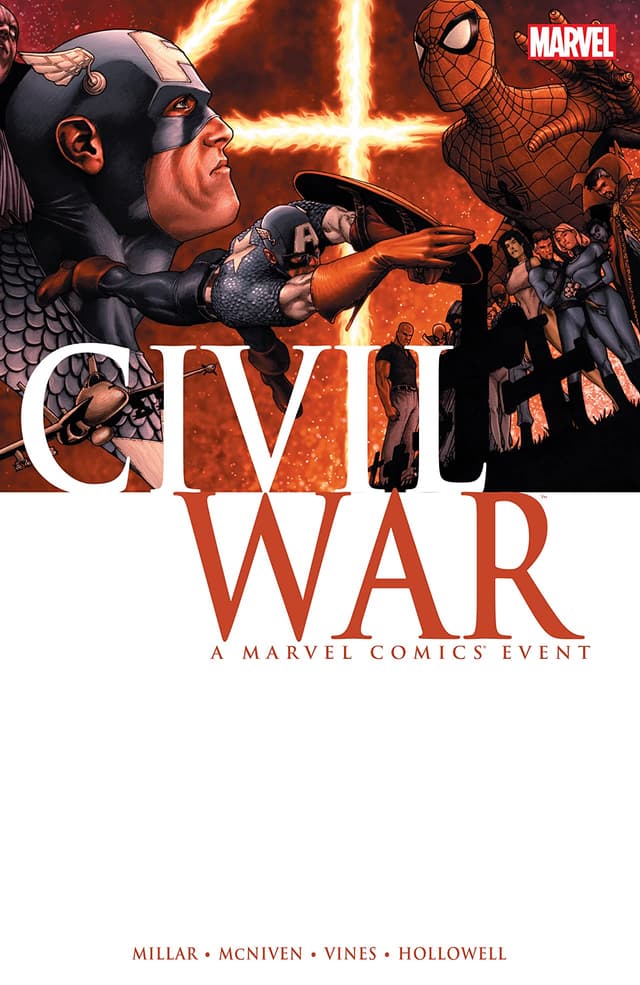 The following comics and collections are available to read on the Marvel Comics app for iOS and Android, on sale through April 10. Grab the full list of sale titles here:
CIVIL WAR
CIVIL WAR COMPANION
CIVIL WAR PRELUDE: NEW WARRIORS
CIVIL WAR: AMAZING SPIDER-MAN
CIVIL WAR: BLACK PANTHER
CIVIL WAR: CAPTAIN AMERICA
CIVIL WAR: CAPTAIN AMERICA/IRON MAN
CIVIL WAR: FANTASTIC FOUR
CIVIL WAR: FRONT LINE COMPLETE COLLECTION
CIVIL WAR: FRONT LINE VOL. 1
CIVIL WAR: FRONT LINE VOL. 2
CIVIL WAR: HEROES FOR HIRE
CIVIL WAR: HEROES FOR HIRE/THUNDEBOLTS
CIVIL WAR: IRON MAN
CIVIL WAR: MARVEL UNIVERSE
CIVIL WAR: PETER PARKER, SPIDER-MAN
CIVIL WAR: PUNISHER WAR JOURNAL
CIVIL WAR: THE ROAD TO CIVIL WAR
CIVIL WAR: THUNDERBOLTS
CIVIL WAR: WAR CRIMES
CIVIL WAR: WOLVERINE
CIVIL WAR: X-MEN
CIVIL WAR: X-MEN UNIVERSE
CIVIL WAR: YOUNG AVENGERS & RUNAWAYS
MS. MARVEL VOL. 2: CIVIL WAR
NEW AVENGERS VOL. 5: CIVIL WAR
WHAT IF: CIVIL WAR
All purchases in the Marvel Comics App are added to your personal library, and can be read on iPhone®, iPad® and select Android™ devices! Our smart-paneling feature provides an intuitive reader experience, ideal for all types of mobile device and tablet users!
The Hype Box
Can't-miss news and updates from across the Marvel Universe!