Comics
Published December 13, 2019
Coming in January: 'Jessica Jones: Blind Spot' #1
Read the acclaimed story as a comic book for the very first time on January 15!
Jessica Jones was once the costumed Super Hero known as Jewel. She sucked at it. Now she's a private investigator at her own firm, Alias Investigations. She sucks less at that.
With the Purple Man gone, her relationship with her husband, Luke Cage, and their daughter, Danielle, is better than ever. But her past always comes knocking, and when a woman whose case she fumbled winds up dead on her office floor, Jessica goes from private investigator to prime suspect. Can she find the real killer and clear her name?
Coming on January 15, the critically acclaimed Marvel Digital Original series by Kelly Thompson and Mattia De Iulis is released for the first time as a print limited series! Pre-order JESSICA JONES: BLIND SPOT #1 at your local comic shop now!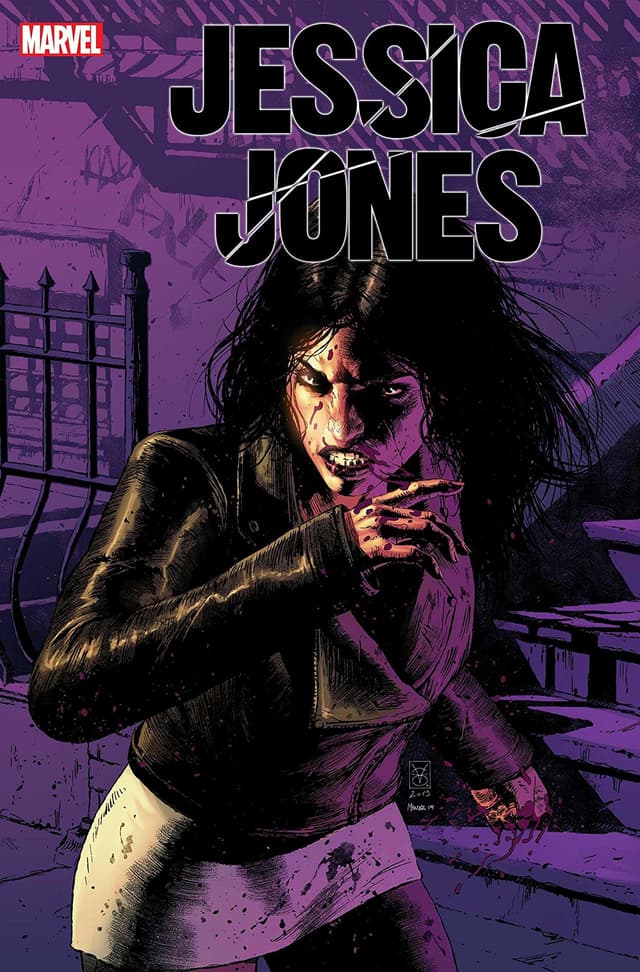 Look... Simply put, it's one of the best Jessica Jones stories in years. But don't take our word for it—to mark the book's arrival, we've decided to collate some comic book pros' celebratory words on the pulse-pounding mag.
ComicBook.com: "Jessica Jones is in very good hands. This first, surprise issue nails everything that readers have come to want from the character. The dialogue is pitch perfect, taking readers on a tour of the Marvel universe with plenty of small jokes, affectionate exchanges, and banter... There is simply a lot to like about this comic that serves as both an introduction and continuation of one of Marvel's best.
AIPT: "Seriously, Mattia De Iulis is going to be a superstar artist in a few years' time. Mark my words... With great storytelling and stellar artwork, Jessica Jones's new creative team knocks it out of the park."
Graphic Policy: "The first arc of Kelly Thompson and Mattia De Iulis' JESSICA JONES run has been a master class in three act storytelling with issue one introducing Jessica's case, premise, and putting in her dire straits."
Multiversity Comics: "Stepping in a series so associated with an original creator can be daunting. How to infuse one's voice into a character that is known to sound in a very peculiar way? And how to make stories fresh and not a rehash of what came before? Thompson and Iulis succeed on both accounts. This new JESSICA JONES series gets the lead particularly well and takes her adventures to parts of the world that are new, and yet connected to what she is known for."
Pre-order JESSICA JONES: BLIND SPOT #1 at your local comic shop now, then pick it up on January 15 to find out for yourself!
The Hype Box
Can't-miss news and updates from across the Marvel Universe!