Comics
Published November 20, 2018
See Cover Art for 'Savage Sword of Conan' by Alex Ross, Kevin Eastman, and Ron Garney
Plus: An interview with variant cover artist Kevin Eastman
Last week, Marvel debuted interior artwork by Ron Garney as well as a preview of what's to come for Conan in SAVAGE SWORD OF CONAN when it debuts on Wednesday, February 13. But there will also be legendary artists working on the cover art. Alex Ross will provide the cover for the first five issues of SAVAGE SWORD OF CONAN; providing variant covers will be Garney, Rahzzah, George Perez, and Kevin Eastman.
Here is the cover by Alex Ross:
Cover by Alex Ross
Cover by Alex Ross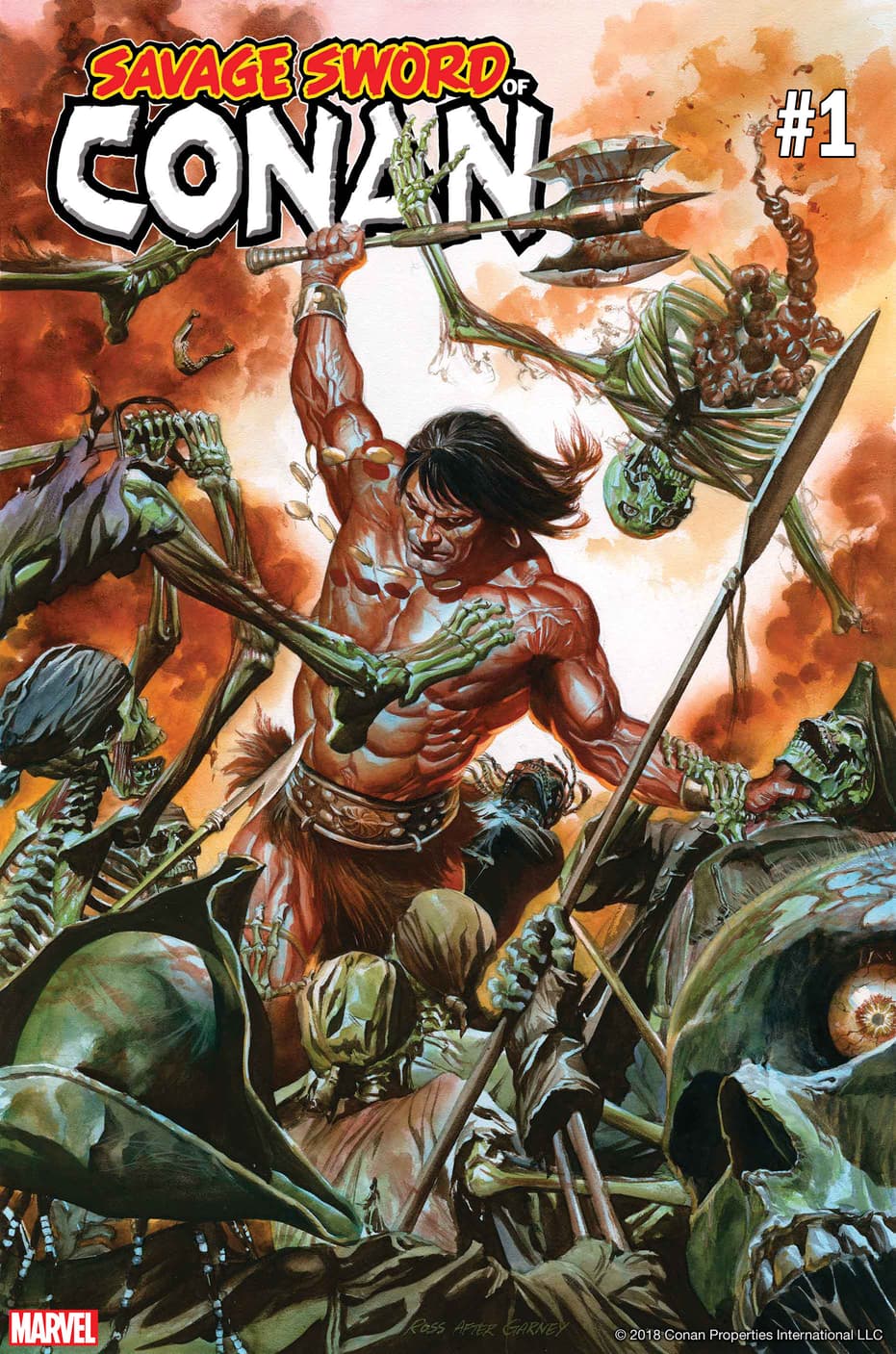 And the variant cover by Ron Garney:
Variant cover by Ron Garney
Variant cover by Ron Garney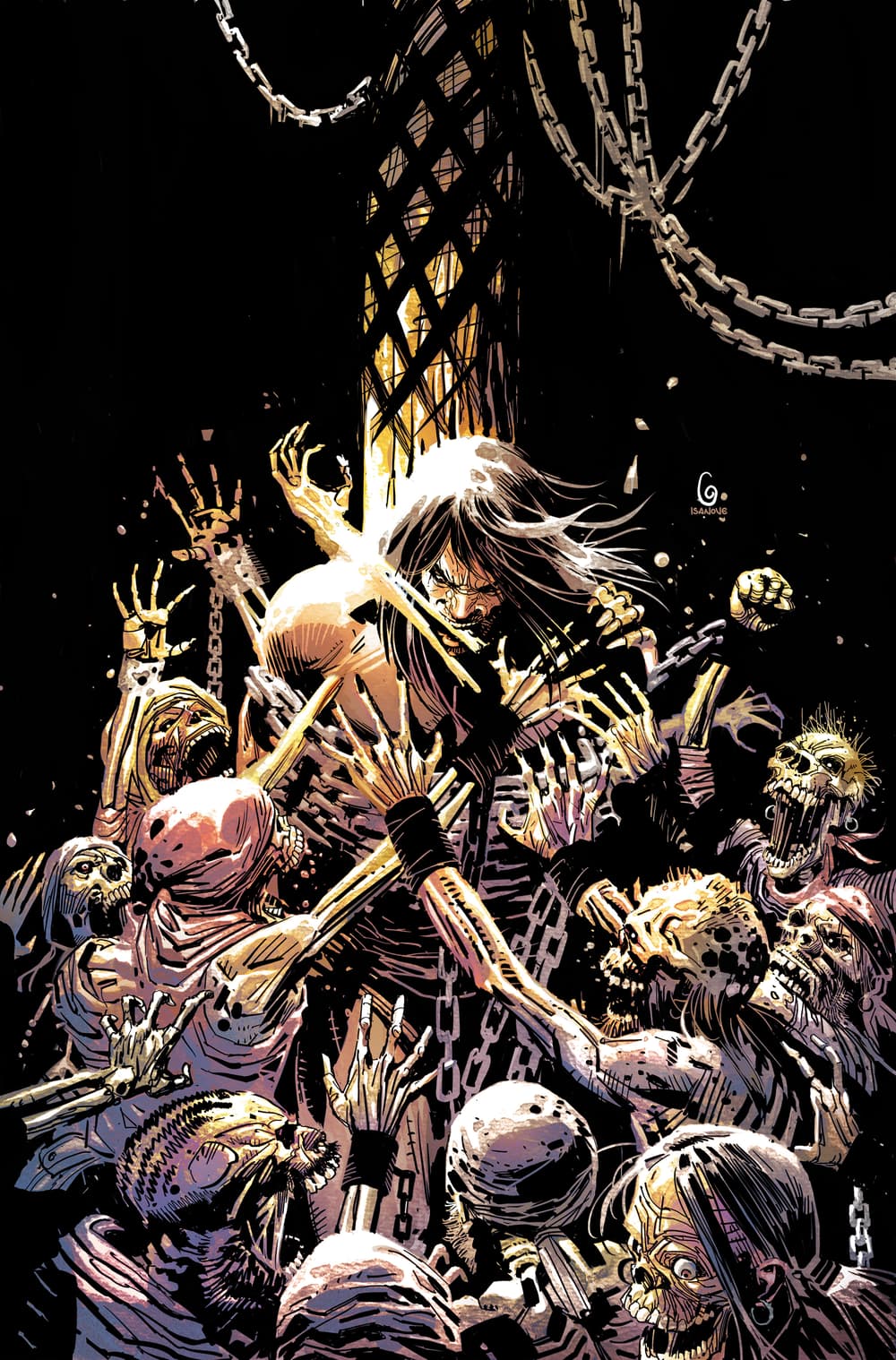 Marvel.com spoke with Eastman, who also shared some of his early, "unofficial" Conan art, and his memories of Stan Lee:
Marvel.com: You're a comics legend, having co-created the Teenage Mutant Ninja Turtles and forged (sword pun intended) your own epic path in comics. What is it like to be a part of Conan's return on SAVAGE SWORD OF CONAN?
Kevin Eastman: First - Thank you for the very kind words! "Legend" is more than a stretch to describe me though. As I see myself, every day I get to get up and draw comics for a living takes me back to square one, a goofy kid with a dream to aspire to join the ranks of those incredible artists and writers I admired -- wanted to be like -- since I was ten years old. Honestly, I'm fifty six now and I'm drawing my first Marvel cover -- and Conan?!!! Holy Hell! You can't imagine how hard I am geeking on this right now. A real honor times ten.   
Marvel.com: When you created your variant for SAVAGE SWORD OF CONAN, what was your approach?
Kevin Eastman: Mostly panic at first -- how do I even dip a toe into a pool where so many brilliant artists came before? From my personal earliest memories, can you say Frank Frazetta? Barry Windsor-Smith? John Buscema? Ernie Chan? Alfredo Alcala? At the end of the day, I can only draw as well as I can. So with fingers and toes crossed, I submitted some sketches and with the support of Mark Basso, I stumbled on a concept everyone felt good about and took my best shot at it.
Variant cover by Kevin Eastman
Variant cover by Kevin Eastman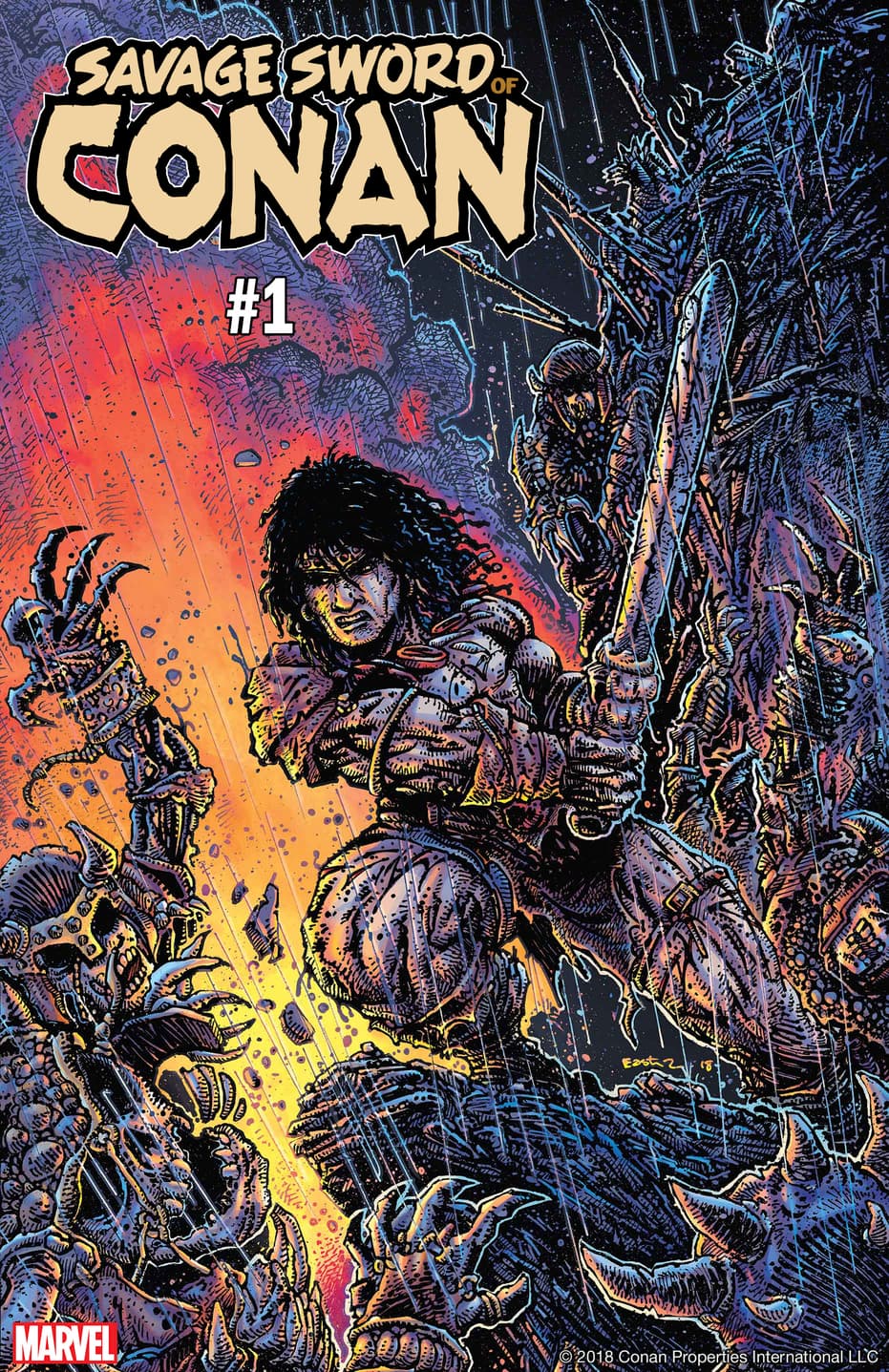 Marvel.com: What kind of place do you feel Conan has in the current Marvel Universe?
Kevin Eastman: For me, everything. I was eight years old with the first issue came out -- I read, drew (mostly traced) a ton of different comics -- and in the Marvel Universe, iconic characters like Daredevil, Captain America, and Conan were at the very top. At that age, not fully understanding who owned or who created what for these characters, all I knew was that they were my favorite. In fact, the only comic I ever asked Stan Lee to sign for me (like seriously, ever) was my copy of CONAN THE BARBARIAN #1.
To which I have to strongly add, considering his passing earlier [last] week, and the shared great loss all of us fans feel, landed squarely at home for me... It is incredibly hard to feel happy at such an incredibly sad time. Rest in Peace, Stan. We are all truly grateful for all you gave us, you know how we felt about you. Thank you.    
Eastman's signed comic
Eastman's signed comic
Marvel.com: This isn't the first time you've ushered in the return of a classic character; you were involved with the TMNT reboot in 2011, plus you created a lot of those covers. What do you consider when bringing back a character following a long hiatus?
Kevin Eastman: Hah! Hah! Apples and oranges on the one hand, complete admiration and passion on the other. With the TMNTs, I was asked to take a look at, and later invited to be fully part of the IDW team bringing back the TMNTs -- led by the incredible Tom Waltz. I am flat out his biggest fan, and what he has done, along with series editor Bobby Curnow, and a large cast of fantastic artists that have brought these stories to life is simply admiration and passion. 
I think when a new "creator" attempts to tackle a character he or she loves, and has loved for many years, it is looking back to what made it work for you. What were the moments that made your heart jump when you read one of the classic stories? Made you feel something? What made you feel inspired? And how to carry the idea a little further down the road, based on the respect and the ideas of those that came before you. It's walking a knife's edge, really. Make it your own, but keep the heart and soul of what made it great in the first place. And well, after that, a lot of crossed fingers and toes that you did it right.
Marvel.com: What would you like to tell fans about SAVAGE SWORD OF CONAN?
Kevin Eastman: Do what we all do best, as fans: read it, make up your own mind. But I for one, from all that I have seen from this new series, you're really going to love it.
SAVAGE SWORD OF CONAN #1, written by Gerry Duggan with art by Ron Garney and a cover by Alex Ross, goes on sale Wednesday, February 13!
The Hype Box
Can't-miss news and updates from across the Marvel Universe!