Comics
Published April 25, 2018
Creator Commentary: Old Man Hawkeye #3
Writer Ethan Sacks reveals the secrets behind the book!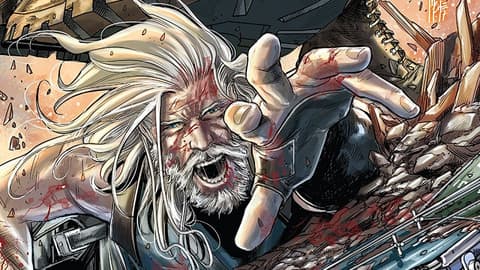 In our Creator Commentary series, we give the floor to our storytellers as they present behind-the-scenes looks at the decisions that go into every last panel and page—in their very own words. Today we celebrate the release of OLD MAN HAWKEYE #4 by taking a closer look at the previous issue with writer Ethan Sacks.
Read up on our coverage of issue #1 and issue #2, then dive into issue #3 right here. 
Ethan, over to you…
Man on a Mission
When we left off last time, Hawkeye had just gotten to an amusement park called Arcade's Murderworld, because of course that would be the amusement park in that world. The first person he's out to check off his revenge list is there, but we don't know who that is yet.
As the father of a daughter who has been to Disney World and all those places, I thought an amusement park in this world would have what Disney World has—where you can take a picture with characters or princesses. So I figured they'd have employees dressed as the super heroes. But here, the kids are actually beating this poor guy who's dressed as Captain America, because I thought it kind of set up the world a little bit.
And Hawkeye can't really do anything about it because he can't break cover—obviously if people find out a super hero is running around then he'd get in a lot of trouble, and he's very much focused on his goal.
So he gets stopped by this fortune teller, and if you're a big X-Men nerd, you may recognize her as Blindfold. I needed a fortune teller character so I felt like part of the fun of research is looking through all the bloody panels from when the X-Men were knocked off in the original Old Man Logan story, and she wasn't in it. I don't know if she was actually created at the time, but she was not among the dead bodies so I figured she was elsewhere.
The Big Bad
Then we cut to Bullseye, and this is a little bit of a showdown with his boss, the Red Skull. This is the first time we see the Red Skull, who is obviously the "big bad" for that world. But Bullseye's gone off the grid and he's not taking messages or listening to his boss, so that could set something up later.
Bullseye, in this case, is very busy torturing the Orb and ripping the Watcher's eye out of his chest to get as much information as he can about where Hawkeye is. This is probably the goriest panel so far in the series, but I want to warn you, it gets worse later.
Then we go into Blindfold's tent and, if you didn't recognize it right off the bat, there's a Xavier School mug on Blindfold's table.
She was a tough one to write because she has this strange speech pattern. But I like this scene a lot, especially with the way Marco drew it with the steam from the coffee showing little bits of Old Man Logan—and specifically Hawkeye's demise in Old Man Logan. Clearly she can tell what's going to happen to him and she drops hints that if he keeps doing what he's doing, down the road he's in for an ignoble end. But he brushes that off and goes to find the big target he's after…pun intended.
Bullseye, however, is not the only one chasing Hawkeye; we have Venoms. Yes, "Venoms" plural. For those who remember, the Venom symbiote bonded with a surviving Madrox gang clone and now it's replicating. Just to find his path to Hawkeye, the Venoms end up at the garage of Tonya (Hawkeye's ex-wife) and they overhear one of the exotic dancers from issue #2 who's trying to get the hell out of there, and they realize the next step on their quest…
Keep Your Friends Close
And now we get to the main event. The issue is called "The Price of Admission" and it's called that for two reasons. One: the person who Hawkeye is chasing has become a showman and has decided that if they're going to go out, they want to go out with a grand show. And two: this is where Hawkeye commits and realizes there's no going back, because once he kills this person, he's all in. This person actually works as the main event, but we see they draw almost no crowd. It's a sad existence.
We flip the page and it turns out the character he's chasing is Atlas. Yes—the big conceit of this book is that Hawkeye is hunting his former Thunderbolts teammates.
I wondered where the Thunderbolts would have been on the day that the super villains took over. When they were approached for the final battle, they knew the heroes were going to lose, so they decided not to come. But I wanted to make some of them sympathetic—and show that they weren't out for power, they weren't out for glory; some were just out to survive.
There's this exchange where Hawkeye says, "How could you do this to me?" and Atlas says, "God, man, not everything is about you." He wanted to live—and this may not seem like much of a life, but it's a life. And Atlas drops a clue about the only person who's still talking to him, Abe. Abe's working at a doombot factory in Kree Haven. Again, he bought the right to live.
Atlas realizes there's no talking Hawkeye out of this, so he stands up and says, "Let's give them a show worth the price of admission." Then he grows incredibly big, rips the tent, and they go at it.
One of the things I wanted to do with this fight was make tributes to certain arcs that I loved. One of the things I tried to put in here, which may or may not be obvious unless you're as old as me, is Hawkeye uses this green gas arrow, and it's the same arrow that he used the first time he met Atlas. So Atlas is dumb enough to fall for the same thing twice. No disrespect to him, but he was certainly not a Reed Richards-level genius.
At one point, he's incapacitated, lying on the floor, Hawkeye has his bow arched, and we cut to this panel that's a throwback to those '90s Thunderbolts comics. It's actually a panel imitating Mark Bagley's original art, and it just shows them in happier days.
But he shoots the arrow because he's all in. Now there's no going back. Hawkeye has now crossed the line.
Crosshairs
For the closing shot, Bullseye has arrived a few hours late, but he's arrived at the crime scene that Hawkeye left behind. And the Deathlok computer that's integrated into his brain makes the ID match and he realizes that the Thunderbolts are Hawkeye's targets.
He knows where to go next, and he's getting closer and closer to intercepting Clint.
Last thing—I want to give a shout-out. I owe a lot of this issue to my friend Paul Pelkonen, who introduced me to the Thunderbolts back in the 1990s. Who would've guessed that 20 years later, here we are.
Continue the story by reading OLD MAN HAWKEYE #4, from Ethan Sacks and artist Marco Checchetto, today—April 25!
The Hype Box
Can't-miss news and updates from across the Marvel Universe!