Comics
Published November 25, 2020
Darcie Little Badger on Dani Moonstar: "Like All Native Folks, She's Many Things Simultaneously"
Marvel's Voices brings you an exclusive essay penned by Darcie Little Badger, the writer behind Dani Moonstar's story in MARVEL'S INDIGENOUS VOICES #1!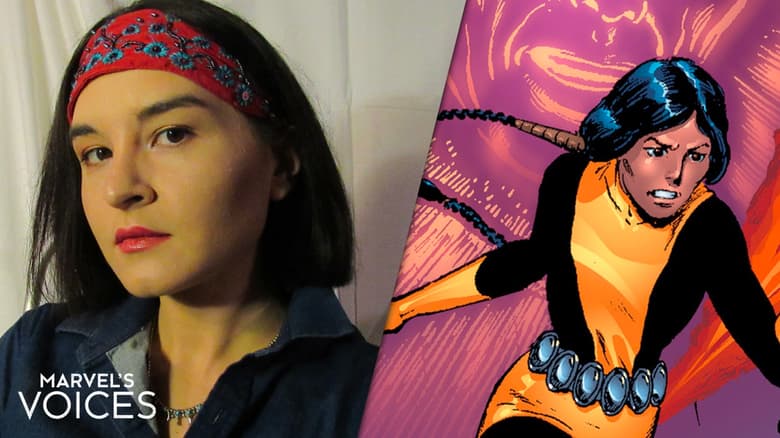 As a contributor to MARVEL'S VOICES: INDIGENOUS VOICES #1, I was thrilled to write a story about a character near and dear to my comic-loving heart: Dani Moonstar, aka Mirage of the X-Men.
I've previously waxed poetic about all the qualities that make Dani such an awesome hero. For example, her mutant abilities are both unique and psychologically compelling (true to the name Mirage, Dani can connect to a person's psyche and project their greatest fears or desires as illusions). That said, Dani has vast storytelling potential, far more than ten pages—or even ten thousand pages—can contain. Therefore, in order to find a focus, I  took a moment to consider the importance of voice.
That's when a disorienting childhood memory immediately came to mind. How old was I? Young. Maybe four or five. At the time, my parents, brother, and I lived in Iowa, half a country away from our extended family, my aunts, uncles, cousins, and grandparents. In other words, I knew in theory that Mom had sisters; I'd seen their faces in photo albums. But I'd never heard them speak.
Anyway, I was playing in a park, the kind with more grass and trees than anything else, when a voice called, "Darcie! Darcie! Come here!"
My mother was sitting nearby, and the voice resembled hers. Its pitch and timbre were spot on. But I recognized at an instinctual level that the call did not come from my mother. It lacked her warmth. Her affection. The accent was slightly off. It was as if a doppelganger with my mother's shape had called my name, but the mimic could not imitate everything that made her voice unique.
Fortunately, my aunt stepped into view. Not quite the monster I'd feared. Still, the experience left me unsettled.
It also highlights an important element of voices. A complete stranger might sound familiar. Maybe it's their accent or idioms or the stories they tell. Simultaneously, individual voices carry elements that make them unique. After all, humans are complex. A multitude of elements piece together our identities and personalities.
That's the beauty of Dani Moonstar. In junior high school, shortly after a rack of assorted comic books in a village convenience store introduced me to X-Men comics, I started reading the New Mutants. That was my first encounter with Dani, a Cheyenne woman. It was also my first encounter with a Native main character in any comic book—heck, make that in any speculative book, movie, or TV show.
In many ways, I immediately related to Dani's perspective as an Indigenous woman. I'm Lipan Apache. Dani is Cheyenne. There are hundreds of Indigenous peoples in this country – we're not a monolith by any means! But we are all the descendants of people who survived the brutal colonization of our homelands.
Perhaps that's why Dani's first showdown with death made such a great impact on me as a young reader. See, shortly after gaining Valkyrie powers, Dani returned to her home on the rez. There, she tried to save the life of Pat, a man who used to be her friend (unfortunately, he grew into a hateful person; I recommend reading the whole issue—NEW MUTANTs #41—for context). When Death came for Pat, it took the form of a cowboy gunslinger. From a storytelling perspective, allowing Dani to challenge Cowboy Death, a figure from the "old west" mythos, was powerful. Cowboy vs. Indians. Colonization and genocide vs. resistance and survival. Of course, Dani won the fight. As a young Native reader, I cheered her victory.
What is more, within Dani, culture and heritage coexist with the other important facets of her personality. From the get-go, she made that exceptionally clear to Professor Charles Xavier. After joining Xavier's institute, a teenage Dani paired her standard yellow uniform with a pair of leather boots and a turquoise-embellished belt. When the professor demanded, "Danielle, you're out of uniform. Please explain yourself," she said, "I am Cheyenne. Nothing—no one—will ever make me forget or abandon my heritage. I am also an individual." That piece of dialogue endeared me to Dani for life because it's so similar to what I feel every day of my life.
Who is Dani Moonstar? Well, she's a Cheyenne woman. A mutant hero. A vehemently loyal friend, an independent thinker, a successful teacher, an effective leader, and—as mentioned previously—an on-again, off-again Valkyrie. Like all Native folks, she's many things simultaneously. Dani's character is not made to minimize or compromise her indigeneity in pursuit of individuality or complexity. She reflects elements of myself I seldom see in popular fiction, while also demonstrating the fantastic variety and potential of Native voices. That, as well as the spirit of the classic New Mutant adventures, are what ultimately inspired my story in Indigenous Voices.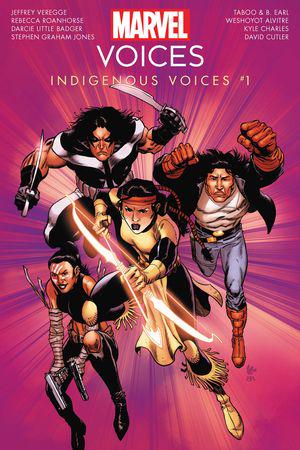 Marvel's Voices: Indigenous Voices (2020) #1
published

added to marvel unlimited

colorist (cover)

inker

editor

writer

letterer

inker (cover)

penciler (cover)

penciler
What is Marvel Unlimited?
Interested in learning more about Dani Moonstar's origin and time as a New Mutant? Check out Darcie Little Badger's selection of favorite Dani Moonstar comics, only available on Marvel.com.
Have you tried Marvel Unlimited yet? It's your all-access pass to over 28,000 Marvel comics, all available at your fingertips. Sign up now to enjoy your favorite stories sooner, just three months after they're in stores!
The Hype Box
Can't-miss news and updates from across the Marvel Universe!