Comics
Published August 24, 2017
Daredevil: City Limits
Discussing Daredevil's Legacy with writer Charles Soule!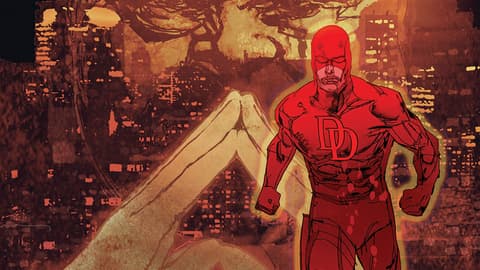 When it comes to the world of Matt Murdock, justice is blind. And for the last 53 years, that particular form of law has set him and his alter ego, Daredevil, apart from all other heroes in the Marvel Universe. But what happens when his life of sightless vigilantism can't transition into legitimate authority?
Wilson Fisk runs the show in New York City in a typically sinister—but completely legal—way, which leaves Matt looking to get creative to bring down The Kingpin. And on November 8, the age of Marvel Legacy begins with scholarly scribe Charles Soule and artist Stefano Landini's DAREDEVIL #595!
With Daredevil's legacy of justice on the brink of disarray, we spoke with Soule about the upcoming issues and how he'd like to be remembered for his contributions to the classic character.
Marvel.com: How does the Marvel Legacy banner inform this new story? 
Charles Soule: My run so far has really been all about Matt Murdock's legacy as a super hero. He knows he can't be Daredevil forever, so he's been trying to do something to make his city better permanently—whether he's wearing the horns or not. In other words, he's trying to leave a legacy. That extends to Blindspot, it extends to the law he's trying to put in place during the Supreme storyline, and more. The Legacy story I'm telling—"Mayor Fisk"—is where we see whether he can make that happen, or if it will all blow away in the wind.
Marvel.com: In a sentence or two, what would you say is Daredevil's legacy within the Marvel Universe? 
Charles Soule: Daredevil is all about resolve. His powers are sort of limited compared to some of the other marquee heroes, but it never stops him. He'll do what has to be done in the pursuit of justice, and I think the other heroes see that.
Marvel.com: Getting into the story a bit, what can we expect NYC to look like under the control of Wilson Fisk? 
Charles Soule: It's pretty cool stuff. Fisk has been in control of the criminal machinery of the city before, but here, he runs the legitimate side as well. So, in essence, the entire NYPD works for him—not to mention everything else in the city. Fisk can do whatever he wants without fear of reprisal, and he absolutely sees the possibilities in that. Daredevil does too, of course, and it terrifies him.
Marvel.com: What shortcomings do Matt's abilities have against this threat—and what new strategies will he use to circumvent those shortcomings? 
Charles Soule: It's mostly what I mentioned—Fisk is legit, which means Daredevil…isn't. Matt Murdock has always been able to rely on his city as a safe haven, of sorts, but now it's turned against him. It gets pretty dire for ol' Hornhead, but I don't think we'd want it any other way.
Marvel.com: What do you hope your own legacy to be when it comes to DAREDEVIL comics? 
Charles Soule: When you're talking about "legacy," it doesn't get much more relevant than this title—with both the creative teams that have worked on the character and the stories themselves, DAREDEVIL is all about legacy. I think DD has more legendary runs than just about any other character in super hero comics.
My goal has always been to really try to stand alongside the earlier stories with my run—to not be a blip between otherwise memorable chapters in the life of Matt Murdock. I'd like to add things, and take things away, and write my DAREDEVIL—to do things that later readers can point to as signature elements of this period for the character. We'll see!
DAREDEVIL #595, by Charles Soule and artist Stefano Landini, drops on November 8!
The Hype Box
Can't-miss news and updates from across the Marvel Universe!