Comics
Published April 18, 2023
5 Times Daredevil Was New York City's Hero
The Defender of Hell's Kitchen embodies New York attitude and is shaped by the city he helps protect—and we've got the proof.
Have you tried Marvel Unlimited yet? It's your all-access pass to over 30,000 Marvel comics at your fingertips! Sign up today to get your first year for $60.
Daredevil, AKA the defender of Hell's Kitchen, is as New York as pizza, yellow taxis, bustling crosswalks, and all those sounds and smells one can take in on the island of Manhattan.
This vigilante-by-night is also lawyer-by-day Matt Murdock. And Matt's origin as a costumed hero is built around his hometown (plus a fierce devotion to his neighborhood). While Daredevil has also called San Francisco home, ol' Hornhead will always be that kid from New York.
Don't believe us? Here are five times Daredevil proved he was New York City's hero.
JUDGY ABOUT PIZZA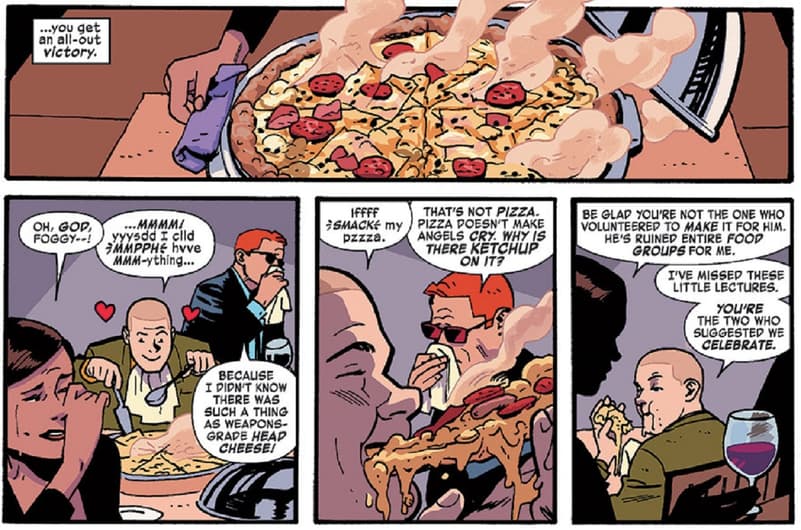 It is a well-known fact that New Yorkers take their pizza seriously. Thin crust, Sicilian, or Brooklyn-style, New York pizza is enjoyed sans utensils and adorned with a variety of toppings. But Matt's partner-in-law/best friend Foggy Nelson's "ketchup and sausage" combo is an affront! We don't need Daredevil's super-powered nose to know that this is a New York City no-no.
"TAXI!"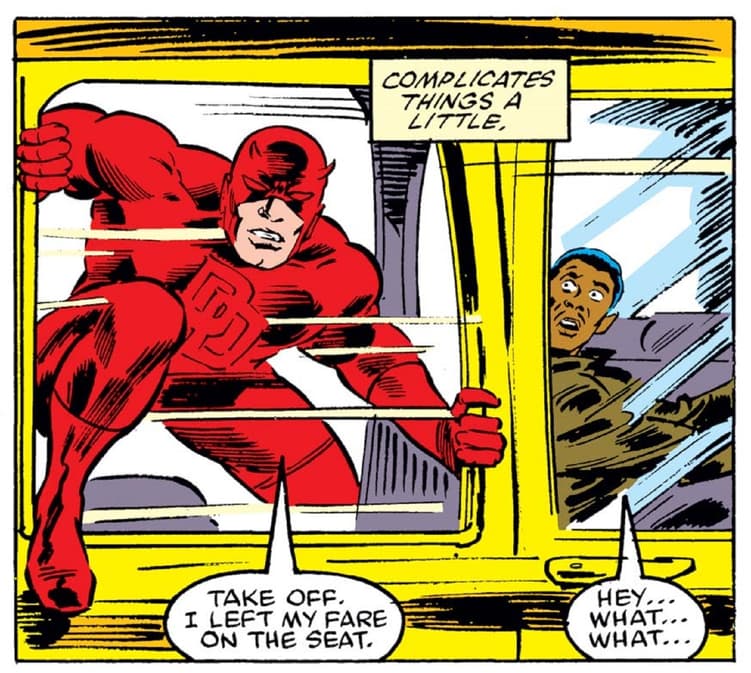 Even the hero of Hell's Kitchen needs an easy way to get around! For the New Yorker in a rush (and aren't we always?) there's a yellow taxi on standby to hail down for our next destination. In taxi-centric issue DAREDEVIL (1964) #246, Daredevil pulls New York cab driver Nigel into a political power struggle when the vigilante trails two crooked legislators embroiled in a drug trade. Just when Nigel thought he was having a slow night…
"WE'RE WALKIN' HERE!"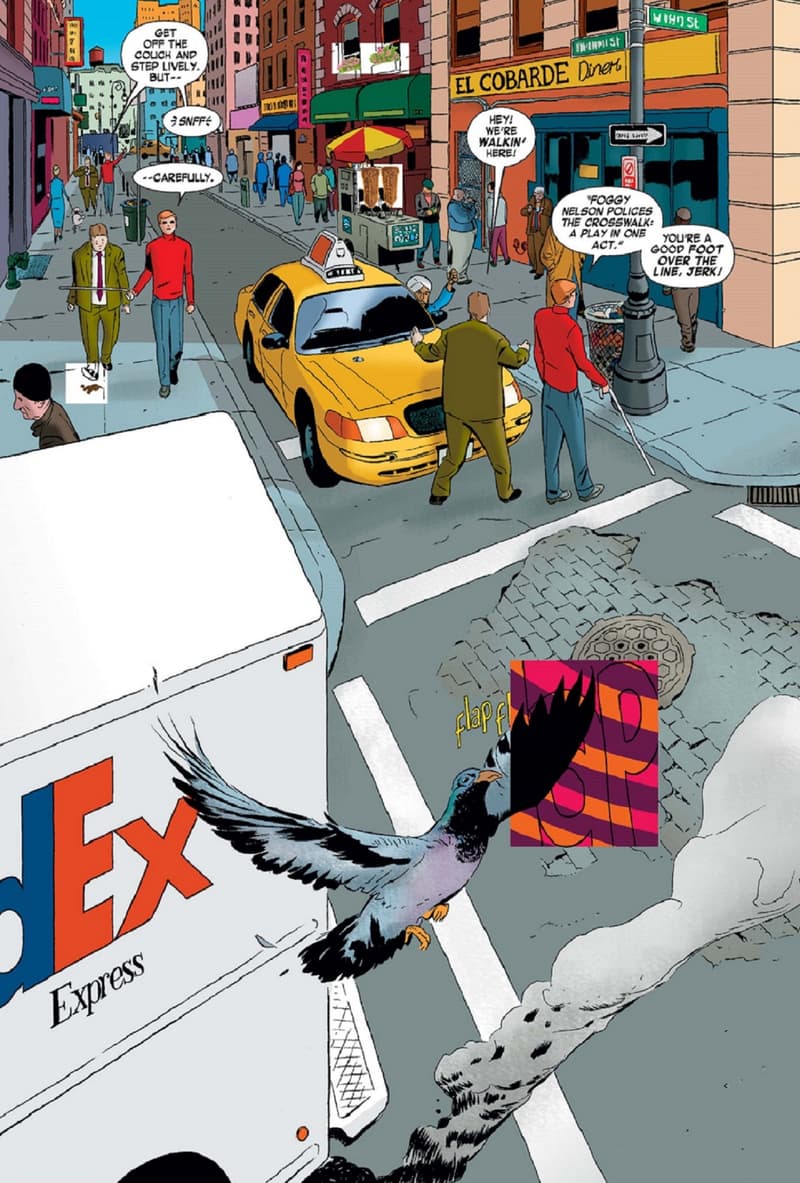 Do New Yorkers actually say this? No, at least not seriously. Do we make sure to let antsy drivers and bikers know that they're invading our precious pedestrian space? You bet. In one of the most New York City issues ever, DAREDEVIL (2011) #1, Matt and Foggy enjoy a brisk walk (plus a cacophony of smells) on a stroll through downtown Manhattan. We're even treated to a Subway station concert courtesy of Matt.
SKYSCRAPER HEIGHTS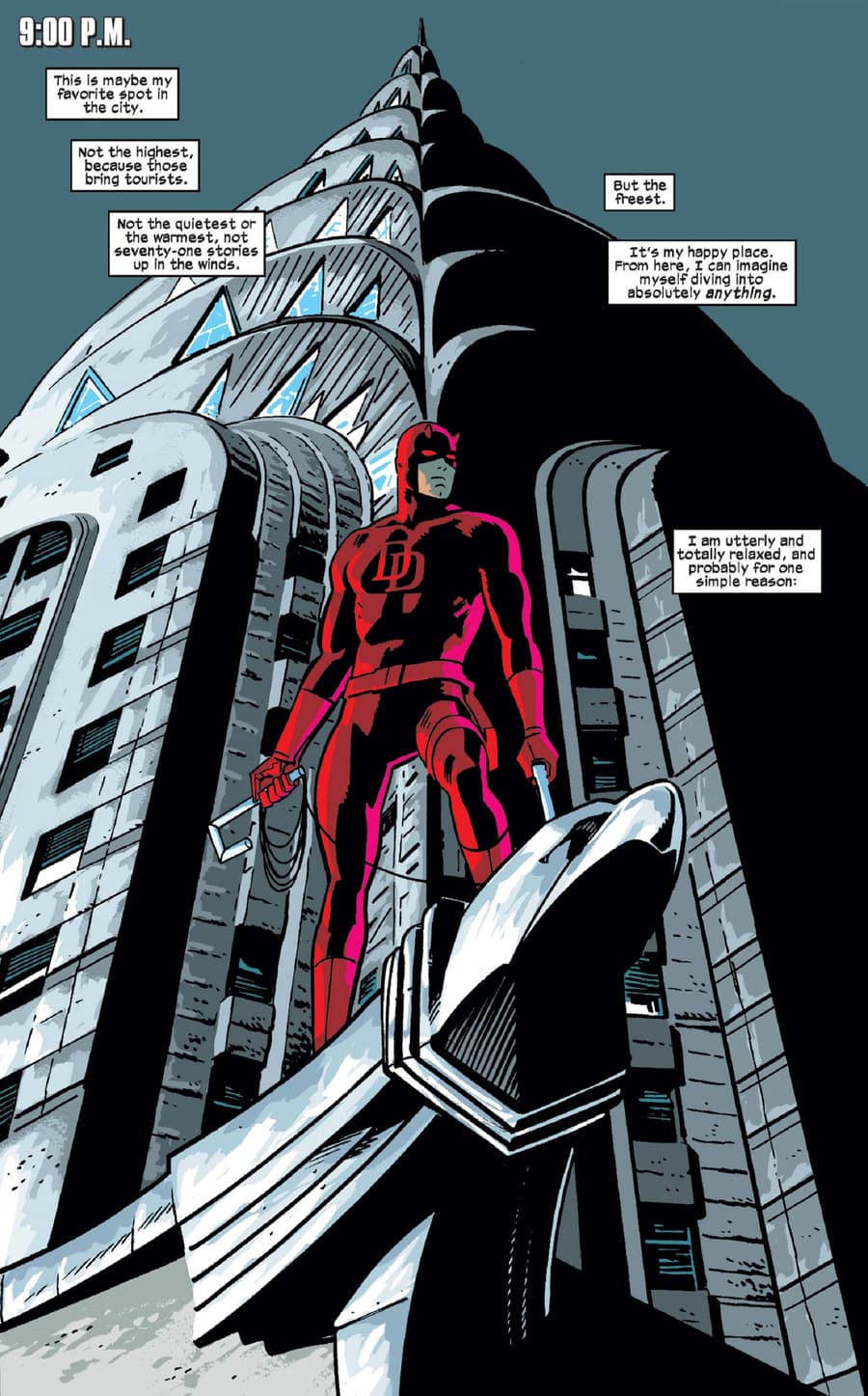 Even though Matt was born and raised in Hell's Kitchen, he can still appreciate the awe-inspiring atmosphere of Manhattan (and its dramatic skylines). And one of his favorite places to survey the city is the Chrysler Building. Because of his superhuman agility, Daredevil gets to enjoy special access too!
HERO WITH HUSTLE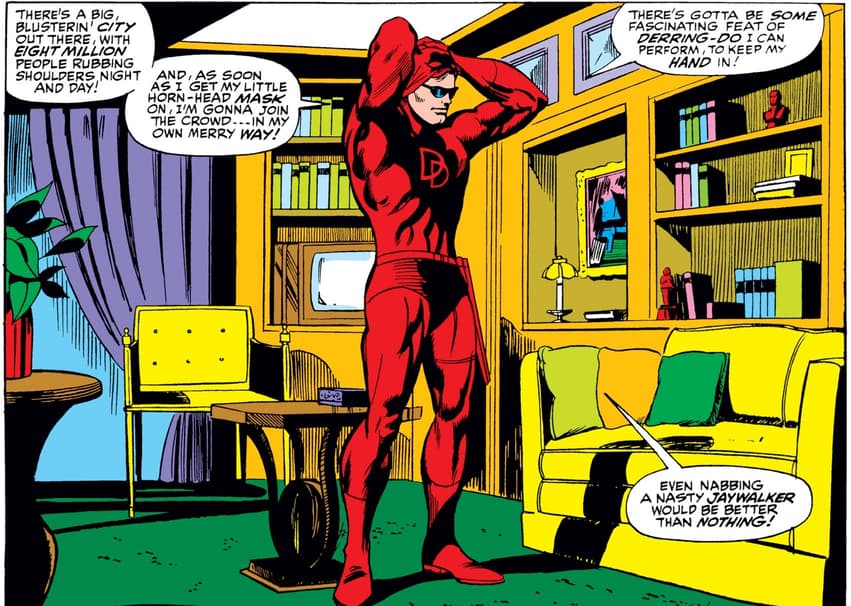 New York works hard but the Devil works harder! Nothing epitomizes New York 'tude quite like the unexplainable urge to stay busy. No stranger to hard work, Daredevil isn't content to just sit at home in his Upper East Side brownstone… oh no, he's out to make moves and keep jaywalkers off these streets.
Read all comics mentioned above on digital comics super-service Marvel Unlimited!
The Hype Box
Can't-miss news and updates from across the Marvel Universe!