Comics
Published September 12, 2019
Decoding the Hulk's Family Tree
Do you want to know where Bruce Banner's alter ego comes from? Find out his family history here!
Bruce Banner has been the Incredible Hulk for decades, but his anger issues didn't come from nowhere! And he's far from the only Hulk in the Marvel Universe.
As seen on this week's episode of Earth's Mightiest Show, the Hulk family tree ties most of the gamma radiation-empowered heroes together. Note that Amadeus Cho and Rick Jones aren't on this family tree because they're not related to the Banners by blood or marriage. But both Amadeus and Rick have obviously been Hulks in the past.
While Bruce is naturally the core figure in this family tree, the roots of the Hulk's anger come from his father, Brian Banner. If there's a villain in this story, it's Brian. He physically and emotionally abused his wife Rebecca Banner and their son, Bruce. Brian was mentally ill, and he was convinced that his son was a "monster." Brian even murdered Rebecca in front of Bruce, which led to years of repressed anger by the younger Banner.
Brian Banner had two sisters, but the one represented here is Elaine Banner-Walters and her husband, Morris Walters. Their daughter Jennifer Walters is Bruce's first cousin and the closest thing he has to a sibling. After Jennifer was nearly killed during an assassination attempt, Bruce saved her life by giving her an emergency blood transfusion. As a result, she became the Sensational She-Hulk! Although she started out a bit Savage.

The first love of Bruce's life was Betty Ross, the daughter of General Thaddeus "Thunderbolt" Ross. Both Betty and her father became Hulks as well. General Ross was the brutal Red Hulk, while Betty was resurrected as the Red She-Hulk.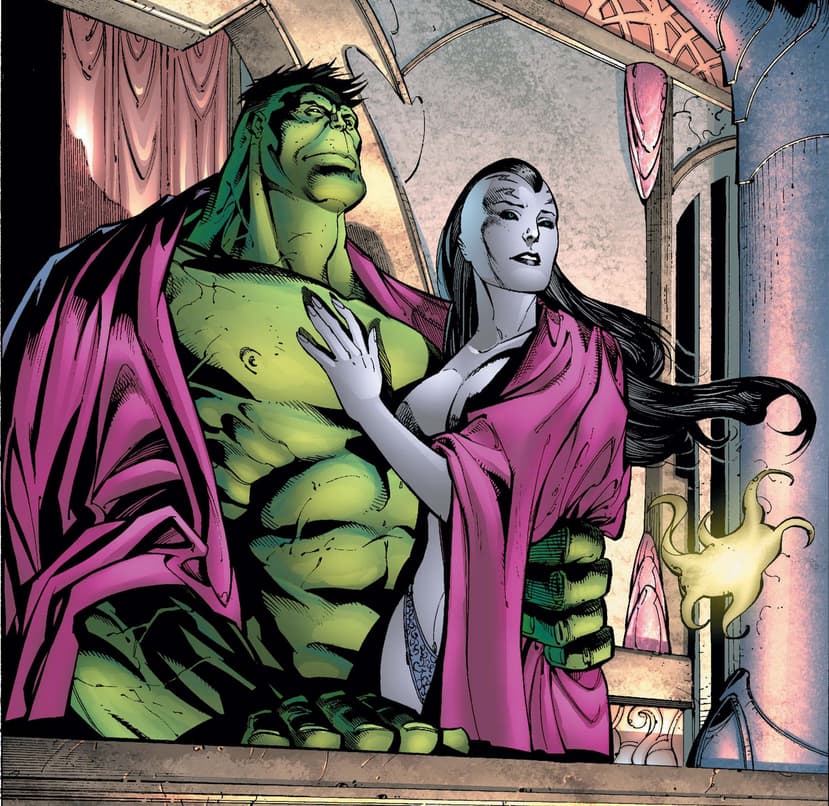 Bruce and Betty never had any children, but the Hulk had two sons by his second wife, Caiera. During PLANET HULK, it was the Hulk who courted Caiera, but she accepted Bruce as well. Although Caiera appeared to die, she gave birth to Skaar and Hiro-Kala. Unfortunately, Hiro-Kala's taste for power and vengeance corrupted him, forcing Bruce and Skaar to oppose him.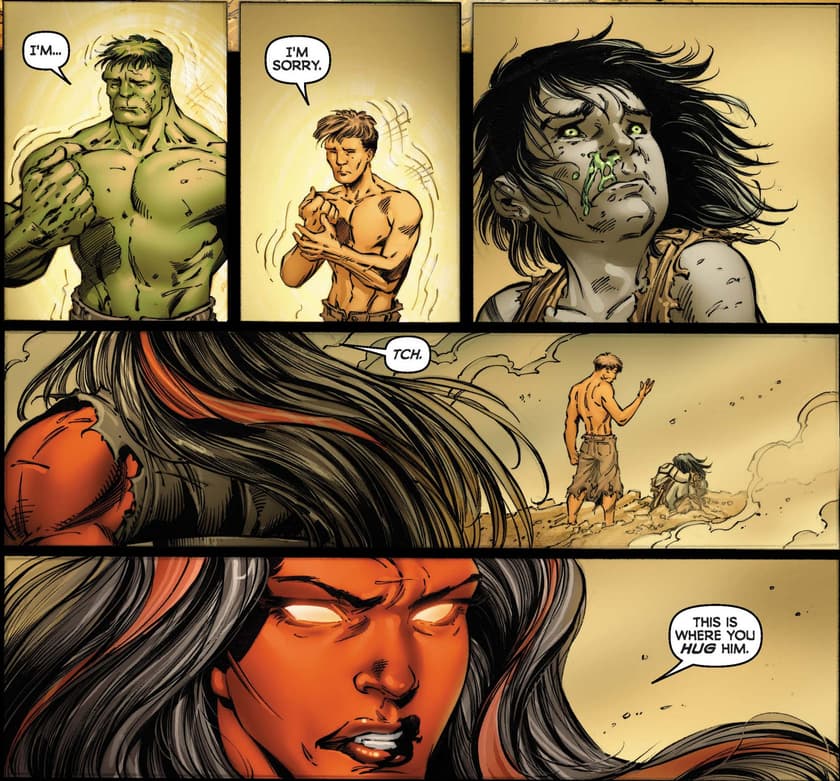 Hulk's other daughter is a bit tricky to explain. The short version is that Lyra is a daughter of the Hulk and Thundra. However, Hulk and Thundra were never a real couple. Instead, Thundra collected the Hulk's DNA from his saliva and immediately traveled back to her alternate future. From there, Lyra was created... and she eventually came to live in the present alongside the Hulk and her extended Hulk family.
Finally, we have Jarella, the princess of the sub-atomic kingdom of K'ai. She was never married to the Hulk or Bruce, but she loved both halves of him. Their bond was so important that Jarella is represented here as well, despite the fact that she tragically passed before they could wed.
Now you're up to date on the Hulk family tree. For more gamma radiatiated action, check out IMMORTAL HULK!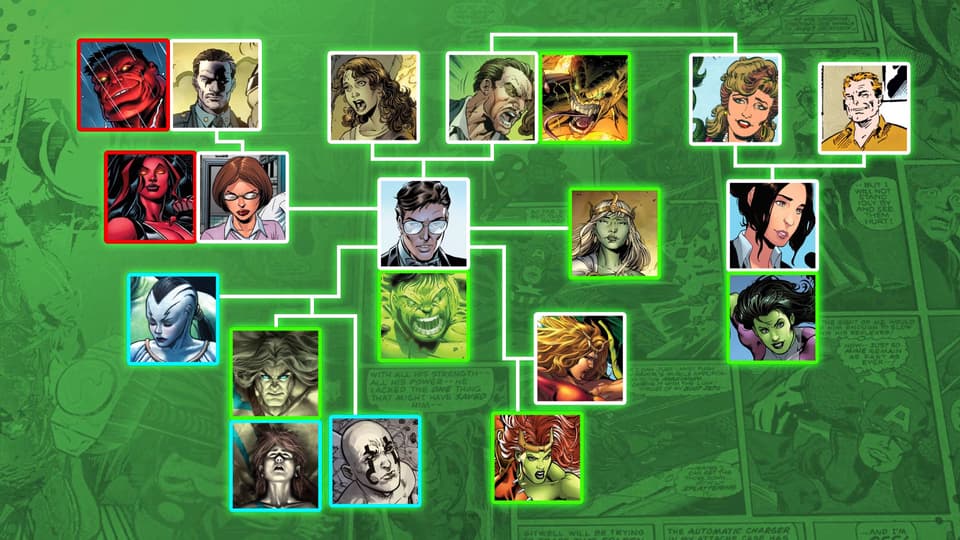 The Hype Box
Can't-miss news and updates from across the Marvel Universe!