Comics
Published September 8, 2020
Didja Know... 'Marvel Comics' #1
Didja Know digs into the fun facts, strange stories, and divine details that helped build the hallowed halls of the House of Ideas!
Hey, heroes! Hard to believe the ol' House of Ideas just clocked its 81st anniversary when, admittedly, we don't feel a day over 77 or so! Still, it's a moment in time when our collective thoughts turn back to our hallowed history and the magnificent mag that started it all, MARVEL COMICS #1!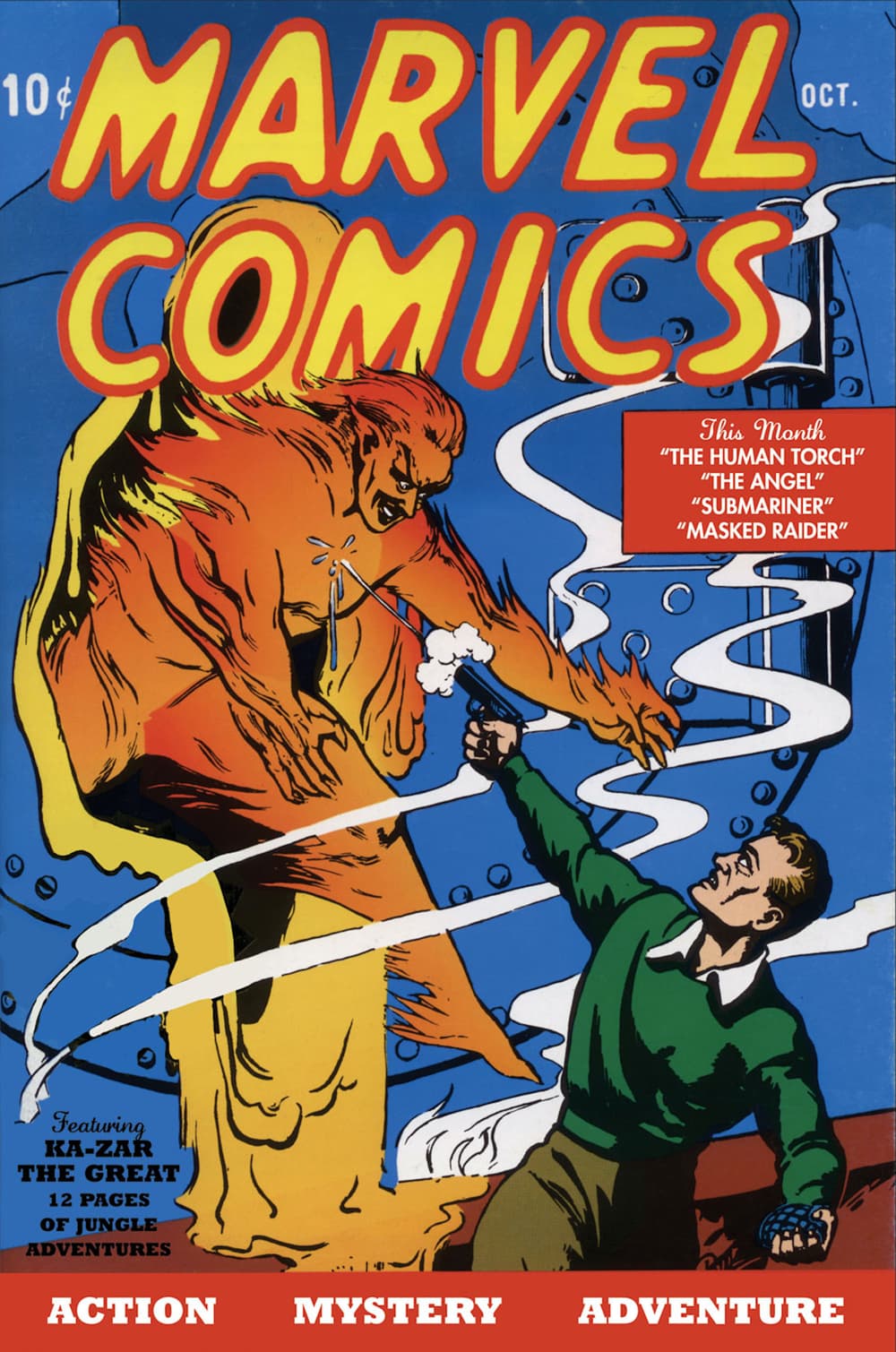 Turn back the clock with us now as we swipe Doc Doom's time machine to travel to a Timely time and tell a few tales of the three titans that the Marvel Universe was built upon—and the crafty creators behind 'em!
Didja Know… the Human Torch originally used nitrogen to cool his jets?
The first fable in MARVEL COMICS (1939) #1 fanned the flames of the first Human Torch and set the bar for the tragic heroes to come at Mighty Marvel. In fact, the Torch was so saddled with a sad story—he burst into flames upon contact with air!—his career almost came to a close before it even began!
Luckily, by the end of that first Torch tale, the amazing android discovered something, well, amazing! As witnessed by his creator Dr. Horton, the Torch could control his conflagration when doused with liquid nitrogen…an accidental "gift" from a desperate desperado named Sardo. From that moment on, our fiery friend went from menace to man-about-town, and the rest is, as they say, history.
The Human Torch was created by writer-artist Carl Burgos, and Didja Know he started off working for a company that made the engraving plates from which the comics were printed? He then dove into the deep end of the sequential art pool and gave the world one of the most original characters ever in the pages of MARVEL COMICS #1!
Didja Know… the Angel had no super powers at all?
Next up in that peerless publication was the avenging Angel, a guy so cool, so clever, and so uncomplicated he didn't even bother with powers! That's right, former surgeon Tom Holloway relied on his two fists, a lot of gumption, a dash of get-up-and-go, and a colorful costume to make his mark on malefactors as the Angel!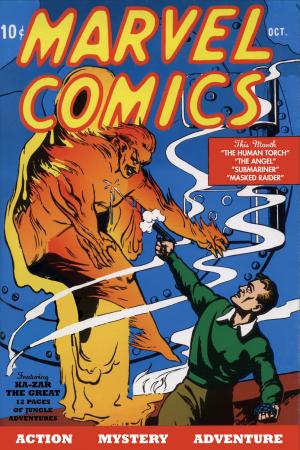 The Angel sprang from the pulp magazine tradition where most heroes had no super-normal abilities beyond looking good in a fedora and being able to beat the snot out of baddies. Hey, Didja Know that when Terrific Tom debuted in MARVEL COMICS #1 he was already active around town? That'd make him one of the first Marvel crimebusters ever, and boy did he ever bust crime!
Pulse-pounding Paul Gustavson created the heavenly hero—he came to America at the tender age of five with his family from Finland and went on to conquer the publishing world as both an illustrator and writer. Hmm, seems like there was a lot of that at the time! The Angel later went on to enjoy more than one-hundred Golden Age stories and even once teamed up with the next titan on our list…
Didja Know… the Sub-Mariner was the Marvel Universe's first super villain?
Ahh, that ol' Namor the Sub-Mareener…oops, we mean Sub-Mariner! What a shark he was in those days, always fishing for a compliment and busting up a building or two when the stream flowed against him. In short, he was bad before he was good, and MARVEL COMICS #1 showed just how cranky he could be!
In the course of his first story, Namor savaged two salvage divers, sank their ship, took them as trophies to his mother, launched a lighthouse into oblivion, and pounded on a plane—sheesh, and you thought the Human Torch was a hothead! To be fair, his own people egged him on to destroy the surface-dwellers who they eyed as the enemy, but Subby sang the song of woe and started smashing everything in sight until he calmed down to eventually hold himself up as a hero.
Speaking of heroes, his creator Bill Everett went on to not only swim with the Sub-Mariner, but also make a deal with the Daredevil many years later as one of the Man Without Fear's co-creators!
Peruse this eye-poppin' publication with Marvel Unlimited right now!
Celebrate Mighty Marvel Insider Mania! Enter the code XE38E to earn 1,000 points in the "Marvel Insider Article Hunt Day 2" Activity! Be on the lookout for codes throughout the rest of this week to earn even more points!
Not a Marvel Insider? Join today and start earning!
Code valid through 9/14/2020 11:59PM ET. Limited to one redemption per code per Marvel Insider account. Marvel Insider Loyalty Rewards Program open to U.S. residents ages 18+ only. Terms apply.
The Hype Box
Can't-miss news and updates from across the Marvel Universe!