Comics
Published February 23, 2023
Meet Victor Timely, Kang the Conqueror's Most Secret Identity
And the 20th century belongs to him…
Save 50% on your first two months of digital comics super-service Marvel Unlimited! Join today using promo code QUANTUM to enjoy instant access to over 30,000 Marvel Comics.
Hailing from the 31st century, the time-travelling Kang the Conqueror aims to make good on his name and take over, well, everything. However, the Marvel Universe's heroes have repeatedly foiled the villain's plans. Never one to quit, Kang has on occasion reinvented himself as part of a long-term scheme to defeat his foes. One of the most notable instances of him doing that was when Kang became Victor Timely. Here's what you need to know about this version of Nathaniel Richards, AKA Kang.
[RELATED: The Many Faces of Kang]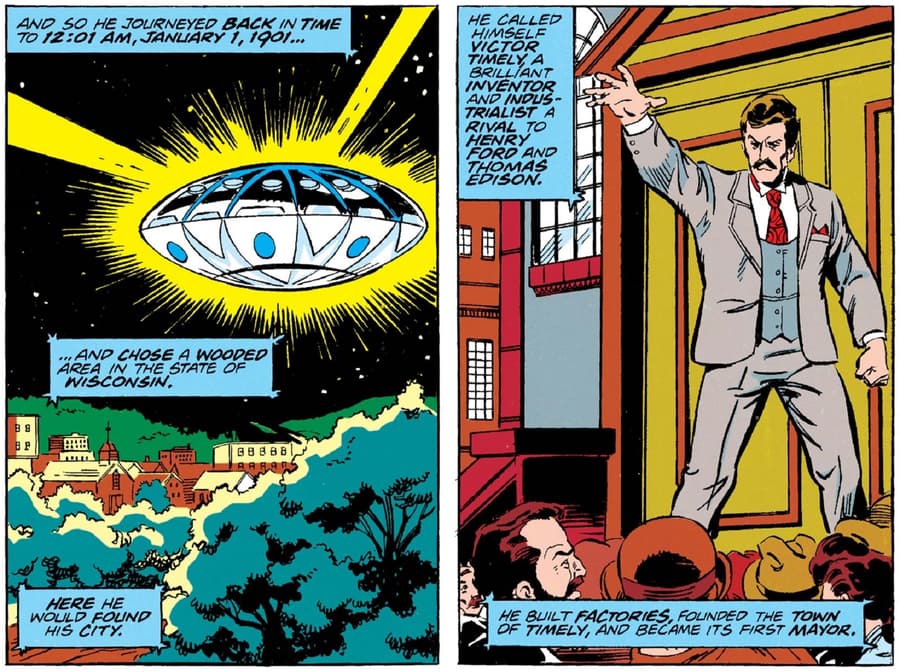 VICTOR TIMELY: INDUSTRIALIST, INVENTOR, AND SO MUCH MORE
1992's CAPTAIN AMERICA ANNUAL (1971) #11 kicked off "Citizen Kang," a storyline that spanned the pages of several annuals that same year. The arc brought the Fantastic Four and Avengers to Timely, Wisconsin, which they soon discovered was connected to Kang the Conqueror and Chronopolis, his time-spanning base.
Towards the end of that arc, in a story within AVENGERS ANNUAL (1967) #21 called "The Puzzle," readers learned Kang's history with Timely. After Earth's Mightiest Heroes defeated Kang in his debut issue, AVENGERS (1963) #8, the villain went back in time to January 1, 1901, and took on the name Victor Timely. Under that pseudonym, Kang founded Timely and set himself up as an inventor and industrialist with specializations in technology and robotics. In secret, though, Kang built Chronopolis at the same location as, though out of sync in the timestream with, Timely the town. That effectively rendered Chronopolis invisible, hidden within a paradox and undetectable to all.
Kang presided over Timely for several decades and served as the town's first mayor. During AVENGERS: THE TERMINATRIX OBJECTIVE (1993), Ravonna Renslayer, Kang's long-time love interest, attempted to expand Chronopolis, forcing Earth's Mightiest Heroes to intervene and putting them into direct contact with Kang as Timely in the town's early years. At the end of the story, Renslayer and Kang rekindled their relationship, and she began living in Timely under the name Rebecca Tourminet.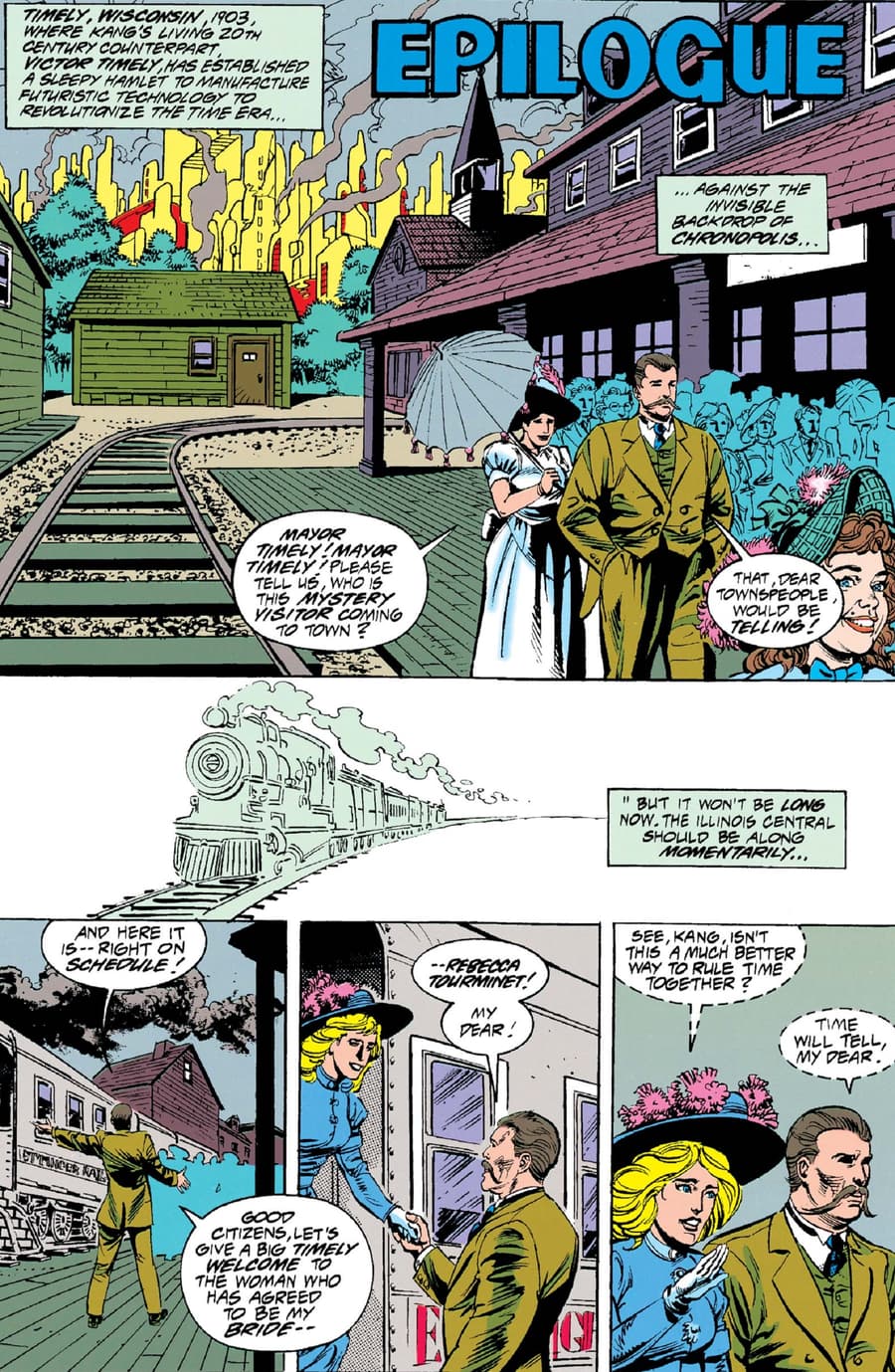 While running Timely, Kang made several significant contributions to the world of robotics. At one point, he even employed a young Dr. Phineas Horton, the eventual creator of Jim Hammond, AKA the original Human Torch. However, Kang's goal remained preparing Earth for his eventual conquest and building up his own forces. Those plans were then paid off during the "Kang Dynasty" storyline, which spanned AVENGERS (1998) #41-55 and AVENGERS ANNUAL (2001) #1.
During "Kang Dynasty," the government attempted to use Sentinels—the classic X-Men villains created by Bolivar Trask—against Kang. Soon, though, the villain revealed that he'd built failsafes into technology derived from his work at Timely Industries. As the Sentinels relied on those same advancements, Kang was able to take control of the deadly machines and turn them against Earth. That meant Richards' period as Victor Timely played a key role in him finally conquering the world that, for so long, had stayed just out of his grasp.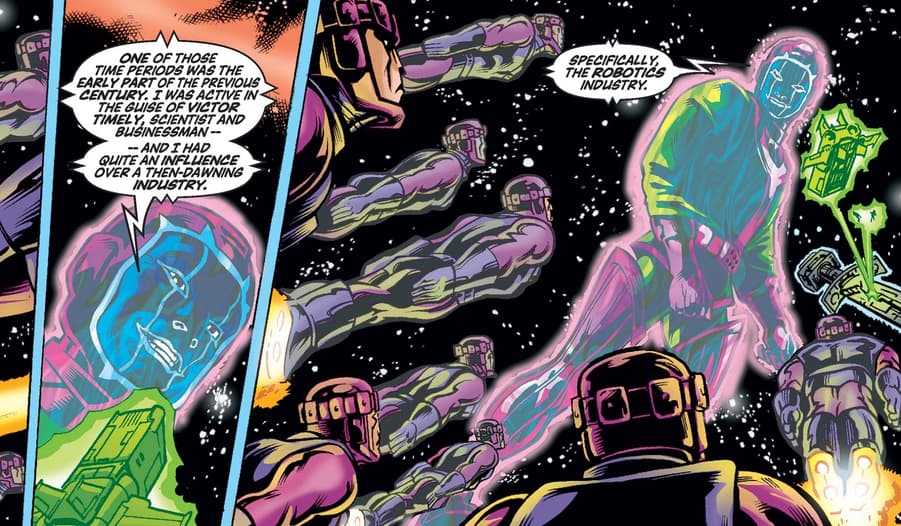 The Hype Box
Can't-miss news and updates from across the Marvel Universe!