Comics
Published January 8, 2020
Didja Know... The Future of the Marvel Universe
Didja Know digs into downright delightful details from across the merry Marvel Multiverse!
Didja Know digs into the fun facts, strange stories, and divine details that helped build the hallowed halls of the House of Ideas!
[Hey Marvel Insiders – Didja know reading this article could earn you 250 points?  All you need to do is sign in or join now before you keep reading!]
Join us, Didja Know Diehards, for a trip into the unknown...
In the deep dark past of a year some call "1999," the EARTH X series presented a shadowy possible future for the Marvel Universe. And today, creators Alex Ross and Jim Krueger zoom back to that future for another engaging look in MARVELS X, a pulse-pounding prequel to original oeuvre!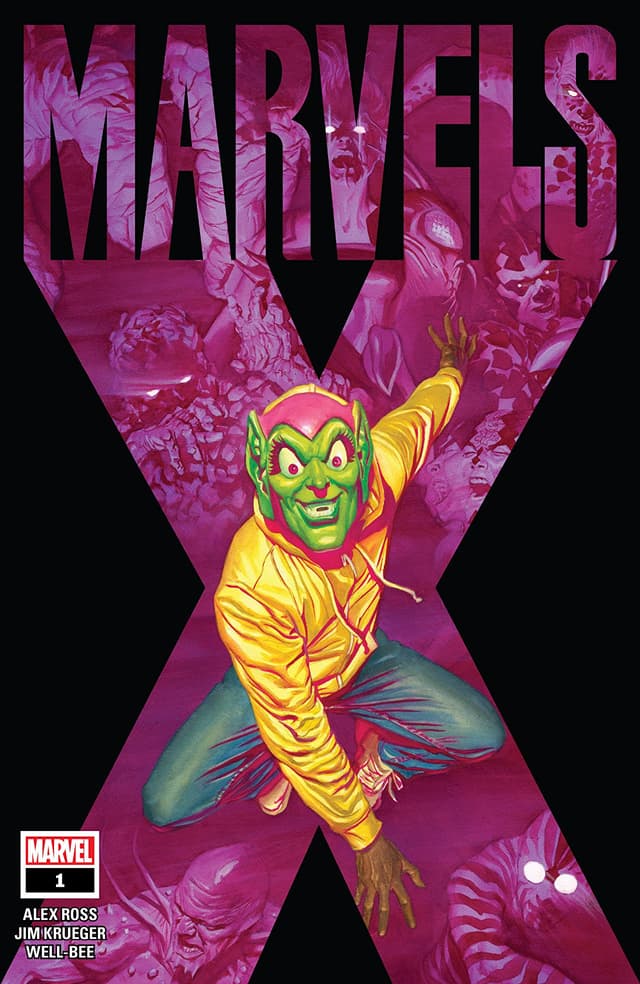 That said, that war-weary world wasn't the only peek into what's to come here at Marvel—oh, no! In fact, for as long as the House of Ideas has been adding up action and adventure and coming up with sensational stories, it's also been pondering the future and mining it for even more titanic tale-telling. Dare you look for yourselves, True Believers? You do? Then we're off!
Didja Know… Spider-Man once visited two different futures one after another?
Long before it became stylish to start slapping each and every furious future fable with the moniker "alternate universe," we had some fun with stories like those presented in MARVEL TEAM-UP (1972) #45-46…and true to form those futures weren't always bright ones.
Spidey had just left an adventure in the past and zipped forward on Doc Doom's time machine to return to his era when disaster—as it often does—struck. Landing in—get this—the far future of 2019 the wondrous Web-Slinger stumbled headlong into an attack by none other than Martians. How? Well, seems as if the Red Planet rascals had invaded and conquered Earth, a fact held in low regard by Killraven and his fantastic Freemen, rebels extraordinaire! Spidey and Killraven stayed the course and beat the baddies at their own game, only moments before the Wall-Crawler whipped up his time machine again and made tracks back to the past—his present, natch. But was it to be? Nay, say we! It t'weren't!
If all that wasn't as horrific as it sounds for our hero, that tiltin' time machine then took Spidey to yet another future in MARVEL TEAM-UP #46, that one occupied by yet another dystopian disaster and a cyborg we just had to call Deathlok. That fatalistic future seemed to Spider-Man to exist before the one with Killraven—and that just about gave the Web-Head the heebie-jeebies. Luckily for us and the present-day, he high-tailed it out of there and back to his own, normal NYC—a bit frazzled but none too worse for wear…
Didja Know… the Guardians of the Galaxy formed to fight an alien force in the future?
Now, we're talkin' about the original Guardians of course, Marvelites, the two-fisted team that first captured our hearts and minds in MARVEL SUPER-HEROES (1967) #18… The one that lived and found it hard to breathe in a 31st century corralled by the icky aliens known as the big, bad Badoon.
See, those unlikable lizard people also conquered our little blue marble and made things so nuts here that a group of guys from different worlds in our solar system seized the day and declared war on the weirdos, thus forming the Guardians of the Galaxy. Once brought together and cementing their plan to make some mischief, they jumped from that book into MARVEL TWO-IN-ONE (1974) #4 and never looked back.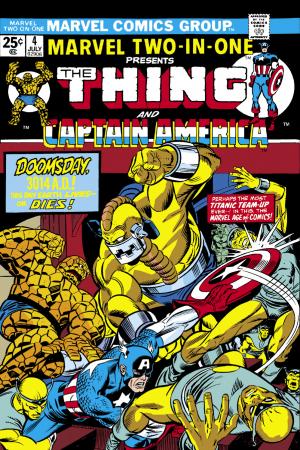 Marvel Two-in-One (1974) #4
published

added to marvel unlimited

penciler

writer

inker

colorist

letterer

editor
What is Marvel Unlimited?
What did they find there, though, besides the Thing and Captain America, who'd both burst onto the scene in the Guardians' far-flung future of 3014? Well, more Badoon, sadly, and something called the Monster of Badoon, but trust us when we tell you that an Avenger and a member of the Fantastic Four helped our newfound heroes set a trend and cement them into the firmament of the one and only Marvel Universe.
Didja Know… the Avengers once traveled to the future to just to watch a war?
Don't get us wrong, Charlie—Earth's Mightiest Heroes weren't happy about the journey, and they certainly voiced their concerns about the accommodations, but in all…oh, we'd better start at the beginning of this one, huh?
In AVENGERS (1963) #23-24, the team discovered a 40th century kingdom where their fantastic foe Kang had carved out a little country, but had neglected to make its people happy and prosperous. In fact, they were on the verge of all-out war. Seems a rebel force threatened the so-called peace and Kang's would-be love-of-his-life Ravonna was stuck right smack dab in the middle of it—and didn't return the Conqueror's amour. Happens all the time, right?
Kang, being the nutty no-goodnik he is, brought the Avengers to this future place to witness the war and what he assumed would be a victory for him against the rebels, but human nature still what it will always be, even in the 40th century, read him the riot act with a boisterous betrayal by one of his own generals and the ultimate sacrifice by his lady-love. In the end, he found that all is not fair in love and war, a lesson we mere mortals here in the prehistoric past have learned long ago…
Peruse these eye-poppin' publications with Marvel Unlimited right now! Then visit your local comic shop to pick up MARVELS X #1 today!
The Hype Box
Can't-miss news and updates from across the Marvel Universe!