Comics
Published October 24, 2019
Didja Know... The Grotesque Gambles of the Green Goblin
Didja Know digs into downright delightful details from across the merry Marvel Multiverse!

Didja Know digs into the fun facts, strange stories, and divine details that helped build the hallowed halls of the House of Ideas!
Red's the new green when the original Green Goblin plays patty-cake with the Carnage symbiote in a wondrous one-shot we just had to call RED GOBLIN: RED DEATH #1! Who says this isn't the Marvel age of titanically truthful titles?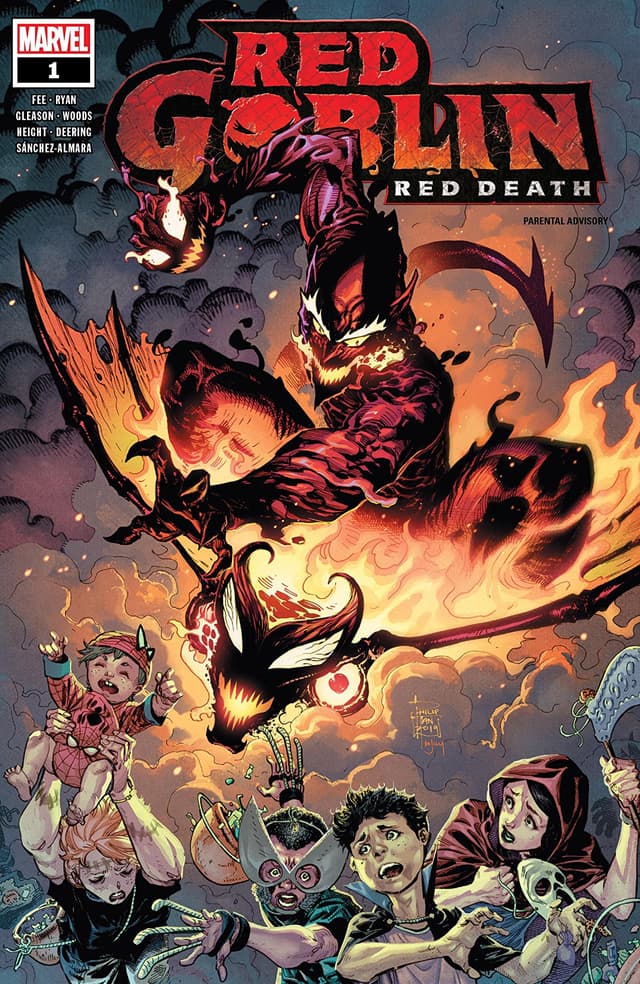 Y'know, it's hard to believe nutty Norman Osborn could be any more evil than what we laughingly label "normal" for him, but the Red Goblin's gonna prove it, pal, and we can only sit silently on the sidelines and watch the mayhem mount…
Or we could dive into an all-new Didja Know and take a loving look at a frantic few of ol' Normie's past hits from way-back!
Didja Know… the Green Goblin tried to make a movie star out of Spider-Man?
Now, before you start screaming about truth in advertising, this one's factual, friends…from a certain point of view. It all went down in Gobby's first go-round with Spidey in AMAZING SPIDER-MAN (1963) #14, a story that opened with a bombshell: The wondrous Web-Slinger to star in "The Spider-Man Story"!
Sure, it was all a set-up for the Green Goblin to "organize a world-wide crime syndicate" by defeating Spidey, and along the way the Wall-Crawler wrestled with the Hulk and won a few greenbacks for bus fare back home—and a grew a wee bit wiser about accepting roles in major movies from a grotesque guy riding a flying broomstick!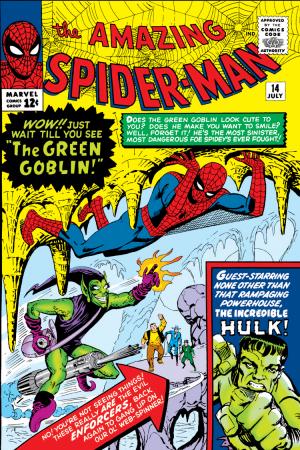 Hey, here's an extra Didja Know for good measure: Didja know that in Gobby's second story in AMAZING SPIDER-MAN (1963) #17 another movie figured into the pulse-pounding plot and it also featured another Marvel Universe guest star, namely the hunky Human Torch? Well, now you know, knucklehead!
Didja Know… the Green Goblin kept his identity secret for more than two years?
As we always say around here, Tempus fugit…time waits for no one. In other words, it seemed like an eternity to our riotous readers back in the day to wait to find out whose frightening face lurked behind the even more frightening features of the Green Goblin. And for two whole years in real-world time, the murky mystery dominated their dreams and haunted their hours in the waking world.
See, Gobby debuted in AMAZING SPIDER-MAN #14, as we previously pointed out, but his real identity was always hidden behind lab equipment, furniture, potted plants…no, wait. That was another redhead…well, anyway, creators Stan Lee and Steve Ditko played a cat-and-mouse game with Spidey's fans for two years until finally featuring his features in AMAZING SPIDER-MAN (1963) #39—and boy, did they!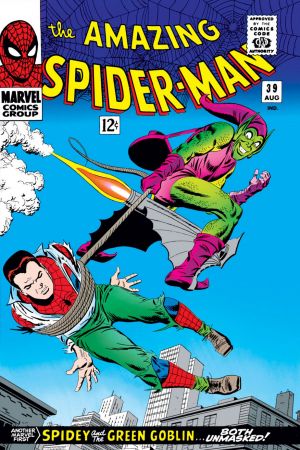 Osborn set out to see just who Spidey was under his mask and when he knew it to be puny Peter Parker he kidnapped Petey and hauled Our Hero off to set him straight on a few macabre matters. With his prey trussed up tight, Normie told the tale of the Green Goblin's origins but didn't realize Parker was planning a ploy to gain his freedom. Well, suffice to say AMAZING SPIDER-MAN (1963) #40's gone down in Marvel history as one of the greatest battles ever in comicdom, effendi!
Didja Know… the Green Goblin was done in by his own devices?
Listen, True Believers, we really wanted to say "hoisted by his own petard," but who even knows what a "petard" is these days, huh? Just believe us when we tell ya Gobby felt the point of his own sword and took the last train out of Peoria because of it.
Sure, this happened long before Osborn's revolving door of life and death—that came later, much to Spidey's shock and surprise. We're talkin' the now-classic AMAZING SPIDER-MAN (1963) #122, the wrap-up of the "Death of Gwen Stacy" saga that still stuns us all to this day. In that issue, the Green Goblin had Spider-Man on the ropes and was about to impale him with the terrifying tines on his Goblin Glider…but wound up on them himself!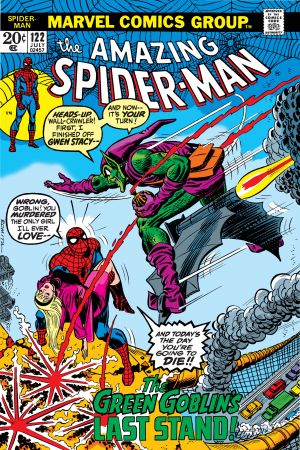 The Amazing Spider-Man (1963) #122
published

added to marvel unlimited

penciler

writer

letterer

colorist

inker
What is Marvel Unlimited?
What's the moral of this story, you ask with authority? What's the lesson we all can learn from it? That's a good question, and we're glad you asked it. How about "Never tempt Fate"? Or what about "It's not over until it's over"? Or better yet, "Make sure you always ask for a guarantee on your Goblin Gliders!"
Peruse these eye-poppin' publications with Marvel Unlimited right now! Then visit your local comic shop to pick up RED GOBLIN: RED DEATH #1 on Wednesday, October 30!
The Hype Box
Can't-miss news and updates from across the Marvel Universe!