Comics
Published August 16, 2017
Doctor Strange and the Sorcerers Supreme: One Last Spell
Writer Robbie Thompson summons a retrospective look as the series powers to a close!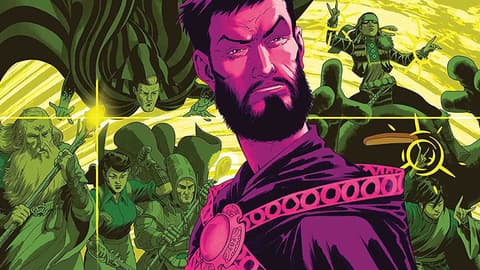 Even magic has its limits.
On September 13, the Sorcerers will have to accept that reality in DOCTOR STRANGE AND THE SORCERERS SUPREME #12, as writer Robbie Thompson and artist Nathan Stockman conjure up an intense conclusion for the supernatural crew.
As he dusted off his magic artifacts for the last time, we caught up with Robbie to ask about his stellar work on the book—and what's still to come.
Marvel.com: As we reach the end, how are you feeling about the DOCTOR STRANGE AND THE SORCERERS SUPREME series as a whole?
Robbie Thompson: I'm feeling sad! This book was so much fun to work on—Editor Nick Lowe assembled a murderer's row of all-star talent and I learned a ton on this book. Every collaborator has brought their A-game on every page.
But I also feel satisfied, and thanks again to Nick for that, too. We had time to wrap the story up the way we wanted to—with a satisfying conclusion to the story we set out to tell.
Marvel.com: How does the art for that last issue look? What was the artistic collaboration like over the course of the whole title?
Robbie Thompson: Thanks to Nate Stockman, [artist] Jim Campbell, and [letterer] Joe Caramagna, the last issue of the series looks stunning.
I'm so happy with how this book turned out—it's been bittersweet, but also fun, to see the pages, colors, and lettering on this final issue. We decided to do something different for this one, inspired by FANTASTIC FOUR #252, by having this final issue be horizontal. It made for some fun and crazy layouts from Nate—and helped keep us on our toes right to the end of the run.
Marvel.com: As you wrote the characters, did any surprises emerge throughout the run? How would you characterize their emotional journeys over the course of the book—especially Strange's?
Robbie Thompson: I think the character that surprised me the most was Mindful One. We knew going in that Sir Isaac Newton was going to turn on the group—and that some characters would leave sooner rather than later—but I wasn't expecting Mindful to be such an emotional character. His friendship with Kushala came out of the way that Javier Rodriguez drew them both, and based on that, we would all pitch moments for Mindful in each issue and he started to grow as a character. It was cool to see him become more of an emotional part of the team.
As for the rest of the team, typically, Sorcerers Supreme work alone—not with other Supremes. But because of the time travel, we had a chance for each of them to see that they were a part of a much larger story than they knew, which made for some emotional moments, especially for Doctor Strange. He gets to talk to someone in issue #11 that I wasn't initially planning on him even meeting when we first set out to tell this story. But because this is a time travel story, we had the unique opportunity to say something a little more emotional in that exchange. And because we're talking about Sorcerers Supreme throughout time, including Stephen Strange's mentor Yao, we had a chance to have Strange see his own legacy—to have him understand the impact he's had on magic and history.
Marvel.com: I'm sure you've had a few favorite moments over the course of the series. Looking back, which ones stand out?
Robbie Thompson: For me, the moments I love looking back on are where the collaborative nature of the story shined through; a moment where Nick or Editor Darren Shan had a great fix for a story or character beat, a moment where Javier Rodriguez took a page and completely made it his own, getting to watch Nate Stockman create his versions of future X-Men battling in Dublin, getting to watch colorist Jordie Bellaire take a two-page spread and work her magic.
Then there's our letterer, Joe Caramagna—he'd come up with the perfect creation every time. Comics work best when everyone contributes, and I think the book's best moments came from when everyone pitched in and brought their own spin to the story being told.
Marvel.com: How did it feel to sit down and write the final issue? How did it feel to finish the script?
Robbie Thompson: To be honest, I kept putting it off! We were ahead because I started writing out of order to help the schedule, so I just kept dragging my feet! I wrote a draft of the last script, which wasn't bad or anything, but when Javier handed in his cover for the last issue, I threw my work in the trash. The image Javier sent in was so inspiring that I had to rewrite what I had—and it made for a much, much better ending. So I'm glad I waited and dragged my feet, because I like this ending much more than what I originally wrote.
Marvel.com: What can fans expect in the last issue?
Robbie Thompson: When readers see who shows up at the end of issue #11, they'll want to see how this all ends in #12. It pays off something we set up all the way back in the first story. Again, Nick was awesome about giving us time to wind everything down the way we wanted—we've been able to wrap up every detail.
Witness the mystical end with DOCTOR STRANGE AND THE SORCERERS SUPREME #12, by Robbie Thompson and artist Nathan Stockman, on September 13!
The Hype Box
Can't-miss news and updates from across the Marvel Universe!