Comics
Published January 4, 2018
Doctor Strange: Damnation – Devil in the City
Donny Cates and Nick Spencer set Las Vegas alight!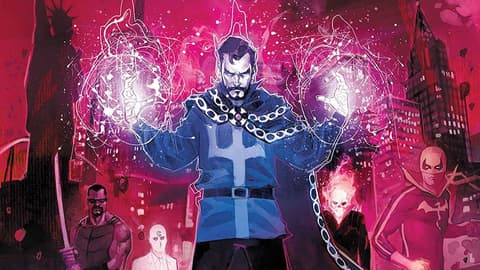 When Doctor Stephen Strange magically rebuilds Las Vegas from the debris it crumbled to during Secret Empire, he makes a big mistake. A demonic, Earth-threatening mistake.
On February 21, Mephisto comes to the City of Sin as writers Donny Cates and Nick Spencer join artist Rod Reis to challenge the master of mysticism in DOCTOR STRANGE: DAMNATION #1! This four-part limited series sees Strange team-up with heroes from across the Marvel Universe in an attempt to extinguish Mephisto's blaze.
We spoke with Cates about igniting the flame.
Marvel.com: Donny, what causes Mephisto's door to open when Strange raises Las Vegas?
Donny Cates: That's something we'll be exploring as we go along. But obviously, Mephisto is the sort to have plans on top of plans. It gets lonely down in Hell, and the poor guy has plenty of time to scheme! As the story unravels, we'll see more and more of just what the demon has planned. If I was a betting man, I'd say it's not good, though!
Marvel.com: Vegas has a reputation for being a sinful place—is that what inspires Mephisto's takeover?
Donny Cates: One of the best bits of the series to me is this idea that, in Mephisto's opinion, Las Vegas has always been his city. He's not taking it over; he's taking it back!
Marvel.com: How will Doctor Strange go about confronting this villain?
Donny Cates: Poorly. [Laughs] Strange is out to prove himself in this series. After the devastating conclusion to Jason Aaron's series, and the fallout from a certain God of Lies turning his world upside down, Stephen has had a rough year. So here we find Stephen trying to get back on the world's stage and be a hero again. But when it all goes south on him, he just might not be up for the challenge…
Marvel.com: Does Strange possess the power necessary to defeat this embodiment of evil?
Donny Cates: Stephen's powers have been on the fritz since the Empirkul came and killed the magic. Obviously, he's still very powerful, but like I said, he's still getting his head back into the game. He's still a bit shaky. There's also this whole idea of magic having a price, and when you do something as big as resurrecting an entire city…well, you're going to have to pay for that. One way or another…
Marvel.com: In THANOS, we've seen your love of writing dark characters—so how's it been working with a bad guy like Mephisto?
Donny Cates: Mephisto is such a blast to write—he lives in the unique little zone where he's one of the only bad guys who are just completely fine with being evil. There are no grey areas with the devil, man! He's evil and he loves being evil. So you get to write him as really any version you want as you move through the story. Mephisto is a character that can turn from playful and dramatic, to cruel and hardcore without skipping a beat. And with a setting like Las Vegas…well, he's quite the showman!
Read Donny Cates, Nick Spencer, and Rod Reis' DOCTOR STRANGE: DAMNATION #1 on February 21!
The Hype Box
Can't-miss news and updates from across the Marvel Universe!