Comics
Published November 7, 2017
Doctor Strange: God Complex
Donny Cates teases a Loki showdown and universe-shattering revelations!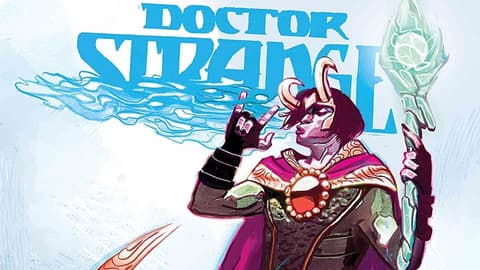 Loki as a Sorcerer Supreme. Yeah, you read that correctly.
Writer Donny Cates and artist Gabriel Hernandez Walta give the God of Lies and Mischief the magical mantle in DOCTOR STRANGE. And on December 6, issue #382 sees Doctor Strange make a move that will create huge repercussions across the Marvel Universe.
We conjured up Mr. Cates to discuss the spellbinding showdown.
Marvel.com: What can you give away about how Strange handles Loki in this issue?
Donny Cates: Oh, well…nothing! [Laughs] I mean…I know in this day and age it has become a bit of a standard thing to say "This will change everything," but just between you and me, the events of the end of my second issue will be felt for years and years in the Marvel Universe.
Marvel.com: What has been the most challenging aspect of transforming Loki for this new role?
Donny Cates: Loki is such an incredibly rich character to write—one that surprises me with every script. He's alive, you know? He does whatever he wants on the page, regardless of what I have planned for him. I always say in interviews that I wouldn't dare speak on behalf of Loki, and that's true. He has plans upon plans, schemes upon schemes. He's way smarter (and more charming) than me, so really, when I write him, it's just me trying to get out of his way, and let him come out and speak in the book.
You notice how I didn't answer your question? I learned that from watching Loki.
Marvel.com: Can you talk about how Loki uses his god-like powers combined with his new sorcerer ones?
Donny Cates: Obviously it makes for a hell of a powerful character, right? But, it's important to note that the title of Sorcerer Supreme doesn't necessarily grant you new powers. It's a symbol of the level of power you already wield. It's like a black belt. Having a black belt doesn't make you better at karate…it's an outward symbol of how good you are at karate.
So to answer your question, Loki is super good at karate.
Marvel.com: Anyone would be wary in striking an alliance with him, but what explicit reasons does Stephen have to mistrust him?
Donny Cates: That's the big thing in this book. So I can't give that away, but here…let's do this instead. Who saw "Thor: Ragnarok" this weekend? Oh, all of you did? Awesome, okay. So here we go into spoiler country…
3…
2…
1…
Okay, any of you still there? Oh, all of you are? Awesome. Okay, so you know that way too brief but amazing little back and forth between Loki and Doctor Strange in the movie? If you want more of exactly that…I got you.
Honestly, that scene was more or less a trailer for this entire run. You're welcome!
Marvel.com: What kind of legacy does Loki see for himself in the world of magic?
Donny Cates: The idea of legacy that runs through this arc has been crazy fun. I've said it before, but this arc shares so much DNA with the origin of Doctor Strange, and the long, long history of Loki. It's all about Stephen coming to grips with the things that made him special being torn away from him, and the insane lengths he'll go to see them returned. That's where Stephen Strange began his journey, and that's where we once again find him here.
As for Loki, well…you're certainly asking the right questions. So many people get hung up on the how of it all. "How did Loki become the Sorcerer Supreme!? How can that be possible!?"
And look, we'll answer that question, of course…but that's not what you should be asking.
You should be asking "Why?"
And for that answer…well, I'm afraid you'll have to ask Loki. I wouldn't dare speak for a sorcerer god with a black belt in question dodging and karate.
DOCTOR STRANGE #382, by Donny Cates and artist Gabriel Hernandez Walta, drops on December 6!
The Hype Box
Can't-miss news and updates from across the Marvel Universe!