Comics
Published April 20, 2017
Doctor Strange: New Beginnings
Artist Niko Henrichon ushers in a new era for the Sorcerer Supreme!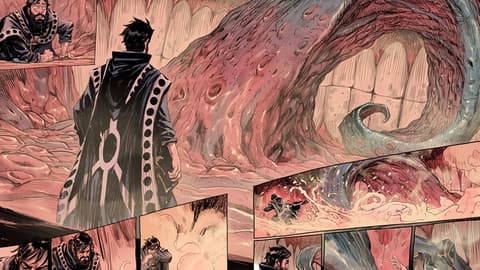 Jason Aaron and Chris Bachalo might be leaving DOCTOR STRANGE with #20, but that doesn't mean the magic stops there. In fact, a completely new creative team stands ready to pick up the Master of the Mystic Arts' adventures with the following issue, which hits on May 31.
Writer Dennis Hopeless and artist Niko Henrichon will kick off their run just as Secret Empire invades the Marvel Universe. As Stephen defends the world against the magical forces involved, the neophyte creative team will continue getting to know their lead.
We talked with Henrichon about tackling an event tie-in, working with Hopeless, and the appeal of Doctor Strange's wild world.
Marvel.com: What is it about Doctor Strange that attracted you as an artist?
Niko Henrichon: Until recently, the character was very mysterious to me. I saw him from time to time in various comics but never really followed closely. It's only recently that I discovered the fantastic work of Steve Ditko on the original [Doctor Strange stories in STRANGE TALES]. Obviously, I enjoyed the recent movie and thought they really nailed the psychedelic aspect of the parallel worlds featured in an amazing way in Ditko's Doctor Strange.
So, when I [received an offer] to follow with Dennis Hopeless as the writer, after the run of Aaron and Bachalo, I immediately accepted. I've spent the last seven or eight years doing albums for the French European market. I had the chance to work on ambitious projects there, but now it feels great to come back to comics. There's something fresh and dynamic about [American] comics. The fast storytelling, the smaller pages, I love it.
Marvel.com: Do you have plans to give Stephen a new look for the series?
Niko Henrichon: The story picks up after Aaron and Bachalo's run so we're keeping the look as it was before. For the future, I guess it will depend on how the story develops.
Marvel.com: As it happens, your first issue with Dennis on the book coincides with the Secret Empire crossover. How will that play into the story?
Niko Henrichon: That question would be more suitable for Dennis but I feel like we're really focusing on Doctor Strange's own journey, along with his colleagues.
Marvel.com: Do you enjoy the challenge of designing the kinds fantastical and supernatural elements that appear in a book like DOCTOR STRANGE?
Niko Henrichon: Yes I do! I love the monster design job. This book has a lot of them so it's a real delight.
Marvel.com: How has it been working with Dennis on these issues so far?
Niko Henrichon: Really bad! No seriously, Dennis is great to work with. His writing [perfectly balances] between creative freedom and storytelling tightness. The way you want a Marvel book to feel like.
To see what happens when the Sorcerer Supreme feels the effects of Secret Empire, check out DOCTOR STRANGE #21 by Dennis Hopeless and Niko Henrichon on May 31!
The Hype Box
Can't-miss news and updates from across the Marvel Universe!